TThe shiny championship trophy was safely handed over to Surrey captain Rory Burns. The covers are on, this time for good, so it's time to dig into the shopping bag to collect this year's county championship gongs.
Manchester City's squad rotation award
To Surrey, who defended the championship on the penultimate day of the season – but not without a scare or two from the chasing pack. It wasn't a victory that came about through individual brilliance – although there was plenty of that – but rather a victory of a well-coordinated group that understood its role and moved itself seamlessly into the right position, knowing that it could do so at any time , as coach Gareth Batty wishes to put it: "stay in the box for a game".
The Bazball Award for outrageous overachievement
To Durham, who was just as aggressive as their word before the season. Ben Stokes' district welcomed Bazball in all its glory to secure the Division Two title. They galloped to 352 for seven on the first day of the season and continued like that throughout, with seven wins and an incredible 54 batting points, 23 more than anyone else. Seven years after their relegation by decree of the England and Wales Cricket Board, they are now throwing down the gauntlet to Division One.
The Diana Ross Award for Performance of the Year
To the Middlesex batters who were four for four after three and a half overs in their first innings of the season – numbers 1, 2, 3 and 4 with zeros. Things didn't get much better from there, as the club only picked up five batting points in the entire summer. Middlesex, promoted to Division One for the first time since 2017, were relegated despite a desperate attempt in their last game. As an added kick, they also received sanctions from the ECB for financial mismanagement. Time to quietly close the book and try again next year.
The Mike Procter Award for Excellence
To Tom Price, who caused a stir in the third week of the season when he took Gloucestershire out for 45 for seven and hit 12 fours and three sixes in his first first-class century before surging through Worcestershire's top order with a hat-trick the day. It was a bright spot in a miserable Championship season for Gloucestershire, which ended without a win, but Tom, 23, and his brother Ollie, 22, promised hope for the future.
The Who Are You Award for services to cricket
To Hampshire allegedly denying Pep Guardiola the penthouse suite when Manchester City stayed at the Rose Bowl's Hilton Hotel. The reason? These rooms were part of it The Mohammad Abbas.
The Michael Gove Prize for Twisting the Knife
To Alec Stewart, who gently gave the ECB both barrels with the strains of "Dancing on the Ceiling" drifting from the victorious Surrey dressing room. "I always want England to be the best, but I'm also trying to find a way to show more respect to the county game because that's where the players are destined to go to England," he said. "That's what we're dealing with."
The Simon Harmer Foreign Player of the Year Award
A diverse mix of foreign players attended the championship this year – from Steve Smith and Marnus Labuschagne warming up for the Ashes, to Matt Henry, Shan Masood, Peter Handscomb and Cheteshwar Pujara, to brief autumn visitors such as Karun Nair, who almost single-handedly saved Northamptonshire from relegation. Simon Harmer (61 wickets at 28) was as phenomenal as ever, but this year's award goes to Kemar Roach, not so much for his numbers but for what he represents at Surrey – an overseas player who is the season finished with the champions and who is I'm really in love with and am loved by the county game.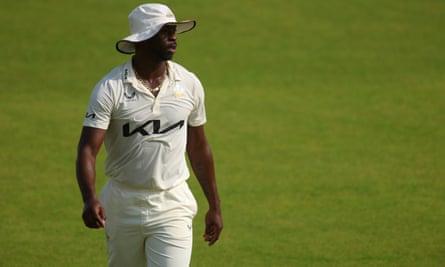 The Parent Trap Award for Career Confusion
To the Parkinson twins: Matt, whose career ended with Lancashire and who was loaned out to Durham, and Callum, who spent one final season with Leicestershire before packing his bags for…Durham. Matt is now moving to Canterbury and thanks to Kent's last-minute escape from the crisis, the brothers will play each other again next year.
The award for Joe Biden's retirement plan
To Alastair Cook, whose resignation and a small celebratory drinks party in Chelmsford in mid-September were predicted in print. Essex released a statement saying no decision had been made, but that didn't stop the press from flocking to the County Ground for what they called their "final" game. Cook posted two quiet single-digit scores – it could never have come close to the 2018 Oval. However, when he gives up, he goes into overdrive: only Sam Robson scored more runs as an opener in the top flight.
The award for outstanding performance after depreciation
Split between Hampshire's Liam Dawson (49 wickets and 840 runs) and Essex's Jamie Porter, who after a miserable injury-hit 2022 had his best season since 2017 and finished as the third highest wicket-taker (57) in Division One. If Porter's England chances are over, Dawson, who has been overlooked as Jack Leach's replacement for the Ashes, will have to secure a place on the Test tour to India.
The Graeme Hick Award for Ridiculous Youth Achievement
To James Rew from Somerset, who had five hundreds and 1,000 runs to his name at the age of 19. Also practical behind the stumps.
The "Ready for Rishi" award.
No, not that one, but Leicestershire's Rishi Patel, who scored 1,000 runs and was a symbol of a county enjoying a Championship renaissance: from perennial wooden spoon player to promotion candidate.
The Climate Change Award for Grace under Pressure
To the country's ground staff who were plunged from a sodden March into Britain's hottest June and then the wettest summer in 100 years.