Key events
Here's the match report:
So, another day, another short-ish one-sided game. But this one comes stacked with romance and adventure, as Afghanistan claim a fourth scalp, and put themselves in the mix for the most unlikely of semi-final places. Admittedly, the odds are against them with matches against Australia and South Africa to come, but what a composed, intelligent, talented side they've been in this tournament, well captained, and bowling and batting with nous and skill. Which reflects well on their coach, Jonathan Trott, also.
It all sets up the weekend's action beautifully, with tomorrow's Pakistan v New Zealand set-to well worth setting an early alarm for if you're in Europe. And that's us done for the today – thanks for following and your thoughts on drugs, geopolitics, wooden spoons and cricket, pretty much my ideal conversations on a night out anyway. Have a good weekend. Bye.
How they stand:
1 India P 7 NRR 2.10 Pts 14
2 South Africa P 7 NRR 2.29 Pts 12
3 Australia P 6 NRR 0.97 Pts 8
4 New Zealand P 7 NRR 0.48 Pts 8
5 Afghanistan P 7 NRR -0.33 Pts 8
6 Pakistan P 7 NRR -0.02 Pts 6
7 Sri Lanka P 7 NRR -1.16 Pts 4
8 Netherlands P 7 NRR -1.40 Pts 4
9 Bangladesh P 7 NRR -1.45 Pts 2
10 England P 6 NRR -1.65 Pts 2
The captains speak. Hashmatullah Shahidi, still in pads, comes forward and dedicates the win first to his family, who he says are still in pain following the death of his mother three months ago, and his compatriots and its refugees. "A lot of refugee people are in struggle at the moment and we are with you in this tough time," he says. He repeats the message to his fellow Afghans in his native Pashtun also.
As for the cricket, he's as pleased with the execution of the run chase as with the bowlers. "We bowled well but the run chase is good because it's the third time consecutively we've achieved a target. In this World Cup we are looking at the board and the targets and playing accordingly, looking at the game situation and achieving for our team." As for player of the match Nabi, "he is a special player and whenever we need him he takes responsibility. We have a good team unity that we have built and we are 100% trying our best to make it to the semi-finals.
For the Dutch, Scott Edwards rues the runouts that derailed the Netherlands innings. "It's definitely not ideal, we beat ourselves a little bit in that sense, we started well and set ourselves up for a good total but they've obviously got quality spinners in the mddle.'"
He explains his decision to bat first: "We went in having done well batting first, having been good at defending scores and we'd be well in the game even if there was dew around. Now our attention will probably return to (qualifying for) the Champions Trophy."
The redoubtable Mohammad Nabi is player of the match. "I just focus on my line and length and my dot balls," he says modestly of his old-school spin. "I always try to focus on line and length and variation. I stick to my plans and use my angles which is more valuable for me." As for the secret of his longevity: "I'm still always working on my fitness, rehab, proper diets." The rest of his team lap the stadium milking the acclaim of Afghanistan's sizeable following in Lucknow.
Ali wrote a nice piece on Nabi earlier in the tournament:
This has been the third quickest win of the tournament in terms of balls remaining. Afghanistan are level on points with Australia and New Zealand! Just the small matter of upsetting Australia and/or South Africa to go.
Afghanistan beat Netherlands by seven wickets!
32.3 overs: Afghanistan 181-3 (Hashmatullah 56, Azmatullah 31); target 180. The Dutch bring the field in for Dutt's ninth over, which he doesn't get to finish as Hashmatullah advances and cracks him over wide long-on for four to seal another Afghanistan win – and another emphatic one at that. What a campaign this has been; the story of this World Cup.
Some more quick thoughts from V Krishnamoorthy on other matters: "The government and their policies reflecting on the teams is as difficult to parse as separating the art from the artist. If Fifa could manage a WC in Qatar and SA in a span of 12 years, Afghanistan plating in this WC is par for the course I guess."
31st over: Afghanistan 176-3 (Hashmatullah 52, Azmatullah 30); target 180. Hashmatullah strokes Ackermann down the ground for one to bring up an efficient 50. More twos and ones take Afghanistan to within four of victory.
This is another reason why this tournament's one-group format is so deadening. A team that can win four games should be able to progress to some sort of next stage, a quarter-final or a super-six. But in their desperation to protect the "Big Three" and milk the cash, cricket's overlords have denied us that.
30th over: Afghanistan 170-3 (Hashmatullah 49, Azmatullah 28); target 180. Dutt has three overs left and Edwards reasons he might as well use some of them. His first ball is reviewed for a stumping after Azmat goes forward and grubs and misses outside off. His back foot is well behind the line but it's not obviously grounded – until the zoom-in shows it is. Azmat plays the same shot next ball and finds the man at deep cover, running a single. It's not a particularly threatening over and is rounded off when Azmatullah belts a freebie full toss to the long-off boundary for four. There is no competitive tension out there at all.
29th over: Afghanistan 163-3 (Hashmatullah 48, Azmatullah 22); target 180. Ackermann continues, finds a little bit of (playable) turn, yields three singles, Afghanistan edge closer to victory No 4.
28th over: Afghanistan 160-3 (Hashmatullah 47, Azmatullah 20); target 180. Afghanistan are within an over or two of big hits from sealing this now, but have been continuing to work it around cautiously instead – until Azmatullah sends a lovely straight drive past the bowler Van Beekeren for four, holding the pose and everything, and Hashmatullah clouts for more over mid-on. Only 20 needed.
27th over: Afghanistan 149-3 (Hashmatullah 42, Azmatullah 14); target 180. English county stalwart Colin Ackermann gets his first bowl of the innings and Afghanistan almost engineer a self-inflicted run-out when Hashmatullah sets off rashly but Azmatullah at the non-striker's end thinks quickly and decisively and sends him back pronto. A tidy over goes for three singles.
26th over: Afghanistan 146-3 (Hashmatullah 41, Azmatullah 12); target 180. Van Meekeren's back and still running in hard. He restricts the batters to four singles.
No sooner had I raised the prospect of not bothering watching tournament no-marks England than Geoff Wignall makes us talk about them again: "Nothing to do with this match, but re the announcement that Stokes will have knee surgery once England's WC ends, why wait for the last knockings?
"I know they still have the faint possibility of finishing in the top 8, but with Brook ready to step in and given Stokes's performances so far what really is the point? Better surely to have a longer rehab before the test series."
Yes, England should turn to youth now, except "youth" is in markedly short supply in the squad.
25th over: Afghanistan 142-3 (Hashmatullah 39, Azmatullah 10); target 180. Zulfiqar tosses one up and Hashmatullah drives neatly for one, and then Azmatullah cashes in on a short-ish ball outside off stump to thwack it emphatically in front of square on the offside for four. A shot of a man with an improved NRR on his mind.
All this is making tomorrow's Pakistan v New Zealand perhaps the most important so far. Might be worth swerving England v Australia for?
24th over: Afghanistan 136-3 (Hashmatullah 38, Azmatullah 5); target 180. Azmat works Van Beek away on the legside for a well-run two before three singles and a wide keep the scoreboard ticking over. A failed upper cut then has Van Beek half-appealing for a catch behind. But no one else is having any of it.
23rd over: Afghanistan 130-3 (Hashmatullah 37, Azmatullah 1); target 180. Hashmatullah's in supreme touch and creams another cover drive to the boundary. Another single ensues, before Rahmat unexpectedly perishes, caught and bowled. The Dutch need this to spark a total collapse, or they're done for.
Wicket! Rahmat c & b Zalfiqar 52, Afghanistan 129-3
Just as Afghanistan looked imperturbable, Rahmat dollies up a return catch, ending a fine innings.
22nd over: Afghanistan 124-2 (Rahmat 52, Hashmatullah 32); target 180. Van Beek continues and is economical in an over milked for just two singles. Amid the deserved and understandable pleasure so many are gaining from Afghanistan's feats in this tournament, lest we forget some uncomfortable backdrops:
And an email arrives asking: "Why are Afghanistan even in this tournament? I'm old enough to remember sporting boycotts of apartheid South Africa, and the current Afghan government seems at least as objectionable. Do we just not care any more? (Obviously no reflection on the Afghan players)."
Indeed. Though the politics of this World Cup have been grubby all-round really. Look at how I4, with England's big game tomorrow taking place in a stadium named after someone accused of all manner of human rights abuses. Sportswashing rules OK.
21st over: Afghanistan 122-2 (Rahmat 51, Hashmatullah 31); target 180. A curious no-ball as Zulfiqar oversteps, but replays show that the ball had left his hand at that point and he was bowling off his back foot. One for the Laws Of The Game boffins there. The free hit is thumped down the ground for four by Hashmatullah, who deftly off-glances against the spin for four more next ball. The runs are flowing freely, and the horns are tooting among the Afghanistan fans in the stadium at Lucknow – 49 needed from 29 overs.
20th over: Afghanistan 109-2 (Rahmat 50, Hashmatullah 20); target 180. Van Beek returns to the attack as the Netherlands seek to up the pace, but shorter balls are met with confident pulls, fuller ones with comfortable drives, as the twos and ones continue, until Rahmat brings up his half-century with a lovely drive for four. He's played immaculately.
"I wonder if the clever creators of stage hit The Play That Goes Wrong, are already writing a sequel based on England's World Cup Campaign, called The Powerplay That Goes Wrong," pitches Kim Thonger.
19th over: Afghanistan 101-2 (Rahmat 45, Hashmatullah 17); target 180. A rare quasi-chance is offered up as Rahmat slightly slices a square cut at catchable height behind square – but it runs away for four and brings up the 100. Other than that, all continues to be steady, accomplished, sober run accumulation – a sobriety currently absent from the OBO inbox.
"Speaking of nice, Mr Nice, Howard Marks himself, the world's biggest ever Cannabis (but nothing else) dealer was a big cricket fan, check out his autobiog." adds Jeremy Boyce.
18th over: Afghanistan 95-2 (Rahmat 40, Hashmatullah 16); target 180. This is the point in the Dutch innings where they began to collapse. These two batters aren't being silly though, dealing earnestly in ones and twos off the accurate Dutt
V Krishnamoorthy is developing quite the rare herb-related bromance with Jeremy Boyce in the old inbox: "Thank Jeremy for being my partner in crime for all the defence. Taking it a bit further, maybe the wooden spoon being contemplated can be converted into a wooden pipe filled with ……." The views expressed are not necessarily those of … etc
17th over: Afghanistan 89-2 (Rahmat 36, Hashmatullah 14); target 180. Van der Merwe finds some sharp turn into the left-handed Hashmatullah but his defensive late cut averts the danger before adding two with a front-footed push past backward point. He's playing the spin well. A couple more singles complete the over.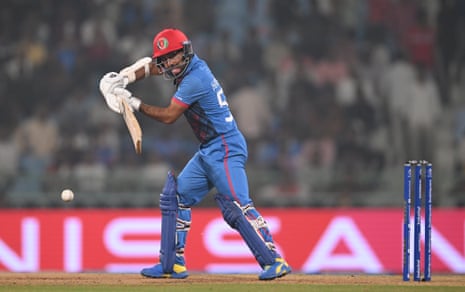 16th over: Afghanistan 85-2 (Rahmat 35, Hashmatullah 11); target 180. More astute batting brings Rahmat four with a reverse-sweep off the returning Dutt, well targeted wide of third man.
"Hey Tom ! Chill out maaaan!" pipes up Danny from Withnail and I Jeremy Boyce, from 1968. "Cricket and cannabis have a long-standing connection. Think back, to a time when the only Test playing nations was pretty much a Marijuana World Tour taking in some of the finest cannabis-producing countries in the world : India, Pakistan, South Africa, West Indies, even Aus and New Zealand had a reputation for "gardening". Curiously, the only place it was difficult was…England. And if I'm not mistaken, cricket legends Sir Ian and Prince Viv enjoyed an occasional toke with their pints of scrumpy ?" Very much so – read more below:
15th over: Afghanistan 80-2 (Rahmat 31, Hashmatullah 10); target 180. Van der Merwe tosses one up a bit more and Rahmat drives it via a fielder-deflection for one as the milking of singles continues. Which is pleasing enough for Afghanistan. Even more pleasing is the low full toss that Rahmat sweeps expertly for four to an unguarded backward-square boundary. Afghanistan need exactly 100 more.
14th over: Afghanistan 73-2 (Rahmat 26, Hashmatullah 8); target 180. Rahmat is strong square on the offside and he cracks another cut in that area but only finds a fielder and picks up just the one. Afghanistan meandering along here, hoping to take the sting and tension out of the situation, which is all they need to do.
Fancy a quiz?
13th over: Afghanistan 71-2 (Rahmat 25, Hashmatullah 8); target 180. Van der Merwe is respectfully worked for four singles as Afghanistan endeavour to shun risk, and as I type that they run an iffy single but survive it.
"It would be nice if an actual wooden spoon were presented to Jos Buttler," says John Starbuck. "We could have a TV special named after it, with filmed arrivals and celebrations at Heathrow , followed by specials from all the players on 'what this honour means to me'. The possibilities can be extended to improbable lengths."
The six-a-side football fanzine tournament I've been involved in since the 90s presents an actual wooden spoon each year. At one point we had a souped-up engraved version but it probably got lost in a pub.
12th over: Afghanistan 66-2 (Rahmat 22, Hashmatullah 6); target 180. Van Meekeren is very interested in an lbw appeal after rapping Hashmatullah's pads possibly just outside leg, but it's a no-ball anyway. The free hit is wasted though, Hashmatullah only managing to grub a full toss straight back at the bowler. The Afghanistan captain more than atones by pulling the next delivery in front of square with textbook precision and power for four.
"I'm not sure how, but Krishnamoorthy V's correct analysis of your smoking possibilities left out the fact that the match is actually being played in a country that has long been on the Rizzla Map Of World Destinations," puffs Jeremy Boyce. They're not my smoking possibilities, I'm powered by nothing stronger than coffee from the fine Portuguese caff round the corner. Anyway, it's not big and it's not clever, kids. And stay off the Triple Sub.
11th over: Afghanistan 60-2 (Rahmat 22, Hashmatullah 2); target 180. Another bowling change and this one works straight away, the left-armer Van der Merwe bowling the dangerous Zadran. Big breakthrough. The captain Hashmatullah comes in and gets off the mark with a single straight away. Rahmat adds two more and they continue to rotate the strike.
Wicket! Zadran b Van Der Merwe 20
Van De Merwe strikes with his first ball, as Zadran tries to be too expansive and inside-edges a drive onto the stumps.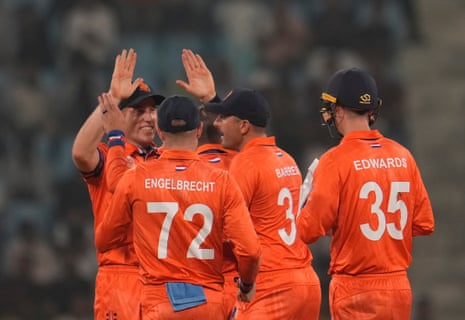 10th over: Afghanistan 55-1 (Zadran 20, Rahmat 19); target 180. A change for the final over of the powerplay, Paul van Meekeren coming on. Zadran pulls his first ball square for one before Rahmat gets properly lucky, inside-edging a fine delivery to the vacated fine leg boundary. But if that was a lucky four, the next two aren't – one is flayed through the covers with élan, the other punched through the same area with even more confidence. He's a classy player.
9th over: Afghanistan 42-1 (Zadran 19, Rahmat 7); target 180. A productive over for the Afghans. Zadran nudges Dutt off his pads for his first run for a bit. The spinner then comes round the wicket at Rahmat, who picks him well for a flicked single to midwicket, before Zadran unfurls a well-struck square drive for four more.
8th over: Afghanistan 35-1 (Zadran 13, Rahmat 6); target 180. The Dutch bowlers have got on top this last 15 minutes and this will be a test of Afghanistan's smarts. Rahmat shows some of those by easing a well-timed straight drive down the ground for four that's all about the timing and technique. It's the only scoring shot of Van Beek's over
7th over: Afghanistan 31-1 (Zadran 13, Rahmat 2); target 180. Dutt keeps Zadran restrained with a nice tight line until the latter manages to work a single to deep square leg off his hips
"Hi Tom." How's it going Simon McMahon? "What's the best result here from an England perspective? You know, as they plot their (circuitous) route to the semi-finals..?" Given that coaches and technical staff on loads more wages than me are just shrugging their shoulders in response to that question, I don't feel able to offer anything better. But they need to be keeping an eye on this game, as they could be facing off with the Dutch for the wooden spoon.
6th over: Afghanistan 29-1 (Zadran 12, Rahmat 1); target 180. The Netherlands strike, courtesy of a canny review from Edwards to overturn a wide. No one else even appealed but the keeper was right. Rahmat Shah is off the mark straight away with a single. One more ensues from a fine over.
"When I saw there were 4 runouts in the morning innings, I wanted to ask 'what are you guys smoking ?'" writes our Stereotyping Correspondent Krishnamoorthy V, "Then I saw which two teams are playing and kept quiet."
Wicket! Gurbaz c Edwards b Van Beek 10, Afghanistan 27-1
6th over: Afghanistan 27-0 (Gurbaz 10, Zadran 12); target 180. Van Beek appeals for a caught behind against Gurbaz, strangled down the legside. The umpire does take hands from pockets, but only to signal wide. The Dutch captain Scott Edwards reviews – and is vindicated. It's a wicket – a vital one – not a run.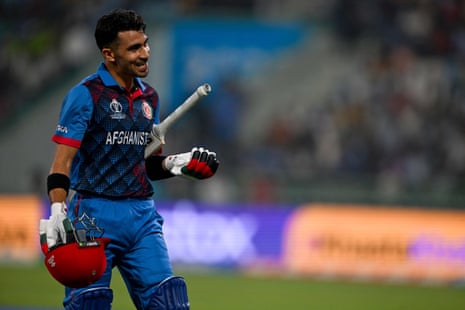 5th over: Afghanistan 27-0 (Gurbaz 10, Zadran 12); target 180. This pair are batting sensibly so far, respecting the good balls, seeking to hit the hittable ones. Dutt concedes a wide when floating one down leg but might be encouraged by how it bamboozled Zadran a tad. Zadran follows up by stepping forward and thumping a straight drive beyond mid-off for four.
4th over: Afghanistan 22-0 (Gurbaz 10, Zadran 8); target 180. A lovely controlled chip over midwicket brings Gurbaz four off Van Beek. Both these batters are strong on the legside, working a couple more singles in that direction. There's a sense they want to open their shoulders already, NRR being a calculation. That they're thinking seriously about the semi-finals in itself shows how far Afghanistan have come.
3rd over: Afghanistan 16-0 (Gurbaz 6, Zadran 7); target 180. Mark Nicholas on Sky comms assures us that the World Cup has become "much more the talk of the town" in India than it was in the early stages of the tournament. I should hope so too, though a World Cup shouldn't have to wait so long to come alive. This format's a passion-killer. Dutt finds the right good-length area to keep the batters honest, and has a big appeal for lbw when he jags one in sharply to Zadran's pads but it was outside the line and they rightly decline to review.
2nd over: Afghanistan 13-0 (Gurbaz 6, Zadran 5); target 180. Seam from the other end as Logan van Beek is introduced to the attack. Two dot balls and a wide preface an edged but well-run two to third man. Van Beek finds some movement but the opening pair look equal to it
Some stat-refinement from Rod Lyall: "May I just point out that Wikipedia let down Luke down a bit re. Roelof van der Merwe's career trajectory? You need to add: 2014 ACC (Amsterdam) That was his first involvement in Dutch cricket …"
Let the record stand.
1st over: Afghanistan 9-0 (Gurbaz 6, Zadran 2); target 180. We have some spin with the new ball, in the modern T20 style, as Aryan Dutt again opens. An attacking wicket-seeking field is set, with two short midwickets, though Gurbaz is still off the mark straight away with a nurdle in that direction. It's followed by a legside wide. Dutt will be encouraged by signs of drift, and Afghanistan will be by the eager running that brings four singles off the opening over that is rounded off with a crunching square cut for four from Gurbaz.
Mpumelelo Mbangwa's mid-match pitch inspection detects no dew as yet and a dusty surface. It won't be easy for Afghanistan, but they have one of the most in-form top fives in the tournament. The players are heading back out.
Thanks greatly, Luke. Greetings everyone. India has long been seen as the place to go to watch spin-dominant bowling attacks, but Afghanistan have been perhaps this tournament's leading spin-showcasing side. And we saw it again just now, on a track that's far from a raging Bunsen. Noor and Nabi excelled again, all with a vital underpinning by the ever-canny Rashid Khan, who remains one of the most watchable cricketers in the modern game. The Netherlands contributed to their own problems, mind, with some needless run-outs, but they're not out of this. They skittled another Asian side, Bangladesh, emphatically when bowling second the other day, and have done what most have failed to do in taming South Africa's rampant batting lineup. So don't go anywhere.
Tom Davies is now on hand to guide you through Afghanistan's run chase, as they try to keep their semi-final hopes alive with a fourth victory of the tournament. Bye for now.
Mohammad Nabi (3-28) has a chat after Netherlands set Afghanistan 180 to win: "The first 10 overs was not good, the line and length … when Rashid (Khan) came back (from his spell of the field), we discussed: 10 overs gone, just bowl in the right areas and they will do mistakes … When the pressure comes on the batsmen, that's when they will do mistakes, and we took our opportunities with four run outs there."
Wicket! Van Meekeren lbw b Nabi 4, Netherlands 179 all out (46.3 overs)
It's over! Nabi snatches the final wicket and deserves his figures of 28-3. How the Dutch will rue that run-out for the opening batsman Max O'Dowd, who was smacking it everywhere, but fell for 42 to a stunning piece of work by Azmat Omarzai. It was a direct hit from behind square after a magnificent effort to sprint to the ball and swoop on it with the batsmen coming back for two. After that is was mostly downhill for the Netherlands, although Sybrand Engelbrecht's 58 was a bright spot, along with Colin Ackermann's 29.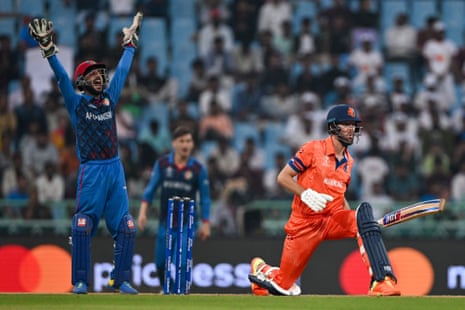 46th over: Netherlands 178-9 (Van Meekeren 4, Dutt 9)
Just the wide off the over. Van Meekeren tries to smash the final ball through the offside but misses it. Ikram shouts for a catch behind the stumps but no one else is interested, including the umpire. Van Meekeren throws his head back in frustration. Four to go.
45th over: Netherlands 177-9 (Van Meekeren 4, Dutt 9)
A couple of attempted lusty blows head skywards during this over from Nabi, his ninth, but both fall safe. Netherlands can add four runs to the total. That's ruined his figures, his economy rate has ballooned to 3.00.
44th over: Netherlands 173-9 (Van Meekeren 2, Dutt 7)
Afghanistan are well ahead of schedule with their over rate. They have been rocketing through them and no mistake, with help from their impressive array of spinners.