Key events
Half time: Arsenal 0-0 Man City
Peep peep! No goals at the Emirates and not much excitement. Josko Gvardiola had the only shot on target, which was headed off the line by the outstanding Declan Rice, though Nathan Ake missed a very good chance and David Raya almost gave a goal to Julian Alvarez.
City came closer to scoring, yet it's Arsenal who will feel aggrieved as they walk down the tunnel. Mateo Kovacic might have been sent off for a bad tackle on Martin Odegaard and was very lucky to avoid a second yellow for a lunge at Rice.
45 min Three minutes of added time.
43 min "So last week we see Curtis Jones sent off for a very similar foul to the one committed by Kovacic, but this week it is perfectly fine," says Richard Hirst. "Go fathom."
Jones's tackle was higher and therefore potentially more dangerous. I thought a yellow card was just about right for Kovacic's first foul, but I'm very surprised he got away with the second. VAR can't get involved for bookings either, which is something they may need to think about, certainly for (potential) second yellows.
43 min This has been a crap first half, but it's Arsenal v City so it has been pretty compelling nonetheless.
41 min City work the ball superbly through midfield and then down the left. An outstanding cross from Gvardiol is missed by Raya, flapping desperately, but both Gabriel and Haaland can't make contact at the far post.
38 min Zinchenko has two shots blocked in the space of three or four seconds. City break and Lewis tries to play in Haaland, who bounces off Saliba and falls over. Saliba will feel 12 feet tall right now; that was a vital bit of defending.
38 min Arsenal are the better team at the moment. The match is also becoming more emotional, which should suit them more than City.
35 min Kovacic is late on Rice, and pretty much everyone at the Emirates expects him to be sent off. The referee Michael Oliver immediately waves his hands to say it's not worthy of a second yellow card. Mikel Arteta dances around in the highest dudgeon, and this time his antics are understandable: Kovacic should have been sent off. For an experienced player on a yellow card, that was a bizarrely risky tackle.
34 min Alvarez wallops miles over from 25 yards.
33 min "Arsenal seem to get up for playing United, Liverpool, Chelsea and Spurs, but go into a complete mental fug against City," says Ederson. "Unless they start believing they can beat the champions they are never going to manage it. Arteta has received huge praise for coming second but it seems to me more Solskjaer than Klopp."
Time will tell. Didn't they play well for an hour in the home game last year? I missed it because I was working overnight on the cricket, but that's the impression I got from the reports I skim-read at 4am when I was barely awake.
I've been surprised by how poor they've been today. That said, the absence of Martinelli and Saka – key players but also such an important part of Arsenal's identity – is huge.
32 min Neither keeper has made a save by the way.
29 min The check is complete, and Mateo Kovacic has put Manchester City 1-0 up. Arf.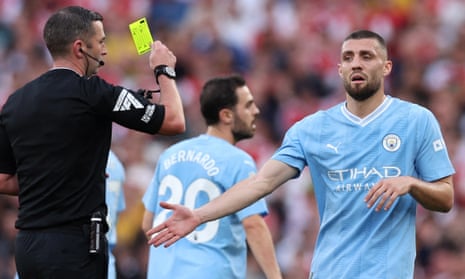 VAR check Kovacic could be off here. In my opinion it's not quite a clear and obvious error, but it was a poor challenge.
28 min Arsenal are having their first decent spell of possession, and Kovacic has just been booked for a poor tackle on Odegaard. It was somewhere between a yellow- and a red-card offence, with his studs plunging into Odegaard's ankle. It's being checked by VAR.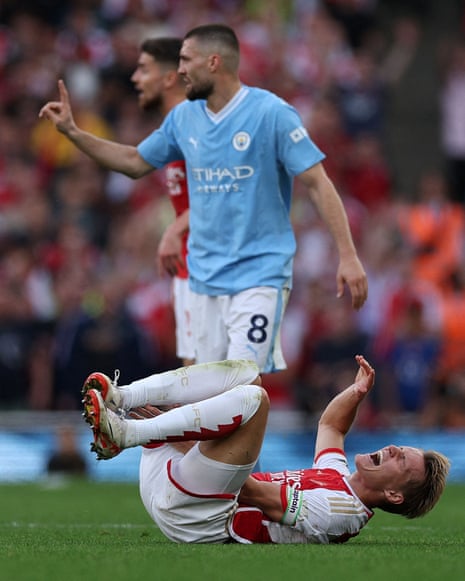 27 min: Half chance for Arsenal! A lapse in concentration from Dias allows Zinchenko's pass infield to reach Nketiah on the left side of the box. Nketiah cuts inside, on his right foot, but sprays a shot well wide of the far post.
26 min "Remember that game in the 1982 World Cup," says Stephen Carr, "when both teams knew a draw was enough so they just passed it sideways for 90 minutes?"
Remember it? I watched the whole thing a few years ago. It wasn't actually as bad as I feared.
25 min Declan Rice is having to put out too many fires for Arsenal's liking.
24 min A poor pass from Raya puts Rice in trouble 25 yards from goal. He's robbed by Kovacic, allowing Bernardo Silva to collect the loose ball. He finds Alvarez, whose low cross is cut out by Rice.
23 min Bernardo Silva, the locum for Rodri, is booked for a foul on Nketiah.
22 min Ake finds Gvardiola in a lot of space down the left, with Jesus sleeping. His cross is cut out by Saliba at the near post.
21 min Rice steps in front of Lewis to make a fine interception and start an Arsenal break. Which ends a split-second later when Odegaard overhits a through ball to Nketiah. Arsenal have been so poor on the ball.
The positive for Mikel Arteta is that there's no way Arsenal can play this badly for 90 minutes, and it's still 0-0.
20 min "Raya's thing seems to be standing still with his foot on the ball until a player comes to close him down, then making a short pass (if he's lucky)," says Joe Johnson. "Is that not something we could teach Ramsdale to do?"
19 min After that mistake from Raya, Mikel Arteta waved for the home fans to make more noise. The Emirates is a surprisingly nervous place.
17 min: What a let-off for Raya! Gabriel passes the ball across the six-yard box to Raya, whose first touch is poor, inviting Alvarez to charge towards him. Raya panicks and belts a clearance that hits Alvarez and ricochets into the side netting. That could so easily have gone into the net.
"I can spot a goalkeeper a mile off," says Gary Neville on Sky, "and Raya's a nervous wreck."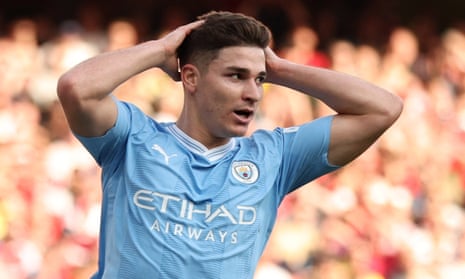 16 min City continue to dictate the game, though it's been a demonstration of sterile domination more than anything.
15 min "I remember watching Jorginho in his first appearances for Chelsea," boasts Matt Dony. "I was blown away. He seemed to completely control games, while making everything look so easy. Played almost like Riquelme, which is the highest of praise. Then, several million five-yard sideways passes later, I can safely say that my initial enthusiasm was exaggerated. Fine player, yes. But a frustrating one."
Pep Guardiola was after him that summer as well. You could probably make an XI out of players who were wanted by Pep but went to one of City's rivals. It wouldn't be that good a team either.
13 min Rico Lewis is demanding the ball constantly. That's not surprising, but it's pretty impressive for a teenager playing in central midfield in a game of this size. Jack Wilshere was the same at that age; let's hope Lewis has more luck with injuries.
12 min Thus far it's been a chess match in football clothing. City have taken a couple of pawns; that's about it.
11 min Foden flies away from Jorginho, who pulls him back and is booked. Mikel Arteta takes the opportunity to give Jorginho some tactical instructions on the touchline.
10 min Nothing comes of the corner, and then White is caught offside.
Correction, he was flagged offside; I'm not sure he was.
9 min Trossard sprays a fine pass out to Jesus, who runs at Gvardiol and wins Arsenal's first corner.
8 min Rice is playing deeper than Kai Havertz usually does, covering Zinchenko when he moves into midfield, so Arsenal's formation is closer to 4-2-1-3 than 4-1-2-3.
7 min Arsenal usually make a very fast start in big games at home – remember Martinelli's goal after 58 seconds against Liverpool – but they haven't settled here.
4 min: Off the line by Rice! Two chances in quick succession for City. Foden's deep, inswinging corner was missed by Raya and hooked towards goal by Gvardiol, who was being manhandled by Odegaard. Rice headed that off the line but City put the ball back in towards Haaland, who headed it on to Ake. He took a touch and shot over from 10 yards. Ake was under pressure from Saliba, but that was still an excellent chance.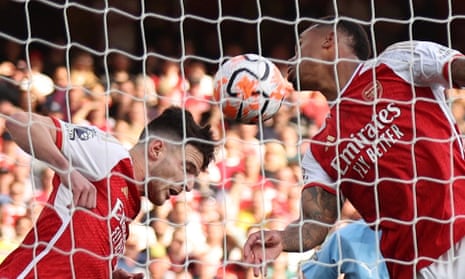 4 min A nervous square pass from Rice, on the edge of the Arsenal area, goes straight out of play.
3 min Plenty of early possession for City, mostly in the middle third. They've started like the home side.
2 min This is the revised City shape.
Manchester City (4-1-2-3) Ederson; Walker, Dias, Ake, Gvardiol; Bernardo; Lewis, Kovacic; Alvarez, Haaland, Foden.
2 min City have started with Bernardo Silva as the No6 and Julian Alvarez on the right. I don't think anyone expected that. Gabriel Jesus is playing on the right for Arsenal.
1 min Peep peep! City, in the form of Mateo Kovacic, kick off from right to left as we watch.
"Leave aside Bukayo Saka, let the Arsenal fan's eye travel over the team sheet," says Charles Antaki. "He's good … he's terrific… great acquisition … marvellous … Rolls-Royce there… magnificent… brilliant player… wouldn't swap that guy for anyone… And then we hit a dip in the road when it comes to the centre forward.
"Eddie Nketiah is super-willing, capable of moments of supreme skill, an academy graduate we all want to see prosper and thrive. But seeing him in the company that the team has now become, the brow furrows just a little bit. May he prove all that wrong and score a double hat-trick before 5pm."
The players stroll out of the tunnel and onto the field. It's an unseasonably warm day in north London; both teams will want the ball to do the work.
Erling Haaland and Gabriel Jesus speak to Sky Sports
There were three 2pm games, all pretty entertaining. Here's how they finished.
Brighton 2-2 Liverpool

West Ham 2-2 Newcastle

Wolves 1-1 Aston Villa
It's pretty tight up there. Arsenal and City can both go top this afternoon, though Arsenal would need to win by two (or 4-3, 5-4 etc).
Here's Barney Ronay on Erling Haaland, who is in the middle of a shocking 256-minute goal drought.
Who knew Phil Foden and Nelly Furtado had so much in common.
Jonathan Wilson's tactical preview
Team news: Saka not in Arsenal squad
Some interesting team news on both sides. Bukayo Saka isn't in the squad, though Gabriel Martinelli – who has been out for three weeks – is on the bench. Jorginho is preferred to Kai Havertz, so Declan Rice will probably play as a No8. Eddie Nketiah is Saka's replacement, which means a rejig up front, and Ben White returns at right-back.
Pep Guardiola prefers Rico Lewis to Kalvin Phillips in midfield and Phil Foden to Jack Grealish on the left. John Stones is fit enough for the bench.
Arsenal (possible 4-1-2-3) Raya; White, Saliba, Gabriel, Zinchenko; Jorginho; Odegaard, Rice; Jesus, Nketiah, Trossard.
Substitutes: Ramsdale, Tomiyasu, Kiwior, Partey, Smith Rowe, Vieira, Nelson, Martinelli, Havertz.
Manchester City (possible 4-2-1-3) Ederson; Walker, Dias, Ake, Gvardiol; Lewis, Kovacic; Alvarez; Bernardo, Haaland, Foden.
Substitutes: Ortega Moreno, Phillips, Stones, Grealish, Doku, Gomez, Akanji, Nunes, Bobb.
Referee Michael Oliver.
Rishi Sunak and the people of Islington don't agree on much, but they're all adamant it's a time for change. Sunak wants to fix 13 years of Conservative governance; Arsenal are desperate to end eight years of Manchester City dominance. Their last Premier League victory over City was in December 2015, when Prince and David Bowie were alive and the league leaders Leicester were being patronised within an inch of their life.
Arsenal have lost their last crikey, I had no idea it was that bad 12 Premier League games against City, including a horrible chasing at the Etihad in April. Most of the time City have put Arsenal over their knee; on a couple of occasions, most notably New Year's Day 2022, Arsenal were excellent and a bit unfortunate. This is their chance to prove that things are different now, and that they ain't 'fraid of no Goats.
It does feel like a decent time to play City, who are without Rodri, John Stones and Kevin De Bruyne and even an association football match last weekend. Then again, Arsenal are without Gabriel Martinelli and possibly Bukayo Saka, so nobody knows anything. It should be fun finding out.
Kick off 4.30pm.