WWhen she was in school, Amy Sayer wanted to become a doctor, but quickly realized that was probably not a viable option alongside a professional football career. Now, as she looks to score her first Matildas goal and cement her place in the squad, she thinks law could be a future path for her. This is in addition to her Stanford degree in human biology and philosophy.
One thing is immediately clear about Sayer: the 21-year-old is determined to be the best version of herself. As a soccer player, a student and for her family and community. Yes, she used her exit from the Matildas World Cup squad as motivation to improve and get selected this time. But the drive was there long before that.
The drive was there when the 15-year-old from Sydney made her debut for Canberra United in the W-League. It was there as a Year 12 student in 2018 that she was first called up to the Matildas and made her debut, and not long after she broke her foot and missed a second senior national team appearance. And that ambition almost went into overdrive when Australian U20 teammates Beattie Goad and Alex Chidiac first introduced her to the idea of ​​US college football.
"When I heard the name Stanford, I thought, 'Oh my God, one of the greatest institutions in the world, ranked number one for its academics several years in a row, and a team that had just won the national championship in 2019,'" she says .After graduating high school in Australia, Sayer visited campus with her mother in 2019 and committed to return the following year, playing for the Stanford Cardinal for three years.
Football was one thing, but Sayer was equally fascinated by her studies. She attended some of Goad's lectures on human biology and decided that was the major for her. "Once I got there, it got even better," Sayer says. "When I discovered that I also loved philosophy, which was a crazy discovery, I sharpened my interest in the field of bioethics. I'm very interested in the interface between medicine and law and how all of these new innovations fit into it. Once I'm done playing football, I want to study law or, at least once I've settled in, maybe start taking some classes."
Sayer credits her family and her upbringing for making her the woman she is today and for instilling in her a thirst for knowledge that connects her academic world with the world of football. "They are my biggest supporters and I couldn't have traveled around the world twice without them and everything they have done for me," she says. "A big part of my identity is the half-Chinese side, namely my mother's side, and I grew up with a very proud Chinese heritage. It is something that is very close to my heart… something that is essential to who I am as a person.
"Academics have always been number one for (my family). It was great that I was able to internalize that message from my family and instead of them pushing me to do something, I had an inner urge to go abroad to pursue my football but at the same time continue my academic education."
Unsurprisingly, Sayer has always applied her academic talents to her football – analyzing where she needs to improve and what changes are needed to achieve it. Even before she joined the Matildas camp in July ahead of the World Cup – where she was eventually left out of the final squad – she had realized something was holding her back.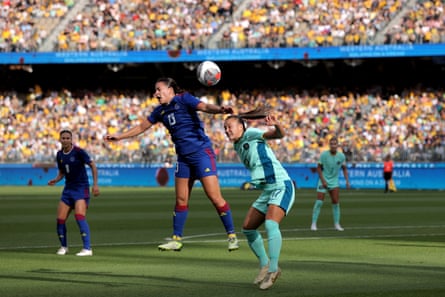 "I came to the conclusion that my time at Stanford had come to an end when I had started to get more involved in the Matildas and Tony (Gustavsson) and his staff had called me more into the teams for some camps," she says. "I wanted to pursue a professional career abroad instead of keeping my amateur status and playing another season at Stanford. I had to switch my second major to a minor and graduated from Stanford in three years instead of four."
The move to Swedish club Kristianstads DFF proved crucial for the attacking midfielder, who until then was the only Matilda still playing at amateur level.
"When I came to the Matildas camp from Stanford, I always felt like I had to spend a few days getting used to the pace and then being able to train as I wanted and then the camp was done," she says. "I have now identified areas of my game that have gone under the radar and of course these include speed of decision making, a bit of technical skill and techniques for using my physicality. It's a big step forward in many areas, that's the nature of professional football and I was able to integrate into it pretty quickly, but there's still a long way to go."
Sayer has been added to the Matildas squad with a strong starting XI that has been established for some time and is keen to make her mark but also knows she will be in the game for the long haul as part of a new generation of players.
"I want to be one of the core members who can stay in this position, not just someone who fits in where they are needed," she says. "And I think that will come with time. But I hope it doesn't take too long because I really want to push for a spot in the Olympic squad, which I know will be a very difficult road, but that's my goal for now."
Having stood out in the starting XI against Iran last week, Sayer is now fully on that journey and is now also thinking about the impact she can have as a Matildas player with Asian roots. "It's great that I've had this opportunity and been able to be so representative and I hope that if I have more airtime, younger girls and boys can see me and realize that Australia is so extremely diverse. "You really can do anything , whatever you want."