Key events
WICKET! Rizwan lbw b Zampa 46 from 40 (Pakistan 274-6)
Umpire's call is enough for Zampa! The googly again from Zampa, Rizwan misreading and trying to pull, hit on the back thigh and into enough of leg stump. Zampa doing just what he did against Sri Lanka, albeit in much tougher conditions and far greater scoreboard pressure: hitting pads in front of the pegs.
IS RIZWAN LBW TO ZAMPA TOO? Given out on the field. Up we go again!
40th over: Pakistan 272-5 (Rizwan 45, Nawaz 1) Target 368. Hazlewood has been outstanding tonight – 8-1-29-0 his return so far. He gives Pakistan nothing here other than three singles. 96 left in the final ten – if they get it, this will be special.
39th over: Pakistan 269-5 (Rizwan 43, Nawaz 0) Target 368. 97 from 66 with Iftikar there feels very different. It pretty much all comes down to Rizwan now.
WICKET! Iftikar lbw b Zampa 26 from 20 (Pakistan 269-5)
The Zampa googly does it! He always has those stumps in play and big Ifti, going back to cut, didn't get his blade down in time. An easy decision for the TV ump with the ball hitting the back pad first, ball tracking showing it hitting middle.
HAS ZAMPA TRAPPED IFTIKAR LBW? If it is pad first, Australia will have their man… upstairs we go.
38th over: Pakistan 265-4 (Rizwan 42, Iftikar 23) Target 368. And AGAIN – six more to begin the over! Ifti HAMMERS Stoinis into the sight screen, back over his head. Rizwan, who hasn't enjoyed much strike of late, does enjoy a shorter ball later in the over, getting down low to pull it over fine leg in unorthodox but effective fashion. 13 off it and 27 from the last two. Zampa's turn. Fun!
37th over: Pakistan 252-4 (Rizwan 37, Iftikar 15) Target 368. Here comes IFTI! One of the cleanest hitters in world cricket, the man who looked like he was 40 since he was 27, launches Cummins for TWO big ones over midwicket into the crowd. That's their first sixes since over number 14, I'm told by TV – that was how Australia built their score earlier today. But Ifti is the man who can catch up quickly; now the key. If he bats for 40 balls, they'll be most of the way to 368.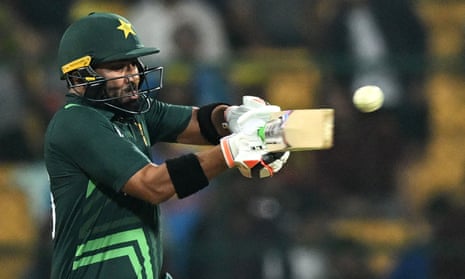 36th over: Pakistan 238-4 (Rizwan 36, Iftikar 2) Target 368. This is screw-turning time for Australia, before Iftikar can get into his boshing rhythm. Good again from Cummins to get Stoinis back at the right time – six from the over, which works for them at this stage. The required rate is up to 9.3 an over. Cummins has four of the last 14, Starc, Hazlewood and Zampa three each. He'll also need one more from Stoinis or Maxwell – probably the former on the evidence of his work so far.
35th over: Pakistan 232-4 (Rizwan 34, Iftikar 0) Target 368. Four dots to the big-hitting Ifti after the Skakeel wicket; that's a huuuge over from the skipper.
WICKET! Shakeel c Stoinis b Cummins 30 from 31 (Pakistan 232-4)
The Cricket Ground DJ brings on Australian classic, The Easybeats – Friday On My Mind, as Marcus Stoinis drags in a critical catch. It's the captain Cummins, back for a third spell, who locates a top edge from the left-hander Shakeel, an attempted pull spitting out to cover, Stoinis holding his nerve running back with the flight.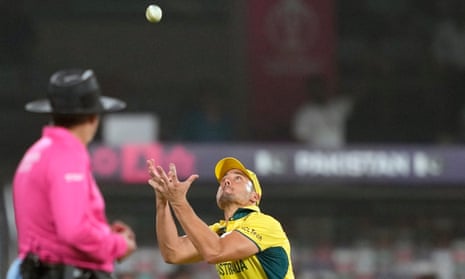 34th over: Pakistan 231-3 (Rizwan 33, Shakeel 30) Target 368. More Maxwell, who has two jobs: get through without going around and get through quickly. A reminder that as soon as the cut-off time is met, Australia will have to bring a fifth fielder inside the circle at the death. And as it was in his previous over, it starts well before Shakeel lines him up, pulling from back of a length over midwicket – his fifth boundary. The required rate is 8.6 an over… they're a big chance here.
33rd over: Pakistan 222-3 (Rizwan 29, Shakeel 25) Target 368. Mid-off and mid-on are inside the circle for Starc v Shakeel, which means, as Shane Watson reinforces on TV, they're going to be banging it in. But mindful of this too, it means the left-hander can camp on the back foot and wait, doing this perfectly from the third ball of the over, pulling over wide mid-on for four. Sensible batting again. Starc gets away with one later on, a bouncer that should surely be called a wide for height but isn't – how's he gotten away with that? "I concur," agrees Watto, "that looked high." Ohh, more brilliance from Shakeel to finish, predicting Starc's full ball at the pegs, jumping across his stumps before shovelling it over his right shoulder – four more! Australia are only a couple of wickets away from turning the screws but these two are doing a super job so far with their stand worth 47.
32nd over: Pakistan 213-3 (Rizwan 29, Shakeel 17) Target 368. Another factor: Australia are three overs behind their required rate, which means they will, at some stage, have a fielder moved back inside the circle. Remember Starc's eight-minute over at the start? Anyway, that prompts the return of Maxwell who is sprinting back to his mark after every ball in an effort to sneak this through inside 90 seconds. And it goes nicely until the final ball, just one single from five to that point, but Rizwan won't let the off-spinner dictate terms so he charges down the track and pops the ball over mid-off man, who is inside the ring, for four. Clever.
31st over: Pakistan 208-3 (Rizwan 25, Shakeel 16) Target 368. Teams are so well-drilled now that this scenario – thinking of the time left as a T20 – is something Cummins and co would've played out before the tournament. But the same applies for Pakistan. With Starc to deal with, short of his best so far here, Rizwan breaks the run of singles with a fierce pull across the line to make the most of the round-the-wicket angle. He looks bang up for this. 160 from 114 needed.
30th over: Pakistan 200-3 (Rizwan 19, Shakeel 14) Target 368. Back from drinks and his concussion Test, Shakeel lifts Hazlewood over mid-on for four. That's a beautiful shot – hold the pose. Shakeel isn't one of Pakistan's more high-profile stars but he's looking good and has to score heavily and quickly from here.
29.4 overs: Pakistan 196-3 (Rizwan 19, Shakeel 10) Target 368. Bouncer, four. Shakeel didn't know where that was going but over the 'keeper is safe enough. Oh, that hit the helmet not the bat so the umpires have called for both a concussion test and the drinks break. The required run rate is 8.5. Manageable.
29th over: Pakistan 190-3 (Rizwan 18, Shakeel 10) Target 368. As it has been throughout the chase, whenever Pakistan need a good over they seem to get one with nine runs off Zampa. Shakeel has the only boundary, tucking Zampa fine of the man on the edge of the circle – they need the left-hander to fly tonight.
"Afternoon Adam." Brian Withington! Great to hear from you. "Although it feels like Pat Cummins just held the catch that wins this game, let's hope it's at least a close one – I've not done any numbers but I'm guessing this has been a particularly one-sided start to the competition in historical terms?"
Not wrong. The closest finish was Pakistan's chase over Sri Lanka? And that was wrapped up at least a couple of overs before the end for a comfortable win.
28th over: Pakistan 181-3 (Rizwan 16, Shakeel 3) Target 368. Huge shout for leg before… not out. Looks to be pitching just outside leg so the new bowler, Hazlewood, doesn't encourage Cummins to review it. After three dots – remember how many of those the opening bowler sent down in his first spell – Shakeel gets a single. We get a DRS projection of the lbw appeal and it was pitching in-line with leg stump but it was going over the pegs. Two singles; spot on. He has 0/20 from six – the tidiest bowler on show from either side in this high-scoring affair.
27th over: Pakistan 179-3 (Rizwan 15, Shakeel 2) Target 368. Replay after replay of Cummins' dive. As Ian Bishop says on comms, this is the guy bowling down the other end and having to make all the decisions – had to be switched on to his job in there at midwicket and was. Five from the over and the massive Babar wicket.
"Australia should WIN!" says Justin Christopher. With Babar gone, they must.
WCKET! Babar c Cummins b Zampa 18 off 14 (Pakistan 175-3)
Brilliant from Cummins! He catches his opposite number with a dive to his right at midwicket. He's nailed his bowling change there too, getting Zampa straight back on after the two wickets from Stoinis and it's paid off two balls later. A huge moment, seeing the back of Babar, who looked in sparkling touch from the get-go.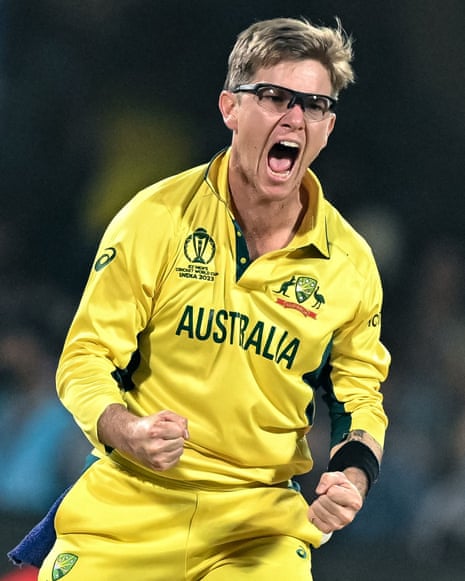 26th over: Pakistan 174-2 (Babar 18, Rizwan 13) Target 368. The quieter over Australia were after, five singles off Stoinis. Zampa and Maxwell, when they go back to their spinners? Big decisions to come for the captain Cummins.
25th over: Pakistan 169-2 (Babar 16, Rizwan 11) Target 368. Rizwan's turn! The new man has form against Australia. I was lucky enough to be at Karachi commentating on the enthralling Test there last year where Babar batted for two days for the better part of 200 then Rizwan hit a three-hour ton to nearly haul down 500-odd before securing the draw. Wild scenes. With Cummins back on, the wicketkeeper-bat is straight into him with a delicate cut for four before thumping a slap past mid off for a second boundary. Ten off it. At the halfway mark, Pakistan need to go at eight an over, which is about right from their perspective.
24th over: Pakistan 159-2 (Babar 16, Rizwan 1) Target 368. Just as it was in the previous successful Stoinis over, it's capped with a beautiful Babar boundary, turned through the legside from the off-stump line. He's so good.
WICKET! Imam c Starc b Stoinis 70 off 71 (Pakistan 154-2)
Stoinis pumps his arms in celebration for a second time in two overs! Imam has done just about everything right until this point, but the upper cut he was committed to doesn't clear Starc on the third man rope – a safe low catch is snaffled, and a crucial one at that. That was loaded with risk with the man back.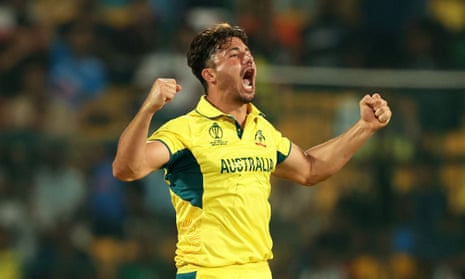 23rd over: Pakistan 151-1 (Imam 69, Babar 10) Target 368. The balance of Starc's overs will be used carefully, maybe across two further spells after this. His fifth over begins here with Imam placing a single behind point. Later in the set, one sneaks past Babar's inside edge with a tiny touch of movement. But not just content with singles, Imam ends the over with a ferocious pull over midwicket to bring up Pakistan's 150! He made room, giving Starc his stumps to aim at, but when it was banged in he was able to free the arms and give it everything. Australia were 169-0 at this point but they didn't finish that well. Great stuff.
"Hi Adam, enjoying the OBO as per usual." Thank you, Tom Barrington. "Is this the first game that we've seen where both sides have maintained a strong attacking intent after the powerplay during the middle overs? Is it the conditions or because both teams need the win desperately? Aided by bad fielding? Great to see Pakistan keeping their foot down after a period of consolidation."
And because of it, we are some chance of seeing our first close finish of the comp!
22nd over: Pakistan 143-1 (Imam 63, Babar 8) Target 368. Pakistan's middle-overs master, Babar Azam, walks to the middle boasting an average of 75 against Australia in ODIs. And whaddayaknow, he begins here with a controlled and well-placed pull – a boundary second ball. And another, flicking out in the same direction off the front foot – fine timing. Eventful over, the wicket also coming.
WICKET! Shafique c Maxwell b Stoinis 64 off 61 (Pakistan 134-1)
And they do get something! Via the big right arm of Stoinis, who strikes with his first ball of the night. Banged in, top edge, goes nowhere – Maxwell takes the easy chance. The Cricket Ground DJ plays Working Class Man. They're away… at last.
21st over: Pakistan 134-0 (Shafique 64, Imam 63) Target 368. Starc is back but… the ball isn't hooping, at all. He can be expensive at his pace. But not here – three singles, which Australia will take at this point. They really need something soon.
Really enjoyed this from Ewan Glenton on Zaheer Abbas, who Geoff Lemon and I regularly talk about on The Final Word Podcast on our weekend history show!
When Rassie van der Dussen reached 2000 ODI runs last week, I saw the list of the quickest batters to reach that milestone, headed by Amla (40 innings), then after him, all in 45 knocks, VDR, Kevin Pietersen, Babar Azam and Zaheer Abbas. Checking out Zaheer's stats compared to his contemporaries (so early 70s to mid-80s) it stands out that he had an ODI strike rate of 85, which is comparable to the likes of Root & Smith nowadays (both 87), and though they're not super express scorers they're generally considered quick enough and aptly suited to the modern game, I think. Well, going that far back, unless I'm overlooking someone you'll find nobody among elite batsmen who exceeded that except the inevitable Viv Richards (SR 90), and I can only find one (Clive Lloyd, 81) who even gets close. Most of the macho bat-swinging all-rounders of the time (Hadlee, Botham, Imran) were way, way behind, with only Kapil Dev (a stonking 95) standing up to comparison. Standout ODI performers of the time (Alan Lamb, Gordon Greenidge, Martin Crowe, Robin Smith…) are also far behind, with SRs in the 60s & 70s. Then fast forward a generation or two and you'll find even Ponting, Hayden, Brian Lara, all much slower; Tendulkar's was similar at 86, as was Pietersen's (also 86, and I think even by modern standards KP's hardly looked upon as a slouch, right?). So basically I think Pakistan can claim that Zaheer (who interestingly had a higher average in ODIs (48) than in tests (45) which was extremely rare too) is the only "elite" batsman, together with Richards, who was playing a good modern ODI game 30 to 40 years ahead of his time. Just wanted to quickly get that tribute in and say kudos to Zaheer, to give Pakistan fans something to smile and wave their arms about before they (however valiantly it turns out to be) lose this match.
20th over: Pakistan 131-0 (Shafique 62, Imam 62) Target 368. That's a big over for Pakistan sticking it to Maxwell. He's really not done anything wrong there but 15 runs are taken through enterprising, clever batting. Shafique begins by making room and lifting over point – it's a messy stroke but there's nobody out there; a calculated risk. Next, a dance down the track then a thump past the bowler in his follow-through – beautiful to watch. Imam's turn comes later the over, also using his feet before lifting over extra cover. Both openers are in and making smart decisions. 72 runs were added in the second ten overs after 59 in the first.
19th over: Pakistan 116-0 (Shafique 53, Imam 56) Target 368. My sense is that Zampa's remaining overs will be vital in the final analysis of this game. He's been much better to begin than in the first three games, conceding 24 runs across his first five overs but he has the stumps in play throughout – not easy as a leggie.
Shafique and Imam both raises their 50s
18th over: Pakistan 112-0 (Shafique 51, Imam 54) Target 368. To long on to begin, and that's Shafique to 50 in 50 balls. He had that chance, put down by the sub Sean Abbott at backward square, but a fine innings. Oh, now another DROPPED CATCH and this time it's the captain. Inside the circle at midwicket, Imam pulls hard enough to burst through his hands. Maxwell's frustration grows later in the over when the left-hander tickles him fine of the man at the 45 before running down for four. That's his eighth boundary and brings up his half-century too. That's his fifth consecutive 50-plus score in ODIs v Australia (thanks again, TV).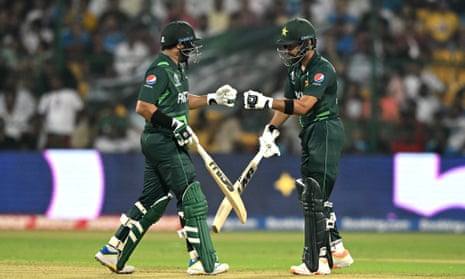 17th over: Pakistan 104-0 (Shafique 49, Imam 48) Target 368. Singles and dots against Zampa until the final ball when the legspinner drops short enough to prompt Imam to go back and cut behind point – he gets four for that. The 100-run stand is also up, the first for Pakistan in World Cups since 2015, the TV tells me.
16th over: Pakistan 97-0 (Shafique 47, Imam 43) Target 368. Maxwell after the drink and he's straight on it – hasn't put a foot wrong with the ball since his return from injury just before the tournament. Three singles off. Interesting – the umpire has just told both teams there is no DRS for the time being with Simon Doull adding that there's been a power outage. Pressure on the men in the middle.
15th over: Pakistan 94-0 (Shafique 45, Imam 42) Target 368. Cummins ensures that it's only singles from Zampa when throwing himself across the turf at midwicket to save a couple. The leggie isn't far away with a leading edge to finish but there's nobody at catching cover – understandably at this stage. Drinks!
14th over: Pakistan 90-0 (Shafique 43, Imam 40) Target 368. BANG! "That's making a statement to Pat Cummins!" says Shane Watson in relation to Shafique's powerful pull over midwicket to finish the over. The plan is to bounce the opener out as the Australian captain nearly did in his previous over with the dropped catch but he had all the time in the world there, eventually given as a SIX by the TV umpire – the first big one of Pakistan's chase. The required rate from here until the end is 7.7 and they're currently going at 6.4 – very good going.
13th over: Pakistan 81-0 (Shafique 36, Imam 38) Target 368. Watto, bless the big rig. They cut to comm box cam between overs and, having had some unflattering pictures of him all over social media when bursting out of his shirt the last few days, says "better make sure the shirt is okay first!" – one of the great people in cricket, Our Shane. To the cricket: Zampa to Imam doesn't go quite so well this time with the left-hander dancing and launching over his head for four. He's always been light on his feet, never worried about coming out of his ground to the spinners – he'll need to do a lot of that to dictate terms in these middle overs.