Key events
The player of the tournament is… Virat Kohli
He walks up, ashen-faced, to collect his trophy, looking like a Bullseye contestant who missed out on a state-of-the-air washing machine and won only their bus fare home.
It's time for the presentation. Fair to say Ravi Shastri is no longer doing his Michael Buffer impersonation. There are a few shell-shocked Indians on the podium, though Sachin Tendulkar is still able to summon a smile.
"The Aussies won this in the field," says Chris Paraskevas. "From the minute Ravi Shastri's Michael Buffer impersonation ended, they were at it… proactive and all expecting the ball to come their way. How many runs did they save? A figure of 50 was touted but I'd say more. Hard to think of a fielding performance that has so affected such a big game."
"Watching the India players slowly deflate showed the flip side of home advantage," says Niall Mullen. "For so long you think that you are destined for this but then destiny deserts. It must be difficult/impossible to find the energy you need to rise again."
Nasser Hussain, who knows of what he speaks, is praising Pat Cummins on Sky
It started with the toss… the weak captains make a decision that, if it goes wrong, makes them look less bad. That was a really brave decision. Pat Cummins absolutely nailed everything today: field placements, bowling changes. That was a magnificent win.
"Today is proof positive that the best team doesn't necessarily win the tournament," says Simon McMahon. "Though I'm sure India will get over it more quickly than Scotland did after Argentina 78."
"Has the time come to rework Gary Lineker's famous adage about football and the Germans?" says Colum Fordham. "Cricket is a (relatively) simple game – 22 men or women hitting, bowling and chasing a ball for a considerable amount of time and, at the end, the Australians (almost always) win."
Couldn't cope with Bazball though could they Absolutely. I think one of the TMS commentators said the same thing after the semi-final. There were written off by so many people after the first two games – "too old", "don't like it up 'em" – and here they are again, back on the podium.
India's 10-year wait for an ICC trophy goes on. In that time they've had a number of desperately disappointing defeats, including a Champions Trophy final, two World Test Championship and two World Cup semi-finals. None come close to this.
Virat Kohli, Rohit Sharma, Ravindra Jadeja, Mohammad Shami and Suryakumar Yadav will never play another 50-over World Cup. Jasprit Bumrah and Mohammad Siraj will be 33 in 2027, KL Rahul 35, Kuldeep 32. We love a bit of ostentatious empathy at Guardian Towers but I don't think it's possible to understand the breadth of the despair they must be feeling right now.
Imagine how alive they felt at this precise moment
"Surely the ultimate Usual Suspects reference would be Maxwell against Afghanistan?" says Dave Moore. "I can't feel my legs, Kaiser…"
Match report: Australia win the World Cup
"Bazball is yesterday's news," writes Showbizguru. "Welcome to Headbanging."
Very good. The funny thing is that he predates Bazball. I don't think Ben Stokes has explicitly said as much, but the way he talks about bowling to Head in that 2021-22 Ashes series makes you think he was a bit of an inspiration to Stokes. Eff fear, eff failure, that's four.
The player of the match is the utterly wonderful Travis Head
Not in a million years (did I think this could happen). What an amazing day, I'm just thrilled to be part of it. It's a lot better than sitting on the couch at home. Very lucky that everything went well with my rehab and I was able to get back here.

I was a little bit nervous for the first 20 balls but Marnus played exceptionally – it's awesome to bat with him, he soaks up the pressure, and it was just an amazing partnership.

Mitch Marsh set the tone for us, even if he didn't take it on. It was a great decision to bowl first. The wicket took a bit of spin but it got better as the day went on. It's gonna be an amazing couple of days now.

(You're the third Australian to get a World Cup hundred after Ponting and Gilchrist. How does that feel?) I'm definitely third on that list*. It's nice to be here, nice to contribute… I said to the boys, I'm looking forward to the reunion!
* Oh no you're not sunshine
"Typical Australians," says James Gladstone. "Don't they know it's just plain rude to turn up at somebody's party, start shouting, vomit up over the new carpet and leave the bathroom in a state… They need to be told."
In November 2021, Travis Head was a solid international batsman, relatively anonymous. Then he was recalled for the first Ashes Test and decided 'bugger this relative anonymity' and launched Travis Head 2.0. Since then he has been world cricket's barnstormer-in-chief. He's a helluvan advert for a change of mindset.
An emotional Marnus Labuschagne – the guy behind the guy today, the man with nine lives across tshe tournament – is speaking to the host broadcaster
Mate, it's the best achievement I've ever been part of. India have been the team of the tournament, they've been unbelievable, but… you know, if we played our best cricket we're a chance.

I'm a man of faith, I believe in God, and the way things have panned out for me in this tournament has been unbelievable. Three months ago I wasn't even in the squad for South Africa, so to play 19 games straight is a miracle. I'm lost for words. The amount of times I thought, "I'm done". Even last night, the team wasn't named until about 10 to 10. My eyes went to the ground.
Australia, bloody hell. In 2021 they were humiliated by England in the group stage of the World T20 and won the tournament. A few months ago they were battered from pillar to post by England and regained the Ashes. And now, after losing their first two games of the World Cup to India and South Africa, they have beaten both in the knockout stage to win the bloody thing yet again. Oh, and they're Test champions as well.
Travis Head is the player of the match by a country mile – not just for his astonishing 137 but arguably the key moment of the entire tournament, the stunning catch to dismiss a rampant Rohit Sharma.
Mohammad Siraj is in tears, with Bumrah trying to console him. India will have a thousand bittersweet memories from an extraordinary tournament; I doubt they will ever truly get over this. As was said earlier, it's cricket Maracanazo. I never thought I'd use Travis Head and Alcides Ghiggia in the same sentence.
AUSTRALIA WIN THE WORLD CUP FOR THE SIXTH TIME!
Australia win by six wickets with 42 balls remaining!
43rd over: Australia 241-4 (Labuschagne 58, Maxwell 2) Glenn Maxwell pulls his first ball for two and the Australian squad all charge onto the field, growling with delight. Fireworks go off almost apologetically.
This is their sixth World Cup in the last 10 tournaments. No other team has ever won more than two.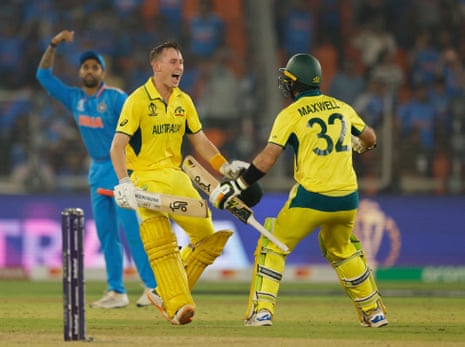 WICKET! Australia 239-4 (Head c Gill b Siraj 137)
There's a hushed silence around the ground; empty, confused faces. They will be put out of their misery any second now.
Travis Head flogs a short ball from Siraj over mid-off for four. With two needed, he tries to finish the match in style but holes out to cow corner. He walks off wearily, tongue hanging out, and is warmly congratulated by the Indian team.
He played the innings of his life: 137 from 120 balls with 15 fours and four sixes. Those numbers make it look like a typical Head assault but it was much subtler than that.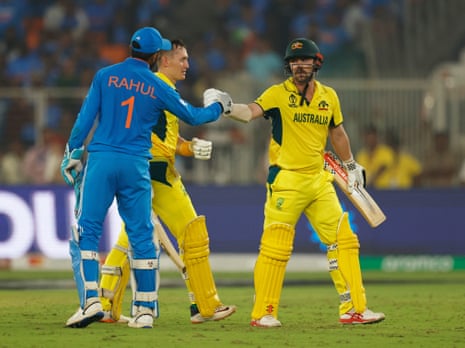 42nd over: Australia 231-3 (Head 130, Labuschagne 57) The Australian dugout are all grinning like Jack Nicholson back in the day. Just as in 1999, they're recovered from two very early defeats to win every game.
In a sense, 1999 was harder as there was less margin for error. But they didn't have to beat the unbeatable in the final. This task was the cricketing equivalent of the boat heist in the Usual Suspects, and they've all come out alive.
41st over: Australia 230-3 (Head 129, Labuschagne 57) You have to wonder what impact the new-ball demotion had on Siraj's confidence, never mind giving him too many overs in the middle of the innings.
Labuschagne helps him round the corner for another boundary. India scored only four fours after the fourth over; Australia have hit four sixes, and 16 fours. The dew has helped but it has still been an immense performance.
40th over: Australia 225-3 (Head 128, Labuschagne 53) Bumrah returns. It's too late, he should have extended his second spell. Labuschagne flicks him four to bring up his 17th Test-match fifty from 99 balls. It's been a serene, almost flawless innings.
I may be misremembering this as it was quite a complicated situation, but I'm not sure Labuschagne would have made the squad but for Travis Head breaking his hand. Now they're together in the middle, casually winning the World Cup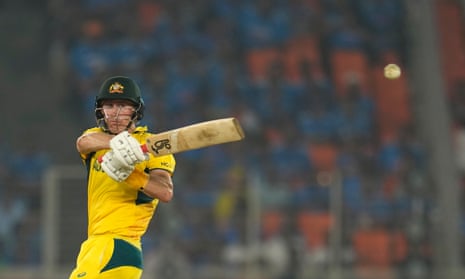 39th over: Australia 219-3 (Head 127, Labuschagne 48) Ravi Shastri is commentating, and he sounds like somebody who has just been given the dreaded news by the vet. Before the game it was hard to see Australia winning; it was impossible to see them battering India like this.
Labuschagne's role has been so vital – he's hit only two boundaries, one off the edge, but with Head playing such a commanding innings, his only job has been to hang around and rotate strike. I also think his first 10 or 20 balls were crucial; not that he survived them so much as the assurance with which he did so. It was the first suggestion that Australia might be able to withstand an unprecedented storm.
"This is a cross between the Maracanazo of 1950 and West Germany beating Hungary in 1954: the most dominant World Cup run ever, ruined in front of a home crowd," writes Daniel Harris. "Incredible."
Heh, quite, although the pedant in me would argue Australia's 2007 run was even more dominant, regardless of today's result.
38th over: Australia 214-3 (Head 125, Labuschagne 45) Same again! Kuldeep tosses one up, so Head pummels it over wide long on That's his fourth six to give with 14 fours. Another thing that makes Head's innings even more impressive is that he was all over the place in the first few overs.
It would have been so easy to keep swinging and pray, knowing he coul use the 'it's the way I play defence'. But he dug in – at one stage he made 2 off 19 balls, riding his luck along the way – and waited until batting got a little easier. And then a lot easier.
37th over: Australia 204-3 (Head 117, Labuschagne 43) A dream is dying in front of 130,000 people. The new bowler Siraj is pulled mightily over midwicket for six by Head, who is doing to India's World Cup dream what Gerald Coetzee did to his hand a couple of months ago. That injury and subsequent layoff makes this innings even more remarkable.
36th over: Australia 195-3 (Head 109, Labuschagne 42) "Second World Cup final in a row with a slow, difficult wicket," says Luke Dealtry. "Are batsmen ever selected for what they can do on this type of pitch? Trying to think of the kind of batsman that can use their timing and power to dominate in these conditions. Stokes eventually came good in the last final but it was tough even for him."
Well, one player was picked for a pitch like this, and he's currently 42 not out. I know what you mean though. I find it odd that people say the 2019 final was superior to the 1999 semi-final. The greatest finale, no question, but for 95 overs it was a prosaic game.
35th over: Australia 192-3 (Head 107, Labuschagne 41) Head's in a hurry now. He slog-sweeps Jadeja mightily for six more, and the usual singles bring the target down to 49 from 90 balls. Jadeja, a potential matchwinner, finishes with figures of 10-0-43-0. That's drinks.
All tournament, we've been looking to the past for statistical similarities and precedents. Well, my friends, this is becoming the 1996 final in reverse, and Head is playing Aravinda de Silva.
TRAVIS HEAD MAKES AN AMAZING HUNDRED!
34th over: Australia 185-3 (Head 100, Labuschagne 41) Head launches Kuldeep over the leg side for successive boundaries. Two more down the ground takes him to 99 – and then he reaches his hundred with an absurdly risky single! He would have been miles out with a direct hit.
Head lives on the edge, so in that sense it's apt he reached his hundred with such a dodgy single, but actually this innings has been notable for his management of risk. He has surely never played with such destructive power and maturity.
With an extremely respectful nod to Clive Lloyd, Viv Richards, Aravinda de Silva, Ricky Ponting, Adam Gilchrist, Mahela Jayawardene, this is the greatest hundred in a men's World Cup final: 95 balls, 14 fours and one six. If he sees it through, it'll have a case for being the greatest ODI innings ever played.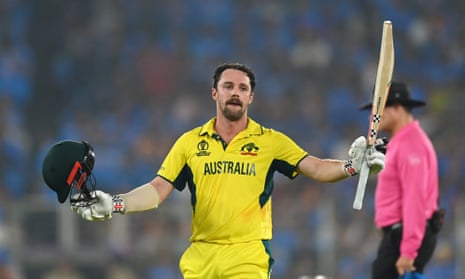 33rd over: Australia 174-3 (Head 89, Labuschagne 41) Head hacks Jadeja to cow corner, one of only two singles in the over. He has 89 from 90 balls, Labuschagne 41 from 81. His role is crystal clear.
"Not sure if it's been commented on," says Jon Salisbury, "but a marked difference in the desperation of the two sides to save boundaries."
What makes Australia's fielding even better is that most of them are in their thirties. That first 10 overs against South Africa was among the most exhilarating team displays of fielding I can recall.
32nd over: Australia 173-3 (Head 88, Labuschagne 40) Kuldeep replaces Bumrah to no great effect. Rohit has been a giant all tournament, with brain and bat, but I think he's been too defensive here.
Now, if you were to ask me to name three great World Cup batters, who delivered when it really mattered, I wouldn't say Richards, Kohli, Ponting. I'd go Head, Boon. Brearley.
31st over: Australia 170-3 (Head 87, Labuschagne 39) Jadeja continues. At this rate Siraj will have to bowl his last seven overs off the reel.
There are four dot balls in a row to Labuschagne, though that's no issue for Australia. Head is stealing the show but he couldn't have done this without Labuschagne's soothing presence. The pressure and noise when he came to the crease were like nothing he has ever experienced.
Australia need 71 from 114 balls. India can still win this – I wouldn't want to be a new batter in this atmosphere – but time is running out.
30th over: Australia 167-3 (Head 86, Labuschagne 37) Bumrah produces two superb yorkers that are dug out, one by each batter. That's his seventh over done. I'd give him at least two more if that's what it takes to get a wicket. In this atmosphere a spectacular collapse is always possible – but only if they break this partnership very soon. No point saving Bumrah's overs for when Australia are 210 for three.
"The best team never to win the World Cup is definitely West Indies, 1983," says Taimur Khan Jhagra. "The only team that lost the final that no one would ever have believed on the day, ironically, defeated by India."
Yep, fair point. They beat everyone apart from India by huge margins.
29th over: Australia 163-3 (Head 85, Labuschagne 35) Three from Jadeja's over. Pat Cummins' surprising decision at the toss looks increasingly like a stroke of genius.