Belgian club Union Saint-Gilloise have been denied renewal of their European Club Association (ECA) membership after joining a new body representing small and medium-sized teams, the Guardian has been told.
Saint-Gilloise was informed earlier this year that her role in the nascent Union of European Clubs (UEC) would violate the statutes of the ECA, a far larger body legitimized by Uefa as the sole body representing the interests of clubs represents. In fact, that meant they were thrown out. It's an example of how profound disruptions are unfolding in continental football, as non-elite teams demand a greater say in the future direction of the sport.
In September 2022, Saint-Gilloise, a Brussels-based success story who reached the quarter-finals of the Europa League last season after being promoted from the lower divisions, became a member of the 'ECA network'. It is the lowest level of membership which essentially gives them a voice in the room and access to ECA's broader resources, but no voting rights. After qualifying for this year's competition – they belong to Liverpool's group – and achieving Belgium's third-highest Uefa coefficient, they were invited to become 'full members' in the 2023-2027 ECA cycle, giving them voting rights . But when they disclosed their membership of the UEC, which was launched in April, they were expelled.
"They politely called me and said it wasn't allowed and that they would email us with the refusal," says Alex Muzio, the London-based majority owner of Saint-Gilloise. The club refused to consider leaving the UEC, of ​​which Muzio is a board member.
Article 8(a) of the ECA Statutes states that member clubs "may not be a party or member of any other association, organization or grouping in which clubs from more than one Uefa member association participate, with the exception of football clubs". Associations recognized by the ECA together with Fifa and/or the relevant confederation". It is unclear whether this is enforceable in practice under European Union law.
The standoff set the stage for an ECA General Assembly, held in Berlin on Wednesday and Thursday, at a particularly significant time when both their ability and motivation to fairly represent clubs below the European giants are questioned are. The UEC was formed to give these teams a voice, with the ultimate aim of earning their own seat at the Uefa table. It is known to have registered 121 clubs to date and is expected to list the full membership later this year.
"The point here is not to criticize the ECA or its actions," says Muzio. "It's about changing European football for the better. We believe there are a large number of professional clubs that are not represented in the European leagues and we believe we can represent them in a positive way to bring about the change these clubs want."
The UEC is particularly interested in solidarity payments from Uefa to clubs that do not take part in European competitions. Previously, around 5% of the £3.2billion in Champions League, Europa League and Conference League revenue was split between these clubs, but compared to the riches on offer to players at the highest stage is is that's just a tiny drop in the ocean. The impact on competitive balance in domestic leagues and even in pan-European tournaments is growing. There is an opinion in some circles that only a proportion of around 20% for those who do not qualify for Europe would give them a chance to compete.
"My personal opinion is that solidarity should be distributed in a way that depends on the positive progress of a club," says Muzio. "That could entail spending on infrastructure, their wages-to-turnover ratio, their commitment to women's football and the health of their academy." The reallocation of funds to clubs in Europe shouldn't depend solely on their placement in the bottom line.
"Clubs need more competitiveness without necessarily needing a large cash injection. You run the club well, invest wisely, receive good solidarity payments from European competitions, grow slowly and organically and develop a path to success."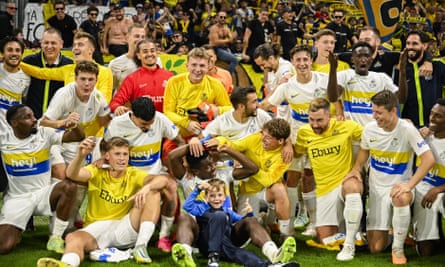 Outside the ECA, although it had 245 members in the previous cycle, there is a perception that its power is concentrated in the hands of a few wealthy people. It has just 16 permanent founding members, including Manchester United, Chelsea and Rangers, and far fewer than half of its clubs have full voting rights. The UEC proposes a "one club, one vote" model to its prospective members, which does not take into account the size of a club.
In Berlin, the ECA will present a series of reforms that it hopes will largely castrate the UEC. Six months ago, it pledged to significantly increase its membership to offer improved benefits to new members and, it claims, to give smaller clubs a stronger voice. These new members are expected to be announced before the end of the General Assembly. Discussions about a reallocation led to a brief announcement from Uefa on Wednesday afternoon that solidarity payments for non-qualifiers would be increased to 7%. It falls far short of most ambitious targets, but the UEC welcomed the increase in a statement, saying it was "the result of strong support for our targets and recognition of our hard work over the past few months".
One perspective could be that by sticking to its line and excluding Saint-Gilloise, the ECA may inadvertently give the UEC additional credibility as a competitor. But the ECA is trying to get everyone under one roof: it is believed that the existence of multiple competing bodies would weaken clubs' ability to make their voices heard en masse. Their task is to convince the hundreds among the elite that they are qualified to represent their interests; The General Assembly could set the tone of the debate on the future of European football for some time.