Key events
Rory Burns runs off the pitch with the urgency of Champions, after Mohammad Abbas gives the umpire no choice. Five wickets for Lawes, three wickets for Roach. No Trophy stuck in limbo on the M1 this year.
A hundred for Rob Keogh… and a third bowling point for Surrey
At the arse-end of the season, Keogh enjoys some Rice Krispies – though he's lost Zaib and McManus, Northants 214-6.
And after a superb innings of 78 for Ben Brown, he's snaffled at slip by Joverton. Now just two points–300 runs – needed for Surrey be sure of the Championship.
Wickets a go-go: Banton and Abell have nearly doubled the score for a paper-thin Somerset, from 37-6 to the riches of 65-6. And two Gloucestershire wickets down already – to make it 12 for the day at Hove, with a session to play. Lancs suddenly 8 down, after losing four for 23 after the dismissal of Bohannon for 113. Hampshire 180-8 and Middlesex stiffening the sinews at 70-3 against Notts.
And just as I open my teatime Twix, Fuller is lbw to Cam Steel, which leaves Surrey just one wicket away from three bonus points for the day. Hampshire 172-8.
Roach high-fives each of his teammates off the field as they clatter up the steel steps, spikes clanking like a bundle of garden rakes in the breeze. Time to take a quick stroll and grab a coffee. Back soon!
Just starting to get a bit chilly at the Rose Bowl, where Cameron Steel is rolling in to Ben Brown and Fuller. A neat little half century for Brown, and a cracking four from Fuller sends Jamie Overton spinning through cover. The plane trees round the boundary waver in the wind. And that's the fifty partnership for the eighth wicket just before tea. They sup and dine at 168-7.
Southampton: Hampshire 150-7 v Surrey
Canterbury: Kent v Lancashire 231-5
County Ground: Northamptonshire 136-4 v Essex
Trent Bridge: Nottinghamshire v Middlesex 33-1
Edgbaston: Warwickshire v Somerset 37-5
DIVISION TWO
Chester-le-Street: Durham 275-4 v Leicestershire
Sophia Gardens: Glamorgan v Derbyshire 198-1
Hove: Sussex 202 v Gloucestershire
Headingley: Yorkshire v Worcestershire 130-4
As Durham collect their 50th – 50th!!! batting point of the season at The Riverside, Luis Reece has knocked up his third hundred of the season for Derbyshire against Glamorgan.
So Sussex crawl to 202, thanks to 56 from naughty-boy Jack Carson. Five for Taylor, three for Zafar. They've taken tea, as they have at New Road, where Worcestershire are 130-4.
After four balls, Middlesex are 0-0. And gosh, Somerset?? 24-4. Two for Rushworth, one for OHD, one for Barnard.
Having won the toss…
Andy Umeed has signed a contract extension with Somerset till 2025.
Jake Ball and Samit Patel both released by Notts.
Ollie Robinson set to extend deal with Sussex.
Century number four for street-fightingTM Josh Bohannon – what a quietly excellent season he's had. Leading scorer in Division One. Lancs making Kent sweat – 199-4. Still no play at Trent Bridge which, with their rivals struggling, coulc be sweet music to Middlesex.
Northants (98-4) keeping Essex's tail up: Harmer-Cook-Porter-Porter. Greater than or equal to Abbas-Barker-Abbot-Dawson? Or even Roach-Worrall-Clark-Lawes-Overton.?
Two in the back pocket of the Champions, with Kemar Roach steaming in again. Hampshire may have used up all their resolve against Essex. Hants 97-6, three for Lawes.
Second Division etchings:
Leicestershire clawing back Durham after a flyer – Durham 170-4, two wickets each for Scriven and Wright.
Derbyshire breezing along nicely at Sophia Gardens, 142-1, with Reece 79 not out.
Not great news for Sussex fans, losing three for nought, one of the three Haines (62). Five wickets for Matt Taylor. Sussex 140-8.
And Coad and Hill not making things easy for points-seeking Worcestershire, 78-4.
Apologies all, my lunchtime meanderings didn't appear as I was unaware that I had lost the wifi connection. Sunny at the lovely Rose Bowl – I've been converted. Let's go round the grounds.
Southampton: Hampshire 60-4 v Surrey
Canterbury: Kent v Lancashire 106-4
County Ground: Northamptonshire v Essex rain, no play before lunch
Trent Bridge: Nottinghamshire v Middlesex rain, no play before lunch
Edgbaston: Warwickshire v Somerset rain, no play before lunch
DIVISION TWO
Chester-le-Street: Durham 116-2 v Leicestershire
Sophia Gardens: Glamorgan v Derbyshire 95-1
Hove: Sussex 114-4 v Gloucestershire
Headingley: Yorkshire v Worcestershire rain, no play before lunch
And that's Surrey's first point in the bag. James Vince, yes it was, caught at slip. Hampshire 53-3.
A nice scattering of supporters here as Vince drives Jamie Overton down the ground and the Rose Bowl sighs a happy sigh.
With lunch approaching, Lancs have already given Kent one valuable point – now 98-4, with Bell a third wicket for Quinn, for 40. Still raining at Trent Bridge.
Kemar Roach is eager for the party to start – Hampshire wobbling at 35-2 after he bowled Nick Gubbins for a pretty eight, and had Toby Albert caught at second slip. Enter James Vince.
All aboard the Parky roundabout. Matt plays for Durham in this last round before joining Kent at the end of the season. Callum carries the drinks for Leicestershire today before moving to Durham in the autumn. Durham 112-1.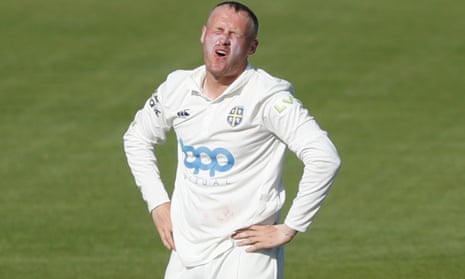 If your thoughts are turning to international cricket (how dare you), the third ODI between England and Ireland will wriggle into action at 12.30pm. Tim de Lisle is prepped and ready to take you through it:
Graham Taylor has sent me a lovely picture of a double rainbow over New Road today, but I can't upload it so you'll just have to trust me.
"As Worcestershire hope for just two points to win promotion to Division One from their county game against Yorkshire ,today a double rainbow appeared over the New Road ground. Surely there is real hope at the end of the rainbow."
It looks like there will be play at Headingley shortly, Yorkshire have won the toss and sent Worcestershire in.
In Division Two: Alex Lees has, unusually, fallen early, but Michael Jones and Scott Borthwick are battering Leicestershire's forlorn hopes, Durham 90-1. Harry Came and Luis Reece going along nicely against Glamorgan, Derbyshire 68-0. And Sussex, into the final round without a sniff of anything, and without Pujara again, are wobbling against Gloucestershire, 76-3. Tom Haines (43 not out) and Jack Carson are restored to the side after being banned last week.
"Hi Tanya", Hello Stephen Anniss. "Ironically, the sun is shining and it's warm(ish) up here in Manchester. Hope you get some play down on the south coast."
I did ponder that as I trundled towards the grey. But according to the Met Office there should be bright sunshine here by one o'clock. Hope it stays nice in Manc too.
I think I've only been to the Rose Bowl once before, in 2003, when I covered the first T20 game from a press tent on the boundary and there was space round the rope for a bouncy castle and face painting. Massively changed now obviously. First impressions: lovely trees round the boundary and very impressed by the Arlott Atrium, a genuinely nice place for fans to have a cup of coffee/ sit and read the paper/wait for the rain to stop.
Steve
In Division One, nothing doing apart from the late-start here at the Rose Bowl (Hampshire 1-0) and Lancashire's shoddy start at Canterbury – Wells, Jennings and Croft all out in single figures. A rebuild under way from Bohannon (26) and Bell (18). Lancs 54-3.
Standing by a pile of sawdust, Kemar Roach runs in. So let's go round the grounds:
I've arrived at the Ageas Bowl, just in time for play to start – though the sky doesn't look that promising.
Umbrella updates: pitch inspection at The Rosebowl at 10.45, no play before lunch at Edgbaston, raining at The County Ground.
An email to brighten my morning, hello Rob Lewis!
"First of all, thank you for your enlightening coverage over what has been a strange but exciting season." (thank you!it's been fun, hasn't it)
"I was musing on the fact that in 1960, when I started following cricket, Surrey and Yorkshire were duking it out at the top of the table, and The Man From U.N.C.L.E. was about to break onto our tv screens. Today, we hear that the star of that show, David McCallum has died at 90, and Yorkshire might be about to become the winners – of the wooden spoon. At least my team, Surrey, should be crowned champs over the next 96 hours. So at least something is in the right order in this disordered world."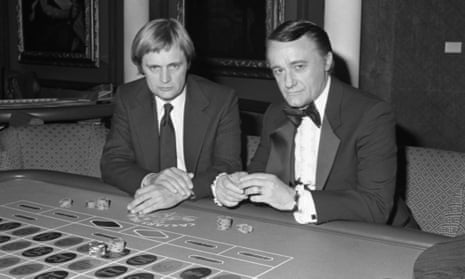 Gary Naylor's invaluable round-up of all things county cricket:
My train has come to a grinding halt somewhere outside Basingstoke, but the weather in north Hampshire is grey – and the start is indeed delayed at Southampton, as well as The County Ground, Trent Bridge, Edgbaston and Headingley.
Thanks to Romeo for reminding me that Sue Redfern smashes another glass ceiling today by being the first female to stand in a County Championship game.
Ahead of the men's 50-over World Cup, the second edition of the Street Child Cricket World Cup is up and running in Chennai: 19 teams from 13 countries split into three groups, two international and one Indian. The charity was set up to advocate for street-connected children, give them a voice, raise awareness, and campaign to give them better protection, respect and support – the tournament give those children a global platform as well as an international tournament to play.
Follow the games on YouTube here:
A cracking piece on Ravichandran Ashwin, who bowled like a dream against Australia on Sunday.
England players may yet join the party after their final ODI against Ireland in Bristol today, as Ali Martin reports:
Southampton: Hampshire v Surrey
Canterbury: Kent v Lancashire
County Ground: Northamptonshire v Essex
Trent Bridge: Nottinghamshire v Middlesex
Edgbaston: Warwickshire v Somerset
DIVISION TWO
Chester-le-Street: Durham v Leicestershire
Sophia Gardens: Glamorgan v Derbyshire
Hove: Sussex v Gloucestershire
Headingley: Yorkshire v Worcestershire
1 Durham 209
2 Worcestershire 162
3 Leicestershire 140
4 Glamorgan 131
5 Sussex 130
6 Derbyshire 104
7 Gloucestershire 95
8 Yorkshire 89
1 Surrey 213
2 Essex 193
3 Hampshire 173
4 Warwickshire 170
5 Lancashire 152
6 Somerset 140
7 Nottinghamshire 129
8 Kent 99
9 Middlesex 98
10 Northamptonshire 74
Hello! The morning slowly lifts as the train cuts down the country, the skies grey and the leaves turning. It's a late dawn. In just over a month the clocks go back – time to tug the curtain across another cricket season.
But not quite yet. We have a final round to play – with the Champions still to be crowned. Surrey can win – for the third time since 2018 – if they collect just five points from their final game against Hampshire at The Rose Bowl. Essex will have to settle for second place unless Barker, Abbott and Abbas deny Surrey any batting points in a crushing defeat, and Essex amass maximum points at The County Ground – where Alastair Cook may or may not be playing his final first-class game.
At the bottom end of the table, there is a bruising battle ahead between Kent and Middlesex over who will avoid joining Northamptonshire in Division Two next year. Kent, who have a one-point advantage, play Lancashire at Canterbury; Middlesex travel to Trent Bridge.
In Division Two, Durham have already been crowned Champions, and Worcestershire can secure the second promotion spot if they get two points against Yorkshire – who could yet escape the wooden spoon despite their points deduction.
Plus fantasy points, end of season gongs and a final four days of BTL chat. Play starts at 10.30am, do join us.