Key events
Rain poured over the land like a poorly kept secret. But it wasn't enough to stop the games getting rolling in the penultimate round of the championship.
Leicestershiredriven by victory in the One-Day Cup, and needing a win to stay in the promotion battle, reduced Yorkshire at 155 for 9 at Grace Road, with four wickets for Will Davis. Finlay Bean top scored with 40 points while making 1,000 runs for the season.
Worcestershiretheir promotion rival got off to a brilliant start Durham, although not as explosive as the unexploded World War II shell discovered in the nearby River Severn. Jake Libby, who was lucky enough to survive a run-out appeal, also reached 1,000 runs – for the second time in three seasons.
There were also a thousand runs for Tom Westley (50), but the Chelmsford credit went to Adam Rossington, who finally ended a difficult season with a hundred runs Essex in a good position against it Hampshire.
Essex are chasing the Division One leaders Surreywhich reduced fighting Northamptonshire to 171 for six, with a second consecutive half-century for Karun Nair.
Middlesexwhich were largely shot by Olly Hannon-Dalby for 121, were launched by Tim Murtagh in his last appearance at Lord's which caused concern Warwickshire with three for 17. Tom Lammonby scored his first hundred of the season for Somerset against struggling Kent at Taunton.
While the New Road ground crew struggles The wind, time for me to go. Thank you for staying with us on a wet but hectic day. See you tomorrow, good night!
DEPARTMENT ONE
Chelmsford: Essex 310-6 v Hampshire
Old Trafford: Lancashire v Nottinghamshire No game on Tuesday
Lords: Middlesex 121 v Warwickshire 72-4
Taunton: Somerset 214-2 against Kent
The oval: Surrey v Northamptonshire 171-6
DEPARTMENT TWO
The County Ground: Derbyshire v Sussex No game on Tuesday
Grace Rd: Leicestershire v Yorkshire 155-9
New street: Worcestershire 104-1 v Durham
And bad light stops playing at New Road.
Time has passed, With Yorkshire nine behind, Northants six behind, Warwick three behind and Essex five behind, it's time for me to write up. BTL will of course remain open.
And that's the run! Poked in the side of the leg. A huge round of applause came from the elated spectators. The fifth Division Two player to cross the Rubicon this year.
Five hectic moments at New Road: According to television, Jake Libby is initially out of action, but not the referees. Now, at 44, he still needs one run for a thousand this season. Meanwhile, at the other end, Gareth Roderick hits a fine fifty before losing his middle stump to De Leede.
A hundred for Tom Lammonby!
His first of the season off 139 balls gave Somerset a great start against a Kent side desperate for points.
Oh Warwickshire! Oh Middlesex! Oh Murtagh! Warwickshire 28-3; Murtagh 3-8.
Bas de Leede, who is flying to India after this game to join the rest of the Netherlands team ahead of the World Cup, takes over at the New Road end and immediately hits Gareth Roderick in the penalty area. Poor Roderick is rolling around in pain. Worcestershire 70-o, going very well, although my nervousness about the green of the pitch is completely unfounded.
Two points for Leicestershire Pocket, Yorkshire six behind for 112. But Worcestershire are in, 60 for no loss from 15 overs.
A penultimate innings at Lord's for Tim Murtagha great 0 not out as Middlesex are dismissed for 121.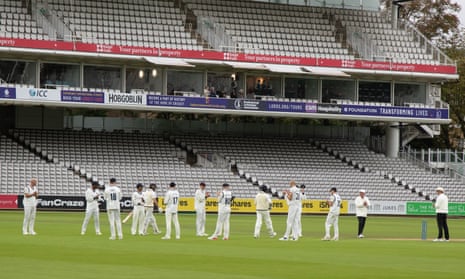 framework On the cathedral tower there are four briefs whose trousers are ruffled by the warm wind. Worcestershire holds on. Libby, 21, needs 45 for a thousand runs this season.
And Middlesex is on 121. Five for OHD.
Creeping clouds here on New Road, while Yorkshire reel at Grace Road: 96-4. I just noticed that Durham have Ian Botham wines on the back of their shirts.
In the oval, An excellent performance from Hassan Azad, 47 off 144 balls, dragged on Northants to respectability on a rainy day – 100-2. Essex 167-5 in this crucial game against Hampshire.
Oh, and a third wicket for Hannon-Dalby, Middlesex trail by eight but at least they made it to three figures: 100-8.
Middlesex and Kent obviously involved in a fight for the final relegation spot. Middx 99-7 v Warwickshire; Somerset 127-1 against Kent, at four an over. Kent is already on his fifth bowler.
Ben Raine, cheeks and shoulders wide, trots in. Roderick drives his second ball to four. A big LBW salute to his last one. And Worcestershire survive the first game of the day. At the Diglis End, Fernando gives the ball a thorough polishing of his trouser leg.
A sobering interview with Kemar Roach on the future of Test cricket.
While the grass gets a final cut, an announcement for the Christmas carvery in New Road. Only three more months.
Worcestershire are the unfortunate losers of the litter. Play to start in 10 minutes.
Worcestershire special offers since the founding of two divisions: 2003, 2006, 2008, 2010, 2014, 2017
A wicket at Grace Road! Lyth is the man who goes to Scott Currie. York's 58-1.
Just outside the press box, Vishwa Fernando was just presented with his Durham cap.
The game starts here at New Road at 3.45pm with 36 overs to try. Complete physical exercises are now underway: stretches, soccer, sidesteps, medicine balls.
Someone discovered Shadows on the grass where players are kicking up a soccer ball.
Quickly: 59 balls. He lost Abell, a wicket for Bhuiyan, for 20. Somerset 75-1.
And at Grace Road, Lyth and Bean look confident against some wayward Leicestershire bowlers. 41-0.
The rain has now reached Chelmsford, where they had early tea Essex 140-5. Matthew Critchley 25 not out. Tea also at Lord's: 74-5. And the oval, Northants 82-2.
Matchday at Derby canceled
The rain ruins everything Chances for Sussex to make amends.
This is the most promising thing New Road has seen in a while. Almost all covers have been removed and the referees are scheduled to conduct an inspection at 3 p.m. Shame on the poor captain who loses the toss. Five hardy souls have just taken up residence in the top row of Basil D'Oliveira's stand.
Another game comes into play: Yorkshire bat at Grace Road after Leicestershire won the toss and sent them in. It is currently 9-0.
Gary Naylor is always a good read and useful summary of events:
Lancs coach Mark Chilton about Tom Hartley, who was called up for England's ODI games against Ireland to replace the injured Craig Overton. Hartley has only played three List A games but has played a handful of T20 games.
"One of our main goals is to improve the players and get them to a level where they will be selected for international and franchise teams. This is really a great reward for his efforts and we are happy for him.
"He had a big influence on the white-ball game early in his Lancashire career, but he always had a real ambition to develop his red-ball cricket and he has continually worked on that."
"What I have seen from Tom is a gradual improvement throughout his game.
"He is a big spinner and his qualities in short format cricket are that he can throw the ball down the field, often hitting the top of the stumps and crowding the batters together to create space (to play their shots).
"Red-ball cricket is about adding subtleties and variations of pace and flight to your style. He's not a traditional up-and-down spinner because he comes from a good height and if he can drift and drop the ball a bit and do a few more revolutions, that's something he's constantly working on with the coaches.
"The other aspect of his game is his batting and to see where he is now, he has continually and gradually improved and that is what we are trying to do, create an environment where players are getting better and better see how far they can go." "
The tireless ground staff Pick up the damp blanket at New Road, skies may be a little more hopeful with good light. Before today, it was said that the pitch would "make a bit of an impact." We'll have to wait and see whether it stays that way. Another inspection at three o'clock.
Lammonby and Abell was whizzing around Taunton at almost six in the morning. Would it be terrible to assume it won't last long? Kent should be energized by the scorecard of Lord's – Middlesex 74-5.
James Vince swallows a Dan Lawrence advantage in his penultimate game for Essex. Some are turning their backs on Dawson, which is good news for Hampshire but also for Essex with Harmer lurking in the closet. Essex 96-4.
And if anyone is passing by on New Road, the public address announcer has just told the bucket seats that the Ladies Pavilion with its delicious cakes will be open at 2.30pm.
Just play along now Chelmsford and Taunton – where Kent won the toss and Somerset fielded. Good luck to the boys from the southwest on an emerald pitch.
Fifty and out for Tom Westley as he pushes Kyle Abbot to James Vince. Hants 82-3.