Key events
Two to win from the last over…
Vince mis-hits, Dan Lawrence is a safe pair of hands. Brilliant innings and a partnership of 184 with Liam Dawson.
54 needed off ten. Rain on the way.
An outrageous six from James Vince leaves Hampshire just 61 to chase.
A drop by Alastair Cook at first slip!!!! Dawson on 50.
Which leaves Dawson and Vince spoiling Essex's dreams at Chelmsford. Hampshire 149-4, need 118 off 21. Harmer suddenly almost toothless.
I must write up but will be back with updated tables and events from Chelmsford as they happen. Do ruminate BTL.
Middlesex supporters, worry not. The rain at The Oval looks terminal and it's coming your way…
Taunton: Somerset 404-4dec v Kent 235 and 44-2.
Kent live to fight another round.
Derbyshire draw with Sussex
The County Ground: Derbyshire 229-6 DRAW with Sussex 100 and 84-3
A damp game helps Sussex clinch a draw.
Worcestershire draw with Durham
A damp squib of a game but Champions Durham go up, Worcestershire are nearly there….
New Road: Worcestershire 313-9 DRAW WITH Durham 371-4
Desperate mopping up at Grace Road
….because Leicestershire are behind the over-rate so want to get on and bowl four quick overs. Inspection at 4.40.
Warwickshire need 58 to win!
Middlesex 251 all out, Robson carrying his bat for 107. But, but, it is raining…
Surrey draw with Northants who are RELEGATED
The Oval: Surrey 185 and 142-0 following-on DRAW WITH Northamptonshire 357
And that is that.
Bad light and rain stops play at The Oval
Is that it? The pavilion thinks so – a huge round of applause for Burns and Sibley as they make their way up the steps.
Muyeye and Compton: implacable: 30-0.
Middlesex are nine down. Robson, magnificent, watching the carnage, not out 107. The lead 57.
A run a ball, easy as you like. Do you remember a similarly important Vince innings against Lancs at Aighburth in 2021? Lancs snuck that game by one wicket .. At Chelmsford, 31 overs left, Hampshire 118 for four, partnership of 86 between Dawson and Vince.
Kent are wicketless following on. Have my doubts it will remain that way, but just a session to survive so surely etc etc.
Middlesex have lost their eighth wicket: Tom Helm for a hard-fought two. 30-ish overs left. Robson still there.
Hampshire are still four down, 164 needed and could yet spoil the last-week fun.
Time for a last walk round the ground before the penultimate last push.
DIVISION ONE
Chelmsford: Essex 447-9 dec and 153-8 v Hampshire 334 and 89-4 Hants need 178 to win
Old Trafford: Lancashire 272-7 DRAW WITH Nottinghamshire
Lord's: Middlesex 121 and 241-7 v Warwickshire 315
Taunton: Somerset 404-4dec v Kent 235 Kent trail by 169
The Oval: Surrey 185 and 91-0 following-on v Northamptonshire 357 Surrey trail by 81
DIVISION TWO
The County Ground: Derbyshire 229-6 v Sussex 100 and 81-3 Sussex trail by 48
Grace Road: Leicestershire 233 v Yorkshire 155 and 225-4 rain
New Road: Worcestershire 313-9 v Durham 324-3
James Vince isn't hanging around.
With an inch through the slips, that's Burns' fifty. He briefly lifts his bat in acknowledgment of warm applause, one of his most important innings of the season.
A hundred for Sam Robson!
Keeping his head while all about him etc: a magnificent stoical hundred in Middlesex's 238-7. Helm, at the other end, a steady 2 off 18 balls.
James Vince is hungry. (Hants 51-4)
And I may, possibly, have spoken just a tiny bit too soon about Kent, who have just lost three wickets for 0. Now 200-9, Hogan batting with a runner and three wickets to Tom Abell. Still 203 behind Somerset.
Middlesex slip sadly seven down. Robson still there on 98. Kent stoically still six down – things looking up in the Canterbury direction.
Four down at Chelmsford: if Surrey draw and Essex win, Surrey will take a four-point lead into the final round. Vince still there though. Harmer 3-11.
This is happening, relentlessly, from the River End.
Oh, Simon Harmer! Two in the over! Middleton and Gubbins. Hants 23-3. His 900th first-class wicket.
Northants persuade the umpires to change the balls, and immediately there is a big lbw appeal against Sibley. Next ball, a second, slightly less vocally. The third passes safely by.
Lancashire draw with Nottinghamshire
Old Trafford: Lancashire 272-7 DRAW with Nottinghamshire
Lancashire six points, Nottinghamshire seven.
A final dousing of rain puts the game out of its misery. Only 84.1 overs bowled in the entire match with the first two days washed out.
Ouff. Middlesex lose a wicket, though not the big one, Simpson caught off Briggs. Enter de Caires. Robson still there on a 232 ball 94. Kent still six down.
Hampshire slowly counting out their pennies: 23-1 and Harmer is on.
Let's trot round the grounds that aren't Chelmsford or The Oval
In Division One: it is raining, possibly terminally this time, at Old Trafford, but a debut unbeaten fifty . An excellent effort by Middlesex in their second innings at Lord's, Robson (93) aided now by Simpson (13) have put on 22; last man Ryan Higgins an 83-ball 57. They've crept a lead but lots of stonemwalling to do, even with the light fading by six.
Joe Denly another one holding his side together, 55 not out in Kent's otherwise dismal 164-6 against Somerset.
Essex start the charge! Albert caught athletically with one diving glove by Rossington for seven off Cook.
An email drifts slowly in, like a browning leaf, from Rob Knap.
"Sat in a café on the edge of Europe, willing the Pears on to get a few more bowling points. Meanwhile tracking Yorkshire's progress against Leicestershire with hope… The current CC set up might not be everyone's cup of tea, but as a Worcs look like they might snatch promotion, it's yet another exciting end to the season!
"And this is after about half the team (on paper the better half) signed up for East Mids rivals this summer. I think this would be the most impressive/improbable of all our promotions. (Typed that, now worried that fate is tempted…)
"Thanks for all your coverage! I always tune in."
A pleasure! And yes, we tried to the maths earlier and I think that if Leics lose, Worcs go up but otherwise it mathematically goes into the next round. Corrections on an (email) postcard please, if this is wrong…
Hampshire chasing 267 to win
Essex declared on 153-8, Lawrence 53, four wickets each for Abbott and Abbas. Now the fun begins: Porter and Cook, then Harmer-time.
And in the dead game at Old Trafford, where is still raining, Matty Hurst in unbeaten on his debut. And Lancs have signed ex Worcestershire fast bowler Mitchell Stanley on a one-year contract.
Just strolled round The Oval, I think it just might be the best place to watch county cricket. Certainly the best stadium, mightly yet homely. On a late September afternoon, the sun still strong enough to warm up the concrete structure of the stands, a good crowd in, shading their eyes, warming their legs, eating their sandwiches. Some hoardings packed up, others being built for a gin and rum festival. Surrey 22-0 on a somnolent afternoon. Meanwhile in Chelmsford…
DIVISION ONE
Chelmsford: Essex 447-9 dec and 112-3 v Hampshire 334
Old Trafford: Lancashire 272-7 v Nottinghamshire rain stopped play
Lord's: Middlesex 121 and 181-3 v Warwickshire 315
Taunton: Somerset 404-4dec v Kent 110-5
The Oval: Surrey 185 and 15-0 following-on v Northamptonshire 357
DIVISION TWO
The County Ground: Derbyshire 229-6 v Sussex 100
Grace Road: Leicestershire 233 v Yorkshire 155 and 209-4
New Road: Worcestershire 313-9 v Durham 114-2
Lawrence and Westley have now raced to a partnership of 77 in 11 overs. But Surrey solid as we enter the final over of the day.
Kent's doleful side are five down. But Middlesex, who still trail Warwickshire by 28, only three. And here at The Oval, a be dark-glassed Rob Keogh is spinning the ball from the Vauxhall End.
Thanks to BBC radio for the reminder that it was a year ago today that Surrey beat Yorkshire to win the Championship.
And if you want to know what you were all doing a year ago, here are your comments to peruse.
Chelmsford taylor-made for Dan Lawrence in farewell bang-crash mode. Vivid memories of what he did to Lancashire at Blackpool. Essex 77-2, Lawrence a 23-ball 30 and counting.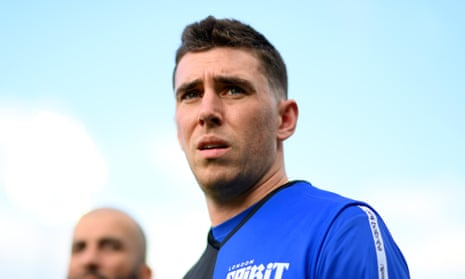 I've got to be honest, I'm not feeling a Surrey collapse here. Just slow, careful, relentless, accumulation. Surrey 11-0.
Worcestershire, greedy for wickets, have added the prolific Lees to their grab-bag, for yet another half-century. Durham 93-2.
I have days like these:
Derbyshire have stepped on the accelerator this morning, 190-4, a lead of 90. They must fancy rolling over Sussex again mid-afternoon. Sean Hunt 3-53.
Sir Alastair is no longer batting. Trying to up the ante at Chelmsford, hooks and edges Abbas to Ben Brown for 16. Essex 41-2, a lead of 154. I reckon 250 would be enough against Hampshire.
Lyth and Masood both out at Grace Road, the Yorkshire lead 72, six wickets in hand.
Surrey calmly managing their first follow-on of the year. Burns and Sibley, born for this day.
Essex pondering along at three an over against Abbott and Abbas. Rossington gone for a three-ball duck. They're keeping a sharp eye on proceedings at The Oval.
And with Northants having to win this to avoid relegation, here we go again at The Oval. Taylor at the Vauxhall end, long legs, piston arms. Surrey 0-0.
Ooooh Betty! On a perfect September day, Surrey miss the safety net and are all out 185. Four for White, two for Procter. Foakes unbeaten on 42. The light roller goes up and down, a man in a jumper brushes the pitch.
I can't spin all these plates – another wicket at The Oval, I didn't see it as I was looking up pictures of Alastair Cook, but a friendly replays shows a nibble to first slip. Surrey now 180-9, 177 behind. But Ben Foakes could easily spoil Northants party.
And Kent are four down.
Sir Alastair is batting for, what could be, the last time at Chelmsford.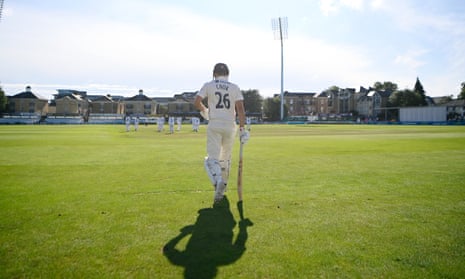 And lo, a second wicket at Taunton, Muyeye joins the pavilion huddle. One for the soon-to-be-gone Jack Brooks. At Grace Road, Yorkshire have lost the nightwatchman, Ben Coad, but things not looking too pretty for Leicestershire: Masood and Lyth are both immovable force and unstoppable object.
While at Chelmsford, Hampshire are all out. A sixth for Simon Harmer, as Prest tries to hit him out of the ground and is stumped. Essex bat again with a lead of 113.
Silence from the crowd as Dan Worrall is caught behind for 0. Surrey 165-8 and still 43 short of the follow-on. Northants all, except bowler and one fielder, resplendent in their read caps, very busy clapping and shouting encouragement.
Also adding spice: Kyle Abbot chops on at Chelmsford, Hampshire nine down. And, Kent, inserted after Somerset declared overnight, have already lost Ben Compton. Surely even Kent can't be out twice in one day…
And, to keep things spicy, an early wicket at The Oval where Overton is swallowed at second slip off White for 51.
Paul Farbrace reads the riot act
Not too happy after Sussex's lame 100 all out against Derbyshire:
"Appalling is the simple word really. We batted poorly, lacked fight, desire. It's not a 100 all out pitch, but there's only so many things you can keep saying.
"I'm getting fed up with performances like that, it's not good enough .The top five gave their wickets away, yes it was a good toss to win but we haven't shown enough fight.
"People have missed out on this selection so it creates an opportunity and no one has taken the opportunity which is incredibly frustrating. You want people to show fight, desire and sell their wicket dearly and we're just not doing that.
"It's frustrating, it's annoying and it's a very quiet dressing room tonight. We got what we deserved today."
Bright sunlight at The Oval, short stout shadows. A rush through the gates as people rushed to get their seats for the start of play, on this the last day of the season in south London.
Sue Redfern to make history
Sue Redfern, firm but fair trailblazer, will make history next week when she becomes the first female umpire to stand in a men's first-class match in England and Wales .
Redfern has been appointed to umpire the Championship match between Glamorgan and Derbyshire at Sophia Gardens, starting next Tuesday.
With 21 England playing caps under her belt, Redfern has smashed through the umpiring glass season. She made history two years ago, also at Cardiff, when she was the fourth official at a home England men's match –against Sri Lanka, and was the first female umpire to stand in a Blast match earlier this summer.
She has also umpired at the 2022 Commonwealth Games as well as three Women's T20 World Cups and two Women's World Cups.
"I have worked hard to earn this opportunity, said Refern, "and I look forward to taking the next step in my career by umpiring a men's first-class match.
"That has been an ambition of mine for a long time and, while it is a new challenge that will test me, I know that I am ready for it.
"Umpiring has become such a fulfilling part of my life and while my focus is on being the best umpire I can be, I hope my journey can also be an inspiration to others.
"When I started umpiring I had to balance other work commitments with my umpiring, but it is now a career I can solely focus on. I am proud of the steps I have taken and that I am proving that opportunities now exist in umpiring for anyone if they're willing to work hard and dedicate themselves."
DIVISION ONE
Chelmsford: Essex 447-9 dec v Hampshire 322-8
Old Trafford: Lancashire 225-6 v Nottinghamshire
Lord's: Middlesex 121 and 96-1 v Warwickshire 315
Taunton: Somerset 404-4 v Kent
The Oval: Surrey 158-6 v Northamptonshire 357
DIVISION TWO
The County Ground: Derbyshire 79-1 v Sussex 100
Grace Road: Leicestershire 233 v Yorkshire 155 and 113-1
New Road: Worcestershire 313=9 v Durham 10-0
Good morning! The sun is out, the sky is blue, and with just five days to go everything is still up for grabs – except one thing. Durham are Division Two champions!