Key events
A third wicket for Liam Dawson, to go with his century, very handy for possible international selection, even more handy for Hampshire. Somerset 137-9 – actually make that 137 all out. Barker 5-32. Still trail by 171.
Five wickets for Josh de Caires!
Middlesex's unexpected destroyer of the Championship chasers.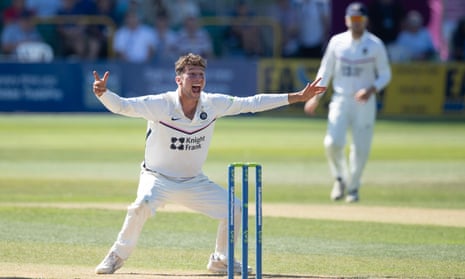 A medium to large slice of Congleton Horticultural Society award-winning coffee and walnut cake for tea, courtesy of my clever mother in law. Gorgeous, definitely deserved its gong. Elsewhere, Surrey have enforced the follow-on at The Oval, with Warwicks trailing by 235; at the Rose Bowl, Somerset may yet escape that fate…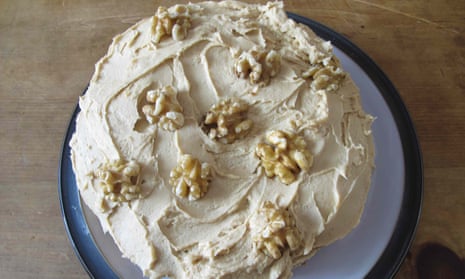 DIVISION ONE
The Rose Bowl: Hampshire 308 v Somerset 114-7
The County Ground: Northants 232 v Lancashire 272-6
The Oval: Surrey 396 v Warwickshire 160-9
DIVISION TWO
Chester-le-Street: Durham 270-5 v Sussex 266
Grace Road: Leicestershire 204v Gloucestershire 159 and 91-3
New Road: Worcestershire 284 and 32-1 v Glamorgan 170
Scarborough: Yorkshire 297 and 0-0 v Derbyshire 247
Day one: Chelmsford: Essex 205-5 v Middlesex
Warwicks now nine down… tea-time scores to follow.
Josh Bohannon passes a thousand runs!
Bohannon joins James Rew in the four-figure gang. HMS Lancs have safely negociated some choppy waters and go in for tea with a lead of 40, four wickets in hand. JB 133 not out.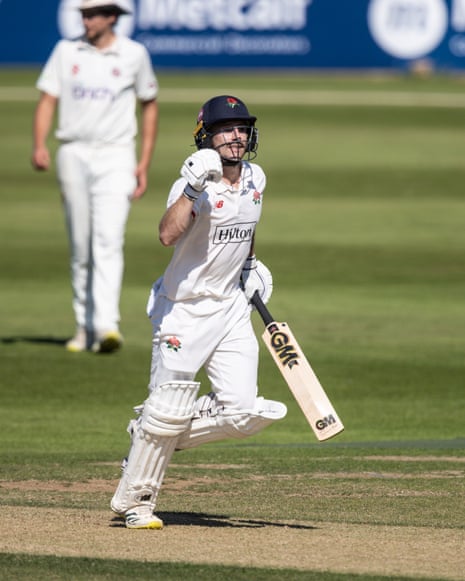 A fourth for Roach, Warwicks 145-8 and any vague Championship hopes currently being furiously packed into dark cardboard boxes. A glance over at the Rose Bowl reveals Somerset in similar straits -108-7, Abbas, Abbott and Dawson joining Barker in the wickets column. Lammonby top-scorer with 27.
Apologies to Michael Burgess, who passed fifty unnoticed ATL, but is now out, a third wicket for Worrall, a catch for Foakes – last man out for 125 in this morning's chaos. Warwicks 138-7, still 258 behind.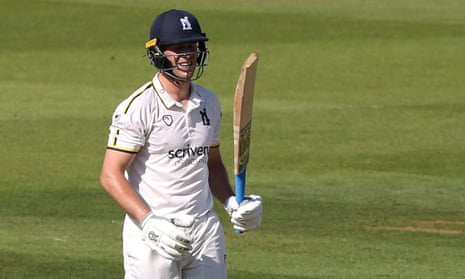 Hmmm. Quite a collection of Div 2 collapse to sit alongside the Div One dominos.
Glamorgan 170 all out – losing four for seven. four for Logan van Beek, three for Dillon Pennington. And they seem to have taken tea at New Road – at ten to three.
At Grace Road, Leicestershire's middle-late order folded – five for 54. Four for Zaman Akhter. Gloucestershire have nearly reached parity but are already two wickets down.
And at Scarborough, Wayne Madsen has been caught for 93, Derbyshire crumbling in the Yorkshire sun from 191-4 to 209-8.
There's a sniff of a chance that half these games will be over in three days in this glorious week of weather.
A fourth for de Caires at Chelmsford where Essex are swilling their Championship hopes away with the lunchtime gravy. 169-5. Though they do have (next man in) Simon Harmer up their sleeve.
A hundred for Josh Bohannon!
It's been a sweet season for Bohannon – his third century of the Championship, averaging over 60. A roll of the streetfighter's hips and a snap of the bat– he's the third leading run-scorer in Division One, behind just James Rew and Tom Westley. Lancs 217-6.
A fifth of the season, and another horse-bolter, just 138 balls. He's recently lost Borthwick and Bedingham, but presses on. Durham 183-3.
Bohannon (89) still standing at The County Ground but Vilas gone, followed two balls later by Bell. Lancs 191-6 and still 41 runs behind TMN.
Essex also imploding, losing four for forty since lunch. Westley and Lawrence (in his penultimate appearance at Chelmsford) join Browne and Cook in the shade of the pavilion. Three wickets for de Caires.
And that's a fourth for Barker…. Somerset (54-4) locked in mutual innings destruction with Warwickshire (67-5).
Who unwound Keith Barker? 3-11 in less than six overs. Lammonby, Dickson and Abell all gone, Somerset 52-3, Andy Umeed and TKC at the crease.
No hundred for SAC – a second for de Caires and Essex fumbling after lunch. Was looking to see when Cook's contract runs out – the last thing I can find is that he signed a two year extension to take him to the end of this summer. Anyone with some extra information?
The Warwickshire bus has hit not so much a bump in the road as an alarming chasm – currently 46-5, with Roach collecting three wickets in two overs either side of lunch. Brathwaite's sprint from airport to crease resulted in just 16 off 26 balls.
Welcome back! Hope your lunch was plentiful and tasty (pitta and the dreaded k**chi here). Was just looking up Alastair Cook's last hundred when Browne fell – I think the correct term is a drive-by. Essex 122-1, wicket to de Caires.
An unhappy lunchtime for Warwickshire at The Oval, after a super morning with the ball. I'm going to grab some food, back soon!
DIVISION ONE
The Rose Bowl: Hampshire 308 v Somerset 32-1
The County Ground: Northants 232 v Lancashire 153-4
The Oval: Surrey 396 v Warwickshire 38-3
DIVISION TWO
Chester-le-Street: Durham 127-1 v Sussex 266
Grace Road: Leicestershire 183-6 v Gloucestershire 159
New Road: Worcestershire 284 v Glamorgan 101-5
Scarborough: Yorkshire 297 v Derbyshire 149-3
Day one: Chelmsford: Essex 117-0 v Middlesex
A maiden first-class wicket for Luke Charlesworth: b L Charlesworth c B Charlesworth.
In the fine tradition of Mark Ramprakash and Graham Gooch, SAC sails on gloriously with his England days well behind him. Essex 99-0.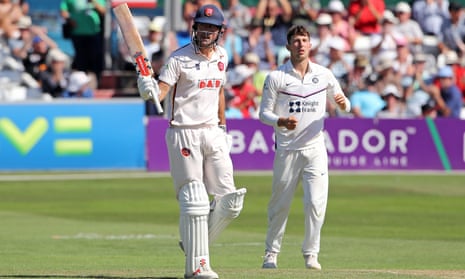 The good ship Lancs may have hit a small grenade with the dismissal of Salt, but Bohannon approaches fifty and Dane embraces one of his final innings. 122-4, 110 behind Northants.
Thanks to Longhop BTL for pointing out that England U-19 Farhan Ahmed is Rehan's brother, this suggests he is quite the talent.
In Division One, both Warwickshire and Somerset are starting their innings. Will Rhodes has fallen victim to a hooping in-swinger at The Oval, Warwicks 7-1. Somerset also 7-1, Sean Dickson snookered by the potent Barker-Vince combo:
Chugging-along-at-less-than-four-an-over at the Riverside shock, Durham. 71-1, 198 behind Sussex; Leicestershire have just suffered a small disaster, losing three wickets for a song – Ackermann, Patel and Amin. Two to Zaman Akhter. Another half-century for Rishi Patel. Leics trail Gloucs by just one run though.
At New Road, Northeast and Ingram are rebuilding after Leach and Pennington had reduced Glamorgan to 27-3 in the promotion fisticuffs. And at Scarborough, Wayne Madsen has 44 at nearly-a-run-a-ball: Derbys 119-3.
An unhappy Dan Worrall is given out to a spicy short one – off the fore-arm according the departing batsman – with Surrey just short of max batting points. Ben Foakes has added only a small cough of runs this morning.
Harry Dixon giving Australia a flying start against England in the U-19 ODI at Hove. England's side – for future CCLive appearances: Theo Wylie, Ben McKinney(c), Luc Benkenstein, Hamza Shaikh, Ross Whitfield, Noah Thain, Dom Kelly, Henry Hurle(wk), Eddie Jack, Farhan Ahmed, Charlie Barnard.
Time to gather blackberries round the Division One grounds. While Surrey falter against Warwickshire (370-8); Bohannon and Salt steady the ship for Lancashire (83-3). Gregory and Brooks continue to carve up Hampshire (305-9) – Dawson finally out for 115 and Browne and Cook making an easy-breezy start against Middlesex at Chelmsford: 52-0.
Haven't read this yet, but Sharda Ugra is always worth your time.
And now Lawes is run out – seems to have been a plague of incompetent lumbering over 22 yards in the last 24 hours -Surrey 357 for 8, having lost four for 14 this morning. And Barnard now drops Worrall off his own bowling. A Surrey slip-up.
A third for Ed Barnard at The Oval – Foakes still there on 114, Surrey having a morning wobble 356-7. Lancashire too, more tremulously, 63-3, Williams back in the hutch, Salt now partnering Bohannon.A second for Sanderson.
I'll have whatever Ed Barnard ate for breakfast (even though I still haven't quite got over him leaving Worcestershire). Two wickets in three balls – Cameron Steel (71) and Jordan Clark (0) in his purse.Surrey 346-6.
Bad news for Middlesex: Jayant Yadav has not arrived in the UK in time to start the game against Essex – where things are already underway: Essex 11-0, Sir Alastair – could this be his last summer? – 8 not out.
And, in case you missed it, Raf saw England's women crumble against Sri Lanka on Saturday, the first time Sri Lanka have beaten England for a decade.
Emma John was at Edgbaston yesterday to watch New Zealand notch up a surprise, and crushing, victory over England.
On a hot September Sunday, sun stolen from a dreary August, the County Championship returned. To a bubbling Oval hum and an audience of shirt sleeves on pale blue seats, Ben Foakes petted a deft hundred for Surrey, his third ton of the first-class summer. Foakes and Cameron Steel (69 runs) added an unbeaten 152 for the fifth wicket, keeping out Warwickshire's second new ball, and bolstering earlier half‑centuries from Dom Sibley (Birkenstocks) and Jamie Smith (kickback mules).
The hosts finished the day on 339-4. Surrey, eyes on a second consecutive title, go into the final month of the season top of the table, leading second-placed Essex by 17 points. Warwickshire must win at the Oval for an even theoretical tilt at the title. Liam Dawson, having a season to remember for Hampshire, hit an unbeaten 109 against Somerset under the eye of the England selector Luke Wright. It was a stodgy surface, with Somerset bowling 24 maidens in the day.
Sam Whiteman bashed a boisterous 79 in his final game before he returns to Australia, but the Division One wooden spoonists Northamptonshire threw a couple of run-outs into the mix and yet again failed to reach 250. Ben Sanderson and Jack White plucked out Lancashire's openers before stumps.
In Division Two, Durham continued to storm towards promotion, dismissing Sussex for 266 despite an opening stand of 110 between Toms Clark and Haines. Matt Parkinson was Durham's gamechanger, snatching four for 58 and a sprinting, sprawling catch. Ben Raine collected his 50th wicket of the season.
In the promotion battle at New Road, an unbeaten 74 from Brett D'Oliveira coaxed Worcestershire out of the doldrums despite three wickets apiece for Glamorgan's James Harris and Jamie McIlroy. Tom Scriven's four for 30 helped Leicestershire to bowl out Gloucestershire for 159.
Anuj Dal grabbed five wickets on a slow pitch at Scarborough, where Yorkshire were rustled out for less than 300 by Derbyshire. A sleepy crowd watched the 22‑year‑old James Wharton make 58, thoughts running to the future with Yorkshire bottom of the table after their 48‑point deduction by the CDC committee.
Start of play scores – day two
DIVISION ONE
The Rose Bowl: Hampshire 282-7 v Somerset
The County Ground: Northants 232 v Lancashire 54-2
The Oval: Surrey 339-4 v Warwickshire
DIVISION TWO
Chester-le-Street: Durham 6-0 v Sussex 266
Grace Road: Leicestershire 103-2 v Gloucestershire 159
New Road: Worcestershire 284 v Glamorgan 3-0
Scarborough: Yorkshire 297 v Derbyshire 47-1
Day one: Chelmsford: Essex v Middlesex
Good morning! It's an autumn beauty here in Manchester, all dripping spiders' webs on summer-worn grass, heavy dew and shafts of light. Welcome to day two of this, the first of four rounds of September cricket. The Division leaders, Surrey and Durham, started well, Northants and Gloucestershire wobbled, and Ben Foakes waved yet another calling card towards the selectors. Play starts at 10.30am – grab your coffee.