Key events
Simon Burnton's match report is here, which is the cue to shut this blog down. Night!
Jos Buttler's verdict
I think we've got better and better throughout the series. (On Dawid Malan) He's played fantastically well every time. Today was a fantastic hundred; he read the game very, very well. I thought 311 was a really good score on a wicket that was a little bit slow.

I thought the spinners (Moeen and Livingstone) bowled brilliantly. We know what they can do and it's great to see it. They're really valuable cricketers.

(You're going to defend the World Cup. How well positioned are you?) We're well positioned, we're building nicely. We're not trying to defend anything – we're going there to try and win a World Cup. We're in exactly the same position as every other team. It's an exciting time.
The New Zealand captain Tom Latham speaks to Sky Sports
I've never had four injuries in one game as captain before. I thought guys stepped up pretty well considering the situation. Daryl Mitchell did a great job. With the bat we just weren't able to build partnerships.

(On Tim Southee) Her's in good spirits. He'll be assessed further to see how bad it is, but fingers crossed he'll be ready for the World Cup. Rachin Ravindra bowled fantastically well and we know what he can do with the bat.
The player of the match, and series, is Dawid Malan, who made 277 runs at 92, with a strike rate of 106
Yeah it was good fun. It's fantastic to score some runs at the Home of Cricket, and leading into the World Cup as well. I thought the pitch was a bit slow – I got away with a few early, and whenever they built pressure I found it hard to score. When Jos came in we were able to get the scoreboard going and push towards 300, which we thought was a good score.

Trying to break into this white-ball team, in both T20 and ODIs, you have to either be a freak or be consistent. I've had to be as consistent as I can and put matchwinning performances on the board. That's the only way you can get into the squad and hopefully I'll keep taking opportunities when I get them.

I was gutted in the last game, so to back it up today is fantastic. (The World Cup) is extremely exciting. It's a dream come true to play for England, never mind at a World Cup. When the squad's confirmed, it'd be great to go.
England win the ODI series 3-1
New Zealand are nine down but Tim Southee has a fractured thumb, so that's the end of the game. England came from 1-0 down – 1.5-0 down really, given their start at the Ageas Bowl – to win the series emphatically.
There are still a few doubts, mainly due to injury and age, but some players have hit form at the right time. Or, in the case of Dawid Malan, maintained outrageous form: he leads the England team off after a matchwinning century that has surely confirmed his place in the team, never mind the squad.
The other big plusses for England were Ben Stokes, Liam Livingstone, David Willey and Moeen Ali. Two of those four may not play the opening game in the World Cup, but England will need their whole squad during a demanding tournament.
For New Zealand, Trent Boult was majestic, Rachin Ravindra very promising and Daryl Mitchell his usual brilliant self. Injuries are also a concern for them, particularly Tim Southee and a potentially rusty Kane Williamson.
WICKET! New Zealand 211 all out (Ravindra b Curran 61)
Sam Curran ends the fun with an immaculate yorker, and England win by 100 runs.
38th over: New Zealand 211-8 (Ravindra 61, Lister 5) Blimey. Brydon Carse's first ball is slammed over mid-on for six by Ravindra. He hooks the next ball over fine leg for another six, his fourth in the last ten deliveries. That takes him to a maiden international fifty from 42 balls, and he celebrates with two more boundaries. Twenty-one from the over. Maybe he'll do a Nathan Astle.
37th over: New Zealand 190-8 (Ravindra 40, Lister 5) Since you asked, the six spinners who have taken ODI five-fors for England are Vic Marks (twice), Graeme Hick, Ashley Giles, Samit Patel, Graeme Swann and Adil Rashid (twice, including this confusing little beauty).
Alas, Moeen won't be joining the list. Ravindra slog-sweeps for six more, flat-bats just short of mid-off and then walks a single to deep point. After two more singles, Lister slices a heave just wide of short third man. Moeen ends with career-second-best figures of 10-0-52-4.
36th over: New Zealand 180-8 (Ravindra 32, Lister 4) Lister's hamstring injury means New Zealand can't take singles, so Ravindra slog-sweeps Livingstone to cow corner for six.
He survives an England review for caught behind later in the over after missing an attempted sweep. It was originally given as a wide but replays showed the ball hit the pad, so the wide was overruled. God bless technology, eh.
35th over: New Zealand 173-8 (Ravindra 25, Lister 4) We shouldn't underestimate the importance of these wickets, such is the fragility of Moeen's confidence. This is only his second ODI four-for, and his first since 2018. He could yet take a maiden five-for.
Lister, who is likely to be the last man given Southee's injury, defends the hat-trick ball and belts the next one back over Moeen's head for four. And why not.
WICKET! New Zealand 169-8 (Henry c Root b Ali 0)
Two in two! Matt Henry slices a drive to slip, where Joe Root takes a very smart catch.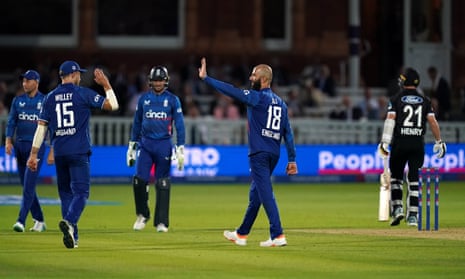 WICKET! New Zealand 169-7 (Jamieson ct and b Ali 15)
Another one for Moeen, all his own work. Jamieson shaped for some bish-bosh but then clunked the ball tamely back to Moeen, who took a comfortable return catch.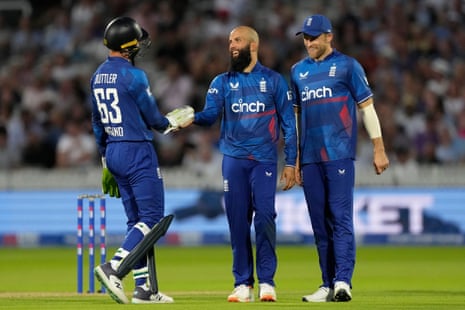 34th over: New Zealand 164-6 (Ravindra 20, Jamieson 15) Jamieson chips Livingstone over midwicket for a couple before being beaten by a slower delivery that grips and turns. Lovely bowling. There might have been a stumping chance but Buttler couldn't take the ball cleanly. New Zealand need 148 from 96 balls.
33rd over: New Zealand 159-6 (Ravindra 18, Jamieson 12) As Mike Atherton says on Sky, there's a real end-of-term feeling about this game. Jamieson, who as things stand isn't going to the World Cup, doesn't need to worry about batting practice. He belts Moeen over mid-off for the first boundary since the 22nd over.
32nd over: New Zealand 151-6 (Ravindra 16, Jamieson 6) Jamieson is almost cleaned up by a skiddy delivery from Livingstone. He chips the next ball not far short of long on, and that's drinks. Still no boundaries off the spinners, who have bowled 12 overs for 45.
31st over: New Zealand 146-6 (Ravindra 14, Jamieson 2) It's three weeks yesterday until these teams meet in the opening match of the World Cup. I doubt England's series win will count for much in itself, though some of the match-ups and individual performances probably will.
30th over: New Zealand 143-6 (Ravindra 13, Jamieson 1) Livingstone and Moeen have combined figures of 10-0-37-3.
WICKET! New Zealand 142-6 (Phillips c Brook b Livingstone 25)
"Not many bad deliveries," says Nasser Hussain of Liam Livingstone. Two seconds later, Livingstone bowls a loopy full toss – and Phillips carts it straight to deep midwicket. He drops his bat in dismay, Livingstone breaks into a broad smile. Sometimes you eat the bar…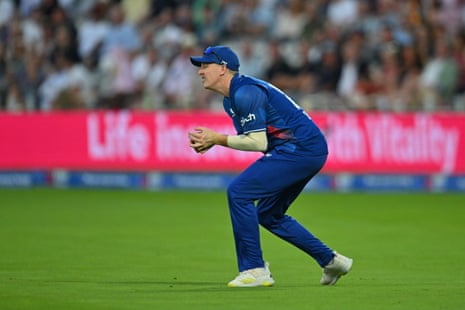 29th over: New Zealand 139-5 (Phillips 24, Ravindra 12) After three successive dot balls, a slightly flustered Ravindra chips Moeen just short of Root at mid-on. A fine over from Moeen, with just two runs off the last delivery. We're reaching the point where New Zealand need snookers.
28th over: New Zealand 137-5 (Phillips 24, Ravindra 10) More low-risk accumulation against the spin of Livingstone, with a single off the first five deliveries. Livingstone and Moeen have bowled eight overs without conceding a boundary.
27th over: New Zealand 132-5 (Phillips 22, Ravindra 7) New Zealand need almost eight an over now, so Phillips and Ravindra might decide to get a bit of batting practice. Pragmatism not idealism/Will not cry in public/Less chance of illness.
26th over: New Zealand 126-5 (Phillips 21, Ravindra 3) Another thrifty over from Livingstone. A peculiar white-ball marathon – eight games, all one-sided – is petering out. There's been no need for boundary countbacks, that's for sure.
25th over: New Zealand 123-5 (Phillips 20, Ravindra 1) Moeen's having a fine series with the ball: five wickets at an average of 19. That equals the most wickets he has taken in an ODI series – including multi-team tournaments like the World Cup – since the 5-0 win over Australia in 2018.
WICKET! New Zealand 122-5 (Nicholls LBW b Ali 41)
Shows what I know. Nicholls has gone! He doesn't look thrilled with the decision, but replays suggested the ball would have hit the top of leg stump.
It took the third umpire a while to decide there hadn't been an inside edge, but I think he made the right decision. The rest was up to ball-tracking.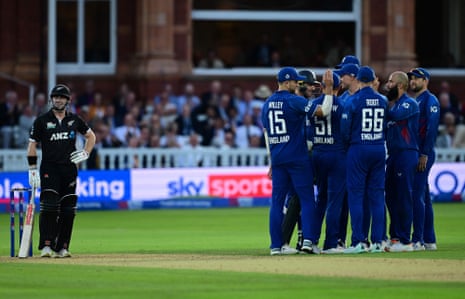 England review for LBW! New Zealand, probably Phillips, will have to go after one of these spinners pretty soon. Nicholls walks down the track to Moeen and is hit on the pad, prompting a biggish LBW appeal. It's turned down but Buttler decides to review. He doesn't look convinced, to be honest, and I'll be very surprised if this is out.
24th over: New Zealand 121-4 (Nicholls 40, Phillips 19) Liam Livingstone replaces Carse, who bowled a vaguely Plunkettian spell of 6-0-32-1. As ever he switches between offies and leggies depending on who is facing, and another boundaryless over is good news for England.
"Some, actually a lot, of my favourite cricketers were involved in that 2002 match at Lord's," says Simon McMahon. "Trescothick, Hussain, Flintoff, Collingwood, Gough, and that's just England. Sehwag, Tendulkar, Dravid, Kumble, Harbhajan, Zaheer … It's like a who's who of English and Indian cricket at either side of the millennium. Plus Ronnie Irani."
I could never work Irani out. Nasser rated him, and his first-class statistics are spectacular – 41.58 with the bat, 29.51 with the ball – but after a very good knock on Test debut he rarely looked at home in international cricket. I think he took India apart in the group stage of that NatWest Series as well.
23rd over: New Zealand 115-4 (Nicholls 38, Phillips 16) Moeen continues to twist the screw, or is it turn the knife, by conceding three singles from his third over. The required rate is up to 7.29.
22nd over: New Zealand 112-4 (Nicholls 36, Phillips 15) Nicholls, beaten by Carse's previous delivery, times a short-arm jab through midwicket for four. That was a superb shot. New Zealand are still in the game, just about: they need 200 from 168 balls. It's doable.
21st over: New Zealand 104-4 (Nicholls 31, Phillips 13) Five singles from Moeen's over. I got nothing else to say.
20th over: New Zealand 99-4 (Nicholls 28, Phillips 11) New Zealand have a longish tail, and there's no chance Tim Southee will bat after fracturing and dislocating his thumb. Ben Lister also went off with a muscle strain so we might not see him either.
England, it seems, are heading for their first ODI series win on home soil since the days of John Simpson and Lewis Gregory. Phillips has other ideas, and drives Carse through the covers for a couple of crisp boundaries. He times the ball so sweetly.
19th over: New Zealand 89-4 (Nicholls 28, Phillips 1) A superb start from Moeen Ali: one run, one wicket.
WICKET! New Zealand 88-4 (Latham b Ali 13)
With two left-handers at the crease, Moeen Ali comes into the attack. Latham survives a big LBW appeal first up – he would have been out had England reviewed – but falls two balls later. He had an ugly smear across the line at one that skidded on to hit the back pad and deflect onto the stumps.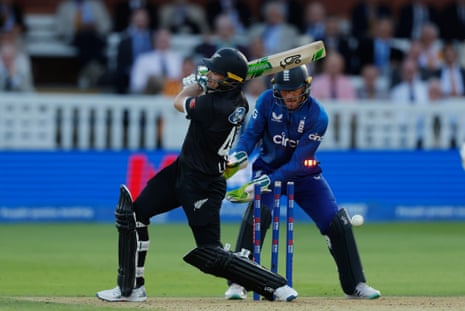 18th over: New Zealand 84-3 (Nicholls 28, Latham 13) Four singles from Carse's fourth over, which ends with him moving round the wicket and beating Nicholls with another cracking delivery.
17th over: New Zealand 84-3 (Nicholls 26, Latham 11) A better over from Curran, who restricts New Zealand to just three singles. It feels like England have this game under control, although we said the same when India slipped to 146/5 back in 2002. What do you mean you don't remember?
16th over: New Zealand 81-3 (Nicholls 24, Latham 10) There's a run-out review when Bairstow's throw from deep midwicket hits the stumps, but Latham was comfortably home. The running has been much more aggressive since Latham came to the crease.
Carse continues to bowl well, though, and beats Latham with a fine delivery that trampolines down the slope.