AAt the end of a convincing series win over New Zealand, Jos Buttler admitted that an England squad, previously considered at capacity to defend the 50-over World Cup, could still be tweaked ahead of the departure lounge.
After Dawid Malan's smooth 127 secured a 100-run win at Lord's on Friday to take the score to 3-1, Buttler was asked whether he had chosen India for the last 15 and whether it was just a matter of to communicate this to players. "No," replied England's white-ball captain, acknowledging there was still a lot to think about.
While neither Adil Rashid nor Mark Wood featured during the 50-over leg of New Zealand's visit, Jason Roy is the main topic Buttler and the selection panel will discuss in the coming days. He was named in England's preliminary squad for the World Cup last month and was also forced to miss all four one-day internationals due to lower back spasms.
But unlike that pair – a few real assets in the middle overs – Roy's absence over the last two weeks has allowed Malan to make a compelling case to be included not only in the squad but also in the XI that will win the tournament on April 5 October begins in Ahmedabad. The fact that New Zealand are their opponents on this day only increases their appeal.
Described by selector Luke Wright as a replacement for Roy and Jonny Bairstow when he named the provisional World Cup squad last month, Malan managed 277 runs in three games against the Black Caps, becoming the joint-fastest Englishman to 1,000 ODI runs (21 innings, tied with Kevin Pietersen and Jonathan Trott).
Assuming the top six avoid any slip-ups on the golf course between now and the flight to India on September 27, the question therefore becomes who the new replacement batsman will be, and here England appear to be undecided. Even if Roy gets fit, the previously overlooked Harry Brook may be a wiser choice as a middle-order player.
There are three more ODIs against Ireland in the late summer before they start, with Brook part of an all-second squad led by Zak Crawley. Buttler has hinted that Roy could also be added to these understudies, but as a specialist opener he would only cover one spot in India. Should a player lower down get injured, calling that player up would force a major shuffle in the order.
Not that it will be an easy decision. Roy was a central cog when England's white-ball revolution began eight years ago, and never more so than during the 2019 World Cup. It was only when he made a hasty return from a hamstring strain midway through the tournament that the season erupted into Technicolor and secured reached the final with scores of 66, 60 and 85.
As Buttler pointed out at Lord's on Friday, loyalty was one of the central tenets of England's golden era in the shorter formats; that only by removing the threat of being dropped and giving players license to fail could they achieve the unrestricted one-day cricket that his predecessor Eoin Morgan had called for.
"You can't just pick a World Cup squad from these four games," says Buttler. "(Loyalty) was one of the hallmarks of the selection. We need to find out all the information in the next few days to make a really difficult decision. We are blessed with so many good white-ball cricketers but in a World Cup you can only take 15."
Roy has tested that loyalty since his throw against Buttler sealed the trophy they now want to defend. There have been the odd burst of form – including centuries against South Africa and Bangladesh this year – but also long fallow spells with England and domestically, which led to them missing out on a T20 World Cup win at the end of 2022.
Meanwhile, Brook has been something of a cause célèbre over the past month, with many surprised by his exclusion from the provisional squad. However, the talented young tyke's numbers since then – 8, 4, 25, 2, 10 – have not settled the argument, although he responded with a 42-ball century hundred and 43 not out and 67 for England's T20 side.
Last week, Malan and David Willey revealed that confirming their place in the provisional squad last month came with assurances they would travel to the World Cup. If Roy experienced the same thing, he might be saddened. This reflects the awkwardness of naming provisional squads so far away. They have been requested for global tournaments in recent years to give organizers a head start on things like marketing expenses and visas.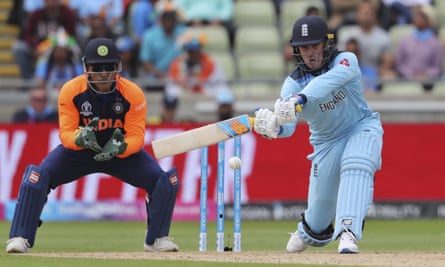 Late changes are not uncommon and England are no strangers here. Four years ago it brought in Jofra Archer, James Vince and Liam Dawson at the last minute, beating Willey, Joe Denly and Alex Hales.
This time Archer could also be part of the game, even if he is not part of the official squad. Andrew Flintoff has been coaching England's speed over the last two weeks and can vouch for the speeds Archer has achieved in the final stages of his recovery from stress fractures. Although not quite ready yet, the 28-year-old could still travel as a reserve.
Meanwhile, it is likely that Surrey's Gus Atkinson – 25 years old and with three caps in his ODI career – will be the second absolute quickie in the entire squad, acting as Wood's replacement and allowing rotation during the group stages. Durham's Brydon Carse, another player in the group who faces Ireland next week, is the alternative here.
Otherwise, there will be a largely experienced Final 15 team this week, with Buttler finding himself using the term "Dad's Army" but giving due consideration to age and experience. There are a few minor things to judge, while Joe Root looked strangely out of sorts. But if the identity of the replacement batsman is the main topic of conversation, things are still a good sign.