Key events
I'll leave you with Simon Burnton's report from Manchester. Goodnight!
And here's the England captain Jos Buttler
Gus (Atkinson) has been on an upward curve very quickly, so to get him around the dressing room – making friendships with the guys and the coaching staff – is really important. His performance today was brilliant.

(Harry Brook) played brilliantly again; we know what a class player he is. There's a lot of noise around him at the moment and all credit must go to him – he doesn't seem affected at all, he's no different around the group and he's playing brilliantly well. It's a great problem for us to have.
The New Zealand captain Tim Southee speaks
Yeah it's not ideal but you can get results like that in this format. We were a bit off with the ball and that made it hard for the batters. We started well with the ball but Harry Brook and Jonny put us on the back foot and we weren't able to come back from that.

We know we need to be better in all three areas. Adam Milne was exceptional with the ball and that was a lesson to the rest of us. We'll dust ourselves and come again.
The player of the match is Jonny Bairstow, who hammered a beautifully judged 86 not out from 60 balls.
It was a great team performance tonight. To post 197 and then take 10 wickets in a T20 is some achievement.

I got a decent ball at Durham, it happens at the top of the order. There was a bit of swing early doors here. It wasn't the easiest, but if you graft through hopefully it gets better. We know that Old Trafford can be a fantastic place to bat. The partnership between Harry (Brook) and I was a bit of a matchwinner in the end.

We haven't actually batted that much together. We were having a chuckle, saying we were due a partnership together. Hopefully it's the first of a few big ones!

We've seen the qualities Gus (Atkinson) has got for Surrey and the Oval Invincibles. He's got raw pace, which is scary for any opposition. For him to come out and take four wickets on debut… I'm sure it'll be a huge confidence booster for him. You can see on his face how well he handled the pressure. He took everything in his stride and I'm sure it'll be the first of many caps for him.
England lead 2-0 with two games to play
All that really matters is the World Cup opener between these sides at Hyderabad (tbc) on 5 October (tbc). Even so, that was another formidable performance from England. Since 2019 they haven't been always been great in bilateral white-ball series, but they have taken New Zealand apart in the first two games.
There was a time when England debuts were a nervous, haunting experience, and that was just for those of us watching at home. It started to change in the early 2000s – Trescothick, Strauss, etc – and now nobody bats an eyelid when a promising fast bowler takes 4/20 on his international debut.
WICKET! New Zealand 103 all out (Ferguson b Atkinson 0) Gus Atkinson yorks Lockie Ferguson first ball to end a very impressive debut: 2.5-0-20-4. England have battered New Zealand.
Wicket! New Zealand 103-9 (Southee LBW b Atkinson 8)
Southee wallops his second ball for six, then walks across to his third and is out LBW. He was so far across that he was almost outside the line; almost.
Gus Atkinson has three for 20 on debut, with two balls still left in this over.
WICKET! New Zealand 95-8 (Seifert c Buttler b Atkinson 39)
And that was the first ball of the next over. Seifert blasted Atkinson into outer space, and Buttler ran forward to take a good diving catch. England are romping to victory.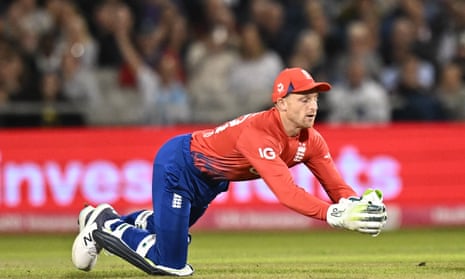 13th over: New Zealand 95-7 (Seifert 39) That was the last ball of the over.
WICKET! New Zealand 95-7 (Milne c Ali b Rashid 2)
Adam Milne reverse sweeps Rashid towards slip, where Moeen Ali takes a marvellous reaction catch to his right. The two old mates embrace, with Moeen laughing at his own excellence. England can do little wrong tonight.
12th over: New Zealand 88-6 (Seifert 34, Milne 0) That was the last ball of the over.
WICKET! New Zealand 88-6 (Santner b Jacks 8)
Will Jacks gets his first bowl in a T20 international – and his first wicket. Santner tries to slog sweep a quicker ball and is cleaned up. Nice bowling from Jacks; England are heading for another crushing victory. And 140 was a good score after all!
11th over: New Zealand 83-5 (Seifert 31, Santner 6) Seifert gets lucky when a leading edge off Rashid lands safely. Santner drives elegantly for four, but it's not enough. New Zealand need 116 from 54 balls.
10th over: New Zealand 77-5 (Seifert 30, Santner 1) Carse's pace is good, too, just shy of 90mph. I can't remember a time when England last had so many bowlers capable of bowling above 90mph, even if the greatest of them all has had such an awful time in the last four years.
WICKET! New Zealand 74-5 (Mitchell c Buttler b Carse 0)
Daryl Mitchell goes first ball! He inside-edged a hot one from Carse through to Buttler, who threw the ball up in celebration. It was given not out on the field but England reviewed successfully. That was a jaffa from Carse: fast, lovely length and with enough movement to brush the inside edge.
9th over: New Zealand 72-4 (Seifert 27, Mitchell 0) The new batter is Daryl Mitchell, who took England to the cleaners in the semi-final of the 2021 T20 World Cup.
WICKET! New Zealand 72-4 (Chapman c Brook b Livingstone 15)
My word. Mark Chapman has just smashed Liam Livingstone's first ball back over his head for a huge six, even by modern standards. New Zealand needed a big over, and this is the girl. Chapman sweeps four more, then Seifert slashes past short third man. But then…
After 16 runs off the first five balls, Chapman gets a bit too greedy and holes out to Brook at long off. Livingstone, who needs every run or wicket he can get after an iffy recent run, punches the air angrily in celebration.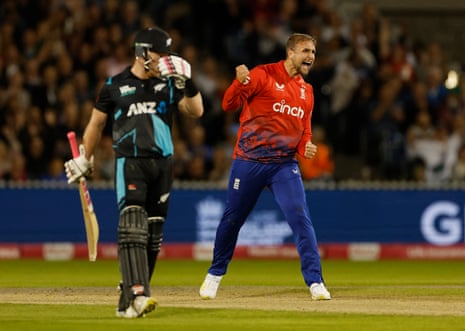 8th over: New Zealand 56-3 (Seifert 22, Chapman 4) Moeen Ali comes into the attack. The downside of T20s is that they can go flat very quickly, and this feels like a routine win for England. I suppose we've made that mistake in the past.
Nine from Moeen's first over, including an important boundary off the last delivery from Seifert. New Zealand need 143 from 72 balls.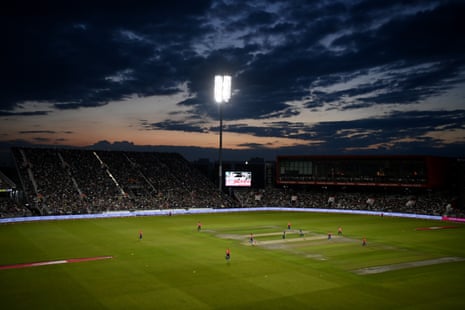 7th over: New Zealand 47-3 (Seifert 15, Chapman 2) As with any player, Harry Brook has had some tough times this year. He was dropped during the IPL, and at the mid-point of the Ashes series many of us feared he was in Pat Cummins' pocket for the rest of the summer. The matchwinning innings at Headingley changed everything, and since then he has been fifty shades of awesome. One thing he does extremely well, especially for a young player, is wring almost everything out of good form. That's not as easy or obvious as it sounds.
WICKET! New Zealand 44-3 (Phillips c Brook b Rashid 22)
Adil Rashid strikes third ball! Phillips clattered a low full toss towards long on, where Harry Brook took a beautifully judged catch with an almost offensive nonchalance. It was two-handed, above his head, with everyone in the ground worried that he might stand on the boundary sponge. Everybody in the ground bar Harry Brook, I should have said.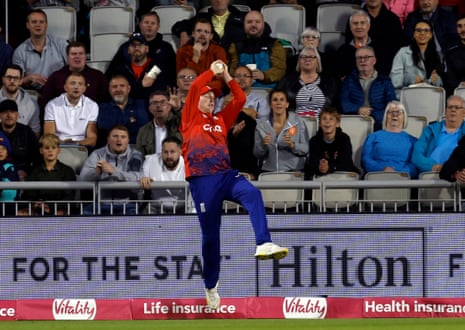 6th over: New Zealand 42-2 (Seifert 14, Phillips 20) Brydon Carse comes on for Atkinson, who bowls a promising first spell of 2-0-12-1. Phillips thick edges his first ball wide of short third for four, then drives another boundary down the ground. That's a decent end to the Powerplay for New Zealand, with 22 off the last two overs.
"England," says Gary Naylor, "are not the only side showing some firepower tonight."
Mitchell Marsh has become a mighty white-ball batter – in this series he's belted 166 from 88 without being dismissed – and might also be at the start of a golden spell in Test cricket. I thought his century at Headingley in the Ashes was genuinely astonishing.
5th over: New Zealand 31-2 (Seifert 13, Phillips 10) An attempted slower ball from Sam Curran loops comically down the leg side. Seifert runs after it, Allan Border-style, but it's so wide that he can't get to it before it reaches Jos Buttler.
The free hit is a dot ball, though Seifert puts the next two deliveries away with a cut and a deft steer. New Zealand aren't totally out of this; they need 168 from 90 balls.
4th over: New Zealand 20-2 (Seifert 5, Phillips 9) A classy shot from Glenn Phillips, who times Atkinson square on the off side for four. He top-scored for New Zealand on Wednesday and has started well here, taking a few low-risk singles and then punishing Atkinson when he erred slightly in length.
3rd over: New Zealand 13-2 (Seifert 4, Phillips 3) I told you 140 might be a good score.
WICKET! New Zealand 8-2 (Allen c Jacks b Curran 3)
New Zealand haven't learned from the England innings. Allen tries to smear a Curran slower ball towards the Northern Quarter but mistimes it miserably to mid-on, where Jacks takes a good catch over his shoulder.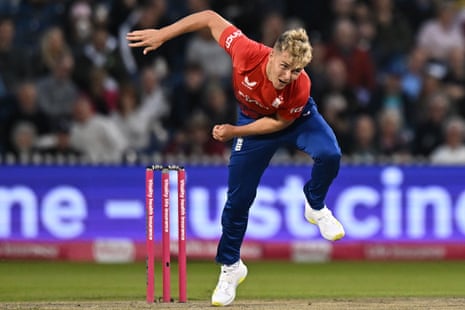 2nd over: New Zealand 8-1 (Allen 3, Seifert 2) Atkinson's second ball was timed at 92mph and his fifth beat the new batter Tim Seifert for pace. He bowls wicket-to-wicket and has a very fast arm, so you can see why people have compared him, in style if not quite substance, to Jofra Archer.
WICKET! New Zealand 6-1 (Conway c Livingstone b Atkinson 2)
That'll do! Gus Atkinson strikes with his fourth ball in international cricket when Devon Conway lifts him high to deep backward square leg. Atkinson smiles a little shyly and claps his hands; that's a helluva start to his England career.
1st over: New Zealand 3-0 (Allen 2, Conway 0) The lesson of the England innings is that this isn't the easiest pitch on which to start, and even Finn Allen can't get hold of Sam Curran in the first over. It's a terrific start from Curran, full of variety; just two runs off the bat.
And now it's time for Gus Atkinson.
Harry Brook speaks to Sky Sports
It's generally tough to chase here. It's a decent pitch tonight so hopefully we can get a couple of wickets early.

(Come on, how you do it?) To be honest I just try to play the ball on instinct as much as possible. Watch the ball and react. (What was either to face, pace or spin?) Probably pace, when you get used to it.

Jonny was on for a hundred and (chuckles) he was in the mood tonight. Unfortunately he didn't get it but it was an outstanding knock.

(What's your advice to Gus Atkinson?) Enjoy it, bowl quick and try and hit a few on the head.
And you thought life was complicated.
20th over: England 198-4 (Bairstow 86, Buttler 13) Ferguson starts the last over excellently, deceiving Buttler on a couple of occasions. But the penultimate delivery is swung miles over wide long-on for six, and a wide takes England to 197. Another slower ball beats Buttler to end the innings, so England don't quite reach 200.
It was a decent finish for New Zealand, with only 18 runs coming from the last 15 deliveries. But England had already reached an imposing total thanks to a spectacular partnership of 131 in 10.4 overs between Jonny Bairstow and Harry Brook. New Zealand need 199 to win.
19th over: England 185-4 (Bairstow 86, Buttler 3) Adam Milne, the pick of the New Zealand attack by a distance, ends with an excellent over. All six deliveries are either missed or mistimed, and England can only manage four singles. Milne ends with 4-0-23-0.