Key events
An email comes in from Philip Cornwall, better known to us OBO writers as the boss. "'Fifty to Livingstone, I presume'," he says, "reminded me of Vic Marks writing this in 2017: 'Rashid and Moeen remain fragile assets and would welcome the reassuring presence of Saqlain as their spin doctor. Livingstone, I presume, may well get his chance later in the year…'" Ah, Vic… we miss his touch.
34th over: England 226-7 (Livingstone 95, Willey 7) Curran hit his penultimate ball for four, and Willey hits his first for six! But only just, as Daryl Mitchell caught it on the long-on boundary, did the now-standard ploy of throwing it up and catching it, only to find that he had brushed the Toblerone with his foot. Livingstone can only manage a single and a two to finish, so no hundred for him. But it's as good as: a magnificent innings that has somehow levered England from 8-3 to 226-7. They have a chance.
WICKET! Curran c Boult b Southee 42 (England 215-7)
Curran brings out the ramp, has to switch it from the leg side to the off as Southee follows him, and ends up chipping a simple catch to short third. But Curran has done a superb job, digging England out of a deep hole.
33rd over: England 211-6 (Livingstone 91, Curran 38) Boult gets a second over in a row and uses it expertly, targeting the batters' toes and slipping in the odd wide slower ball. Livingstone can't hit those out of the ground, so he may just miss out on a first ODI century. Boult is done for the day: after making a fairytale comeback with three for one inches 100th ODI, he ends up with three for 37 off his seven overs.
32nd over: England 203-6 (Livingstone 88, Curran 36) Henry returns as Latham makes his umpteenth bowling change (how does he keep track of them all?). But it works as Henry manages something we haven't seen for 21 balls: a dot. And another, as Curran misses with a waft at a bouncer. There's a wide in between, but the over goes for only five … until the extra ball, which Livingstone pulls for six. Into the crowd! That's the way to bring up the 200 – and the hundred partnership.
31st over: England 192-6 (Livingstone 79, Curran 35) We interrupt this run-fest to inform you of an unexpected sighting in the Southampton area: some sunshine. Boult returns to find it's a different ballgame from the one he found so easy earlier on. The batters have no trouble working him around for four singles and two twos, both to Curran.
30th over: England 184-6 (Livingstone 77, Curran 28) Yet another bowling change as Southee returns. Livingstone tucked him into earlier, bashing 17 off an over, and now he produces consecutive fours – a pull to midwicket, mistimed but muscular, and then a pull to long-on, properly middled. The first of these fours takes England's run rate to six for the first time. Curran adds two, chipped over extra-cover. Southee, deprived of the new ball for once, has gone for 50 off his six overs, and England can now dream of more than 200.
29th over: England 171-6 (Livingstone 68, Curran 26) Latham, ringing the changes as if this was a T20 game, goes back to Santner. He finds some turn but the ball is too wide and Curran hits his second six. It's even better than the first – inside out, over extra-cover, the sort of shot his brother Tom was reeling off a fortnight ago in the Hundred final.
28th over: England 158-6 (Livingstone 63, Curran 17) Phillips returns for a second over. It's a bold move from Tom Latham and it almost pays off as Livingstone tries too hard to go big. The last ball hits him in the groin, bang in front of the stumps, and when NZ review, it looks out – but it's umpire's call.
27th over: England 154-6 (Livingstone 60, Curran 16) Livingstone, facing Henry, misses a pull, groans, but gets it right next ball to beat the man at long leg. A couple of singles take these two to a fifty partnership from 37 balls, riches indeed after the rags of 8-3. According to Sky's statisticians, this is the first time Livingstone has faced 50 balls in any form of cricket for two years. It's as if his whole working life is a series of TikTok videos.
26th over: England 147-6 (Livingstone 54, Curran 15) Right on cue, Curran turns into Willey and swings Ravindra for six! The partnership is 44 off 33 balls, much quicker than anything that went before. And as England look down the tunnel, they can just make out 200 at the other end.
25th over: England 137-6 (Livingstone 52, Curran 7) Just four off the over from Santner, who has been very thrifty (6-0-25-1). ngland were unlucky today with the toss, which allowed the NZ seamers to bowl in mouth-watering conditions. But they haven't helped themselves with some of their decisions. They could have opened with Jos Buttler, who is used to the Powerplay, and held Harry Brook back. They could have picked Liam Dawson in their squad: he must be tearing his hair out seeing how well the NZ slow left-armers are doing on his home patch. And they could have sent David Willey in ahead of Sam Curran, who missed the last game. Curran has seven off ten balls: Willey, whose eye was in the other night, might well have 15 by now.
Fifty to Livingstone, I presume
24th over: England 133-6 (Livingstone 50, Curran 5) Henry replaces Ravindra. He's hard to get away, but these two run well and a hard-hit hook for a single takes Liam Livingstone to a fine fifty off 47 balls with six fours. "Super-talented cricketer," says Eoin Morgan.
23rd over: England 125-6 (Livingstone 47, Curran 1) This is more like it from Livingstone. Facing Southee, he plays a pull with such fast hands that it beats the man at fine leg, then does the same to the man at extra-cover with an inside-out drive. He adds a nudge to leg for two, a gorgeous glide for four, a shovel for two, and finally a dab for a single to nick the strike. That's 17 off the over. England's run rate has finally got past five, and Livingstone has booked his place for the World Cup. He's not just ahead of Harry Brook: he may well be sneaking past Moeen too.
22nd over: England 108-6 (Livingstone 30, Curran 1) Phillips can't have been badly winded because he's now bowling, purveying his part-time off-breaks. Livingstone is itching to launch him into the Solent, but has to settle for a two and the odd single.
21st over: England 103-6 (Livingstone 26, Curran 0) Moeen had made 11 off his last five balls, including the dismissal, but only 22 off 27 before that. Buttler apart, England have batted as if they misheard the instructions and thought they had 84 overs, not 34.
WICKET! Moeen c Phillips b Southee 33 (England 103-6)
What a catch! Moeen flashes and miscues, the ball loops up towards cover, and Glenn Phillips leaps like a salmon to make a phenomenal grab. He lands heavily and seems to wind himself, but may feel it's worth it.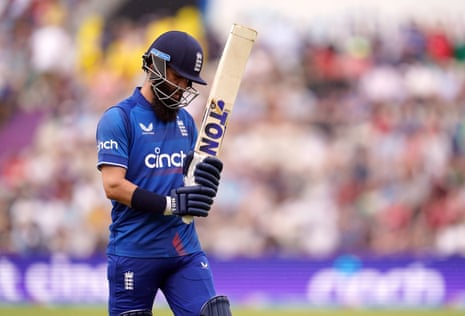 20th over: England 99-5 (Moeen 29, Livingstone 26) The shortest game that would count here is 20 overs a side, so England's innings could be done and dusted even sooner than we thought. Moeen wakes up, smells the coffee and slog-sweeps Ravindra for six. He may have been aiming for his own face, blown up on a poster on the concourse.
"Long batting line-up," murmurs John Starbuck. "Is Gus Atkinson a belter, then? Even if he isn't, a long innings from him would be highly valuable." Ha, it would. Gus is a man of few runs in white-ball cricket, but he has a first-class best of 91.
19th over: England 88-5 (Moeen 20, Livingstone 24) Latham goes for the kill, replacing slow left-arm with moderately fast left-arm. Back comes Trent Boult, who already has one hand on the Player of the Match award after taking three for three at the top of the innings. Buttler did go after him in his fourth over, and Liam Livingstone emulates him now with a lofted cover-drive that goes off like a rocket.
And it's raining again.
18th over: England 82-5 (Moeen 19, Livingstone 19) Another over of slow left-arm, another over of slow batting. Buttler was his usual exuberant self, and Stokes tried to be too, but the rest have been strangely tentative.
17th over: England 79-5 (Moeen 18, Livingstone 18) Tom Latham continues with slow left-arm at both ends, and Santner beats Livingstone with a ball so good that all the batter can do is miss it by a foot and smile ruefully.
Thanks Geoff and afternoon everyone. When the teams were announced, I couldn't work out why England had picked such a long batting line-up for such a short game. Now we know.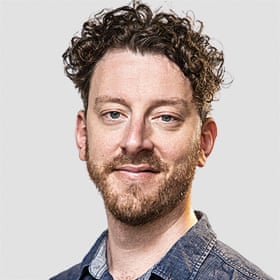 Geoff Lemon
That's the drinks break. And now that there's a game up and running, that's enough for me from late-night Melbourne. For the rest of this strange day you'll be with Tim de Lisle.
16th over: England 73-5 (Moeen 17, Livingstone 14) Rachin Ravindra comes on for his first over, another left-arm spinner to pair with Santner. He doesn't start so well though, dragging down a ball that Livingstone can heave for four over midwicket, then serving up a slow full toss that Livingstone can't hit cleanly and only gets a couple. Still, eight from the over is helpful for England.
15th over: England 65-5 (Moeen 16, Livingstone 7) That leaves 20 overs to come. A format familiar to Livingstone and Moeen, but they won't be used to doing it with only five wickets to spare. Moeen gets down low and slog-sweeps, Livingstone drives hard behind point, but they still only get singles. Four of those in total, plus a wide.
14th over: England 60-5 (Moeen 14, Livingstone 5) The Kiwis want to attack in the field, bringing seven men up and leaving only two out. Livingstone finds the gap anyway, slashing Southee behind point. Allen slides across from deep third but parries the ball laterally and into the rope rather than back into play. Other than that Livingstone gets driven back onto his stumps by a hard line and length, so can't get any more than those four runs from the over.
13th over: England 56-5 (Moeen 14, Livingstone 1) A good over from Santner continues after the wicket from the first ball. Mixes up his pace to Livingstone, slowing one up to turn past the edge, spearing others, and the big hitter can only push a single from his fifth delivery.
WICKET! Buttler b Santner 30, England 55-5
The most important one! Buttler has been on a different plane today, but he's on his bike now. Santner drives a non-turning delivery into the pitch from his hgh release point. It sticks, bounces high. Buttler cuts but mistimes, edging it from above his bails back down into the stumps.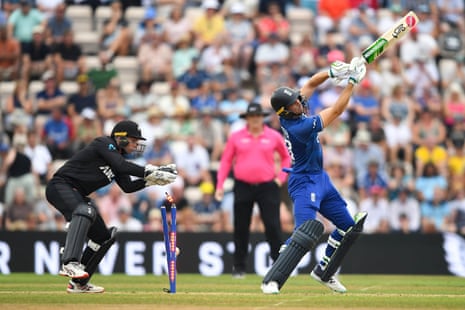 12th over: England 55-4 (Buttler 30, Moeen 14) Still all quiet: a couple of runs to point for Buttler from Southee, a few more singles. Remember they only have 34 overs to bat today.
11th over: England 49-4 (Buttler 26, Moeen 13) Santner gets shovelled down the ground by Moeen for one, then drops short to Buttler and is cut for another. Three singles from the over is a return he will happily accept.
10th over: England 46-4 (Buttler 24, Moeen 12) Tim Southee for his first over. Remember when he tore England apart at the 2015 World Cup? Seven wickets for nothing much. Beats Moeen twice here, cramps him with a shorter ball, but still gets caressed through cover for four, then tries again for two more.
9th over: England 40-4 (Buttler 24, Moeen 6) Santner on for some spin, the fielding restrictions are done given this is a reduced game. Buttler drives him through cover for four! In a match where everyone else has struggled, Buttler is 23 from 14 balls. A little yelp for lbw later in the over but it's slanted down leg side.
8th over: England 34-4 (Buttler 19, Moeen 5) An early entry for Moeen Ali. Defends his first ball standing up straight, trades singles with Buttler, then effortlessly drives through cover for four.
WICKET! Brook c Allen b Henry 2, England 28-4
With England having just taken some momentum, Brook gives it back! Swings across the line at Henry, not a slog but trying to pick it up off his pads. Instead it's a leading edge that goes high in the air, descending into the hands of mid on.
7th over: England 28-3 (Brook 2, Buttler 18) Swat! Boult might be hoovering wickets, but that won't stop Buttler taking him on. Whacks a length ball off the top of its bounce down the ground. Second boundary for the day in the seventh over, and the first was a nick. Boult tries bowling it wider, across the right-hander, but Buttler waits to size it up and repeats the does, this time through mid off rather than mid on. Wider still goes Boult, and Buttler chases it to deep point for two. Then lofts the final ball down the ground for four more, over mid off!
Wow. Where did that come from? Trent Boult had 3 overs, 3 runs and 3 wickets to that point. Then his fourth over goes for 15.
6th over: England 13-3 (Brook 2, Buttler 4) Brook walks at Henry and gets a run via an outside edge. Slip half slaps the ball down as it bounces by. Buttler is more controlled, again gliding a couple of runs.
5th over: England 10-3 (Brook 1, Buttler 2) Genuine bounce from Boult too when he drops one in short. Almost another wicket maiden but Buttler dabs two from the sixth ball.
WICKET! Stokes c Southee b Boult 1, England 8-3
Another one down! The old firm combines once again, Boult and Southee: Boult with a length ball swinging away from Stokes, Southee with the straightforward catch as Stokes charges the bowler, goes through with the shot despite needing to reach for the width of its line, and drives hard and flat at mid off.