Key events
That is all from us today. Thanks to Tanya for steering the OBO tiller in the earlier shift and I appreciated all your emails, comments and shenanigans* this afternoon.
We'll be back to cover the semi-finals on Wednesday and Thursday. India v New Zealand and Australia v South Africa duking it out for a spot in the final on Sunday.
*Only right that the penultimate word on this OBO should go to Mark Beadle:
"In hindsight I could've picked a different time to take the rubbish out James… enjoy your tea, hopefully it's not too cold!"
It was baltic, Mark, but worth the wait. Just like your co-commentary. Goodnight!
Here's India's bowler extraordinaire captain, Rohit Sharma:
Since we started the tournament it was all about one game at a time. We never wanted to look too far ahead. It is a long tournament, eleven games in all if we go all the way. It was important to break it down and focus on each game. I'm very pleased at how we've played in these nine games, we've been very clinical from game one to today.

"We are playing in India, there will be expectation. We wanted to do the job at hand. It's one thing to talk about it but for everyone to buy into it is very important. We enjoy each other's company. We wanted to play with enjoyment on the field."
They certainly did that today, with Virat, Suryakumar Yadav, Shubman Gill and Rohit himself all getting a go with the ball. I don't reckon we'll see any of them turn their arm over against New Zealand on Wednesday… the memories of the semi-final game against the Blackcaps four years ago should keep Sharma and co on task.
Here's the Netherlands captain, Scott Edwards:
It's a little bit of a tricky one at the moment when it comes to where we want to be. We are pretty confident with the style we play, the tournament was always going to be tough… India are as good a side going around. We will have to be a lot better going into theT20 World Cup next year. They showed pure class with the bat… when you are three down with ten overs left, you are going to score some runs."
I think he can be very proud of his side, they overcame the odds to get to the tournament in the first place and showed they aren't just here to make up the numbers with wins over Bangladesh and an in-form South Africa. They didn't wilt under the Indian batting barrage and came out playing some shots when it came to their innings, only coming unstuck when spin was introduced. They need investment of course, resources, fixtures and the rest, but they have plenty of talent and are a young side in terms of age.
Shreyas Iyer scoops the Player of the Match for his 128* off 94 balls:
I'm very happy. The scores I got in the last few days helped me. The wicket was playing tacky, a bit two paced. I wanted to capitalise on the start… I was trying to hit straight, and keep my head down."
I enjoyed this. Reminded me of those players who make a breezy untroubled score and then when asked how the wicket is playing afterwards they describe it as a snake-pit. "Only got 128. Probably worth double that, actually."
India win by 160 runs (Netherlands 250 all out)
Rohit Sharma gives himself a bowl with a wide grin spreading across his chops. He trundles in and is hammered away over midwicket by Nidamanaru, that brings up his fifty off just 38 balls.
All over next ball though! Nidamanuru plops it straight down long-on's throat to hand India a comprehensive win. Sharma is beaming, as well he might. Not only has he robbed a wicket but more importantly his side have nine wins from nine as they head into a home World Cup semi final against New Zealand on Wednesday.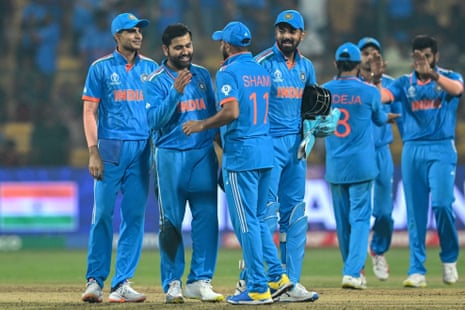 47th over: Netherlands 243-9 (Nidamanuru 48, van Meekeren 2) Paul van Meekeren is the last man outta the hutch. He digs out a yorker to get a single and off strike first ball. Bumrah gets the yorker wrong for once and a full toss is well dispatched through square by Nidamanuru.
"Mark Beadle, you little beauty!" hollers Simon McMahon. "A wicket in his first over. Kohli-esque. And economy of delivery that Benaud would have been proud of."
Very much agreed Simon. My only note would be on timekeeping. *Coughs a dry cough*
WICKET! Aryan Dutt b Bumrah 5 (Netherlands 236-9)
The well disguised Bumrah slower ball does for Dutt! India need one more to complete the perfect group stage.
46th over: Netherlands 236-8 (Nidamanuru 43, Dutt 5) Jadeja continues, a full ball is muscled over the boundary for six by Nidamanaru! This is a nice little cameo from the middle-order batter, when he hits them they tend to clear the rope.
45th over: Netherlands 227-8 (Nidamanuru 37, Dutt 2) Bumrah in his eighth over, how he doesn't clean up Aryan Dutt I'll never know. A yorker must graze the stumps as it passes but the bails stay put. So does Dutt after somehow coming through six balls unscathed and un-toppled.
WICKET! Roelof van der Merwe c Mohammed Shami b Jadeja (Netherlands 226-8)
Fun and games for a few balls as van der Merwe clubs Jadeja for a ginormous six and a switch hit four but perishes on the third swipe – caught in the deep by Shami. The Dutch lose their eighth wicket. I still haven't had a slurp of tea.
44th over: Netherlands 226-8 (Nidamanuru 37, Dutt 1)
43rd over: Netherlands 214-7 (Nidamanuru 36, van der Merwe 6) Roelof van der Merwe replaces the dearly departed van Beek and his first act of note is to smear Kuldeep high and proud over midwicket for six. No messing about.
WICKET! van Beek b Kuldeep 16 (Netherlands 208-7)
"Miss, hits. Easy peasy."
Nailed it Mark. Worth the wait.
Right, here's Mark Beadle to cover the action…
42nd over: Netherlands 208-6 (Nidamanuru 36, van Beek 16) Shami serves up a wide full toss and is scythed for four by van Beek, Rohit dived over the ball, "He was like the Sydney Harbour Bridge there" chimes Shane Watson on the commentary.
41st over: Netherlands 200-6 (Nidamanuru 35, van Beek 10) Great shot from Nidamanuru! He picks the googly from Yadav and deposits it high and proud over long on for SIX! van Beek sweeps for two and the double ton is notched up by the Dutch.
40th over: Netherlands 190-6 (Nidamanuru 28, van Beek 7) Shami comes back into the attack and is worked off the hip by van Beek for four. Nicely timed.
39th over: Netherlands 183-6 (Nidamanuru 26, van Beek 2) Kuldeep is despatched for a huge six down the ground by Nidamanuru.
Shreerang Sarpotdar is entering the spirit: "Maaaaaaaaaaaaark?"
No sign of Mark. My teabag stares at me forlornly, devoid of milk… and hope of being drunk. We could have had something Mark.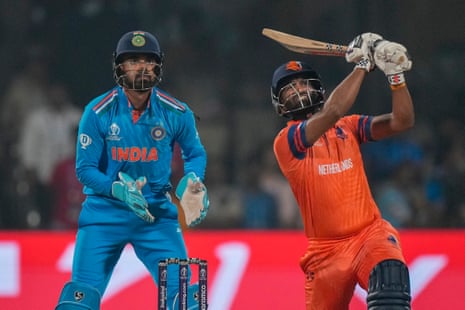 WICKET! Engelbrecht b Mohammed Siraj 45 (India 172-6)
Siraj scuds one through Engelbrecht in the first over after drinks. I'm sure Mark is going to elaborate. He's got it covered. Every faith.
Logan van Beek is the new man. Mark?
38th over: Netherlands 169-5 (Nidamanuru 17, van Beek 1)
Mark? Mark Beadle?
37th over: Netherlands 169-5 (Engelbrecht 44, Nidamanuru 16) Kuldeep does indeed replace Suryakumar, is that the end of India's high jinx? Just a single off the over and the players are going to take a drink…
"Hi James,"
Wotcha Mark Beadle.
"In the spirit of this game how about you take a few overs off and let the rest of us OBO'ers have an over each?"
DEAL Mark. I'm off to make a cup of tea. You do the over after drinks yes? Double dare you. I'm typing nothing – got to let my Yorkshire Gold brew. Don't be too good though, I need this gig.
36th over: Netherlands 168-5 (Engelbrecht 43, Nidamanuru 16) Siraj returns to the fold, he's put down a few catches in the field and so will want to make amends with the ball in hand. A full ball clips the legs of Nidamanuru and whistles away for four. I've been propositioned in my inbox…
35th over: Netherlands 162-5 (Engelbrecht 42, Nidamanuru 16) Well played Teja Nidamanuru, he decides enough is enough and launches SKY over long on twice in succession for two huge sixes. That might be enough for Rohit to call it a spell.
But what's this? A theory from Vibhanshu Bisht:
"Hi James, I think you are missing the fact that Rohit has already started the mindgames for the semifinals. It is quite clear that this is an attempt by Rohit to befuddle any NZ analysts who might be watching the game to prepare for the semis. Instead of 5, now they will need to prepare strategic plans for 8…and maybe more bowlers."
34th over: Netherlands 149-5 (Engelbrecht 42, Nidamanuru 3) This is very much akin to Graham Gooch's much maligned quote about the NZ side of the eighties – like facing the World XI from one end and Ilford 2nds from the other. Bumrah is nailing the bouncer/yorker and looks mightily impressive. Suryakumar is given the nod for another…
33rd over: Netherlands 148-5 (Engelbrecht 42, Nidamanuru 3) Suryakumar gets his first bowl in an international match, cripes, the ball is so slow it barely makes it down the other end. Rohit will be on before you know it. There were four singles off it. Drosstastic stuff from India.
WICKET! Bas de Leede b Bumrah 12 (Netherlands 144-5)
Yorker. Sayonara. Bumrah has Englebrecht dropped on the boundary by a sprawling Siraj and takes matters into his own hands by detonating off stump. Teja Nidamanuru is the new man at the crease. Lordy, Suryakumar Yadav is being given his first bowl in international cricket. Brace yourselves.
32nd over: Netherlands 144-5 (Engelbrecht 40, Nidamanuru 0)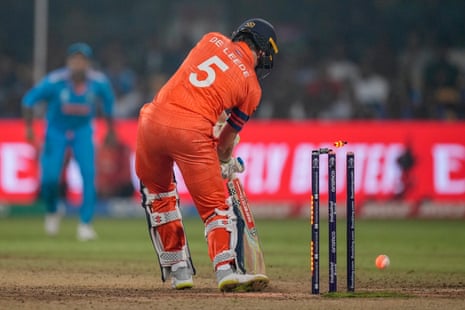 31st over: Netherlands 140-4 (Engelbrecht 37, de Leede 12) Inexplicably, Shubman Gill is given another over. Can't really bring myself to type except to say four singles are taken off it. That's all you are getting. Let's all move on.
30th over: Netherlands 136-4 (Engelbrecht 35, de Leede 10) From the ridiculous to the sublime as Bumrah is recalled for the over after Shubman. Just a single off it to de Leede.
"Only Rohit is left. Might as well have a bowl. He has a IPL hattrick afterall" chirps Arul Kanhere.
Don't rule it out.
29th over: Netherlands 135-4 (Engelbrecht 35, de Leede 9) Fair to say Gill is clearly no bowler. I'm not even sure how to categorise it… floaty nonsense? He drops short and is smeared to the fence by de Leede. This smacks of a village game where the bloke who was called up at the last minute and has "driven a fair way this morning" is given a bowl. That or a beer game. In fact – my stag doo match last summer was more competitive than this Gill over, that's saying something. Wisden's Phil Walker no doubt still having nightmares about getting out to my left arm dross. I never remind him. That would be crass. Ahem.
28th over: Netherlands 128-4 (Engelbrecht 33, de Leede 1) DROP! Jadeja can't hold on to a sharp caught and bowled chance offered from de Leede. That was hit hard but it is chalked up as another missed chance. Ian Smith thinks India have been a bit lackadaisical in the field today. There is a slight end of term vibe to them, bring in your boardgames and wear your own clothes type thing. That is only reinforced by the fact Shubman Gill is coming on for a bowl.
27th over: Netherlands 124-4 (Engelbrecht 33, de Leede 1) Kohli continues for another over. You try prising the ball out of his mitts after that first ODI wicket in nine years… Five off the over, a mixed bag of dobblers and full tosses.
26th over: Netherlands 119-4 (Engelbrecht 29, de Leede 0) Englebrecht uses his feet to Jadeja and gets a meaty edge behind for four runs. DROP! Next ball is slashed to Rohit at point but he can only parry it. Another drop for India. Salt meet wound, wound meet salt. Engelbrecht punches down the ground and a mis-field sees the ball travel to the boundary. Smidge sloppy from the Indian side.
WICKET! Edwards c Rahul b Kohli 17 (Netherlands 111-4)
VIRAT STRIKES! Erm, well, he spears one down the leg side and Scott Edwards gets a tiny feather that is extremely well taken by KL Rahul. The crowd go bananas and Edwards has to trudge off.
Bas de Leede is the new man and Kohli is now channeling Richard Hadlee, three dots finish the over.
25th over: Netherlands 111-4 (Engelbrecht 20, de Leede 0)
24th over: Netherlands 110-3 (Engelbrecht 20, Edwards 17) A loosey goosey over finally from Jadeja, he spears down the leg side for four leg-byes and is then paddled away fine by Edwards for another boundary. Twelve runs in total are leaked off the over, the Dutch need a whole lot more.
23rd over: Netherlands 98-3 (Engelbrecht 17, Edwards 12) Here comes Kohli, the crowd whooping and hollering at the opportunity to see the great man do his lesser spotted thing with the ball. He trundles in… it is slooow. The caption has him down as medium pace but I think Trade Descriptions might want a word about that. He is nurdled for three singles before inducing a thick edge from Engelbrecht that flies away for four wide of KL Rahul. Seven off the over.