Key events
That'll be all from me, folks. India were all over South Africa today, making 326 on a far from straightforward surface before the quicks began with a tight new-ball burst. Jadeja arrived to clean up with a five-for on a turning track, but all five bowlers were irresistible. I have no idea how you stop them.
Geoff Wignall is looking for the positives. "After the hammering his bowling took, I don't suppose it'll be great consolation to Jansen that he was SA's top scorer." He made 14!
This got a chuckle out of me.
Kohli is the Player of the Match for his unbeaten 101. "I had this sense of it's going to be something more today rather than just one more game in the World Cup," he tells Harsha Bhogle. "I did wake up with that excitement."
On equaling Tendulkar's record of most ODI hundreds:
"To equal my hero's record in one-day internationals is something that is a huge honour for me. I know people like comparisons – I'm never going to be as good as him, there's a reason why we all looked up to him. He's perfection when it comes to batting. I'm trying to do my best, trying to win games for my country. He's always going to be my hero regardless of what happens. It's a very emotional moment for me."
"Having enjoyed the Kohli record-breaking masterclass this morning and the early overs of SA's knock, I felt this was going just one way," writes Dean Kinsella. "So I have to admit to drifting off to watch a bit of footy. But having just popped back to the latest situation here I'm shocked at quick the caputulation has been. SA have been pretty darn good in this comp so far but they are being absolutely mashed. Can anyone stop this fabulous Indian team?"
I guess the maddest thing about all of this is that I still think South Africa are the closest side to winning this – face India in the final and they'll just have to hope they win the toss and bat first.
Jadeja finishes with five wickets but the occasion, as ever, belongs to Kohli. His 49th ODI hundred brought him level with his hero, Sachin Tendulkar, and all this on his 35th birthday.
India beat South Africa by 243 runs
A Kuldeep googly goes straight through Ngidi and that's that – what a thrashing that is. For the second time this week, India have bowled their opponents out for a two-figure score. Sri Lanka were the first to get done, but South Africa – the only other confirmed semi-finalists – were meant to provide a real test here. Instead, India have been phenomenal. World Cup glory feels inevitable.
27th over: South Africa 83-9 (Ngidi 0, Shamsi 4) Shamsi, who seems like he'll have a bit of fun here, throws the bat at a fuller delivery and finds four through the leg side.
Jadeja has five wickets! Rabada c&b Jadeja 6 (South Africa 79-9)
Tossed up by Jadeja and Rabada pummels a drive straight back to the bowler. He's bowled beautifully.
26th over: South Africa 79-8 (Rabada 6, Ngidi 0) The Proteas need 248 off 24 overs, in case you were wondering.
WICKET! Jansen c Jadeja b Kuldeep 14 (South Africa 79-8)
Simples. Jansen just pokes at the ball off the backfoot, chipping to Jadeja at cover for the easiest of grabs.
25th over: South Africa 78-7 (Rabada 5, Jansen 14) Rohit wants to finish this up now; he brings Bumrah, still without a wicket today, back. There's a funky slower ball in there as the bowler mixes it up. Jansen sees off five dots before playing a top shot, lofting Bumrah down the ground for four.
24th over: South Africa 74-7 (Jansen 10, Rabada 5) This win, by the way, will mean India top the table with a game still left to play.
23rd over: South Africa 70-7 (Rabada 3, Jansen 8) Jadeja, somehow, is still waiting for his fifth wicket. It's another maiden – this game finished a while back.
22nd over: South Africa 70-7 (Jansen 8, Rabada 3) Kuldeep tweaks away with two slips in for Rabada. A beautifully-flighted delivery spins sharply past the outside edge. Maiden.
21st over: South Africa 70-7 (Rabada 3, Jansen 8) Jadeja pleads for his fifth wicket, as he tries to trap Rabada lbw. Just one off the over.
"Good afternoon Taha." Hi there, Simon McMahon. "Maybe it's just me, but if I was an Indian supporter, I'd be getting a bit nervous by now. This Indian side is so good, so dominant, and so deserve to win this World Cup, and yet, as we know in sport, the best team doesn't always win, especially in knockout competitions. But right now, it's hard to see anyone beating them. Though I'm sure Australia will have something to say about that, and possibly even Pakistan. Imagine that…"
Anything can happen on the day, but it is plain silly just how much better they've been than everyone else.
20th over: South Africa 69-7 (Jansen 8, Rabada 2) Kuldeep runs through another quick set. "India does look quite invincible at the moment, but there are two knockouts to be won under extreme pressure," writes Arul Kanhere. "Do you know of any tournament when a team looked this good but lost the final? – Bayern's loss to Chelsea in 2012 comes to mind."
19th over: South Africa 68-7 (Rabada 1, Jansen 8) Jadeja finishes the over with an lbw shout, but India opt against reviewing it after the umpire turns it down.
WICKET! Maharaj b Jadeja 7 (South Africa 67-7)
Jadeja has two slips in as he chases another wicket. Jansen skips down the pitch for a big shot, but doesn't get the right connection… it lands safely at mid-off. But there's Jadeja's fourth: fast, pitching on middle and leg, and turning past the outside edge to dismiss Maharaj.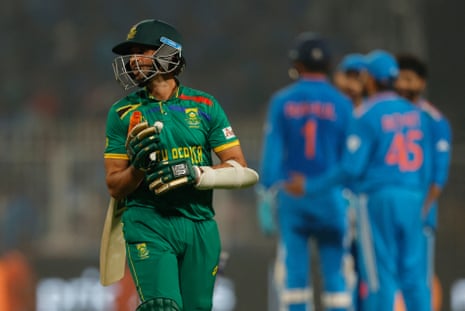 18th over: South Africa 65-6 (Maharaj 6, Jansen 7) Kuldeep Yadav gets his first bowl of the day, and runs through his motions quickly to concede just one off it.
17th over: South Africa 64-6 (Maharaj 5, Jansen 7) Maharaj punches off the backfoot for four, that a brief moment of respite for the Proteas.
WICKET! Miller b Jadeja 11 (South Africa 59-6)
Miller tries to paddle Jadeja again, moving across his stumps – but he goes too far and doesn't get the bat on it. South Africa are struggling to get to three figures here.
16th over: South Africa 59-5 (Miller 11, Jansen 7) Shami glides in for another set and finally errs, bowling a wide as an offcutter goes wrong. Little else has for the quick bowler.
15th over: South Africa 52-5 (Jansen 2, Miller 10) David Miller gets inventive to halt Jadeja, moving across his stumps to play a little paddle down to fine leg for four. Another boundary closes the over, the crowd suddenly completely quiet. Time for drinks.
14th over: South Africa 42-5 (Miller 0, Jansen 2) Shami has 15 wickets in the tournament. This is his fourth game.
WICKET! van der Dussen lbw Shami 13 (South Africa 40-5)
Shami thuds the ball into van der Dussen's pads and it looks a great shout – but the umpire's finger doesn't go up. The bowler is desperate for a review, and his captain obliges. The seam is perfect, the ball jags in, and it's hitting the back pad. Ball-tracking produces three reds once again – this is carnage.
13th over: South Africa 40-4 (van der Dussen 13, Miller 0) That lbw looked to me like it was pitching outside leg, but it was just about in line and there's enough in this pitch for the ball to straighten up from there.
WICKET! Klaasen lbw Jadeja 1 (South Africa 40-4)
Klaasen, off his 10th delivery, gets off the mark with a single against Jadeja. There's an lbw shout against Klaasen later in the over, but looks leg-sideish to me… India decide to review… Oh, never mind, me it's three reds!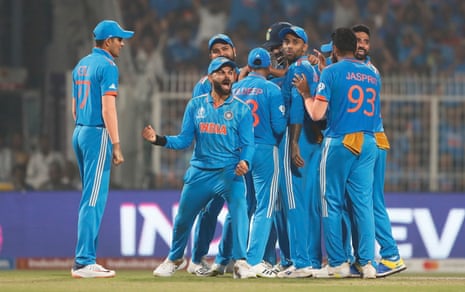 12th over: South Africa 37-3 (van der Dussen 11, Klaasen 0) Klaasen middles a cover drive, but it flies straight to the fielder. Shami, all straight lines and subtle changes, refuses to provide any width. Just one off the over.
11th over: South Africa 36-3 (van der Dussen 10, Klaasen 0) Jadeja continues his spell of left-arm havoc, getting big, big turn. It's quick, too, so South Africa have to be careful going back to him. Just one off the over as he races through his action.
10th over: South Africa 35-3 (van der Dussen 9, Klaasen 0) That ball from Shami moved away from Markram, completely befuddling a top-class batter. India just look unbeatable, don't they?
WICKET! Markram c Rahul b Shami 9 (South Africa 35-3)
Shami, averaging 6.71 (!) with the ball in this World Cup, enters the game. Markram drives him down the ground for four, a shot Siraj should have stopped at mid-on. Ooof, an inside-edge follows as Shami seams the ball back into Markram, and it runs away for four. And then another wicket! Shami gets Markram's outside edge and the ball carries low to KL Rahul. India are running away with this.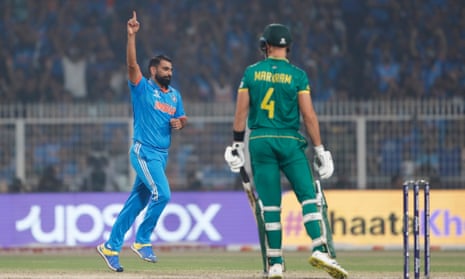 9th over: South Africa 27-2 (Markram 1, van der Dussen 9) Markram gets off strike straightaway, and Jadeja is a touch too short with his next ball – van der Dussen carves through the off side for four.
WICKET! Bavuma b Jadeja 11 (South Africa 22-2)
Bumrah takes a breather and with the pitch offering a bit of grip, Rohit calls for Jadeja's left-arm twirl. And there it is! The ball pitching on middle and turning past Bavuma's defence to rattle the stumps. South Africa have lost their captain and are in all sorts.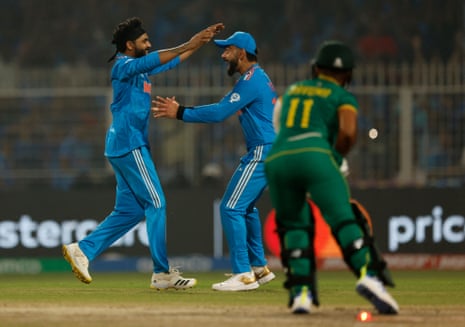 8th over: South Africa 21-1 (van der Dussen 4, Bavuma 11) Dot, dot, dot (a sharp bumper), dot, dot, dot. It just ain't happening for South Africa right now.
7th over: South Africa 21-1 (Bavuma 11, van der Dussen 4) Bumrah gets a bit of lift off the surface and Bavuma attacks it unconvincingly – the ball just about escapes the reach of backward point, allowing for a single. India simply aren't letting up here.
6th over: South Africa 19-1 (van der Dussen 3, Bavuma 10) Siraj bounces in, and van der Dussen is tied down with dot after dot, with little room given for him to free his arms. A single off the final ball takes him to 3 off 16.
5th over: South Africa 17-1 (Bavuma 9, van der Dussen 2) Bavuma finds his first boundary, using a straight bat to run the ball through midwicket. He's up against the white ball, but the situation requires a bit of red-ball expertise at the moment, with Bumrah jagging it about. The South Africa captain dabs the ball down to extra cover and sneaks a quick single.
4th over: South Africa 12-1 (Bavuma 4, van der Dussen 2) Bavuma clips Siraj off his pads for a couple, and rotates the strike the next ball with a single. Van der Dussen finally gets off the mark, dissecting midwicket for two. Siraj, like Bumrah, is hunting for those stumps, keeping straight and steady.
3rd over: South Africa 7-1 (Bavuma 1, van der Dussen 0) Bumrah gets some extravagant movement off the pitch to jag the ball back into Bavuma, who nearly chops on but escapes with a single. The India quick is constantly challenging the stumps, and the early exchanges have a Test-match feel to them, with van der Dussen just looking to survive. A ball moves away from the tall right-hander and just misses out on the outside edge.
2nd over: South Africa 6-1 (Bavuma 0, van der Dussen 0) Two slips in for van der Dussen and South Africa are already feeling the heat.
WICKET! De Kock b Siraj 5 (South Africa 6-1)
Siraj greets de Kock with a tasty inswinger that the batter hits onto his own foot – he's hurt himself and out comes the doc. He soldiers on, and unfurls a wonderful off-drive for four. AND THEN THE WICKET! Siraj pulls back his length and de Kock drags the ball onto his stumps, cutting at a ball that wasn't wide enough for it.
1st over: South Africa 2-0 (de Kock 1, Bavuma 0) Bumrah, with that gorgeous, immaculate presentation of the seam, immediately tests de Kock's defence. The left-hander pushes awkwardly at the second ball, and another dot follows with the third. Then there's a full toss, wide of off stump, but de Kock can't get the desired connection. A wide follows, then a forward-defence, then a little edge that runs away to third man for a single. Nervy start from the tournament's leading run-scorer.
Bumrah has the ball. De Kock is on strike. Let's play!
Right then, we're not far away from the restart. This is gonna be good – Bumrah and Siraj, scintillating with the new ball in the demolition of Sri Lanka earlier this week, up against de Kock, who has four (!) hundreds in the tournament.
Can't get over those Kohli numbers. It seemed liked he'd lost his magic powers a year or two ago, worn down after years of being the most intense, brilliant batter in the game. But he's come back strong in 2023, and it does feel like this'll be to him what 2011 was for Tendulkar – the crowning moment. He's made seven international hundreds across forms this year from 31 knocks.
Thanks very much Rob. Well, it's been Kohli's day so far but this South African batting unit have been immense in this tournament. The tricky thing for them? They've not exactly loved chasing, their best work done when they've batted first. They lost to the Netherlands when set a target of 246, and they just got over the line against Pakistan in a one-wicket win chasing 271.
That feels like a matchwinning total, although so did 401 yesterday I suppose. Taha Hashim will join you in a second for the runchase. Thanks for your company – I'll leave you with this evocative email from Darryl Accone.
Well, you asked about it Rob (31st over), so here goes. Barry Richards tends to be overlooked these days, eclipsed somehow by the other Richards, of whom even young cricket fans know much. For an exhilarating time in the 1970s the two Richards were the finest around and tellingly Don Bradman chose Barry to open the batting in his all-time XI, partnered by Arthur Morris (Australia). Viv didn't make the team.

That melancholy you point out in the photograph of Barry reflects I think the tragedy of a player so endowed with genius by the cricket gods being unable to play more than four Tests because of the sports boycott of South Africa, admittedly something of greater importance.

The hundred of his I appreciated best was atypical to begin with. Far from the fluidity, exquisite timing and placement Barry typically showed, here he scratched around almost laboriously against a strong Western Province attack on the opening morning of a a weighty provincial game. The crowd at his Kingsmead home ground grew restive, then perturbed and finally even broke out into slow handclaps.

This in the context for me (and them!) of having seen Richards race to several hundreds before lunch on the opening day of matches, when he was all grace, playing the ball later than seemed possible, everything under the eyes, controlled, peerless.

At lunch, Richards had 40. Whatever he ate – and Kingsmead then was renowned for its Durban Curry repasts – he came out transformed. Gone was the curious hesitancy and lethargy. The second ball after lunch was dispatched by one of his trademarks, the cover drive, and in an hour he had gone seamlessly to his century. It was the contrast between the pre-lunch struggle that shockingly suggested to my youthful sensibility that he might be fallible and the carefree grace of the gods that followed which left such a deep impression.
More from Virat Kohli
To (equal the record) on my birthday in front of such a huge crowd; it's the stuff of dreams. As a child you wish something like that happens, so I'm very grateful to God that I've been blessed with these moments. So much love from the fans as well. I'll just continue to try to help the team in any way possible.

I think our total is well above par. The way the ball was gripping through the middle overs, it wasn't easy, and we have a quality bowling attack. We have to work hard. The wicket will get slower and slower so hopefully we start well with the new ball.
Virat Kohli speaks
The wicket was a bit tricky to bat on. We got a great start through Rohit and Shubman so when I got in my job was to keep that momentum going. After the Powerplay the ball started gripping and the wicket started slowing down as the ball got older, so me and Shreyas had a different role. Once we lost Rohit and Shubman in the first ten overs, my role was to bat through the innings; that's what I've done over the years, and that was the communication from the team as well. We didn't think we would get to 327, but that's what happens when you take it deep.

We had a lot of practice sessions before the Asia Cup. In those sessions Shreyas and I invariably batted together, because we knew we were Nos 3 and 4. In the middle I said to him, 'This is the partnership, this is the partnership'. Both of us are pretty comfortable rotating the strike against spinners, and then when he loose balls he put them away so credit to him.

As I said, when you lose two wickets and you don't have Hardik in your team, you need to bat deep and get to a stage where the opposition feels like they have to restrict you rather than thinking, 'We're one wicket away'. He batted beautifully and strike rotation was the key.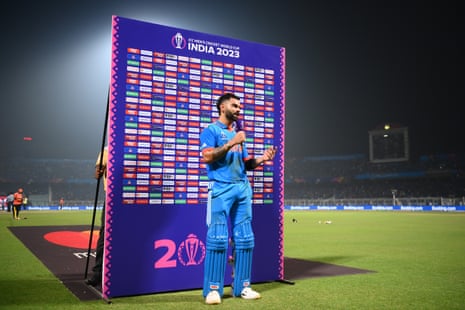 South Africa need 327 to win
50th overs: India 326-5 (Kohli 101, Jadeja 29) Just a single off the last ball, after which all the South African players run up to congratulate Virat Kohli. He walks off wearily but then breaks into a smile when he sees another South Africa – his old mate AB de Villiers, who comes up to embrace him.
Poor Marco Jansen finishes with 9.4-0-94-1, the most expensive spell by a South African at a World Cup.
49.5 overs: India 325-5 (Kohli 100, Jadeja 29) Jadeja scrunches successive boundaries off Jansen, then takes a single to finish a riotous cameo of 29 not out from 15 balls. Kohli will face the last delivery…
Ngidi is leaving the field. He's limping slightly and must be a doubt for the semi-final a week on Thursday. He finishes a very tough afternoon's work with figures of 8.2-0-63-1.
Just when Marco Jansen was out, they pull him back in: he'll bowl the last four balls of the innings.
Ngidi suffers potential hamstring injury
49.2 overs: India 316-5 (Kohli 100, Jadeja 20) This is a worry for South Africa. Jadeja clatters a huge six off Ngidi, who immediately feels his hamstring and sits down on the pitch. South Africa can't risk losing him for the semi-final; it would be ludicrous.
"I feel nervous and excited that we may be about to enter into a late imperial phase for Kohli," says Pete Salmon. "In his pomp he seemed fired by anger and a sense of retribution (as I guess we all are, you, me, Kohli) but it feels like he may now have put away childish things and be moving into a serene state of dominance (also us). My hot tip, more runs between 35 and 40 than he scored between 30 and 35. Heard it here first."
49th over: India 309-5 (Kohli 100, Jadeja 14) Rabada finishes an admirable spell with figures of 10-1-48-1. It's not about him.
Kohli has reached 49 ODI hundreds in 277 innings; Tendulkar played 452. I know the balance between bat and ball has changed, but that's still a startling statistic. Even the magnificent Rohit Sharma, who is third on the list, has needed 251 innings for his 31 centuries.
"Good day Rob, from an overcast Cape Town," writes Trevor Tutu. "We aren't yet over the euphoria of the Boks' win, but I think that we have the stamina to celebrate the Proteas lifting the World Cup too. I hope that all the analysts are wrong to think that the South African batting will be tied up in knots by the Indian spinners.
"I am enjoying the memories of the opening partnerships of Greenidge and Richards. I had a thoroughly disreputable MG in those days, and we would follow Hampshire to their JPL Sunday matches in the Home Counties in between replacing gaskets, universal joints, exhausts, big ends and all the other bits that could go wrong and prevent you from getting to the ground on time."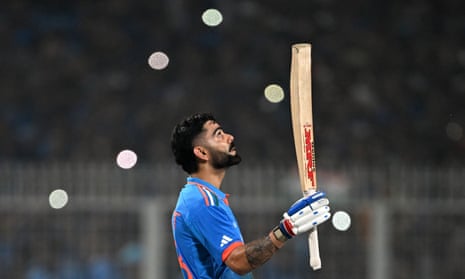 Virat Kohli equals Sachin Tendulkar's record of 49 ODI hundreds!
48.3 overs: India 306-5 (Kohli 100, Jadeja 11) The master scriptwriter has done it again. Virat Kohli, on his 35th birthday, has equalled a record that has been his destiny for the best part of a decade: 49 ODI hundreds, the same as Sachin Tendulkar – and with the chance to make it 50 in a World Cup semi-final or final. His sense of theatre is almost as great as his talent. Almost.
He gets there with a single, appropriately enough in what has been a Michael Bevan tribute innings: 119 balls with 10 fours. Kohli has scored plenty of unruly hundreds but this has been a quiet epic, flawless in its tempo and risk-management. He raises his bat wearily to a crowd of people who absolutely adore him – and that's just the Indian dressing-room.
48th over: India 300-5 (Kohli 99, Jadeja 6) Just ones and twos off Shamsi's final over; he finishes with 10-0-72-1. Right now, it's not about him. It's not about anyone on the field apart from Virat Kohli, who needs one run to make history.
47th over: India 293-5 (Kohli 97, Jadeja 1) Kohli sends the crowd into ecstasy by larruping Rabada through extra cover for four. That takes him 97 with one ball remaining in the over. It's another good yorker and Kohli digs it out.
"I realise this wasn't exactly ODI enforcement, but my first experience of live cricket, aged 11 and one of only two matches I ever attended with my dad, was seeing Garry Sobers (whom we'd mainly gone to watch) and Clive Lloyd (a complete unknown to us) in partnership for the International Cavaliers v India, Southport 1967," says Geoff Wignall. "They got 86 apiece, in what felt like half an hour but was probably a couple of hours at least. I doubt they slogged anything. And yes, the sun was shining. I've been a cricket addict ever since."