Key events
WICKET! Chapman c Jadeja b Kuldeep 2 (NZ 298-6)
Jadeja again!
43rd over: New Zealand 295-5 (Mitchell 131, Chapman 0) Bumrah returned, bearing yorkers, at full speed for the first three balls. Phillips managed a snick for four, but when the slower ball finally came, he was through the shot too early. Jadeja, on the long-off boundary, never looked like dropping it.
Seven off the over, and a wicket. NZ are doomed, surely, because with Mitchell in pain, Phillips was making most of the running.
WICKET! Phillips c Jadeja b Bumrah 41 (NZ 295-5)
Bumrah comes back and boom! Phillips skies his slower ball.
42nd over: New Zealand 288-4 (Mitchell 128, Phillips 37) After that big over, the Kiwis need a couple more. Not on my watch, says Kuldeep Yadav. Somehow he produces four dots, and the other two balls are singles. That may well be a match-sealing over.
Here's Colum Fordham, the EW Swanton of the OBO – always ready with a summary. "Hello from Naples," he says, "where my students don't know the difference between cricket and baseball. On reflection, maybe the Kiwi batters better go into baseball mode.
"New Zealand are at least giving India a match of sorts and Mitchell has been sublime. Cramped up, he needs to be the Kiwis' answer to Glenn Maxwell and Phillips has to go big now he's played himself in. Although the run rate is almost impossible, NZ do have wickets in hand so they can't be afraid to take their chances.
The problem is that India's bowlers (led by the sensational Shami) are on another level."
41st over: New Zealand 286-4 (Mitchell 127, Phillips 36) An eighth over for Siraj too, still aiming for the empty slip cordon. A wide, then a six for Phillips, with a clever lofted slice. And another! Over long-off – higher, less wide and more handsome. The Indian faces in the crowd are suddenly tense. Another wide. That's 15 off the over and there are still three balls to go!
Phillips plays a squirt square, for four. Then he nearly chops on, but he can afford that. A graph shows that India have bowled the fewest slower balls of any team in the tournament, only 14pc. Phillips cuts, to backward point again, and gets only one for it as there's a good save on the boundary from Shubman Gill. Twenty off the over! NZ need 112 off 54 balls. But they're only six runs behind India at the same stage…
40th over: New Zealand 266-4 (Mitchell 126, Phillips 19) Shami bowls his eighth over. One, dot, one, dot … something's got to give. Mitchell plays a ramp off middle stump, for six! Nine off the over, still not enough. The rate required climbs to 13.
Another record goes up in smoke. Tis is the highest aggregate in a men's World Cup knockout game, with 663 scored so far from 90 overs. Anyone else old enough to remember when Sunil Gavaskar made 36 not out off 60?
"Looking at this matchup from the perspective of an American sports fan," says Paul Burns, "I thought the best analogue might be the 1991 NCAA men's basketball semifinal, when upstart Duke derailed the seemingly invincible Nevada – Las Vegas. Alas, it's turning out more like the 1990 version." I'll have to take your word for it.
39th over: New Zealand 257-4 (Mitchell 118, Phillips 18) Siraj continues, and Rohit continues to micro-manage him even though India are already an over behind on the clock. Phillips, growing into there game, flashes for four. Mitchell deflects for four more – the ball would have been a wide, but he saw that a toe-end and a cute angle would allow him cash in through backward point. Twelve off the over, and that's a bit less than they need!
He's the king of the swingers.
38th over: New Zealand 245-4 (Mitchell 113, Phillips 11) Ah, Shami was just changing ends. Mitchell has to go big and he does, swinging through the line to hit another of those trademark straight sixes. New Zealand have to go down swinging. Shami goes round the wicket, cat and mouse. Mitchell times a straight drive, back past Shami's toes, but it's cruelly cut off by the stumps at the non-striker's end. NZ need 153 from 72 balls. And they need three big overs now.
37th over: New Zealand 236-4 (Mitchell 106, Phillips 9) Rohit elects to keep four overs of Shami up his sleeve, rather curiously, and brings back Mohammed Siraj. After some lengthy discussions, he dishes up some wide yorkers. Three dots, then a single, a two, a wide, another single. Nothing to bother India there: this partnership is 16 off 26 balls, which is hopeless. NZ need 162 from 78 balls at 12.46 an over.
News from elsewhere, not before time. Babar is a wonderful player and a less than wonderful captain.
36th over: New Zealand 231-4 (Mitchell 105, Phillips 6) Even singles are agony now for Mitchell. There's a delay, two balls into Jadeja's last over, while he gets some treatment. Phillips plays his first shot of any authority, a classy late cut for four. Jadeja finishes with 10-0-63-0. He took some punishment from Mitchell (37 balls, 40 runs), but he found some crucial thrift when India needed it, straight after drinks. The rate required is now virtually two runs a ball – 167 from 84. Almost impossible.
"I think the idea behind Latham," says Arun Kanhere, "was him playing the anchor role like Williamson." Maybe, but this is no time for anchors. I suspect it's one of those things that would have been changed if the captain had been in the dressing-room to make the decision.
35th over: New Zealand 224-4 (Mitchell 103, Phillips 1) Shami continues, as well he may when he still has four overs left after this one. The third of his wickets – the big one, Williamson – was his 50th in World Cups, and he's done it in only 17 innings.
Glenn Phillips, after seven rather agonising dots, finally dabs a single to leg. The problem is that Mitchell is only good for singles too at the moment, on account of his cramp. The four overs since drinks have yielded only 11 runs for two wickets.
"Never underestimate a cornered Kiwi!" Alistair Connor said in an email sent about an hour ago. They're a bit more cornered now.
34th over: New Zealand 221-4 (Mitchell 101, Phillips 0) Now Jadeja gets through an over for just one run. And Mitchell is flat out with cramp. India, surely, are in the World Cup final.
33rd over: New Zealand 220-4 (Williamson 69, Phillips 0) So Shami has changed the game for the second time this evening. (Third, if you count the catch he dropped.) He now has 4 for 27. I hope he says to Virat Kohli, "Mate, you just missed the Player of the Match award."
At drinks, Rohit called his team into a huddle and had what looked like some stern words with them. After that he went back to his most reliable bowlers, Jadeja and Shami. One delivered three dots, the other two wickets. They were helped by NZ sending in Latham, a strange pick at No 5 in this situation when he's so out of form.
WICKET! Latham LBW b Shami 0 (NZ 220-4)
One brings two!!
WICKET! Williamson c S Yadav b Shami 69 (NZ 220-3)
Williamson flicks, rather more flamboyantly than usual, and the ball carries to long leg!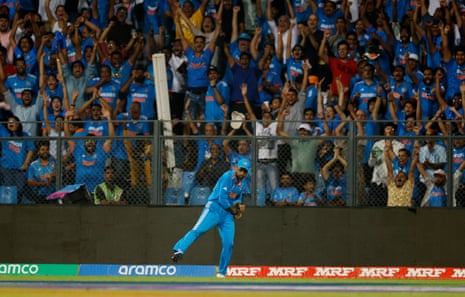 A hundred to Daryl Mitchell!
With a flick off Shami, Mitchell goes to a magnificent hundred – his second against India at this World Cup.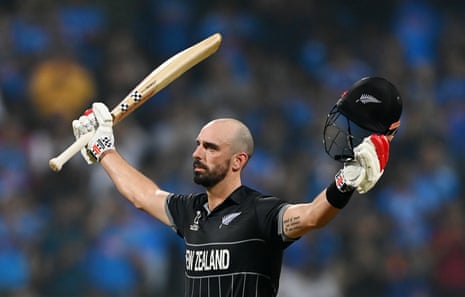 32nd over: New Zealand 219-2 (Williamson 69, Mitchell 99) Hang on, Mitchell may just be getting an attack of the nervous 98s. He allows Jadeja to bowl three dots in a row. But then he finds a single and Williamson throws in a pull for four.
Drinks: NZ threatening to make it a thriller
31st over: New Zealand 213-2 (Williamson 64, Mitchell 98) Mitchell made 130 against India just the other day – and copped some flak for slowing down as he approached his century. He show he's learnt from that mistake by lofting Bumrah for six. Williamson adds four with an inside-out drive, there are four singles, and that's 14 off the over. Magnificent. The rate required tumbles to 9.73.
Here's Kim Thonger. "Reading about the Rwanda court decision," he muses, "might it not be sensible for the authorities to assess cricketing ability upon asylum seeker arrival at the Kent coast? Many of them will presumably originate from cricket-playing nations. We'd all feel pretty foolish if we find later we've sent talented young players off to Rwanda, strengthening their cricket team for subsequent World Cups. The trials could easily be subcontracted to Kent CCC and fast-track citizenship enabled for promising cases.
"PS I'm joking of course. Jokes are still allowed, right?" They are. In these parts, they're even encouraged.
30th over: New Zealand 199-2 (Williamson 58, Mitchell 90) Ten runs an over means two fours an over. These two manage it here against Kuldeep – Williamson with a slog-sweep, Mitchell with a reverse. A few minutes ago, Williamson had six runs off the previous five overs, to Mitchell's 30, but he's back at the party now.
Ian Smith spots that if you double the score at 30 overs, you get 398. "Take one off and we''ll have a Super Over." I'd settle for a close finish of any description.
29th over: New Zealand 188-2 (Williamson 53, Mitchell 84) Rohit decides he needs to do something about this partnership and brings back Jasprit Bumrah. He starts with a slower ball, making Morgan wonder if the Indians have noticed the pitch getting slower. The next ball is the first Mitchell has faced from Bumrah this evening, and he swings it, one-handed, for four! Later in the over, Williamson cloths a pull and Shami drops it at mid-on! Not a hard one. This game is just a series of exclamation marks. NZ need 210 off 21 overs.
28th over: New Zealand 180-2 (Williamson 51, Mitchell 78) For a change, Mitchell hits a reverse sweep for four off Kuldeep. But it's still a decent over for India – six off it, and the required rate is as near as dammit to the dreaded double figures. NZ need 218 off 20 overs.
27th over: New Zealand 174-2 (Williamson 51, Mitchell 72) Another over from Jadeja, another six from Mitchell. And it's a big one, hitting the stand as if it was the bar in football, then bouncing down. "Longest of the tournament!" says Eoin Morgan. Half of Mitchell's runs have come off Jadeja, which is no mean feat.
26th over: New Zealand 165-2 (Williamson 50, Mitchell 62) Mitchell, facing Kuldeep, gets a big hit all wrong – but escapes scot-free as it's so badly timed that it doesn't carry to Shubman Gill at deep midwicket. Before that, Williamson eased a single down the ground to reach another fine fifty off 58 balls. In his last six ODI innings, stretching back to January, he has five fifties. Only injuries can stop him – although Kuldeep nearly manages it with a big spinner, jagging sharply back into him.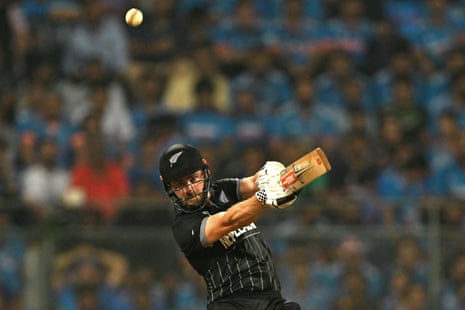 25th over: New Zealand 161-2 (Williamson 48, Mitchell 62) "Nearly ten an over?" Mitchell says. "No probs." He swings Jadeja for another straight six and gets a pat on the back from Eoin Morgan for not going too hard at the ball. Ten off the over! So at the halfway stage NZ need another 237. It's still a very long shot, maybe a 10pc chance.
24th over: New Zealand 151-2 (Williamson 47, Mitchell 53) Kuldeep, who's been the weaker links so far, suddenly bowls a better over, finding turn and bite. He has a decent LBW shout against Williamson, then another, more speculative. Rod Tucker greets them both with a firm shake of the head, but it's a good over, only three from it. The 150 comes up and NZ now need 247 from 26 overs, so the required rate is nine and a half.
23rd over: New Zealand 148-2 (Williamson 46, Mitchell 51) A straight push takes Mitchell to a cool, calm, Kiwi fifty off 48 balls. Jadeja is mostly cool and calm too, but he has a hot flush now and sends a wild throw past the keeper. He's trying to run Williamson out, but he only succeeds in turning a dot into a four.
22nd over: New Zealand 141-2 (Williamson 41, Mitchell 49) Williamson cuts Kuldeep for four to bring up the hundred partnership, 102 off 87 balls. It's been great: now it just needs to be huge.
"OBO readers," says John Starbuck. "seem to have written off this match already. So, to keep alive the optimistic option, what's the range of scores/wickets New Zealand need at the halfway point (25 overs) to still be in with a chance?" In theory, they can probably afford to lose one more wicket. In practice, I'd say they need these two to stay together for another 15 overs, and one of them to bat right through.
21st over: New Zealand 133-2 (Williamson 34, Mitchell 48) Jadeja v Mitchell is a good contest. After a few singles, Mitchell decides to go large and gets hold of an on-drive, launching it deep into the stand at long-on. Jadeja has one ball of the over to play with and he coolly turns it past Mitchell's outside edge.
20th over: New Zealand 124-2 (Williamson 32, Mitchell 41) Mitchell glides Kuldeep away to backward point, where Bumrah is nutmegged! And it goes for four. These two have made 78-0 off the last ten overs, and they still have a mountain to climb: NZ need 274 off 30.
"As a cricket fan watching on from India," says Mittu Choudhary, "I hope that we have a close game worthy of a World Cup semi-final – I will be happy with a New Zealand win if that's what it takes for a close game." Very sporting! "Amidst all the talk of this edition maybe being the last ODI World Cup, I am afraid that if India win it, then the trend of hosts winning the Cup will continue – which is not a good look for ODI cricket. For ODI cricket's sake, come on Kiwis!" I'm sure you speak for a billion people.
19th over: New Zealand 118-2 (Williamson 31, Mitchell 36) Jadeja replaces Shami – whose second spell lasted only one over – and restores order. Four runs from it, no reviews.
18th over: New Zealand 114-2 (Williamson 30, Mitchell 33) Kuldeep's second over had a little bit of everything: four byes, four from the bat as Williamson played a pull, and a review for LBW against Williamson that was umpire's call. KL Rahul called that one before the TV umpire did. He's wasted as a wicketkeeper.
CLOSE CALL! Williamson not run out
Williamson was walking off, but after about 100 replays, the third umpire established that the bails had been disturbed by KL Rahul before Shami's shy hit them.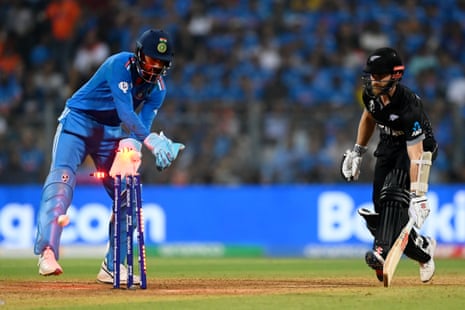 17th over: New Zealand 104-2 (Williamson 25, Mitchell 32) It's a double change as Siraj gives way to Shami. His killer opening spell used up only three overs, so he has seven left including this one. That should be an alarming prospect, but Mitchell decides that now the ball has stopped swinging, the best form of defence is attack. He plays a straight chip for six, then a cover drive on the up for four. That's 11 off the over and 30 off the last three.
16th over: New Zealand 93-2 (Williamson 25, Mitchell 21) Rohit wants some more spin, from Kuldeep Yadav, but he replaces the excellent Jadeja, not the errant Siraj. The batters milk him for four singles and a two. NZ just need them to add another 200 or so.
"Over by over, already over," says Beau Dure. "The unfortunate part of this World Cup has been that we have matches that are scheduled for seven hours but are effectively over within four or five. We've seen two heroic run chases – Pakistan over Sri Lanka, and Glenn Maxwell's colossal showing against Afghanistan. Aside from that, only a handful of these encounters have been in doubt in the last hour, and it becomes a training session for the tail end of the order.
"Perhaps the only way to guarantee some drama in a match is to involve Sri Lanka or an Australian who can barely move." Ha.
Drinks: India on top, but …
15th over: New Zealand 87-2 (Williamson 23, Mitchell 16) The good news for supporters of the underdog is that Kane Williamson, facing Siraj, has just hit a six and a four. The bad news is they both came off the edge – the six a top edge, as Williamson played an uncharacteristically inelegant hook, the four a Harrow drive.
Thirteen off the over. And that's drinks with India on top as expected, but NZ, in a very tight corner, suggesting that there's life in the underdog yet.
14th over: New Zealand 74-2 (Williamson 11, Mitchell 16) Mitchell, facing Jadeja, spoons a drive over the head of extra-cover and gets a streaky two. "That's the first one that has gripped the surface," says Nasser Hussain. Only two off the over, and now the rate is 9.
13th over: New Zealand 72-2 (Williamson 11, Mitchell 14) Siraj continues, inconsistent but always looking to make things happen. First, four byes as he nips one back off the seam; then four runs, as Williamson forces him square to make it into double figures off his 24th ball; then a blow to the ribs as Siraj finds some lift.
Off the last two overs, NZ have scored 18, which is exactly what they need – the rate required has crept up to 8.8.
12th over: New Zealand 62-2 (Williamson 6, Mitchell 14) Rohit makes his third bowling change and brings on his senior spinner, Ravindra Jadeja. He thinks he's got Mitchell caught at slip off a reverse sweep, but Richard Illingworth spots that it came off the forearm, not the glove. Mitchell leg-glances for four, then finds it was a no-ball, but can only manage a single off the free hit. "A hint of turn in that over," says Ravi Shastri, another member of the Union of Slow Left-Armers with Quite a Bit of Batting Ability.
11th over: New Zealand 54-2 (Williamson 4, Mitchell 9) Siraj returns to replace Bumrah, who started badly and then recovered well (5-1-23-0). Mitchell, seeing the need to make some runs, lofts him over cover for four and hooks for four more. He has 9 off 11 balls, Williamson 4 off 18.
10th over: New Zealand 46-2 (Williamson 4, Mitchell 1) Before the wickets fell, NZ were getting em in fours and wides. Now it's both at once – Shami, back on the field, strays down the leg side and concedes five wides. But he also draws another inside edge, from Daryl Mitchell this time, which could easily have brought him a third wicket. And then he's within about two inches of taking Williamson's outside edge with the ball that holds its line. Rohit, finally, gets the message about having a second slip.
Shami's strike rate in this World Cup is under 12. A wicket every two overs!
9th over: New Zealand 40-2 (Williamson 4, Mitchell 0) Keeping Bumrah on is looking wise as well as brave – he's just bowled a maiden to Williamson, who has made 4 off 15 balls. He just wants to get out of the Powerplay alive.
8th over: New Zealand 40-2 (Williamson 4, Mitchell 0) Where Rohit is less brave is with his field placings. "I'd be having two slips in here," said Eoin Morgan as Shami began his second over. "Two or three. That ball's only going to swing for a short period of time." Ravindra managed an off-drive for four, but then he repeated Conway's mistake, going with the bat and no feet, and this time the catch was a simple one. No outfielders required.
India lost their second wicket in the 44th over. Thanks to that inspired bowling change from Rohit, New Zealand have lost theirs five times faster than that. Mohammed Shami has the ridiculous figures of 2-0-9-2. He's going off the field, possibly feeling that his job is done.
WICKET!! Ravindra c Rahul b Shami 13 (NZ 39-2)
The vital second wicket! It's that man Shami again.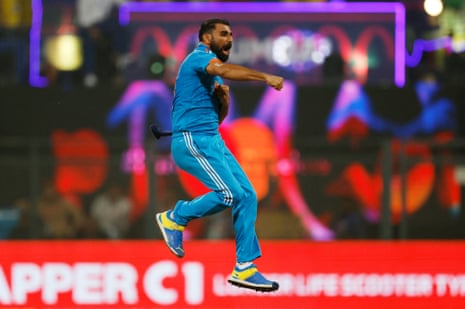 7th over: New Zealand 35-1 (Ravindra 9, Williamson 4) The bowling change was brave as well as instantly effective. Rohit removed the new-ball bowler who had started solidly, Siraj, and kept faith with the one who had been unusually wayward, Bumrah. He is improving and thinks he's got Williamson caught behind, but it's a firm shake of the head from the umpire and India, after some deliberation, don't review. The last ball is a freebie on the pads and Bumrah gets away with it as Williamson clips to midwicket.
6th over: New Zealand 34-1 (Ravindra 8, Williamson 4) So the first bowling change worked like magic and India get an early go at Kane Williamson, New Zealand's closest thing to Kohli. He makes a lovely late decision to leave a ball that holds its line, prompting oohs from the crowd, who think it's a play-and-miss. And then he's away with a square push for four, played with no apparent effort.
It was good from Shami, needing not a single loosener, but it was even better from KL Rahul. As Conway fished at a full ball with leaden feet, Rahul flung himself to his left to take a low catch that was closer to slip than to him. Ian Smith in the commentary box was so excited, he called him "Rahul David".
WICKET! Conway c Rahul b Shami 13 (NZ 30-1)
Shami strikes with his very first ball!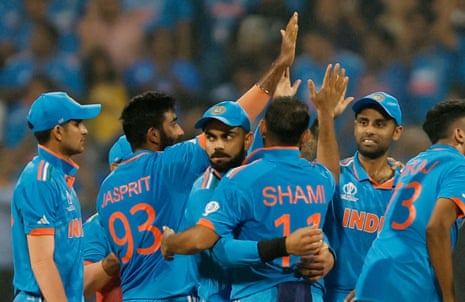 5th over: New Zealand 30-0 (Conway 13, Ravindra 8) Bumrah still isn't quite himself. He bowls another wide, and then another, so far off beam that it runs away for five wides. The other six deliveries are better: when Conway takes the first single of the innings, it's off the inside edge, and Ravindra, up Bumrah's end for the first time, is saved by another inside edge as Bumrah finds some wicked late inswing.
4th over: New Zealand 23-0 (Conway 12, Ravindra 8) Ravindra is tied down again by Siraj's first four balls, but he won't mind that. These ten overs are all about NZ not losing more than one wicket. The ball is moving off the seam and the openers need to make sure they miss it rather than get a nick. So far, they're managing that, and Ravindra again collects one four with a sweetly timed pull.
3rd over: New Zealand 19-0 (Conway 12, Ravindra 4) Bumrah beats Conway first ball, then sends a fat wide down the leg side, and another towards the slip. Possibly rattled by facing two left-handers, he goes round the wicket and instantly finds the corridor. Conway defends solidly, then gets an inside edge and almost chops on, but he bounces back with a square drive as Bumrah wobbles again. Yet another wide: NZ are getting 'em in fours and extras.
"Good afternoon Tim," says Krish. "If you have some social engagement in the evening, do not cancel. This match (!) would be over by over #35."
A pedant writes: I think perhaps you mean "could".