Good morning. Israel has extended its ground offensive in Gaza, and ordered the evacuation of a key hospital in Gaza City where 14,000 people are said to be sheltering. You can catch up with the latest developments on our liveblog here.
Today we're taking you to Wimbledon, where the bosses of the tennis championships have been fighting a decades-long battle to take control of the Capability Brown-designed park next door to add 39 more courts to the tournament.
The All England Lawn Tennis Club (AELTC) dream to expand the championships site across Church Road have moved a step closer after its plans for the Wimbledon Park development were approved at a sometimes high-tempered, marathon council planning meeting on Thursday night.
However, despite winning over the approval of Merton council the AELTC still needs to get the backing of neighbouring Wandsworth council (which controls part of the park), and then the mayor of London. If it doeslocal campaigners demanding the parkland is protected – in line with a 30-year-old legal covenant – are vowing to take their fight all the way to a judicial review.
As part of this battle, Ant McPartlin and Declan Donnelly, Piers Morgan and former cabinet secretary Lord Gus O'Donnell, each received an £85,000 windfall payment. I'll explain why, after the headlines.
Five big stories
Israel-Gaza | Hamas confirmed it was engaged in "heavy fighting" with Israeli troops inside northern Gaza, as besieged residents were again warned by Israel to flee southward. The fierce fighting came as nearly three dozen aid trucks entered Gaza through the territory's southern border on Sunday.

Matthew Perry | Hollywood stars have hailed the "comedic genius" of Friends star Matthew Perry after the actor's death at 54. Justin Trudeau and Adele were among public figures to speak fondly of actor best known as Chandler Bing in Friends.

Asylum | A 23-year-old Nigerian man has made an attempt on his own life in an Essex hotel car park after hearing he was due to be transferred on to the Bibby Stockholm barge, according to a local charity.

Housing crisis | Local leaders have warned that England's housing crisis will push many local authorities into bankruptcy. The worst-hit councils are now spending millions of pounds a year to try to cope with an unprecedented and rapid explosion in homelessness caused by rising rents and a shrinking supply of affordable properties.

Guantánamo Bay | The UK's intelligence agencies are facing a fresh judicial investigation into allegations British spies were complicit in the CIA's post-9/11 secret torture and rendition programme.
In depth: 'I don't believe it is about tennis or the people – it is about making money'
Martin Sumpton, a local resident and friend of Wimbledon Park, has devoted much of his retirement to fighting the AELTC plans. "I just love the park so much, and I think it should be saved for everyone", he says.
But even Martin has his limits. He left the planning meeting at Merton Civic Centre on Thursday night before the vote, because "if I hadn't left then I'd have missed the last bus home it went on so long". The meeting, which began at 7.15pm on Thursday, went on until almost midnight after being interrupted by protesters declaring the council chamber a "climate crime scene".
In the end councillors voted six to four in favour of the scheme to build an 8,000-seat covered show court and 38 other grass courts on the Grade II-listed parkland designed by Capability Brown in the 18th century.
The yes vote won despite 13,338 people signing a petition to "Save Wimbledon Park" and more than 2,000 letters of objection from local residents. Stephen Hammond, the Conservative MP for Wimbledon, and Fleur Anderson, the Labour MP for nearby Putney, declared their opposition in a rare joint statement.
"We both agree on the importance of protecting our local green spaces, responding to the climate emergency, and carefully and rigorously scrutinising all proposed developments that will impact the communities we represent," they said.
Almost 300 trees will be removed to allow the AELTC's building plans, which some locals describe as "corporate ecocide". The club says most of the trees are "poor quality", and says it will plant 1,500 new ones.
The 30-year-old legal covenant
The ALETC first set its sights on expanding into Wimbledon Park in 1993 when it bought the freehold of the land from Merton council for £5.2m. But it signed a covenant agreeing that it would "not use the (land) other than for leisure or recreational purposes or as an open space".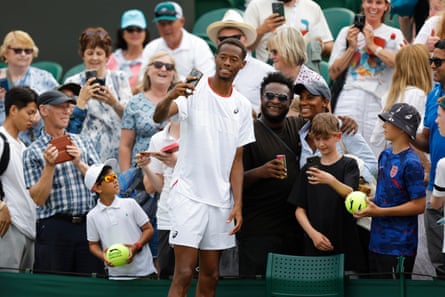 The club rented the land to Wimbledon Park golf club until 2018 when its chairman said he feared the SW19 championships would fall behind its competitors in New York, Paris and Melbourne if it did not expand and offer greater facilities for players and spectators. The obvious place to expand, he said, was on to the golf club.
But, the golf club's lease on the land lasted until 2041 meaning AELTC couldn't take back the land for another 23-years. To get round it, the tennis club came up with a cunning plan it offered the golf club members £65m to give up their club early.
The £85,000 windfall to give up golf
This sparked a battle of morals among the 120-year-old club's 758 members, who would get an £85,000 windfall each. "It's like Brexit," one of the members Catherine Devons told me in 2018. "You are either for it or against it. The offer has split members and put decades-long golf partnerships on the rocks."
In the end, 82% of the members voted in favour of selling the club. Wimbledon is a chi-chi part of London, and the golf club's membership roster reflected that with members including Piers Morgan, Ant McPartlin and Declan Donnelly, and Lord Gus O'Donnell, the former cabinet secretary. O'Donnell abstained in the vote, because he served on the All England board alongside Tim Henman. The others didn't reply to requests for comment.
Martin was part of the 12% who voted against, and he still sorely misses his golf club. "It was always meant to be public open land, but since the All England bought it fences have gone up and security guards patrol it," he says. "And if they get their way and build on it, that important public open space will be lost forever for the sake of some tennis. I don't believe it is about tennis or the people, it is about making money."
He argues that even though Merton council have approved the AELTC's plans, they shouldn't be allowed to go ahead because of the covenant. However, Labour councillors, who hold the majority on Merton council, last year voted through a motion saying the covenant "needs to be respected" and not "enforced" as the Liberal Democrats and Conservatives had proposed.
Sally Bolton (pictured in green jacket, above), chief executive of AELTC, said she was delighted that the plans had been approved. "Our proposals will both secure the future of the championships for generations to come … and provide a transformation in community amenities, including a new 23 acre park for everyone to enjoy on land which has been inaccessible to the public for over 100 years."
Over to you, Wandsworth
The northernmost triangle of Wimbledon Park is not in Merton. It is contained within the borough of Wandsworth, and its planning committee must also approve the scheme at a meeting expected in November.
If it also gives the go-ahead, the decision will then be passed on to Sadiq Khan as the mayor of London is in charge of development on metropolitan open land, which the park is classified as. Michael Gove, the minister for levelling up, housing and communities, could also intervene.
Martin, and the other campaigners, have already started writing letters imploring them to step in. But if that also fails, they are planning to launch a judicial review challenging the legality of the decisions – particularly those related to the covenant.
"There are a lot of fine legal minds around here," says Martin. "They have helped us massively so far, and we're sure they will be up for continuing the fight."
What else we've been reading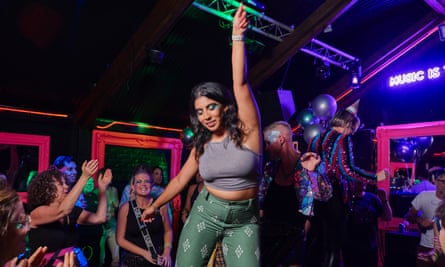 How do you relax after a stressful day at the office, hospital, supermarket? Richard, a deputy head at an inner-city school, hops on a train to a rural location to spend the night in a secluded spot in a bivvy (essentially, a waterproof cover for a sleeping bag) for respite. This wonderful feature by Daisy Schofield explores how people with stressful jobs decompress. Rupert

I couldn't click fast enough to get into the world of celebrity WhatsApp groups. A delicious piece full of great revelations from Josh O'Connor and Emma Corrin saying The Crown's season four group helped the cast to bond – despite Tobias Menzies being rubbish at using it – to Jed Mercurio renaming the sixth Line of Duty group, inadvertently revealing a potential new series. Nazia Parveen, acting deputy newsletters editor

Margaret Thatcher's right to buy was meant to create a "property-owning democracy", but it drove a mass sell-off of social housing. Now, after more than 40 years of soaring prices and growing inequality, is it time to change course? Rowan Moore explores. Rupert

This is as intriguing as they come. Follow Javier Burgos – a biologist turned amateur sleuth – who tried to solve a century-old art riddle: Théodore Géricault, master of French romanticism, was commissioned to paint 10 portraits but five went missing … Nazia

For many of us, money is far too tight to mention. But Ramit Sethi is here to tell us otherwise. The bestselling author and presenter wants to get to the root of our worries and show us why we need to think differently about money. Nazia
Sport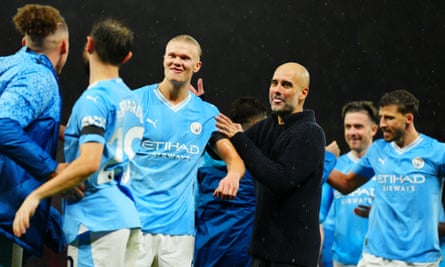 Ice hockey | Tributes have been paid to professional ice hockey player, Adam Johnson, who died after a "freak accident" during a Challenge Cup match between Nottingham Panthers and Sheffield Steelers on Saturday night.
Cricket World Cup | England's latest loss in a miserable World Cup campaign came in a 100-run defeat to hosts India. For 50 overs in the field England, bowling with venom and fielding with spirit, snapped and crackled. And then they popped. Again. Unbeaten India are all but confirmed as semi-finalists while England suffered their fourth defeat in a row and fifth loss overall in the competition.
Premier League | Manchester City gave neighbours Manchester United another footballing lesson in a 3-0 win to round off the Premier League weekend. City moved up to third place, while North London rivals Tottenham and Arsenal maintained their form with respective wins over Crystal Palace and beleaguered Sheffield United. Fourth placed Liverpool dedicated their 3-0 win over Nottingham Forest to absent forward Luis Diaz after he missed the match following reports his parents had been kidnapped in Colombia.
The front pages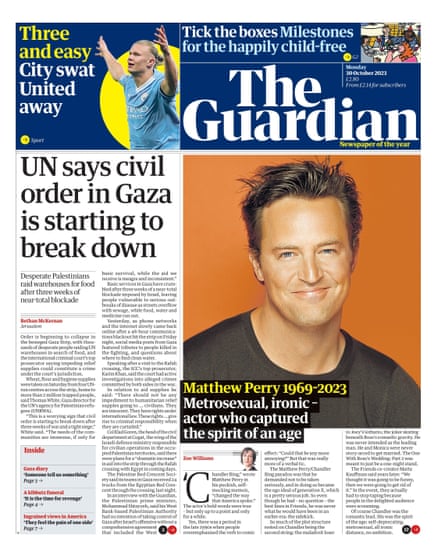 The Guardian leads with more on the Israel-Hamas conflict, with "UN says civil order in Gaza is starting to break down". The Times covers the same story under the headline "UN warning on Gaza as desperation takes hold". The Financial Times reports "Israeli forces 'gradually expanding' Gaza ground assault against Hamas", while the Telegraph says "Hamas blocks exit of foreign citizens". The Mail carries a dispatch from two of its reporters close to the border with Gaza: "Watching the fierce combat we're like spectators in a vast, bloodied colosseum".
The Mirror leads with the death of actor Matthew Perry, with the headline "Our best friend". The Sun also has Perry's death on its front page with "Friend to the end".
Today in Focus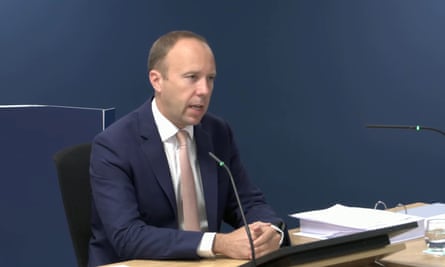 What we've learned so far from the Covid inquiry
The public inquiry into the UK's response to the Covid-19 pandemic got under way earlier this year. So far it has heard from politicians such as David Cameron and George Osborne, some of the scientists who advised the government and from the health secretary in office when the pandemic broke, Matt Hancock. This week some of the most powerful former advisers in Downing Street will be called in to give evidence, including former communications director Lee Cain and former chief strategist Dominic Cummings.
But as the Guardian's deputy political editor, Peter Walker, tells Michael Safi, some of the most explosive moments have come not from witnesses themselves but from the mountain of material – much of it in the form of WhatsApp conversations – that they have handed over.
Cartoon of the day | Edith Pritchett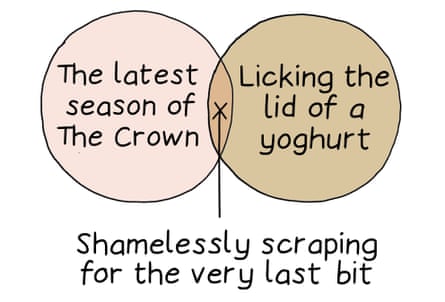 Sign up for Inside Saturday to see more of Edith Pritchett's cartoons, the best Saturday magazine content and an exclusive look behind the scenes
The Upside
A bit of good news to remind you that the world's not all bad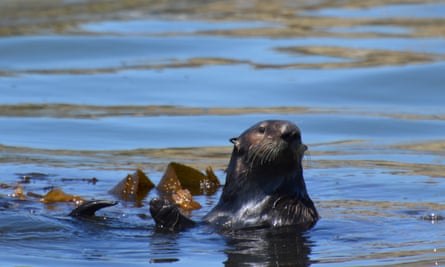 To start the week, the Upside returns to the story of sea otter 841, who captured hearts this past summer after reports and photos of an aquatic mammal harassing surfers and swimmers became national news in the US. California's Department of Fish and Wildlife and the Monterey Bay aquarium attempted to catch otter 841 in July, but the elusive otter bested the humans each time. Now, 841 has had a pup, dubbed 841+1, with images of the pair circulating on the internet. The US Fish and Wildlife Service have warned fans to keep their distance, as "any attempts to approach from the water could be detrimental to the otter's survival".
Sign up here for a weekly roundup of The Upside, sent to you every Sunday
Bored at work?
And finally, the Guardian's puzzles are here to keep you entertained throughout the day – with plenty more on the Guardian's Puzzles app for iOS and Android. Until tomorrow.