Key events
The Human Rights World Cup II, a crowd of 976 and Pep's cycle-chic knitwear. It's all in Friday's Football Daily …
More from the Premier League's big managerial beasts on VAR and all that.
"As was discussed in Jonathan Wilson's excellent article on the subject, Paul Pogba's career feels like a modern tragedy," writes Justin Madson. "Massive expectations piled on him from a very young age, followed by injury issues, inconsistent form, and betrayal by those close to him over money. After today's news, I wonder if he'll just retire and be done with football at this point."
Ollie Watkins signs new Aston Villa deal
Ollie Watkins has signed a new long-term contract, believed to be for five years, at Aston Villa. The 27-year-old forward has scored 50 goals for Villa since arriving from Brentford in 2020, and earned an England recall earlier this week.
"He is always very demanding, to learn and improve," said the Villa manager, Unai Emery. "He is doing that here. I have been working with him more or less for one year and today is the same as the first day, our method in the training ground."
After seven games last season, Forest were 19th and had conceded 17 goals; this season, they are 12th and have let in 10. Steve Cooper has said defence is a key area where he wants his team to improve.
"When we got to the latter stages of last season, goal difference was completely out of our favour and that was our own doing," the Forest manager said. "There have been some really good signs in parts of our game and we really want to try and build on that and improve … but it's only a positive if you keep that going."
The Premier League's Saturday teatime fixture is … hmm, Crystal Palace v Nottingham Forest. Enjoy the journey home, Forest fans! Both of these teams have won two, drawn two and lost two of their last six, and are separated only by fellow mid-table makeweights, Manchester United and Chelsea.
For Palace, Eberechi Eze has joined Michael Olise on the injury list. "The severity of (Eze's) injury might suggest it's as long as (five or six weeks)," Roy Hodgson has revealed. "Two of our most creative players, we are going to have to wait on for a considerable period of time."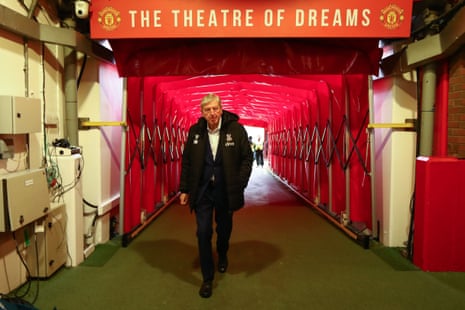 Back to big Ange, who got a good luck message from Henry Winkler earlier this week. That led one Sky hack to think this was a good idea:
A big game north of the border this weekend, as Hearts host Hibernian in the Edinburgh derby on Saturday afternoon. Hearts are fourth in the table, with Hibs currently sixth. The last meeting between the teams, a 1-1 draw in April at Tynecastle, ended with a mass brawl.
"I've heard from all the boys how it's going to be such a fiery match and how the fans are really going to get behind us," said Hearts' Australian midfielder, Calem Nieuwenhof. "All derbies have that extra emotional element. I played a few derbies last year back in Australia and they were always my favourite games."
The Hibs manager, Nick Montgomery, has also arrived from the A-League this season. "It's my first visit to Tynecastle. I know what to expect. It's not something that's going to be a shock to me. I have played in big games and big atmospheres before."
Paul Pogba's B sample confirms positive drugs test
More on this story from Fabrizio Romano.
"Paul Pogba has tested positive for testosterone in his B sample and could be banned for two to four years if found guilty of doping. Juventus are deciding how to proceed regarding the midfielder's contract, which runs to 2026.
"Pogba was provisionally suspended after a random drugs test taken after his club's 3-0 win at Udinese on 20 August, at which he was an unused substitute. His B sample was then tested."
Marco Silva has been speaking to reporters before Saturday's game. "We will have to work really hard to win the game. It's always tough against Sheffield United, always with the two strikers, ready to try to punish you. They prepare well for second balls and they are always a threat in set-pieces. We have to be really focused and play in our way."
It's been a slow start to the season for Fulham – since beating Everton 1-0 on the opening day, their only league win was at home to Luton (also 1-0), although they did pick up a 2-2 draw away at Arsenal. Without Aleksandar Mitrovic, their problem is clear: no Fulham player has more than one league goal this season.
Sheffield United, winless and bottom of the table, go to Fulham tomorrow afternoon in a meeting of two of the Premier League's three lowest scorers (the other is Bournemouth). The Blades could probably still use Billy Sharp, but the 37-year-old striker has swapped South Yorkshire for southern California. Here's Tom Dart on Sharp's successful "sunset phase" in the MLS.
Victory for Spurs at Kenilworth Road will send them top of the Premier League. James Maddison (knee) and Son Heung-min (groin) have been declared fit to play but Manor Solomon (knee) has joined a growing injury list that also includes Ryan Sessegnon (hamstring), Rodrigo Bentancur (knee), Brennan Johnson (hamstring) and Ivan Perisic (knee).
"If we win we go top of the table for 24 hours but who cares? We've got to win," Postecoglou said. "It's a tough game, our focus is on putting on a performance and playing at our best because if we don't, it won't matter where we're sitting on the competition ladder, it'll be us focusing on a poor performance."
'It was a mistake' – Postecoglou on VAR controversy
The Tottenham head coach, Ange Postecoglou, has acknowledged Liverpool were denied a "legitimate goal" in last Saturday's game, but defended VAR operator Darren England.
Speaking before Saturday's trip to Luton, Postecoglou said: "The facts of it are that it was a legitimate goal Liverpool scored that wasn't given. You kind of look at why it's not given, because that's the first thing you question: obviously something has broken down.
"It became clear it wasn't an integrity issue, it wasn't a misappropriation of the law. It was an error in communication, a mistake, a mistake which cost Liverpool," he added. "It's a significant error but it's a human being that's made that error. I don't think that there's anything that needs to go too far reaching."
"There's better ways of communicating a clear decision in such a big situation. I hope that's what they're addressing, not the individual that made the mistake. I think that's a dereliction of the game. That's like me hanging out a player to dry just because he made a mistake."
Lady Cathy Ferguson has died at age of 84
Some sad news to bring you: Lady Cathy Ferguson, the wife of the former Manchester United manager, Sir Alex Ferguson, died on Thursday at the age of 84. Cathy had been married to Sir Alex since 1966, with the couple having met while they were both working at a typewriter factory.
In a statement, the Ferguson family said: "We are deeply saddened to confirm the passing yesterday of Lady Cathy Ferguson, survived by her husband, three sons, two sisters, 12 grandchildren and one great-grandchild. The family asks for privacy at this time."
When he announced his retirement as United manager in 2013, Ferguson said: "My wife Cathy has been the key figure throughout my career, providing a bedrock of both stability and encouragement. Words are not enough to express what this has meant to me."
Manchester United face Brentford at home on Saturday, after a miserable week which saw home defeats to Crystal Palace and Galatasaray. Erik ten Hag has offered a frank assessment of his team's recent form.
"We dropped in levels. We have to get back to those levels," said the United manager. "There are reasons for it but still it's not acceptable and we have to fight against it. Every team we put out has to be on one page and the routines are not always there.
"Consistency, that is the problem we are struggling with. We do a lot of things right but then there are moments where we are struggling, and in such moments we can't survive. You have to do the right things, be consistent and do the job. Most important is (to) keep on one page, it starts with communication."
Ten Hag has also backed Marcus Rashford to rediscover his scoring touch. "Everyone at United backs him, the whole team supports him and believes in him, I am sure with that it will change and this will pass. He is doing the right things – the momentum will come and he will be on fire."
New VAR guidelines in Premier League this weekend
PA Media are reporting that new VAR guidelines will be in use in the Premier League this weekend. It follows the now infamous confusion between Darren England (the VAR) and the referee Simon Hooper, which led to Luis Diaz's goal for Liverpool being incorrectly disallowed for offside.
After audio of the incident was released on Tuesday, referees' body PGMOL said it would develop a new VAR communication protocol, in an effort to avoid similar mistakes – and it appears that protocol will now be in force right away. PGMOL plan to "enhance the clarity of communication between the referee and the VAR team in relation to on-field decisions".
VARs will now also confirm the outcome of the checking process with the assistant VAR before confirming the final decision to on-field officials, to avoid errors of miscommunication. The protocols should also allow for issues to be raised once play has restarted, which was not previously possible.
Some breaking, unconfirmed news: reports in Italy claim that Paul Pogba has tested positive for testosterone in a counter-analysis on a second sample.
Sky Sports in Italy, Reuters and the Ansa news agency have reported the news. Italy's national anti-doping tribunal, Nado, refused to comment on Pogba's case citing privacy rules. Juventus have also refused to comment on the case. Pogba's agent, Rafaela Pimenta, has previously insisted his player did not intend to break any rules.
Pogba was provisionally suspended last month after a first test, following Juve's 3-0 win at Udinese in August, detected testosterone. The France international, who was an unused substitute in that game, could face a ban of between two and four years if found guilty of doping.
Thanks, David. Let's start with a few words from Mauricio Pochettino, who is hoping to follow up victory over Fulham with another win at Turf Moor on Saturday.
The Chelsea manager has said Moises Caicedo and Mykhailo Mudryk are both available after suffering injuries at Craven Cottage, where Mudryk scored his first goal for the Blues. "Yes, both are in the squad, we will decide later whether they have a chance of starting," Pochettino told reporters.
Pochettino also faces a dilemma up front – will he recall Nicolas Jackson or stick with Armando Broja, who also scored against Fulham? "We already took the decision and they know. You will see tomorrow."
Righty, enough from me. Time to pass the blog to that man of many talents, Niall McVeigh.
If you like the 7 Up series, this is the article for you. Catching up with our 60 picks from the 2022 edition. Check the links to other years too.
It's time for 10 things to look out for this weekend, including Sunday's Big One!
When Arsenal picked over the rubble of last season's title challenge they could cite injury to William Saliba as one of the major reasons for their stutter. They shipped four goals without him at Manchester City in April and were beaten soundly; had the outcome been reversed they might well have gone all the way. "Of course I could have helped my team to maybe win the Premier League but we (will) never know," Saliba said this week. "It was really painful." We will find out more about his chances of helping them go one better this time when City visit the Emirates.
Quiz time! I managed 11 after a poor finish.
Dutch police have arrested two Legia Warsaw players after the team's Europa Conference League match against AZ, a move that has prompted an angry reaction in Poland.
Saka "in contention" for Manchester City clash
Arsenal team news: Expecting the question to come early in this afternoon's press conference, a smiling Gunners boss Mikel Arteta says key attacker Bukayo Saka is "in contention" for Sunday's home clash against champions Manchester City.
Saka has limped out of Arsenal's last three games, leaving the field early again in Tuesday's 2-1 Champions League defeat at Lens. At the time, Arteta said it "didn't look good".
Liverpool boss Jürgen Klopp says he expects "a really tough game against the best-coached team in the league" when the Reds take on Roberto De Zerbi's Brighton at the Amex Stadium on Sunday. Here's Andy Hunter.
Stones not available for Arsenal trip
John Stones won't feature for Manchester City in this weekend's showdown against Arsenal despite the defender being named by Gareth Southgate in his squad for England's fixtures against Australia and Italy this month.
Stones was an unused substitute in City's Champions League victory over Leipzig in midweek and hasn't featured since August's Community Shield Guardiola said: "No. He's not ready to play. Maybe for the national team, but not us."
Pep has also been saying some other stuff. On Rodri's absence:
We are not going to cry or complain. We have to find a solution. We will have 11 players there to try and win in London.
On Kevin De Bruyne:
Kevin comes in at different times, either before training or for his treatment. After training he sees physios, and so on. I see him every day and he's getting better and his mood is good. Hopefully sooner than expected he will be back.
On Arsenal:
This season they are still there because they are good. The recruitment they have done is top. Exceptional players.
Manchester United fans need a lift so, erm, how about some uncomfortable lunchtime reading. John Brewin provides it.
I've edited it now but eagle-eyed readers may have noticed that I initially referred to Thomas Frank as the 'Bournemouth boss'.
For full transparency here's how the internal messaging unfolded…
Guardian sub: Wait, wait, wait, wait. You've written Bournemouth boss. Are you happy with this?
Me: Oh ****.
Brentford boss Thomas Frank is the latest manager to have the opportunity of turning Manchester United over at Old Trafford following the Red Devils' back-to-back home defeats against Crystal Palace and Galatasaray. He's also given his thoughts on fellow Dane Rasmus Hojlund, the one United player providing some joy and spark for the beleagured hosts.
They (United) need to bounce back, to come flying out. Of course there is pressure on them to beat Brentford.

Manchester United is a massive club and the pressure is there for them to win every game, so I don't think it makes that big a difference that we are coming there and they have not been playing that well.

It is a great club, great team, great manager, fantastic players. It is a big challenge and we are up for it. We will go there with belief we can get something out of it.
On Rasmus Hojlund:
I know he is not playing for Brentford, but I am Danish and am happy that a Danish player is coming through and doing well. It was an impressive performance for him against Galatasaray, with two very good goals. He looks like he is in a very good place.

The aim is to keep him quiet on Saturday. We need to see the situations early and try to close down the source to him. We need to be aware of not giving him too much space to run into, because he is quick and is good with the timing of his runs. We need to see the situations early and try to stop the balls into him – that is definitely a key area for us.
Talking of music, has music fan Sean Dyche been listening to his old Orange Juice records this week?
Recalling Everton's final-day win over Bournemouth last season – a result which stopped the Toffees Falling and not Laughing – he said: "My instant memory is pleasure and pain – pleasure to get what was a very tough task, arguably my hardest in management from when I got in, to happen.
"The pleasure of that, and the pain of being there in the first place, because I thought we had a squad who were (capable of) achieving things better than what the outcome was, going into the last game of the season.
"And I still feel like that now. The pleasure of working with a group I feel is a bit more balanced and performing to a certain level which I know can win games, and then not winning."
Fall falling, falling again
Cause I want to take the pleasure with the pain
Fall falling, falling and laughing
Cause I want to take
The pleasure with the pain
Fall falling
Falling and laughing
Falling and laughing
Falling and laughing
After losing to Luton at home last weekend, Dyche hopes to rip it up and start again when they host Bournemouth again on Saturday.
I popped into 'Vinyl Whistle' earlier this week – the Headingley record shop owned and run by former ref and now Howard Webb's PGMOL assistant, Jon Moss. And, yes, I was tempted to buy this.
In a world exclusive, JM told me they'd sold out of the new Teenage Fanclub album.
Did anyone see the Zlatan interview with Piers Morgan? Here are some snippets as a supremely arrogant man deluded by his self importance… spoke to Zlatan Ibrahimovic.
On players going to Saudi Arabia:
I had an offer also from China, I had an offer also from Saudi. But the situation is, what do you want? What objectives do you have? I said before we started, like certain players need to finish their career on the big stage because that is the high end of your career.

You have to be remembered for your talent, not for what you earned. Because if you were remembered in the opposite way, what we are training every day for, what we are being recognised for is our talent and that is what you want to be remembered for.

So I think certain players that reach a certain level, they have to stop at a certain stage and that's the big stage.

You cannot go in a lower stage and finish your career in a different way, but some players needed the situations where you can earn a lot of money because they didn't earn enough.
On the moral issues of playing in Saudi Arabia:
No, absolutely not. Listen, wherever you play football, it's football. Football connects people. It's a dream we share.

As a professional football player, as long as you play football – and Saudi is growing, MLS is growing. China had a peak and then I don't know the situation changed there.

But a moral thing? No. We do things for ourself and our family. Who will judge you in five or 10 years when you have a wealthy, healthy life and have a good life?"
Yeah, absolutely no-one. Definitely.
Branthwaite signs new Everton deal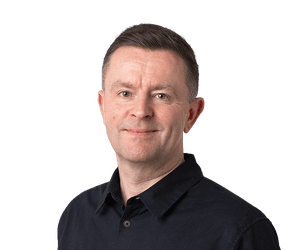 Andy Hunter
Everton defender Jarrad Branthwaite has given the Toffees a timely lift by signing a new four-year contract at Goodison Park.
The 21-year-old has started to establish himself in the heart of Everton's defence and was linked with several clubs following a successful loan at PSV Eindhoven last season. The Carlisle-born defender, however, who was part of the England under-21s squad that won the European Championships this summer, has committed himself to Everton until June 2027.
Branthwaite said: "The stature of the club, how much of a family it is at Everton and how I just love playing here in front of the fans were key reasons for me signing. Since I joined, I've felt a connection with the club. Since I got in the team, the fans have shown me real support and that gives me confidence, especially for a young player. I can't thank them enough."
Thanks very much Yara. Possibly the first time I've been called 'incredible' in a positive context. Let's start with some Everton news…
This is where I leave you all for the time being. Thanks for joining me on the blog, and for your insightful emails. Taking over for now is the incredible David Tindall.
Man City's 3-1 victory against RB Leipzig marked a return back to winning ways after two losses in a row. The City that we've come to know is back on track.
Or are they?
"Without the injured Kevin De Bruyne in the XI, City lack a vital element of fantasy that can break open tight contests like this one. Foden is as close as they have to a replica and a free-kick from the right that beat Blaswich but not his bar was a reminder of his ability," Jamie Jackson wrote from the Red Bull Arena.
They'll probably still win the league though, if we're all being honest with ourselves.
Pep Guardiola's side have big test this weekend when they head to North London to face Arsenal, the side they pipped to the title last year.
Youngster Rico Lewis beleives that last year's hurt will push the Gunners in their clash.
City fans shouldn't be too worried if history is anything to go by.
Your thoughts on the World Cup …
Ryan says: "Lost in all the (rightful IMO) annoyance about how FIFA have essentially handed 2034 to the Saudi's is how thoroughly South America has been hard done by FIFA once again. It might surprise some that South America have only hosted the World Cup twice in the past 50 years (I know Colombia was supposed to host in '86 but its not like FIFA was desperate to reschedule it for them). This hardly seems fair for the continent that by far brings the most verve and atmosphere to the occasion. Also under current continent eligibility rules, who exactly is supposed to host 2038? I doubt the North American nations would be hugely excited to take on the task relatively soon after 2026, and even if Australia is considered as Oceania despite being part of the AFC, there's no guarantee that they could swing the finances given the recent Commonwealth Games debacle."
TG is straight to the point: "As inappropriate as it was having a World Cup in Qatar, the same is true for Saudi Arabia. Hey, does anyone care anymore??? No, only money counts."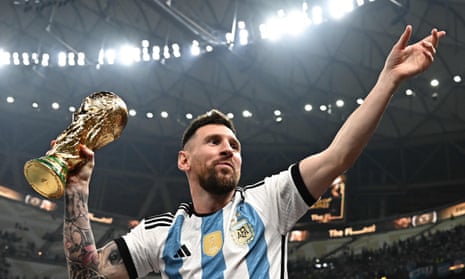 TP adds: "Is there any greater waste of time this month than Australia or any other football federation submitting a bid for the 2034 World Cup? What a run of tournaments FIFA have managed: Putin's Russia, December in Qatar, USA and some crumbs for the token partners, then a three continent fudge that nicely paves the way for Saudi Arabia. They don't even try to disguise how little they care for fans, players, inclusivity and climate change, and how much they care about the coin and nothing else."
Eddie Howe has also been speaking ahead of the journey to West Ham.
On keeping expectations at bay:
I will urge caution and calmness as we have not proved anything. The season is still so early and a couple of weeks ago we were feeling very differently. There is no magic wand and it is about being smart and making good decisions.
On West Ham:
They have been very smart. The players who have come in have settled immediately. They have had really tough fixtures to start the season but have done very well.
The Newcastle manager has also confirmed that Sven Botman will not be available for the weekend while Callum Wilson and Joe Willock will be assessed closer to kick-off.
And speaking of Saudi Arabia let's turn to Newcastle's 4-1 victory over PSG – A massive result that will long live in the memory of everyone involved.
Luis Enrique's decision to field four forwards and play with two in midfield (What is this, FIFA?) allowed Miguel Almirón, Dan Burn, Sean Longstaff and Fabian Schär to score the goals which lifted Eddie Howe's side to the top of their group.
Fans may not care much, but this steady rise of Newcastle means a lot more than just football success.
"In restricting Paris Saint-Germain to two shots on target in the course of a 4-1 Champions League group stage deconstruction of Luis Enrique's star-studded side, Eddie Howe's players succeeded in placing Newcastle not merely in the metaphorical centre of the English footballing map but Europe's too," writes Louise Taylor.
"If only Rishi Sunak could transpose even a little of the spirit of Burn, Longstaff and co into his struggling cabinet, the sub-standard railways bisecting the top half of the country would surely be electrified in record time.
"Yet the awkward truth is that, while Wednesday night represented a glorious victory for localism – the outstanding Burn and Longstaff are Tynesiders and Howe is a homegrown English manager capable of outsmarting the continent's elite – it was also a very big win for Saudi Arabia."
Any thoughts on Saudi Arabia's World Cup bid? Or the support from Henderson and co.? Send me an email.
Thank you all for your VAR thoughts. Here are the last few coming in via emails.
DY also thinks refs aren't best suited for the role: "The skills are complete different, and much better suited to young graduates with IT and applied mathematical skills and good communication skills too. I'd love to see some young graduates studying this and it becoming a real, well paid career for young people."
Adrian replies to Robert's earlier comment to say: "Pre-VAR, the offside that wasn't would have been replayed over and over on TV, with dozens of pundits calling for TV replays to be used so these obvious mistakes could be eliminated from the game."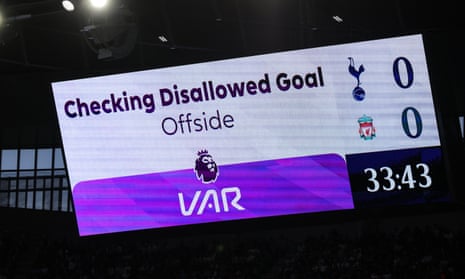 Liverpool fan Michael, who hopes the LiVARpool conspiracies are well and truly gone writes: "The VAR and AVAR don't appear to have been paying any attention to the game. I was watching on a train, via a poor connection on my very small, 7 year old, glitchy phone. And even in those admittedly first world conditions, I could tell from many cues – no Liverpool celebrations, Diaz trotting dejectedly back to his own half, the ironic cheers of the Spurs fans – that the goal had immediately been disallowed."
Tony thinks something doesn't add up, saying: "I've listened to it quite a few times, and what strikes me is that their explanation doesn't match what they're actually saying. The VAR team were obviously distracted and not watching the game, they then thought they were being asked to do a quick pro-forma confirmation of a correct offside decision. Am I going mad, or doesn't that scenario match the actual audio a lot better than "Oh, they were confused, didn't listen to what was being said and didn't mean what they themselves said. Oopsie"? The post-match claim that VAR got it right but misunderstood the on-field decision was, I suggest, cooked up after they realised how much worse it would be to admit that they were probably too busy watching the Ryder Cup to do their jobs."
Tony, I don't know if you are going mad (I am not a medical professional), but I think your points, as do everyone else's, reveal that VAR is a very polarising topic.
Hammers nicked a win after Lucas Paquetá and Nayef Aguerd score against Freiburg.
Here is how their group is shaping up.
David Moyes has also been speaking ahead of West Ham's match against Newcastle on Sunday.
On last night's match:
I thought the (first) goal was a really well-worked goal. A great cross and a terrific header by Lucas (Paquetá). We took some good things out of the game but we need more variables in attack.
On Jarrod Bowen's England call up:
I think Jarrod is maturing with his all-round play and he works so hard in training. He is beginning to become a much more talented player all-around.
On the Magpies:
I think Newcastle are one of the best teams in Europe at the moment. There is so much quality in their side and the manager has done such a good job.
Some more thoughts on VAR
In response to Robert's measured take, Andrew says: "This is true. For balance, it's also the case that Curtis Jones would not have been sent off, and wouldn't now be suspended for 3 matches."
Greg adds: "Specific officials should be trained to do the job properly. And then they should do only that specialist job. As several managers have said, there are still way fewer arguments since it was introduced."
A good point. After all, we heard in the clip released by PGMOL that it wasn't the referees who first caught the error.
It was a historic night for Brighton after goals from Joao Pedro and Pascal Gross completed a comeback which earned them their first ever point in Europe.
There was tension brewing before the match, with De Zerbi and Gattuso having a long history against each other on the touchline.
It was certainly fun viewing; Brighton have become an early-season contender for most entertaining team to watch simply because of how many goals they score and concede in a game.
Robert also has some wise words about putting Liverpool's disallowed goal into perspective.
"It's important to remember Liverpool's disallowed goal would have been a non-issue under pre-VAR rules. With no VAR in use, play would have been stopped well before the shot was taken. It seems a lot of people have lost sight of that. All it would have been was a Liverpool attack would have been needlessly interrupted. A minor complaint at best."
Joe in Manchester has gotten in touch regarding VAR.
The current incarnation of VAR simply cannot continue. We have to reduce the pressure on match officials whilst making it clear that it is they, the on field referee, who must be in control and make final decisions. I see two ways of achieving this.
Firstly, introduce the automated offside system used at the World Cup. It worked. Simple as. It's a no brainer to introduce a system that is effective and takes some pressure off the officials. The linesmen are effectively throw in adjudicators under VAR anyway.

Secondly, remove the VAR room, keep the pitch side monitor, and give each team two challenges to use per game, the decision to make a challenge lying with the team captain. When a challenge is made, the referee goes to the monitor to review the decision, with assistance from the fourth official is a second opinion is wanted. If the challenge is successful, the team keeps the challenge. This at least keeps the on field officials in full control and eliminates the constant random delays for checks.
Interesting points here, Joe. I think the idea to challenge a decision would be an interesting thing to try. We've seen it work in other sports. It has also been chaotic at times.
Henderson, Gerrard, and Benzema back Saudi Arabia men's World Cup bid
Saudi Arabia announced their intention to host the 2034 men's World Cup. The bid is being publicly supported by Jordan Henderson, Karim Benzema, and more.
Henderson, the former Liverpool captained, who exited Merseyside this summer to join Al Ettifaq, said in a video: "Go Saudi Arabia 2034!" The video was posted by media outlet Asharq Al-Awsat. In the tweet, they incorrectly refer to Henderson as England captain.
Benzema and Riyad Mahrez took to their own social media to voice their support.
Steven Gerrard also posted praise for the bid, taking to Instagram to say:
Incredible to think that the 11 year journey to a home FIFA World Cup might have already started for some of my youth players. Hard work starts now.
Before we look at the rest of the results last night, let's turn to some international football news.
Brotherly love was also on display at Anfield last night. Liverpool midfielder Alexis and Union defender Kevin got the chance to play against each other for the first time in Europe. Their father, Carlos, a former footballer with Argentinos Juniors and Boca Juniors, travelled to watch the the moment.
Liverpool's 2-0 victory was dubbed a "modest" performance by Andy Hunter, and the routine win was probably just what they needed after the VAR mania that has occurred this past week.
Ryan Gravenberch and Diogo Jota got on the scoresheet for the Reds, and while their Belgian opponents did make it stressful at times, Jürgen Klopp simply said "job done" on his side's win.
Klopp was also further asked about last weekend's VAR drama. The German had earlier voiced that he thought the fixture should be replayed, but told reporters last night:
If I made the impression that I was still on (the Tottenham) game, we are not. We are over it. We are not children. That is it. From a focus point of view there was not a problem.
Have any opinions on VAR that you have not seen on the endless void that is the internet? What needs to be changed? Are the officials the people that should be sat behind the screens? Should we get rid of it all together? How sick of the letters V, A, and R are you? Send me an email and let me know.
What a busy week of football we have had.
VAR has been the main star, with most of the coverage due to the mishap at Spurs last weekend that saw Liverpool have a perfectly legitimate goal chalked off. There also seemed to be issues during Nottingham Forest's match against Brentford.
With all the Premier League manager press conferences today, it will surely continue to be a talking point.
Last night's Europa League action saw Liverpool get the job against Union Saint-Gilloise. Brighton came from 2-0 down against Marseille to get their first ever point in Europe, while West Ham marked 17 matches unbeaten in Europe, the longest run by an English team, with a win against Freiburg.
And the managerless mess at Rangers continued with a 2-1 defeat to Aris Limassol in Cyprus.
The Champions League saw Newcastle thrash Paris Saint-Germain in their first Champions League match at St. James' Park in two decades while Manchester City went back to winning ways with a 3-1 win away against RB Leipzig, a victory which ended their run of five consecutive draws in Europe away from home.
It was a one to forget for both Manchester United and Arsenal; The Red Devils were haunted by former player Wilfried Zaha in a 3-2 loss to Galatasaray and the Gunners wilted under pressure from Lens' Elye Wahi and Adrien Thomasson.
Celtic prolonged their Champions League misery with a defeat against Lazio.
In the Conference League, John McGinn kickstarted Aston Villa's campaign with 94th minute winner against Zrinjski Mostar.
We'll take a closer look at all those games and look ahead to this weekend. Plus Saudi Arabia will be looking to host the 2034 World Cup and a few familiar faces have backed the bid.