Key events
Match report
That's all for today. We'll be back in the morning for India v Bangladesh – see you then.
As does the New Zealand captain Tom Latham
It was another great performance today. We were put under pressure at times when we batted but the way we were able to overcome that and put the pressure back on them in the last 10 overs was outstanding. The bowlers set the tone with the new ball and we managed to keep taking wickets.

(On his partnership with Glenn Phillips) We spoke about regrouping and trying to build a partnership. They bowled fantastically well but we managed to take it deep. When you have wickets in hand you can put the foot down towards the end.

It's pleasing all round. We're playing some good cricket and sticking to the way we want to play. There's another great challenge coming up with India and Australia. Hopefully our momentum can continue.
The Afghanistan captain Hashmatullah Shahidi speaks
I'm really disappointed. At this level you have to take those kinds of catches. At the end of the day, Saint, those catches hurt us. Because of that we feel a little bit down.

(On the decision to bowl first) You can't judge the pitch 100 per cent. In the first innings the ball was spinning slowly as well. We bowled well but the fielding was a concern.

We still have more games to come. The next one is Pakistan. We'll try to improve and come back stronger in that game.
That was a bad day/night for Afghanistan. They made the wrong decision at the toss, dropped too many catches and never looked like they believed they could chase 289.
"Good afternoon Rob," writes Krishnamoorthy. "Why am I reminded of the 'won all the group matches only to lose the semi-final' of 1992 NZ?"
Because they keep winning? The pedant in me feels compelled to point out they lost their last group games in 1992, though they had qualified by that point.
The player of the match is Glenn Phillips, whose punishing 71 got New Zealand out of a hole in the first innings.
Afghanistan's spinners are incredibly talented, so the way me and Tommy went about it was really pleasing. Our top order have done well in the last couple of games, so to have ourselves tested in the middle was really good.

The pitch is a bit dusty here in Chennai. We understood what we might be able to get in the last 10 overs (against the fast bowlers), which allowed us to take a little bit longer to combat (the spinners). We thought maybe 250 would be a par total. To get more than that was very pleasing.
NEW ZEALAND WIN BY 149 RUNS
Wicket! Afghanistan 139 all out (Fazalhaq c Mitchell b Santner 0)
That'll do. Fazalhaq edges his second ball to slip to complete a crushing win for New Zealand, who go top of the table with four wins out of four. Next up: India.
WICKET! Afghanistan 139-9 (Naveenulhaq c Chapman b Santner 0)
When Afghanistan are good, they're very, very good…
Naveenulhaq goes first ball, spooning a reverse sweep straight to short third, and New Zealand are one wicket away from a huge victory.
34th over: Afghanistan 138-8 (Alikhil 18, Naveenulhaq 0) Lockie Ferguson is having a terrific day: 7-1-19-3.
WICKET! Afghanistah 138-8 (Mujeeb c b Ferguson 4)
Mujeeb Ur Rahman is bounced out by Lockie Ferguson. He belted his first ball for four but hooked the third high towards fine leg, where Will Young did the needful.
WICKET! Afghanistan 134-7 (Rashid c Mitchell b Ferguson 8)
Six and out. Rashid Khan is suckered by a rare full ball from Lockie Ferguson. He blasted it miles in the air towards cover, where Daryl Mitchell took a comfortable catch.
33rd over: Afghanistan 134-6 (Alikhil 18, Rashid 8) Rashid Khan charges Santner and wallops the ball into the sightscreen. He loves hitting sixes: that's his 45th in ODIs, which accounts for over 20 per cent of all his runs.
32nd over: Afghanistan 126-6 (Alikhil 17, Rashid 1) Ferguson is trying to rough Rashid Khan up with a bit of short stuff. He goes round the wicket mid-over and nails a nasty lifter that Rashid defends uncomfortably.
Every New Zealand top-order batter is averaging at least 30 in this World Cup; the four frontline bowlers are all averaging under 30. They are in a pretty good place right now, even if greater tests lie ahead.
31st over: Afghanistan 126-6 (Alikhil 17, Rashid 1) Santner is the 46th spinner to take 100 ODI wickets. If you can name the other 45 off the top of your head, you need shakubuku.
WICKET! Afghanistan 125-6 (Nabi b Santner 7)
Mitchell Santner's 100th ODI wicket is a thing of beauty. It curved into Nabi from round the wicket before straightening dramatically to beat his defensive push and hit off and middle. Just brilliant.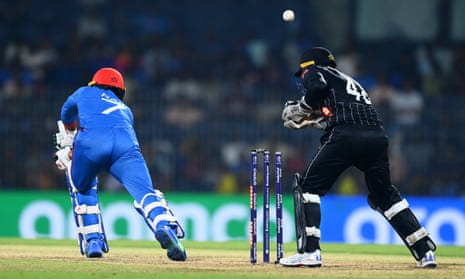 30th over: Afghanistan 121-5 (Alikhil 17, Nabi 3) Lockie Ferguson replaces Boult. A hot hot short ball is steered past Latham for four by Alikhil. It was closer to Latham than intended, mind you. But at least he is showing some intent. Afghanistan need 168 from 120 balls.
"I find the attitude of Afghanistan hard to fathom," says Gary Naylor. "The bowling is good, but it's not Roberts, Holding, Garner, Croft and Harper, so why such timidity? Off the back of the win against England, such reluctance to take the game to NZ seems contrary and, for their fans, the tournament and the game, terribly disappointing."
I guess once they lost the openers, who are such key players, they just wanted to take it deep and hope for a miracle. The thing I can't fathom, and I really should have mentioned this earlier, is the decision to bowl first.
29th over: Afghanistan 114-5 (Alikhil 11, Nabi 2) Alikhil sweeps Ravindra nicely for four and then belts a single down the ground. It's surprising that he was out of the team for four years because he looks a pretty good player.
WICKET! Afghanistan 107-5 (Rahmat ct and b Ravindra 36)
Ravindra appeals for a return catch when Rahmat squeezes the ball back to him. It's impossible to tell whether it was a bump ball or not, so the umpires go upstairs. Richard Illingworth has a few looks and then decides, rightly I think, that it bounced a fraction before it hit the bat, so Rahmat Shah goes for a well-intentioned 36 from 62 balls.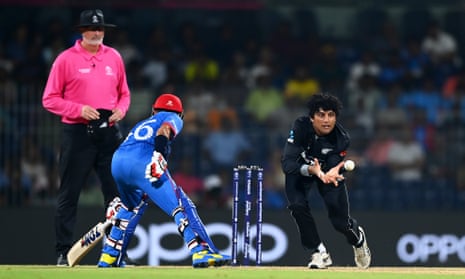 28th over: Afghanistan 107-4 (Rahmat 36, Alikhil 6) Alikhil chases an outswinger from Boult and is beaten. Boult made a slowish start to the tournament against England but he looks close to his best now. His figures today are 7-1-18-2.
27th over: Afghanistan 106-4 (Rahmat 35, Alikhil 6) Alikhil's first boundary is a pristine extra-cover drive off Ravindra, who would have been proud to play that shot himself. He looks confident after an excellent innings against England on Sunday.
26th over: Afghanistan 99-4 (Rahmat 32, Alikhil 2) Ikram Alikhil is the new batter, and he gets off the mark with a pleasant off drive for two.
WICKET! Afghanistan 97-4 (Azmatullah c Latham b Boult 27)
The New Zealand captain Tom Latham has had enough of this nonsense. He whistles up Trent Boult, who needs just four balls to break the partnership. Azmatullah tries to pull a short ball from round the wicket and top-edges it through to Latham; he goes for 27 from 32 balls. It was good bowling from Boult, who cramped Azmatullah for room.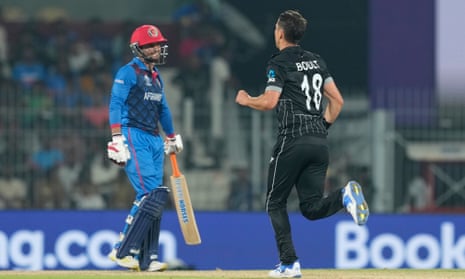 25th over: Afghanistan 94-3 (Rahmat 29, Azmatullah 27) A rare boundary, Azmatullah's first in fact. It was a nice shot, a flashing back cut off Ravindra.
The response from Ravindra is excellent, a slower delivery that grips and turns past the edge, mbut Azmatullah gets four more with a big edge to third man. That brings up the fifty patnership from 68 balls. But at the halfway mark, Afghanistan are less than a third of the way there. There's no Bon Jovi song for that.
24th over: Afghanistan 82-3 (Rahmat 28, Azmatullah 16) There's definitely more aggression from Afghanistan now. They only pick up three from Phillips' over, but the intent and especially footwork were good. Trouble is they already need nearly eight an over.
23rd over: Afghanistan 79-3 (Rahmat 27, Azmatullah 14) Azmatullah has a lusty swipe at Ravindra and is relieved to see the resulting top edge go wide of short third man. It looks like they've decided to go after the change bowlers, because later in the over Rahmat dances down the track to chip over the off side for a single.
22nd over: Afghanistan 75-3 (Rahmat 26, Azmatullah 10)
21st over: Afghanistan 71-3 (Rahmat 25, Azmatullah 8) A double bowling change: Rachin Ravindra is on for Mitchell Santner. Another quiet over, three from it. This, it gives me no pleasure to say, is not much of an advert for 50-over cricket.
20th over: Afghanistan 68-3 (Rahmat 24, Azmatullah 6) The occasional offspinner Glenn Phillips comes into the attack. He took two cheap wickets in the win over England and another against Bangladesh.
Phillips' first over is milked for seven runs. One ball turned quite sharply off the straight, though, a bit more salt in Afghanistan's self-inflicted wound. Mujeeb, Rashid and Nabi would have been a handful bowling second.
19th over: Afghanistan 61-3 (Rahmat 19, Azmatullah 4) Santner rags another teasing delivery past Azmatullah's outside edge. Another quiet over; two from it. Afghanistan have scored 34 from the last 13.
18th over: Afghanistan 59-3 (Rahmat 22, Azmatullah 3) Three runs off Ferguson, who has impressive figures of 4-0-8-1. I don't know what else to tell you. There have been a lot of dispiritingly one-sided matches in this tournament, and right now we're witnessing another. Afghanistan need 230 from 32 overs.
17th over: Afghanistan 56-3 (Rahmat 18, Azmatullah 2) Santner drops short and is pumped to cow corner for four by Rahmat. That's his first boundary and only the second since the sixth over. Time for drinks.
16th over: Afghanistan 50-3 (Rahmat 13, Azmatullah 1) Rahmat brings up the Afghanistan fifty by driving Ferguson for two. But only 23 of those have come in the last 10 overs, and this game already feels like a done deal. Only 34 more overs of I-dotting and T-crossing to come.
15th over: Afghanistan 48-3 (Rahmat 11, Azmatullah 1) A couple of slower deliveries from Santner turn sharply away from Rahmat. Why the flip didn't Afghanistan bat first?
This is the 16th game of the World Cup and we're still waiting for the first last-over thriller. It's unlikely to happen today.
14th over: Afghanistan 43-3 (Rahmat 7, Azmatullah 0) That was the last ball of the over, and a catch you should seek out at your earliest convenience.
WICKET! Afghanistan 43-3 (Hashmatullah c Santner b Ferguson 8)
Mitchell Santner takes one of the catches of the tournament! Hashmatullah was hurried by a short ball from Ferguson and slugged a pull that looped towards square leg. Santner ran back from midwicket, leapt forward and stuck out a gogo Gadget telescopic arm to take a spectacular catch.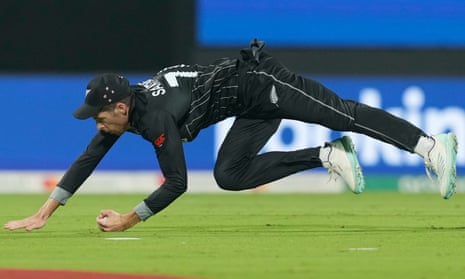 13th over: Afghanistan 42-2 (Rahmat 6, Hashmatullah 8) This is the 16th game of the World Cup, and we're still waiting for a last-over thriller. I'm not sure it's going to happen today. Hashmatullah is beaten by a delicious piece of flight from Santner, whose next delivery is 8mph quicker. His variation is consistently impressive.
12th over: Afghanistan 39-2 (Rahmat 4, Hashmatullah 7) It's time for the pace of Lockie Ferguson, who looks fetching with his black shirt, black pants and black trainers. In 2023, the true mavericks wear black shoes.
Nothing much to say about his first over: two singles, no false strokes, four minutes of cricket that nobody will remember.
11th over: Afghanistan 37-2 (Rahmat 3, Hashmatullah 6) With the Powerplay over, the crafty Mitchell Santner comes into the attack. He's on 99 ODI wickets; I think Daniel Vettori is the only New Zealand spinner with at least 100.
After 19 dot balls in a row, Rahmat cuts Santner for two. Later in the over, Hashmatullah dances down to thump Santner over mid-off for four. That's a good shot, and much needed.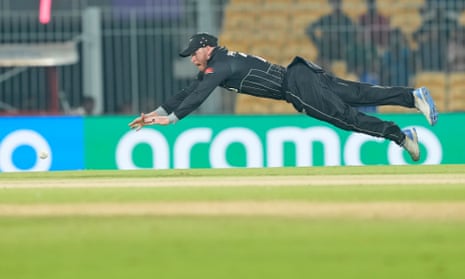 10th over: Afghanistan 28-2 (Rahmat 0, Hashmatullah 1) Matt Henry's modest Test record – 72 wickets at 37 – is one of the mysteries of the modern world, because he has most of the tools. His control of line and length is outstanding, as he demonstrates by beating Hashmatullah with consecutive deliveries.
Afghanistan's batters are in quicksand, and Henry finishes the over strongly to make it three maidens in a row.
9th over: Afghanistan 28-2 (Rahmat 0, Hashmatullah 1) If they win this game – spoiler alert – New Zealand will go top of the table with four wins from four. It gets tougher from here (the next four games are against India, Australia, South Africa and Pakistan) so they aren't a shoo-in for the semi-finals yet. But they have started the tournament with authority and most of their key players look in excellent touch.
Boult, who might be the most important player of all, hits Rahmat Shah on the helmet with an excellent bumper. The ball looped teasingly over Boult, who went for the catch just in case there was a glove or top-edge onto the helmet. Replays show there wasn't.
Boult makes it back-to-back maidens. In fact, in the last 20 balls New Zealand have taken two wickets and conceded only one run.
8th over: Afghanistan 28-2 (Rahmat 0, Hashmatullah 1) Henry tests the left-handed Hashmatullah with a series of perfectly pitched deliveries from over the wicket. It's a high-class maiden, with three of the six balls beating the bat.
7th over: Afghanistan 28-2 (Rahmat 0, Hashmatullah 1) The captain Hashmatullah Shahidi is the new batter, with just one question to answer: why the bloody blazes did you bowl first?
WICKET! Afghanistan 27-2 (Zadran c Santner b Boult 14)
Big trouble for Afghanistan. The two openers, their two best batters, have fallen in the space of three balls. Zadran tried to work a length ball to leg and got a leading edge that looped gently towards Santner in the covers.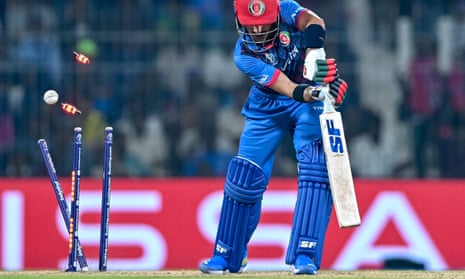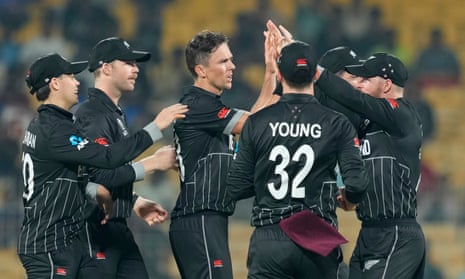 6th over: Afghanistan 27-1 (Zadran 14, Rahmat 0) Rahmat Shah is the new batter. That was such a good delivery from Henry: the sharp seam movement would have been irrelevant had he got the length wrong, but it was immaculate. He is now the leading wicket-taker in the tournament with nine.