Key events
Alright, that's me done. Thank you for the nice chat about New Zealand music (and cricket). South Africa play Afghanistan tomorrow, with both of their fates sealed. New Zealand are on the way to the semi final and Sri Lanka to the airport – that's their World Cup done. Bye!
Trent Boult is player of the match. "I feel like I've used my experience," through the group stage. "Always the hardest part of playing here is adapting to conditions." On the India semi: "Everyone wants a piece of the host nation, they are playing brilliantly."
Easy in the end, all set up in the power play. New Zealand whacked 73 wicketless runs there with Conway and Ravindra, en route to an 86-run opening stand. That was half the job done. The second half of the chase was less convincing on paper, but they were batting with the foot down to absolutely make sure of their Net Run Rate position. On that, Ath on telly tells me that the scenario is as follows. If Pakistan make 300 v England, they'll need to bowl them out for 13. If they knock over England for 50, they'd need to reach the target in 2.3 overs. So then, the gap is simply too big. For the second consecutive World Cup, New Zealand will keep Pakistan out of fourth spot on Net Run Rate.
NEW ZELAND WIN BY FIVE WICKETS!
A straight drive then a pull, back-to-back boundaries for Phillips off Madushanka, and that's the win! New Zealand, barring anything absolutely ridiculous from here, will play in the semi-final v India!
23.2 overs: New Zealand 172-5 (Phillips 17, Latham 2) Target 172.
23rd over: New Zealand 164-5 (Phillips 9, Latham 2) Target 172. Latham off the mark with a couple to deep cover to end the successful over. New Zealand are eight runs away from victory.
NOT OUT! Pitched outside leg by a long way. Play on.
IS LATHAM OUT LBW? Doesn't look like it. They review anyway.
WICKET! Mitchell c Asalanka b Mathews 43 (31) New Zealand 162-5
Just when I was typing in a post about how Mitchell has turned Mathews around the corner for a beautifully timed four and looks in lovely nick heading into the semi against India, he's picked out Asalanka at deep midwicket with a wayward flick. In fairness, it's a very good catch from Asalanka to make it so – he loves diving.
22nd over: New Zealand 157-4 (Mitchell 39, Phillips 8) Target 172. They're trying to end it with big blows off Madushanka but he's taking the pace off nicely and denying both a chance to free the arms.
"Have waited and waited for this to be on your feed," writes Petr Salmon, "but if we are talking NZ music and the World Cup (Mathews, England, Maxwell, golf buggies etc.), it can't not I think. Consider this a mic drop." I was googling OMC only last week… cool dude, me.
21st over: New Zealand 150-4 (Mitchell 37, Phillips 4) Target 172. Second ball, the new man Phillips tries to biff Matthews over cover, gets a fat edge instead, and it runs away for four. 22 runs to get.
WICKET! Chapman run out Samawickrama 7 (6) New Zealand 145-4
Chapman is not happy! His miscue goes to point, Mitchell charges down but the striking batter goes nowhere – but he's crossed, and thats's that. For morale reasons, Mitchell didn't need to cross.
20th over: New Zealand 144-3 (Mitchell 35, Chapman 7) Target 172. Chapman versus Madushanka, back into the attack – wicketless today but what a tournament he's had, like Geoff Allott in 1999. Yeah, you heard me! Just like that! Chapman doesn't care for this love-in though, carving him behind point for four to welcome him back into the attack. Later in the over, it's Mitchell who goes on the attack, clearing the front leg and pumping him over mid on – another boundary!
Oh! How about this: in the place where I'm watching this game and diligently reporting to you the goings on, they are playing my favourite New Zealand song. Most pleasant. Last year at Galle, doing a Test on radio, we bid farewell to Jeremy Coney with it as he flew home.
19th over: New Zealand 132-3 (Mitchell 29, Chapman 1) Target 172. Chapman is the designated finisher for New Zealand and that's what he'll be trying to do here in the next handful of overs. He's off the mark with a quick single, taking on Theekshana on the edge of the circle at mid-off; he's home regardless, great running. Six runs and a wicket.
WICKET! Williamson b Matthews 14 (15). New Zealand 130-3
Williamson pulls Matthews away for four, moving through the gears with Mitchell, but chops the next one onto his middle stump! He can't believe it. Looks an innocuous delivery but the pace was taken off it.
18th over: New Zealand 126-2 (Williamson 10, Mitchell 29) Target 172. New Zealan really are making sure of this in terms of their own Net Run Rate and the theoretical challenge posed by Pakistan. It's Mitchell versus Theekshaka and Dazzy Lad leaps down the track and manages to, despite not getting to the pitch of the ball, lift him over wide extra cover for SIX MORE. Dare I say it, that's Maxwellian in its execution. We get a scenario on telly about Pakistan that I didn't hear clearly but was along the lines of them needing to bowl out England in ten overs before getting the target in four – something like that. The Black Caps are nearly into yet another World Cup semi-final. They never miss out.
17th over: New Zealand 118-2 (Williamson 9, Mitchell 22) Target 172. Back from the breather, it's Big Ange into the attack – the other one! Mathews, what a few days he's had. I did enjoy his detective work after the Timed Out dismissal, happily tweeting his workings to challenge the view expressed by the fourth umpire that he wasn't out there to face within two minutes even before the helmet drama. Back to this game, he wins a miscue from Matthews that doesn't go to hand… they need everything to break their way from here. Williamson's turn and he shows his first sign of aggression, timing him through cover off the back foot in that classical fashion – into a gap, the captain's first four.
Some highlights of the 2015 World Cup were shown before returning from drinks – simpler times in international cricket? Happier times, right? Then again, it's probable we'll say the same about this (middling) competition if the 2027 World Cup is compromised to the extent I fear it might become. Anyway, no more existential angst today.
16th over: New Zealand 108-2 (Williamson 3, Mitchell 18) Target 172. Theekshana to Williamson and he's down with a plead for leg before when his wrong'un beats the inside edge but it's hit him on the thigh pad – no review needed there. Mitchell's turn to face and he keeps the pressure on, nailing his reverse sweep for a second time – four more! Just 64 runs left – this should be over in the next hour. Drinks!
15th over: New Zealand 103-2 (Williamson 2, Mitchell 14) Target 172. Williamson steers third man for one – set your watch to that for him early in his innings. Mitchell on the march- caught behind?! No! Not out on the field and no review. Back pad, the replay shows – "a terrific decision," says Ian Smith. Oohhh, that's better from Daz, launching a SIX over mid-off – stand and deliver. An encapsulation already of why he's so dangerous: reverses his first ball for four then muscles a six from his 6th delivery in the middle. And make it four more – one through deep midwicket, no stopping that chip. 11 off it. After the two wickets in two overs, the Black Caps are flying once again.
14th over: New Zealand 93-2 (Williamson 1, Mitchell 4) Target 172. The Dazzler arrives, The Dazzler reverse sweeps right away for four – he loves that shot and I love him. Ohhh, he wants to do it again but Theekshaka has sent down a full toss, so he misses out on popping him into the parklands surrounding the ground. Six runs and the wicket off the over. New Zealand require 80 runs from here at 2.22 an over.
WICKET! Ravindra c Dhananjaya b Theekshana 42 (34) New Zealand 88-2
One brings two! From nowhere, Theekshana gets Ravindra, who gets down on one knee with a view to mowing it over midwicket but instead miscues into the hands of the fielder on the circle at mid-on.
13th over: New Zealand 86-1 (Ravindra 41, Williamson 0) Target 172. That opening stand was worth exactly half of what the Black Caps require for victory here. The new man is Williamson, who needn't be in a hurry. Chameera gives him nothing though, finding an inside edge to complete the over that Sri Lanka needed so badly: a wicket maiden.
"Rachin whose name is a portmanteau of Rahul (Dravid) and Sachin (Tendulkar)," says Krishnamoorthy, "named thus by a cricket-mad father, appears to have a batting style that is a combination of Vivian Richards and David Gower." Nominative determinism, of sorts.
WICKET! Conway c Dhananjaya b Chameera 45 (42) New Zealand 86-1
Chameera gets the breakthrough! Conway, who copped one on the hands from Sri Lanka's quickest as soon as he entered the attack, is slow on the clip here and places it to the catcher at midwicket.
12th over: New Zealand 86-0 (Conway 45, Ravindra 41) Target 172. They're backing Theekshana to find something but I can't see it happening – another half-tracker this time around, put away through midwicket by Ravindra like it isn't a thing at all. Six taken, 86 to get.
"Damn you Adam Collins!" Ummm, hi Alistair Connor! "That clip by The Beths made me sick with nostalgia for Auckand, and cross too, from the realisation that I'm 20 years out of date with Kiwi music Happy unhappy indeed. Thank you very much, and please excuse me while I price some tickets. Counting down now to the semi-final against India… and replay of the rugby final, SA-NZ. With the tightest of finishes, of course!"
Music and New Zealand sport have that welcome link – I love covering cricket there when they are batting well and pop on this and the crowd roars together, as one, WHY DOES LOOOVE, DO THIS TO MEEEEE???
11th over: New Zealand 80-0 (Conway 44, Ravindra 36) Target 172. Ravindra takes a moment to size up the new challenge against the added pace of Chameera with the field now back but when the short ball comes, he responds by simply pulling it over the man at deep midwicket – his third SIX! I can't wait to see him get an extended run as a Test player in the New Zealand top order after this tournament, his classical style will suit the red-ball game just as well as the white.
10th over: New Zealand 73-0 (Conway 44, Ravindra 29) Target 172. As those time-honoured song writers Daphne and Celeste once wrote: U.G.L.Y you ain't go no alibi. That's how I feel when watching Theekshana, back in the attack, when gifting Conway a long hop two feet outside the off-stump to begin his new spell – cut away with ease. That was his eighth boundary, a ninth coming to the very same part of the rope with a compact square drive later in the over when the spinner overcorrects. Believe me when I say he's a much, much better bowler than what we are seeing here. Two balls left in the power play but Conway defends them both. Still, a perfect start – they're flying.
Love this from Felix Oedekoven. "Just impulsively ordered the The Beths album that song you posted is on. Please stop now, I'm already spending too much money on records."
Alright, if that's the mood you're in… one of the most underrated indie bands of the golden era of dancing to guitars, Cut Off Your Hands. I don't believe they're making music now, but buy their debut. Bliss!
9th over: New Zealand 65-0 (Conway 36, Ravindra 29) Target 172. Chameera has wheels; he's belatedly into the attack. Oooh nasty too – he gets one to spit at Conway, into his gloves – out come the medical staff; we have a delay. It was a broken digit that kept him out of the T20 World Cup Final against Australia, but that was after he smashed his bat in frustration getting out in the semi. Right, good news: he continues. One ball to go and it's right where it needs to be, defended respectfully. Why did they take so long to get him on? Two off the over.
"I was going to leave you in peace," says Peter Salmon, "but NZ music – can't go past possibly the best pop song ever written…" Some call that!
8th over: New Zealand 63-0 (Conway 35, Ravindra 28) Target 172. Phwoooar! It's improbable there'll be enough runs here for Ravindra to chalk up a fourth ton in this World Cup but if there were, he'd be well on track. He moves to become the leading run-scorer in the tournament with a launched over midwicket; the bowler Dhananjaya doesn't stand a chance – SIX! And next ball, the cut, with no real room to work with, is even better – threading it through, four more, so good.
New Zealand had a very similar pattern to this in 2019: a quick start against lesser opposition (make your own gag re England in the opening game), lost their way in the middle stages, then got their act together just before the semi… where they beat India, who they will play again at the Wankhede provided they win this easily. Eyes emoji.
7th over: New Zealand 51-0 (Conway 34, Ravindra 17) Target 172. Conway wants this done before the 20 overs; forget about the rain. He climbs into Madushanka, clouting him through cover for four – difficult to hit a ball harder than that. And again, timed through mid-on for another boundary. That's the New Zealand 50 on the board. Eaaasy.
"Adam, Good afternoon." John Starbuck, my friend. "Do you know if the Guardian/Observer's Sports Powers That Be are contemplating a book of OBO highlights from this World Cup? There's plenty of incident, some tragic, comedic, wonderful performances, plus all the intrigue attending several teams and bags of local colour. In past OBO books we've seen lots of readers' contributions, including all the previous sentence's ideas. With the world-wide audiences of this year's series it should make plenty of dosh too."
I do not know the answer but isn't a bad shout! Can include the tears I shed during the last 50-odd runs from Maxi the other night. My wife thought something bad was going on when I was howling at the end.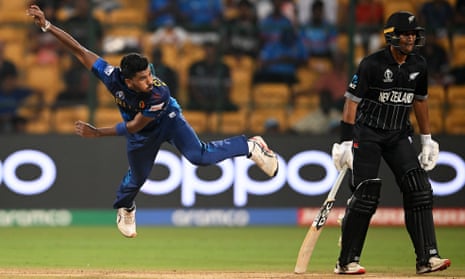 6th over: New Zealand 42-0 (Conway 25, Ravindra 17) Target 172. Another busy over – ten taken off Dhananjaya who has come on to replace Theekshana. Ravindra loves taking down finger spin, hitting with the turn on this occasion over long off for SIX – gorgeous batting. Four other singles; no pressure whatsoever here from Sri Lanka up top.
"Hello Adam." Afternoon, Krishnamorthy V. "Has someone run through the Duckworth-Lewis calculation? How many runs by what over to ensure a win in case of rain interruption?"
I can answer part two: 20 overs is game on. I'll scan twitter for the DLS sheet that we're given in the press box in situations like this. New Zealand will need to lose a lot of wickets to be in strife after this start.
5th over: New Zealand 32-0 (Conway 23, Ravindra 9) Target 172. Edged and through! Conventional nick with Conway looking to drive an out-swinging delivery from Madushanka, but Mendis the wicketkeeper can't drag it in away to his left, where there is a second slip not a first. Sigh. A far more convincing shot later in the over, getting in line to a straighter ball, timing it past mid-on for his fourth four. Make it five: back-to-back boundaries to finish – help yourself stuff on his hip, pulled away. 14 off the over – they're going for the quick kill here.
Simon Doull on TV comms gives a big tick to the Cricket Ground DJ (my dream job) for dropping in Dave Dobbyn after the second of the boundaries. NZ music is a rich OBO topic. I'll open the batting.
4th over: New Zealand 18-0 (Conway 9, Ravindra 9) Target 172. A quieter over from The Theek, New Zealand's southpaws both helping themselves to a driven single down to the sweeper at long-off.
I've just lunged into my Guardian inbox to see a great many emails from the last time I was on – the Maxwell Miracle Match. I'm still not quite over the emotion of it all and may never be. Here's a sample.
"Hi Adam." Peter Salmon, a joy to hear from you as ever. "Ok, I'll bite, why were you at David Gower's house? Just popped by to borrow the mower? Regular date to watch Loose Women? Or did he not know?"
Interviewing him a future edition of the podcast I just plugged in the above link. Given we had Gooch on for an hour and a half last year, only right that we get the great left-hander on as well. We went too long, of course – at the 90-minute mark we had only reached the 1989 Ashes and I had to dash off for this OBO, so we'll do a part two.
3rd over: New Zealand 16-0 (Conway 8, Ravindra 8) Target 172. And sure enough, the ball after the failed review is driven for four brilliantly by Conway – he has a straight drive to die for, this fella.
NOT OUT! The body language from all involved seemed a snifter desperate, and so it proved: a clear gap. The bowler has done his captain a disservice here, talking him into it.
HAS CONWAY EDGED MADUSHANKA? The captain and 'keeper Mendis took every one of his 15 seconds to send this to the DRS…
2nd over: New Zealand 12-0 (Conway 4, Ravindra 8) Target 172. Spin to win? If this is to be for Sri Lanka, bowled out so short of a credible tally (although a lot better than it looked when they were seven down in about an hour), their spinners will need to get busy right away. Theekshana, who has enjoyed some moments over the last six weeks but never really dominated, takes up the attack with his mystery spin. And by that, I mean he has the one he can squeeze out 20kph faster than his bog-standard offie. I said in my previous post that Madushanka is one of the finds of World Cup 2023, so it goes as well for Rachin Ravindra, who has made three tons despite sitting at No8 in New Zealand's batting list at times in England just before they took off for India. To say he's more threatening with the bat than the ball is one of the great cricketing understatements of the year. And he's back into the groove: flicking a couple, cutting two more then ending the over with a pristine drive through the off-side field, out to the rope. Nice.
1st over: New Zealand 4-0 (Conway 4, Ravindra 0) Target 172 My man Madushanka, who has been just about the find of the tournament with his lovely left-arm over, has the new ball – he's taken wickets right away twice in the comp, so expectations are high. But he's up against Conway, more machine than man, who gets the Black Caps off the mark with a boundary to midwicket, pulled away with no fuss at all.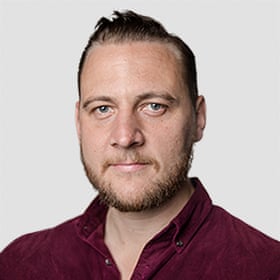 Adam Collins
Thanks, Tim! Hello everyone. Just catching my breath – detailed updates are on the way as the teams make their way back on the field. If I say I'm running late because I've been at David Gower's house, will you forgive me? Hope so. Drop me a line, ping me a tweet. Let's go.
Time for me to clock off. Thanks for your company, correspondence and expressions of incredulity at Sri Lanka's go-slow. Adam Collins will be with you in a while to see if the New Zealanders can knock off these runs before the rain descends.
NZ need 172 to reach the semis (almost certainly)
Well that was a head-scratcher of an innings from Sri Lanka. Kusal Perera set off like a rocket while his partners were a succession of damp squibs. SL reached 100 in the 16th over. Then they decided to become a tribute act to Sunil Gavaskar in the first men's World Cup in 1975.
They added 69 more off 30 overs of exquisite tedium, 43 of which came from the last-wicket pair. If there was a plan, it may have been to string the game out and hope for a no-result. That would be a travesty and a grave insult to Messrs Boult, Santner and Ravindra, who all bowled superbly.
WICKET! Madushanka c Latham b Ravindra 19 (Sri Lanka 171 all out)
Thanks God for that!
46th over: Sri Lanka 170-9 (Theekshana 38, Madushanka 19) Southee continues and Sri Lanka step up the pace, collecting three singles. The last scoring shot for more than that was 34 balls ago. Another bored cameraperson (apologies for assuming the previous one was a man) spots a kite in a tree. The bird, not the toy.
45th over: Sri Lanka 167-9 (Theekshana 36, Madushanka 18) Another over, another two singles. Ravindra, who was expensive early on, now has 1 for 21 off seven. A cameraman who may just be bored out of his mind finds a handsome shot of a watery sunset behind the floodlights.
44th over: Sri Lanka 165-9 (Theekshana 35, Madushanka 17) The twin spin thing is abandoned as Williamson reverts to Southee. His over goes for two singles. Urgency, thy name is not Theekshana.
43rd over: Sri Lanka 163-9 (Theekshana 34, Madushanka 16) It wasn't that Williamson didn't fancy Ravindra: it was that he fancied spin from both ends, for a change. Ravindra restricts the batters to a single, and you wonder when they are planning on introducing some urgency.
"I can't believe this abomination has already lasted 40 overs," says Krish. "A perfect chance for NewZealand to put the NRR beyond risk and start planning the dismantling of India. The only problem is they must factor in seven batsmen and seven bowlers." True, but something tells me that even India, imperious as they are, would rather not face NZ.
42nd over: Sri Lanka 162-9 (Theekshana 33, Madushanka 16) Williamson decides to go back to spin. He has five overs of Ravindra up his sleeve but prefers to introduce Glenn Phillips's off-breaks. The batters pick up three singles and the partnership creeps to 34 off 59 balls. It's been game, but probably not a game-changer.
41st over: Sri Lanka 159-9 (Theekshana 31, Madushanka 15) Southee is back. He's the only bowler to have conceded more than four an over today. It was eight an over earlier, but this one goes for just four – all from one stroke, a mow to leg by Madushanka.