The entire population of Tillmitsch, in the mountainous Austrian wine-growing region of Styria, could fit into Manchester City FC's 53,400-seater Etihad Stadium more than 14 times over.
The local team plays in the lowly fourth tier of Austrian football, a far cry from the pinnacle of the global footballing pyramid occupied by the Manchester club.
Yet if life had taken a slightly different turn, the 6ft 4in central defender Emir Dautović – who patrols the penalty box for SV Tillmitsch when he isn't working for a frozen foods company – might have starred for the reigning English and European champions.
In 2012, when Dautović was 16 and playing for NK Maribor in his native Slovenia, he was considered among the most promising talents in eastern Europe, earning himself a week-long trial with City.
The towering youngster made an impression in Manchester. After the trial, officials at Maribor told him the Premier League club had submitted a bid of €600,000.
To Dautović, the offer seemed too good to be true. But Maribor turned it down. A few weeks later another proposal arrived, one that seemed to promise even greater rewards. Pinhas "Pini" Zahavi, the renowned agent to some of football's biggest stars, was interested in representing him.
A middleman working for Zahavi dangled the Israeli's unrivalled connections as an incentive, Dautović said. The agent could, he was told, "arrange a transfer to Chelsea overnight".
"For me it was like getting on to the motorway in my career," Dautović said. "Pini Zahavi would become my agent and that was the best thing that could happen to me."
Despite his father's reservations, the young player jumped at the chance, signing away the rights to his talent with the stroke of a pen. The contract he entered into is known, in footballing jargon, as a "third-party ownership" deal, a form of controversial investment that Gianni Infantino, the current president of Fifa, once likened to "modern slavery".
Under such arrangements, which were banned worldwide by the governing bodies of football in 2015, investors could buy "economic rights" to a player.
The investment granted effective control over that player's career, including the power to decide which team they played for and the right to pocket the profits on a transfer. Sometimes, they were bundled with image rights governing income from endorsements and sponsorship.
From that moment, Dautović says, he became a "commodity", not so much a person as a "chess figure" to be moved around at someone else's behest.
And, as an investigation by the Guardian and international partners now reveals, Dautović was only one of a number of emerging talents to make the same decision.
On the other end of the deals were two of the most powerful men in football: Zahavi and the former Chelsea owner Roman Abramovich.
The investigation details how young men who entered these contracts were in effect bought and sold like chattels, listed as assets on company balance sheets in service to a machine in which their own interests were all but irrelevant.
Abramovich and Zahavi are already known to have participated in third-party ownership. But the detail, scale and mechanics of their partnership – sealed via a previously undisclosed contract – can be charted for the first time thanks to the Cyprus Confidential files, a cache of 3.6m offshore records leaked to the International Consortium of Investigative Journalists (ICIJ) and Germany's Paper Trail Media, which shared access with the Guardian, the Bureau of Investigative Journalism (TBIJ) and other media. The material, which comes from a Cypriot offshore services provider called MeritServus, was shared with the ICIJ by the nonprofit group Distributed Denial of Secrets.
The files reveal transactions that sports law experts say may have breached Fifa rules governing the relationship between businesses and football clubs. They also lift the lid on the inner workings of a lucrative marketplace in which the product was powerless young men.
All too often, players told the Guardian and its partners, they were sucked in by grand promises that vanished into thin air, leaving their dreams – and their careers – in tatters.
The Abramovich-Zahavi partnership
Even by the standards of modern football finance, Neymar Jr's switch from Barcelona to Paris Saint-Germain in 2017 was seismic. The eventual €222m fee for the Brazilian forward didn't just dwarf the previous transfer record, it more than doubled it.
At the centre of that landmark deal was a figure with the power to alter the very landscape of the sport: Pini Zahavi.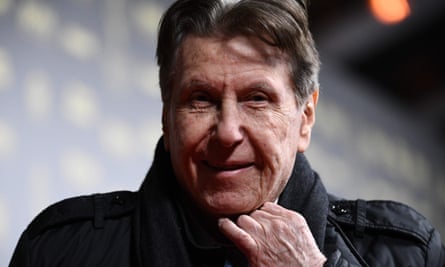 The Israeli, often thought of as football's first "super-agent", has been wheeling and dealing since the 1970s, brokering high-profile and sometimes controversial deals.
He reportedly acted as a pivotal emissary in discussions that led to Abramovich, already a billionaire by his mid-30s, buying Chelsea in 2003.
Eight years later, documents reveal, they teamed up again, this time in a commercial venture to exploit the lucrative talent of young footballers.
According to the terms of a confidential "player investment agreement" signed in 2011, Zahavi promised to scour the world for emerging players. Once identified, he would negotiate to buy the "exclusive right to fully exploit all of the commercial economic rights and interests" in the young footballers.
Leiston Holdings, a business incorporated in the British Virgin Islands and owned by Abramovich, would provide the financial muscle, investing €10m over two years. If players were sold on at a profit, Zahavi and Leiston would split the proceeds.
Dautović was one of Leiston's investments, documents show.
He and his parents signed a contract under which Maribor sold his economic rights to the company for €1m, more than even Manchester City had offered.
Analysis of the Cyprus Confidential files by the Guardian and TBIJ shows that 25 players, enough to fill a Champions League squad, attracted interest from companies owned by Abramovich.
At least 21 of those signed on with Leiston, recruited from across Europe, Latin America and Asia. Many were under 18 and required the signatures of their parents, alongside their own.
In theory, the youngsters had acquired the services of the greatest agent in world football. But once the ink dried, Leiston's players appear to have found that it was they who worked for Zahavi and ultimately, whether they knew it or not, for Abramovich.
Gaël Etock and Fabrice Olinga both came from Cameroon to Spain in the hope of making it big in one of Europe's top divisions, La Liga.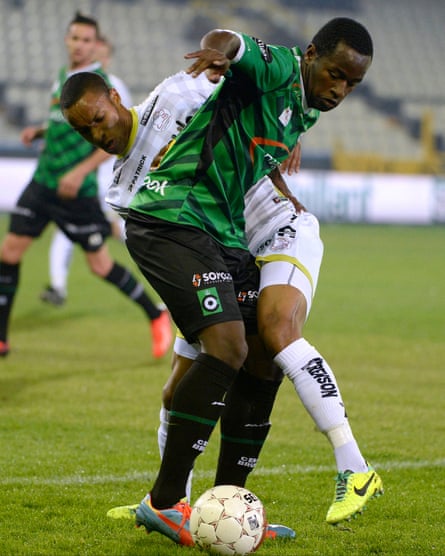 Etock came through FC Barcelona's famous "La Masia" academy, the same conveyor belt of talent that gave the world Lionel Messi, Andrés Iniesta and Xavi Hernández. Olinga announced himself on the world stage aged 16, when he became the youngest player to score in La Liga, for Málaga.
Both were snapped up by Leiston and Zahavi, signing contracts that promised a bright future.
In Olinga's case, documents show, the agreement envisaged "endorsement campaigns", as well as royalties for "premium and souvenir items" to be advertised on TV and in cinemas. Bonus payments were contingent on the prospect of a move to the Premier League or Germany's Bundesliga.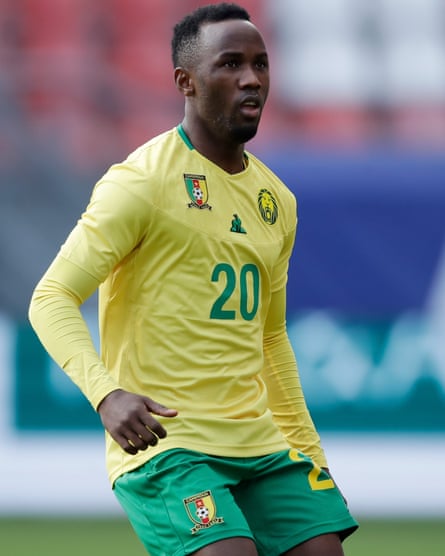 The reality was rather less glamorous. Under the deals, Leiston paid some or all of its players salaries.
Documents reveal how Olinga went cap in hand to the company for an advance. Etock also received advances, paid by Zahavi and then deducted from his wages by Leiston. The salary was €50,000 a year, meagre for a footballer on the brink of the big time.
Nor did Leiston's young stars appear to be able to exercise much influence over their own careers.
In January 2014, fans of Olinga on Twitter asked him about rumours that he had been sold by Málaga to the Cypriot club Apollon Limassol. This, Olinga told his followers, was a "lie". But he was wrong.
The Limassol connection
The ancient Greeks, Venetians, Ottomans and even the British have held dominion over the seaside town of Limassol, Cyprus. More recently, Limassol has been part of a different empire – the network of wealthy Russians attracted by the relative financial secrecy and gateway into Europe that Cyprus offers.
The yachts moored in the marina – not to mention the luxury properties dotted around the city – are testament to the resulting cash injection.
One local institution with no obvious ties to Russia is Apollon Limassol. But the Cyprus Confidential files indicate that, when a young footballer's Chelsea dreams evaporated, the next stop was often a move to Apollon, arranged by Zahavi but funded by Abramovich.
According to the minutes of a 2016 shareholders' meeting published on a club website, which has been deleted but can be accessed through an internet archive, Apollon Limassol had a 16% shareholder: "Sliva Trading (Pini Zahavi)."
On multiple occasions, documents show, Sliva drew on Zahavi's relationship with Leiston to borrow money. Sliva would use funds provided by Leiston to finance player transfer fees, and even their salaries, on Apollon's behalf.
Olinga was one such player.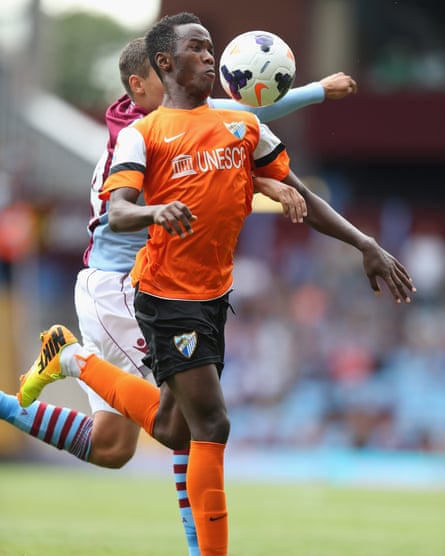 While the player's Twitter feed indicates that he expected to move from Málaga on loan to the Belgian club Zulte Waregem, the truth was that he had been sold to Limassol without his knowledge.
Another youngster who took that route was Cristian Manea, a Romanian full-back who was seen as such a hot prospect that in May 2014 he was called up to represent his country aged 16 – a national record.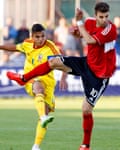 Throughout the next summer, Manea was widely reported to be on his way to Stamford Bridge, even to have signed for Chelsea already. Instead, documents show, Leiston lent Sliva €3m to fund his transfer to Apollon Limassol.
The loan was to be repaid from future transfer fees received for the player, with Zahavi's company due a €25,000 cut of any profits.
When the youngster found that he was not going to Chelsea after all, he burst into tears, according to an interview he gave in 2018.
Manea never played for Apollon. Indeed, of the six Leiston players who were sold to the Cypriot club, only one ever played – and even then just three times.
Most were instead sent out on loan, including to Mouscron, a club in Belgium in which Zahavi held an ownership interest.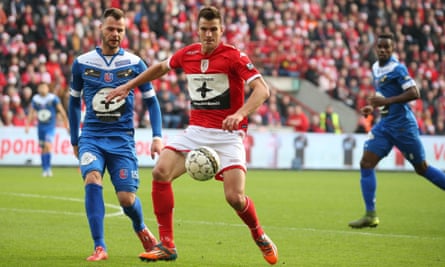 In many cases, their careers have stalled. Olinga now plays for FC Botosani, a struggling team in the top division of Romanian football. Etock's most recent employer was FC Lahti of Finland and he is now without a club.
According to a leading sports barrister, Samuel Cuthbert, the structure of some of the deals that brought players to Limassol raises serious questions about potential breaches of Fifa's article 18bis, which prohibits third parties from wielding influence over a club's transfer policy.
In at least three cases – the transfers of Etock, Nikola Aksentijević and Valentín Viola – Leiston was granted "sole discretion with regard to the transfer" of the players in future.
Cuthbert said the clause was "troubling". "It is difficult to reconcile a third party appearing to have total control over the transfer of a player with the regulatory prohibition under article 18bis of the Fifa regulations on the status and transfer of players," he said.
The footballers who signed up with Zahavi may have been unaware they were owned by the then Chelsea proprietor.
One player, who did not wish to speak publicly, said he suspected that Abramovich was behind Leiston Holdings but had never known for sure.
Dautovic did not have the faintest idea, even a decade later. When the Guardian's international partners interviewed the Slovenian in September 2023, it was the first he'd heard of who his master had really been.
"I worked for Abramovich? I'm taken aback by that. I swear, I didn't know."
Maribor said nobody who was involved in the transaction is still at the club.
Roman Abramovich did not return requests for comment. Pini Zahavi declined to comment. Apollon Limassol did not return requests for comment.
Additional reporting: Timo Schober, Ed Siddons and Stéphanie Trastour