Player of the tournament
RK Richie Mo'unga. It did not quite happen for him in the final but he was wonderfully sharp in parts. His All Black colleagues Ardie Savea and Aaron Smith make my team of the tournament, as do Ireland's Bundee Aki and South Africa's Ox Nché.
GM Ardie Savea. Carried New Zealand at times during their defiant performance in the final and brings an intensity in close quarters that few can match. Sam Cane is the captain of the All Blacks but Savea is their leader.
AB Siya Kolisi. He isn't the strongest, fastest, or most formidable player in the South Africa team, let alone the tournament, but he may well be the greatest captain in the history of the game. It's impossible to think the Springboks would have won it without his leadership.
JL Eben Etzebeth. Immense in every sense of the word. Not just the heart and claws of this South Africa side but its platform and its emotional fulcrum. Other players were more flawless. None was as influential.
MA Eben Etzebeth. Some things in rugby run deeper than who can run fastest, pass sweetest or tackle most. Etzebeth dominates a rugby match just by standing there. Martin Johnson had that. People are glad to be in the same team as such players.
LMc Faf de Klerk. Eben Etzebeth or Pieter-Steph du Toit would be equally deserving but no one personifies the Springboks' winning mentality more than their brilliant, niggly, downright annoying scrum-half. Profound impact off the bench, at times, before a masterful display in starting the final.
Breakthrough player
RK Nicolas Martins, Portugal. Os Lobos were a joy to watch and the 24-year-old Martins impressed with and without the ball. Athletic, rangy and fit, he should be playing at a higher level than second-tier French club rugby.
GM Jac Morgan, Wales. Honourable mentions for England's Ben Earl and New Zealand's Mark Tele'a but Morgan established himself as an elite back-rower in Wales's impressive pool stage captain. Will be a mainstay for years to come.
AB Mark Tele'a, New Zealand. The All Black damn near turned that final around all on his own. His magnificent sidestep made him the hardest man to tackle in the tournament. It took three Springboks to bring him down pretty much every time he got the ball.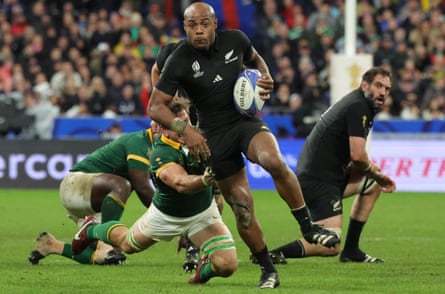 JL Ben Earl, England. Cast adrift by Eddie Jones, he has been on quite the journey. May eventually end up as a flanker rather than No 8, where he has impressed this tournament. The kind of player you can build a team around.
MA Raffaele Storti, Portugal. The French system does much for world rugby by employing players from upcoming nations like Portugal, via a more forgiving visa system. Storti's been ripping it up on loan with Beziers; now, after his performance this World Cup, Stade Français want him back
LMc George Martin, England. Was dropped into the cauldron of a semi-final against South Africa and helped his team rough up the eventual champions for 60 minutes. A combative, relentlessly physical Leicester lock leading England at a World Cup Down Under: sound familiar?
Best match
RK South Africa 8-13 Ireland Both the Paris quarter-finals were outstanding but of the games I attended in person the most memorable was Ireland v South Africa in the pool stage. The Stade de France was overflowing with travelling Irish supporters and their renditions of Zombie and Dirty Old Town made it a green day to savour.
GM France 28-29 South Africa The first half of France's quarter-final defeat by South Africa in particular was rugby to take the breath away before things got a bit tighter, a bit more tense but no less dramatic. Just pips New Zealand's victory over Ireland a day earlier.
AB The first 40 minutes of the quarter final between South Africa and France felt like the greatest half of rugby ever played, and if the second didn't quite live up to it, well, nothing much in the history of the game has.
JL For tension, drama, importance, atmosphere and sheer dizzying technical quality, France v South Africa was about as good as sport gets.
MA There have been plenty of great matches (Wales v Fiji in the heat of Bordeaux springs to mind), but for ferocious, skilful, should-have-been-the-final breathlessness, this took some beating. A shame the other example of that was also a quarter-final
LMc Japan 27-39 Argentina The sort of swarming blitz defence that wins trophies was refreshingly absent here. Both teams kept ball in hand and looked for width, with a scintillating spectacle the result. Yes, it was error-strewn, but since when did technical perfection equal entertainment?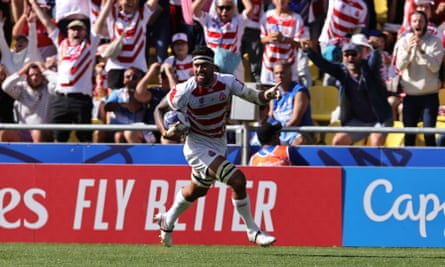 Best try
RK Kurt-Lee Arendse, South Africa v Scotland. Arendse finished it off but it was Manie Libbok's magnificent no-look diagonal kick pass to his winger that made it special. A sublime piece of skill.
GM Will Jordan, New Zealand v Ireland. He scored eight so plenty to pick from but his effort against Ireland in the quarter-final was the best of them. Richie Mo'unga's vision to see and then prise the opening before releasing Jordan was a sight to behold.
AB Amato Fakatava, Japan v Argentina. I might just have gone for Aaron Smith's finish off Richie Mo'unga's run in the final, if Wayne Barnes hadn't struck it off for a knock-on. Instead, then, it has to be Fakatawa's chip and chase from 60m out.
JL Raffaele Storti, Portugal v Fiji. There could have been about six separate entries here, but this was probably the pick: a ridiculous counter-attacking move that encapsulated everything this team was about.
MA Will Jordan, Ireland v New New Zealand There are always pretty ones, especially in the romps, but for the perfect balance of beauty and high stakes Jordan's try in the second half against Ireland served notice that the All Blacks were in the mood again. Ireland never recovered.
LMc Kurt-Lee Arendse, South Africa v Scotland. Libbok's no-look kick that sent Arendse sprinting over was a sensational, impossible-to-defend bit of skill. Richie Mo'unga's arcing run to set up Aaron Smith's disallowed score was worthy of winning the final – and probably would have done.
Champagne moment
RK Portugal's late winning try against Fiji which clinched their first-ever World Cup victory. Patrice Lagisquet should have been nominated as one of the coaches of the year.
GM Hard to look past Rodrigo Marta's late try to seal Portugal's first ever World Cup win against Fiji. It was a victory they thoroughly deserved and ended a pool stage that was running out of momentum on a huge high.
AB Portugal's last-minute winner against Fiji at the tail end of the pool stages, a one point win, their first ever against a top nation, sealed with a wonderful late try by Rodrigo Marta and a nerveless conversion by Samuel Marques.
JL England almost turning over South Africa in the semi-final without a single line break, an occurrence that would have actually have terminated the sport of rugby union and forced everyone to start again. An opportunity missed, really.
MA Jordan's try might have been pivotal, but Rieko Ioane's inside pass for Leicester Fainga'anuku's opener in the same quarter-final was so fast we had to wait for the replay to confirm it had happened. Only the All Blacks.
LMc Portugal edging out Fiji by a point in Toulouse for their first Rugby World Cup victory was a result we could all get behind. Especially as that win, along with the previous draw with Georgia, was achieved in such a creative and constructive way.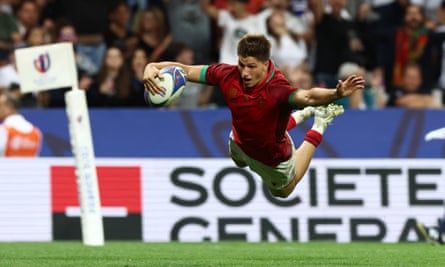 Biggest disappointment
RK Australia. I have never seen a more lacklustre Wallaby side than the one beaten 40-6 by Wales. It was the beginning of the end for Eddie Jones.
GM Australia. They have won the tournament on two occasions but Eddie Jones picked a rogue squad, leaving senior players such as Michael Hooper at home, told the Australian press to "upper cut themselves", oversaw a dismal campaign and then walked away.
AB France's defeat in the quarter-finals, not that I begrudge the Springboks their victory, but it became a smaller, quieter tournament after they had been knocked out, as if the hosts had left the party and gone upstairs to bed.
JL France's elimination. This was their time. They knew it. Everyone knew it. As brilliant as the denouement was, once the brilliant hosts went out of their home tournament a little of the air went out of the event.
MA Two-way tie: Italy and Argentina. The Pumas may have taken fourth place (then again, England took third), but they know they are much better than they showed. Dismantled in the semi-finals and inexplicably flat against 14-man England. Meanwhile: New Zealand 96-17; France 60-7 Italy. Words fail …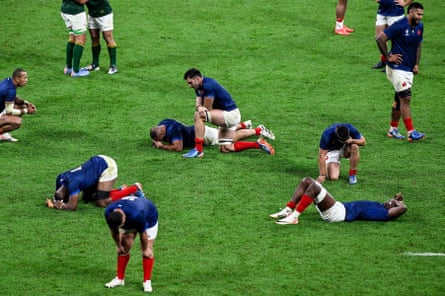 LMc France, Antoine Dupont and Fabien Galthié exiting at the first knockout hurdle was a heavy blow to the tournament's momentum. Suspicions swirling around South Africa's second-half use of HIAs made the pill even more bitter for fans of French rugby.
Abiding memory
RK What could have been. Had France and Ireland edged their respective quarter-finals, local interest in the tournament would have gone into orbit.
GM Finally getting to Paris for the week of the semi-finals with both the hosts France and the best supported travelling team, Ireland, eliminated. England v South Africa and the Springboks against New Zealand were fine contests but if ever there was an embodiment of after the Lord Mayor's show.
AB Among the many, oddly, I think it will be New Zealand's Jordie Barrett's tackle on Ireland's Ronan Kelleher as he crossed the try-line in the 71st minute, four years of work turned to those few inches. It was one of the very best, and most painful examples, of how small the margins are.
JL Referees. Referees pointing at things. Referees with a finger in their ear talking to men in a room. Talking about referees. Arguing about referees. More referees, please!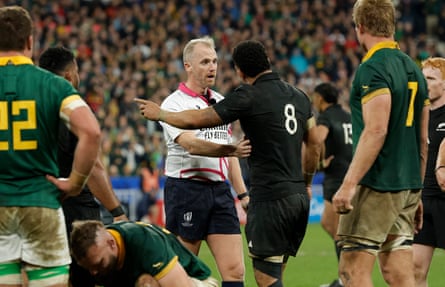 MA So much we should be remembering: the rugby, the colour, the Frenchness, the blue red meat, the red red wine. But, no: the red card in the final of a World Cup. We knew it would happen eventually – and that's the saddest indictment of all
LMc The Parisian atmosphere on quarter-final weekend – especially where Ireland's fans were concerned – made for a uniquely special couple of days of rugby. Sport doesn't always go your way but the memories for all will last a lifetime regardless.
Prediction for 2027
RK The four best teams at this tournament – South Africa, New Zealand, France and Ireland – will again be the front-running quartet next time.
GM Eddie Jones's Fiji beat Steve Borthwick's England in the final … on a more serious note, we talk up the northern powerhouse for the two years before, only for South Africa and New Zealand to flex their muscles again.
AB After 23 years, there will finally be a new name on the Webb Ellis Cup, only it won't be France, Ireland, or Wales, but Argentina, who, under new head coach Felipe Contepomi, will finally have found the last ingredient they need.
JL A Northern hemisphere winner.
MA Apart from more red cards (unless a lowering of the actual tackle height can absolve us of the need to send players off for unavoidable collisions), Fiji to kick on. The most talented and now with a professional team on the islands. Four more years of that should set them fair
LMc Foolish, surely, to predict anything other than a southern hemisphere winner, but equally it is hard to see struggling Australia prevailing as hosts. Let's go with foolishness after all: France will learn the lessons of 2023 and finally win the thing.