SBin Johnstone laughs. No, he says, there is no secret WhatsApp group for Premier League goalkeepers to complain about criticism of their performances by television pundits. But yes, it can get frustrating when people who have never played in goal pick apart their mistakes.
"I think you feel lonely when you're standing in goal and looking at what's in front of you," says the Crystal Palace goalkeeper. "Probably more ex-keepers should comment because they were there and did it. The field commentators are great and know the game well, but they didn't stand in the goal and shoot at them.
"Maybe you don't see it until the last minute because there are ten bodies in front of you. Because of the speed of the balls, you have to make decisions about what you are going to do in seconds. They shouldn't be beaten at the near post – that's always one thing. But if someone hits it from eight yards out at 70 or 80 miles per hour and goes for the ball near the post, that happens very quickly.
"You have to figure out where the ball is going and sometimes it's past you before you can. If someone cuts it off the edge of the box and puts it back in, it's not really close to the post. People say, "He should have caught that, he shouldn't have hit it, he should have come to get the cross, he shouldn't have come to get the cross…" People are always worried about this. It's easy to say it rather than experience it."
Johnstone has experienced a lot. The 30-year-old is dedicated to his craft and becomes increasingly animated when discussing the intricacies of goalkeeping. "It takes hours and hours and hours," he says. "Daily, weekly, for 20 years. And you're still learning. I don't think you can ever really finish it. There's always something you need to work on."
Thoughts go back to Johnstone's childhood at Manchester United. He is not bitter about never playing for the first team. "Growing up there and having this down-to-earth attitude is something you can only ever be grateful for," he says. "You are lucky enough to see some of the best goalkeepers in the world. I remember when I was young and injured, Tony Coton, the goalkeeping coach, told me to come outside and watch the goalkeepers train. David de Gea was two or three years older than me so it was great to train with him every day."
Johnstone had to move on after several loan spells. He was eliminated from the Championship in 2018, moved to West Brom and was faced with a new style of football. Graeme Jones, who was part of Darren Moore's backroom team, wanted Johnstone passed out from behind.
"I first learned about it in the United youth team with Paul McGuinness," he says. "That was 12 years ago, but the goalkeeper must increasingly be one of the field players. Even though I grew up at United, I never really played games that way. If it was on, do it, if not, long kick it.
"All my rental spells were the same thing – go long. I was at Aston Villa and I don't think we ever fainted. I came to West Brom, new team, new players, then a new style of play. I found it difficult, but it was probably one of the biggest learning curves. At a home game the ball would go infield for a goal kick and the whole stadium would boo because they know you're going to pass out from behind and they don't want you to do that.
"You have to find solutions while knowing in the back of your mind that if something goes wrong it could end up online. It was hard, but it gave me tools that I can use when needed. We can play at the Palace if we have to. Or I can incorporate it into the full-backs or play long. Those few months with Graeme Jones and then the Slaven Bilic era at West Brom gave me a lot of tools."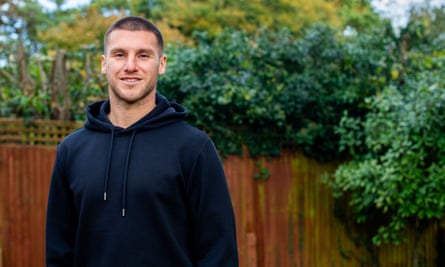 Johnstone helped West Brom gain promotion in 2020, but they were relegated after one season in the Premier League. However, his performances were impressive and he was named in England's squad for Euro 2020. While stopping the shot is paramount, he believes being good with your feet helps. "I was 25 at West Brom when I first had to do it in games," he says. "That's how people want their goalkeeper."
Is it harder than ever to be a goalkeeper? Johnstone thinks so, but he's fine. After leaving West Brom for Palace in 2022, he returned to the top flight and gradually established himself as Roy Hodgson's number 1, although he had to be patient last season. He was struggling with injuries and was behind Vicente Guaita. Johnstone did not start a league game until Guaita sustained an injury in April.
But he remained motivated. "I had to wait my turn, which was tough. I played at West Brom in all my loan spells and every game for four years. It made me do different things. I went to the gym before breakfast. I would have breakfast. I would go to the gym before training. If you completed the training session, you would end up doing more with the strikers. Eat lunch and exercise in the afternoon. I have done many things. I felt like I couldn't just exercise outside, shower and go home. That's not me. I had to be ready when my chance came."
Johnstone, who has signed a new long-term contract, has not looked back since his start in the 5-1 win over Leeds. He has kept four clean sheets this season and is back in the England squad after a lengthy absence. With Nick Pope out of favor, Johnstone appears to be competing with Aaron Ramsdale for the second spot behind Jordan Pickford. The race is wide open and Johnstone played well when England beat Australia last month.
Johnstone, who missed last year's World Cup, is desperate to reach Euro 2024. But to do that he has to keep playing and he has strong competition from Palace, who signed Dean Henderson last summer.
"It's going to be hard, isn't it?" Johnstone says. "It will be tough for anyone who doesn't play. It will be difficult for the club to cope with this. Me and Dean both have the mentality of wanting to play and not the mentality of being a second choice. Dean was injured, but once he got back, we got along, we were friends, we pushed each other. He'll think, 'I want to play.' But I'll think, 'I'll play, I'll keep playing.' But that probably brings out the best in both of us."
Johnstone is in a good position but he is not happy. "Someone recently asked me when I felt like I had made it," he says. "I still feel like I didn't do it. You always want to get better. I play every week in the Premier League for an established club. They have good players, a good manager and good staff every day. You can't take your foot off the gas."