Master the roast
After the monotonously predictable defeats of the Republic of Ireland and Norn Iron last night, it is time to turn our collective gaze to England and Scotland. The only two home nations from this special corner of Europe expected to qualify for the 2024 European Championship in Germany are both in action at the weekend. Scotland are in Larnaca this evening to face Cyprus, while England travel to the Polish city of Wroclaw to face Ukraine tomorrow.
Steve Clarke's side are top of Group A with four wins from four and are in such a dominant position over their rivals that even they are unlikely to progress from here. Five points from the remaining four games will guarantee a place in the European Championships, although a win against the bottom of the group could be enough to have John McGinn, Scott McTominay and their friends dreaming of balmy evenings on the veranda of the team hotel enjoying deep-fried bratwurst . Potato pancakes and sauerkraut next summer if results elsewhere come back positive in the coming days.
Tonight over 6,000 members of the Tartan Army descended on Cyprus to hunt down the local buffoon, get sunburnt, cool off in the local fountain and cheer on their team against a team out of the first three games, including one , still haven't picked up a point in the 3-0 defeat in Glasgow. "Always respect the opponent," said Clarke, whose opponent Temuri Ketsbaia is best known in Britain for giving an advertising hoarding a savage blow after scoring for Newcastle many years ago. "We expect a difficult game. "Those two late goals at Hampden probably added a bit of shine to the result," Clarke added. "The conditions will be hot, but when we were in Norway in June it was pretty hot. You just have to deal with the conditions at hand and achieve the desired result."
England also sit top of their group with a perfect record after four games, although that lofty position hasn't stopped Gareth Southgate from taking a beating for picking several players whose repeated inclusions in his squads suggest they may be in the In possession of a compromising video, the England manager takes a tour of the Glenfiddich distillery while wrapped in a Saltire and drunkenly belting out Flower of Scotland. To deflect some of the heat from the manager and his strange, if ultimately irrelevant, selection, England threw James Maddison to the press wolves, knowing full well that the always interesting Tottenham playmaker would inevitably offer a few choice lines.
He didn't disappoint us. "I loved watching players who had a bit of cheekiness about them; Gazza was a perfect example," he said when asked about his own love of the spotlight. "It's not a conscious attempt to be the showman. That's exactly how I play football. That's exactly how I am as a person. When I go out for a roast dinner with my family, I like to be the main actor." While PT Barnum had a dream start to his time at Tottenham from the pub buffet, he has yet to find his feet in an English circus where he has only performed three times establish himself as a circus director. "I think I'm probably too intelligent to think I'm in and locked in," said Maddison, who will get his chance to impress Southgate in the coming days with virtuosic performances on the pitch and in the dining room.
QUOTE OF THE DAY
"I was never a screamer because that's what my father did to me. I hated it. However, you learn to communicate differently as today's players are a largely non-confrontational generation. They'd rather you text or WhatsApp them" – Emma Hayes talks to Donald McRae about the aftermath of the World Cup in Spain, how Lauren James will recover and how she coaches modern players.
RECOMMENDED BOOKING
There will be a live event to mark the release of the Football Weekly Book on September 26th. More details and tickets are here. And then the capsule will go on tour again in November: several dates are now sold out, but there are still a few tickets available still available elsewhere.
"After watching highlights of Nottingham Forest's win at Chelsea, I was struck by the simple tactical genius that led to the unexpected three points. It was Steve Cooper's choice of a 3-5-1-1 formation that looks a bit like a… tree! There the forest returns to its roots. Bravo!" – Peter Oh.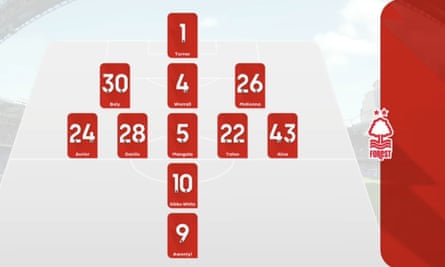 "VAR and to a lesser extent goal-line technology were extremely entertaining (FD letters passim). Pundits, fans, managers and many players have been screaming about this stuff for years. They all have it now and what a surprise, not much has changed. They still have something to complain about and events from about 20 games ago can be blamed for their team's relegation. In the meantime, those of us watching Football 1.0 with three subs and no technology can still live in the good old days and complain about things in real time without having to watch it again in UHD later. Roots Hall doesn't even have a working clock or scoreboard at the moment – ​​probably because we can't afford it – so we Southend fans can't even complain about the extra time" – Rick Webster.
"Some early contenders for whataboutery and pedantry of the season from Magnus Nell and Joe Pearson in yesterday's mailbag" – Robert Graham.
Send your letters to [email protected]. Today's winner of our Unpaid Letter of the Day is…Rick Webster.