Saturday evening was a big night for football hipsters. The final of the Copa Libertadores was tough: the Brazilian Fluminense defeated Boca 2-1 in extra time in the Maracanã. Winning goalscorer John Kennedy, believed to have been named after the late president rather than the much-admired Celtic assistant coach, was sent off for his celebrations. After a game that had mixed violence with magic, drama with violence, this was football as it once was and should still be, as those with a craft beer subscription and Panasonic-era replica jerseys agreed Olympique de Marseille generally agree. However, Hold my Madrí said that the Premier League has put together the kind of fixture for Monday Night Football that football hacks like to prefix with 'The Battle Of'.
In our league, Tottenham v Chelsea was on a par with the Battle of the Buffet between Ferguson and Wenger in 2004, where most of the real action, tables flipped and sloppy Giuseppes thrown, took place off camera. It was probably the same as its predecessor, 2016's Battle of the Bridge, when Mauricio Pochettino – with the full "Hold me back" – played Harald Hardrada to Guus Hiddink's Harold Godwinson. Maybe Cristian Romero had been watching the Libertadores final. Destiny Udogie too, because when they started making ruthless tackles, Tottenham's previously serene winning streak and long unbeaten streak came to an absurd end. What happened to Ange Postecoglou's laid-back entertainers? A pleasant Flamin' session at the watering hole had become Mad Max: Fury Road, with key defenders throwing out vicious reducers and even jolly old Ange slipping into the snarling role of Bennett from Commando. There were also losses, including a hamstring injury to Micky van de Ven and an ankle injury to James Maddison.
Whisper it and don't tell Mikel Arteta, but the nasty old VAR played a full part in the drama and ruled it out five Goals. The situation became very heated and only the UN peace ambassador Emerson Royal stopped Levi Colwill from angering himself. It understandably took time for the people at Stockley Park videodrome to make the right decisions for the most part. Even the ones that were controversial added to the fun. Romero, Udogie and also Reece James were all sent off for offenses that probably should have resulted in an earlier exit from the wash and go than the Tottenham pair eventually had to accept. Hey, Howard Webb likes to laugh too, okay?
The fact that Spurs were down to nine players meant the pressure soaked Chelsea's shirts and there was a fear of not actually winning. They repeatedly fell victim to an offside trap, triggered by Eric Dier stepping back into his own half. Finally, Nicolas Jackson's enthusiasm was rewarded with a hat-trick, achieved with such uncertainty that Darwin Núñez looked like Gerd Müller. Risk and reward are Big Ange's big deal. "If we're down to five men, we'll try," he roared, tantalizingly hinting that his team could get even more chaotic. There was blessed relief for Chelsea, while the idea of ​​a "moral victory" for Spurs was floated immediately after the game, their nine men roared from the field. Can a moral victory involve such reckless indiscipline? Or had they simply reduced the essence of Tottenham Hotspur FC to 111 wild minutes?
LIVE ON THE BIG WEBSITE
Join Scott Murray at 5:45pm GMT for updates on Borussia Dortmund 2-2 Newcastle, while John Brewin will keep you updated on the rest of the Big Cup action on his watch at 8pm.
QUOTE OF THE DAY
"We are deeply disappointed that the club has reportedly chosen a finalist for the position of head coach who has a history of making sexist public statements that are contrary to our ethos as a club, city and supporters group, and who also has a "a manager" – a statement from Portland Timbers fans there, who are clearly delighted to have Big Phil Neville at the helm.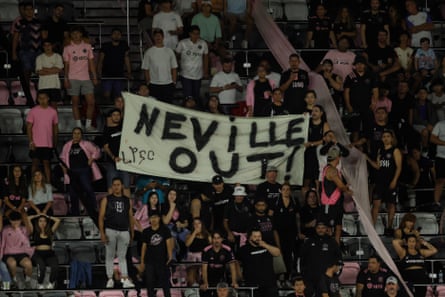 I'm guessing 1,056 others will also challenge you and explain how Glenn Hoddle and his wife were able to pose "in front of their fancy family home and back garden pool" (Yesterday's Memory Lane, full email edition). Perhaps this was an extension of his ability on the football field to occasionally give opposing players the impression that he was in two places at once" – Andrew Kluth (and no other).
Congratulations to courageous eighth division side Cray Valley (PM) who earned a draw against relatively big boys Charlton Athletic and secured an FA Cup replay. I would have watched the game but didn't know it was on free terrestrial TV. I thought it was a paper view" – John Myles.
Send your letters to [email protected]. Today's Letter of the Day winner is…John Myles, who will receive a copy of Tinseltown: Hollywood and the Beautiful Game – a Match Made in Wrexham. You can buy a copy here.