IIn a sport that constantly changes its global tournaments, there is a certain familiarity about the upcoming Cricket World Cup in India. It has the same structure as 2019: 10 teams, round-robin, four semifinalists fielded through this league structure. But there is also an important change in the regulations. In all games, not just the semi-finals and finals, there is a Super Over if the results are tied. And if there is a tie in this Super Over, an unlimited number of additional Super Overs will follow until a clear winner is determined.
The change represents a tacit admission by the International Cricket Council over the famous goal at Lord's four years ago. England defended 15 runs in the Super Over and saw New Zealand equal that tally. It was crowned champions because it reached more boundaries in the game, but much criticism followed.
"I'm not against (the change), I suppose everything is evolving," says Eoin Morgan, England's captain that day, before leaving for India. "Anything that makes the game more progressive and equal."
The follow-up question here is to ask whether this means he thinks the border census was unfair to New Zealand; whether this particular tie-breaker, designed for the rapid-fire Twenty20 format and thoughtlessly transferred to the 50-over World Cup, should have decided such a gargantuan final.
"Given the fact that in the four years (before the 2019 World Cup) we scored more runs and hit more fours and sixes than any other team, that doesn't bother me," he said. "If we had been a team that initiated it and encouraged it, maybe I would think differently."
It's a typically steely response from Morgan, who, after hanging up his bat and handing over the captaincy to Jos Buttler last year, has moved into the Sky Sports commentary box and will be part of their analyst team for the next seven weeks.
Unsurprisingly, Morgan is optimistic about England's chances. He points to additional challenges Buttler faced as his successor, but is glad these were addressed with "authenticity" rather than imitating his own style. He is also jealous of the depth of the team.
"The 2019 World Cup was always the goal," he says. "We played until then with no pressure to win the title while Jos had to plan for this World Cup and the T20 World Cups on both sides. Test cricket is also an absolute priority now, unlike when I was captain and that was the same.
"But on the positive side, the strength in depth is now at a completely different level. I think we could really field two teams that could fight for the semi-final spots; and one who could keep winning.
"Outside of the possible playing XI, the replacement batters and bowlers are all stronger in terms of experience and skill than guys who didn't play a big role in 2019 – that's nothing against them, we're just further and better."
Despite all this confidence, Morgan sees someone else as the favorite. India, like many others, is his team to beat. The semi-final defeat to New Zealand in Manchester four years ago still haunts the country, but now, as hosts and recent Asian Cup winners, they are certainly looking good.
"Even before the Asia Cup, you would say they were the favorites," Morgan says of the No. 1-ranked team. "And even before Jasprit Bumrah came back from injury. They have gathered good momentum in the run-up to the tournament; The setup went more smoothly than with the other top teams. Their biggest challenge is to select their best XI, whether they have more spinners or all-rounders. Secondly, it's about how they deal with the pressure of being favorites at home.
"But this is something I think they can do. They did it in 2011 and a player like Virat Kolhi went through that as a younger man. They will have spoken at length about what could happen if they lose a few games in the group stage. So yes, they are very strong."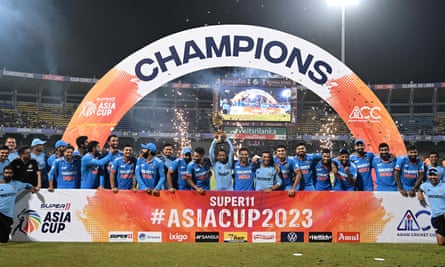 Looking a little closer, the question arises about the future of the World Cup at a time when Twenty20 cricket has taken over the landscape and bilateral ODIs have lost their luster. "Between now and 2027, it wouldn't bother me if you didn't play much ODI cricket until the actual World Cup year," says Morgan. "The only advantage 50-a-side cricket has is the 10-team World Cup – it's great cricket spectatorship but also a huge source of revenue for the ICC and world sport." But I think that (the bilateral landscape ) could look different by 2027, and that could be a good thing."
The showpiece tournament will certainly live on for the foreseeable future: the ICC's $3 billion broadcast deal for India includes another World Cup in southern Africa in 2027 before it expires, and other deals – such as Sky's eight-year, £260 million deal for the UK – are ongoing By 2031, India will host again along with Bangladesh. Who's going to say that after that?
Would Morgan shed a tear if Twenty20 finally took over completely, ending the format that secured his legacy four years ago? "No, not at all," comes the answer. "I am far from protecting everything just because it has existed for a long time or has a special place in your heart. You have to keep up with each generation and anticipate what's best for the game."