Key events
And with that, I'll sign off.
Thanks for sticking with me. Hope the rest of your Friday treats you well and you enjoy the rest of the tennis.
Here's the man of the moment, Tiafoe:
I love this court. It was all perspective. I played a loose game early in the first. But I found my rhythm and I used that as I found confidence. I got it done and it feels good to be in the fourth round.

(Mannarino) is so annoying to play. You look at him and you think, 'What is he doing'. He defends really well and is super tough. He has a great lefty serve. He's so annoying to play.

It's all about this tournament. I've always watched this tournament and wanted to play it. (The crowd) is crazy, they make it a lot of fun to play.
Frances Tiafoe beats Adrian Mannarino 4-6, 6-2, 6-3, 7-6 (6)
Finally, after almost three hours, Tiafoe reaches the fourth round for the fourth year in a row in New York. It was an absorbing match that had plenty of thrilling rallies. Most went the way of the home town favourite but he had to work for it. Mannarino refused to lie down. Brilliant tennis. Loved that match.
7-6. Tiafoe gets lucky in that Minnarino's lob wasn't well directed so the American's erratic charge to the net isn't punished. He is able to volley a winner. Second match point.
6-6. Oh, Tiafoe had him. He just couldn't lift the stooping backhand high enough and over the net. If he had he'd be on to the next round as the whole court was open after Minnarino had chased down a wide ball near the net.
6-5. Tiafoe misses his first serve and Minnarino comes forward to meet his second. But Tiafoe survives the return and Minnarino can't clear the net on his forehand. Match point for the American.
5-5. Tiafoe is long again. Neither man can grab hold of this tiebreak.
5-4. A huge point for Tiafoe. He waits before charging to the net and delicately volleys down the line.
4-4. Tiafoe goes long on a backhand. Mannarino to serve and possibly take this to a fifth set.
4-3. Mannarino goes to the net early. He's been picked off doing so earlier in the set but this time he gets his racket to the ball and puts the volley away.
4-2. Tiafoe delivers his 15th ace of the match. What a time to do it.
3-2 to Tiafoe. Mannarino snatches at his forehand and sends it long; He then bounces – not throws or smashes – his racket on the ground.
2-2. Mannarino leaves a backhand short.
2-1 to Mannarino thanks to a thumping forehand winner. Tiafoe was slow on that second serve which allowed the Frenchman to step into that shot.
We're heading to a tiebreak. Tiafoe belts a winner on the backhand. 6-6.
Oh, what's happened there? I'll try tell you. Tiafoe hit it straight to Mannarino who was on the run but over ran it. So he played around the ball like he was a cricket batter bamboozled by an inswinger.
My goodness. Mannarino has played the shot of the match. He wound up and exploded into a backhand cross-court winner to take a 0-15 lead. Tiafoe wins the next two points though. Are we heading to a tiebreaker? Looks like it.
Mannarino holds again. He's been really good on his own serve in this fourth set. He's been broken once, but his stamina is commendable. I thought he was done after that third set loss. He leads this fourth set 6-5. Tiafoe will hope to take it to a tiebreak.
Oh wow, that was close. Tiafoe went down the line and claimed it went it with the forehand winner. And yup, no complaints from anyone so it's 5-5 in the fourth.
Tiafoe looking to end it as he leads 2-1. Mannarino trying to take it to the fifth set.
Tiafoe goes long and Mannarino holds. 5-4 in the fourth.
With a flourish and a charge, Tiafoe makes it 4-4 in the fourth set. Brilliant from the American. Just when it looked like he was fading he dug deep and unleashed some screaming winners. That last one, a sweetly struck forehand, was the pick of the bunch.
Tiafoe breaks. This is turning into a belter of a match. The American takes his seat between games and has a wry smile on his face. Or is that a grimmace? He's battled back to make it 3-4.
This ain't over.
Mannarino storms to 4-2 win. What a game from the Frenchman. Two sublime shots saw him takea 30-0 lead and he capped it off with a driving, screaming forehand winner down the line. That was to break Tiafoe for the second service game in a row and that's four consecutive game wins on the bounce.
Caroline Wozniacki beats Jennifer Brady 4-6, 6-3, 6-1
Momentum is a strange thing in elite sport and yet its powers are obvious. Wozniacki looked out of sorts in the opening set but slowly started to turn the tide. By the end, Brady was a spent force and made a slew of unforced errors as the veteran champion turned the screw. I'm not sure many players will fancy facing the great Dane.
Tiafoe is looking to become the first American man since Andre Agassi to reach the fourth round in New York for the fourth consecutive year.
At first glance, that looks like a pretty niche stat but it shows that there's been a lack of top male US tennis players for more than a generation.
But Tiafoe is not there yet. Mannarino breaking and then holding his serve to take a 3-2 lead means that Tiafoe has lost consecutive games for the first time since the opening set.
Wozniacki holds her serve to move 5-0 up in the third. Brady is spent. She looks dead on her feet. Not long to go now.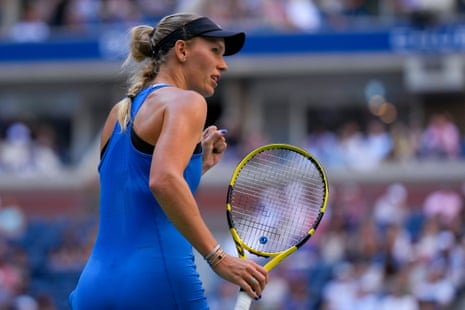 Mannarino breaks. He's back in the contest as Tiafoe finds the net with a forehand. This fourth set is tied at 2-2.
Mannarino is refusing to go away. He has another break point after a marathon rally goes his way. Tiafoe starting to show frustration at the length of this game.
Wozniacki has broken Bradykinin yet again. The two-time champion has a 4-0 lead in the deciding set. She has found an extra gear and has her foot flat on the gas.
Finally, a long rally goes Mannarino's way. He now has a break point after Tiafoe's forehand trickles into the net. We haven't seen those mistakes since the opening set.
But we're back to deuce thanks to a smashed winner at the net from Tiafoe.
Tiafoe breaks. Another extended rally goes his way. Both men were trading blows until Mannarino decided to advance and follow a cross-court backhand. But Tiafoe was wise to him and put it away with a backhand winner.
Tiafoe now with a great chance to break. 15-40. He hasn't been so clinical taking break points. He's 3/11 in the match so far.
He doesn't take that on either. But he has another chance.
Tiafoe holds his serve after Mannarino did likewise. The fourth set is locked at 1-1. Tifoe is the more likely of the two to break. The first point on Mannarino's serve goes the way of the American. Of all the rallies that have gone on longer than nine points, Tiafoe has taken 17 of them compared to Mannarino's nine.
Wozniacki in the driver's seat now. She's taken the first two games in the deciding set and is 30-0 up on her own serve in the third game. Remarkable. Who'd bet against her now?
Tiafoe hammers a winner to take the third set. That was dominant from the America as he closes out a 6-3 win. He's got that look in his eye. He's playing with great confidence. He had 15 unforced errors in the first set. The second two have had eight combined.
Stunning net play from Tiafoe. But it's everything that came before that helped set up that point. A sweeping stroke to the far corner was followed by another one to the opposite edge of the court. That gave him the time to advance to the net and drop a winner right under his nose. Expertly done. One point away from the third set.
Wozniacki storms to a 6-3 win in the second set. Just when you thought she was buried, she turned the tide, broke Brady, broke her again and claimed the second set.
Mannarino closes out that service game. He's much more comfortable when he doesn't have to chase the ball around. That was clinical. But he needs to break Tiafoe now. 3-5 in the third set.
Tiafoe 5-2 up. Some lovely serves and efficient stroke play from the base.
Mannarino is holding his groin. He'd also previously pointed to his knee. He's definitely not moving as freely as he was at the start of the match. He is 35. Those joints and ligaments aren't what they used to be.
Mannarino holds his serve to make it 2-4 in the third. He got a little lucky, finding the net cord again with a drop shot that went his way. But he's refusing to lie down in the face of increased tenacity and precision from Tiafoe.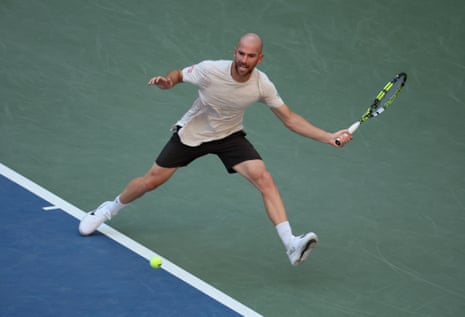 One American man won't progress beyond the next round. But one will as big-serving Ben Shelton takes on Tommy Paul in the last 16.
Tiafoe with two break points. Mannarino's backhand scuttles into the net. Big chance for the American.
Wozniacki breaks again and is now serving for a 5-3 lead. Quite the turnaround from the former champion. She lost the first set 4-6 but is now in the groove.
I'm such a sucker for a double-handed backhand. Maybe because I find it impossible to play (not that I find any other tennis shot easy). Whatever the reason, I find it to be a beautiful stroke and Tiafoe plays it as well as anyone I've seen. He climbs into it, unleashing a howitzer with snap of his shoulders and the full extension of his meaty arms.
Another drilled cross-court winner and some neat play from the base sees him take a 4-1 lead in the third.
Mannarino holds an important game to keep the third set alive. He's got an uphill battle to come, as he trails 1-3, but had he lost that one he'd be in real trouble.
He must break now.
Over on Court 17, Zhang Zhizhen of China is taking on Rinky Hikikata from Australia.
The Aussie claimed the first game on his own service and has now taken the second to deuce.
I said earlier that Ostapenko won't fancy meeting the top seed Swiatek in the next round. Well, maybe she won't mind at all.
Swiatek has yet to beat Ostapenko in three meetings and their last match against each other in a major was in Australia earlier this year. The Latvian came out on top so history, if not world rankings, are on her side.
Ben Shelton beats Aslan Karatsev 6-4, 3-6, 6-2, 6-0
The 20-year-old with the 146 mph serve (yes, really) makes it another good result for America on home territory.
He was more or less in control from start to finish and kept hammering those big services.
He was helped by Karatsev's 15 double faults but when you win 10 games in a row and outscore your opponent 107-84 in terms of points won, you're a deserving victor.
Mannarino misses a sitter with an overhead smash. He went for the absolute edge of the line and missed. He's 15-30 down on his own serve.
Make that 15-40 after finding the net. Tiafoe with all the momentum now. Can he break and take an early advantage in this third set?
Mannarino gets a little help from the net. His drop shot – in response to Tiafoe's drop shot – was sneaking over until it dipped and clipped the net before bouncing over for a point.
I'm not sure I saw Mannarino apologise and frankly, I hope he didn't. I've always been annoyed by the faux apology from tennis players when they win a point off the net. Do footballers apologise if they score off the post? Do cricketers apologise if they get a wicket off an inside edge? No they don't. Besides, no tennis player is every really sorry for winning a point.
OK, rant over. Tiafoe has just exploded across the court and climbed into a two-handed backhand winner. Another outstanding and thumping shot.
Have you noticed the dazzling colours and patterns on court?
Hannah Jane Parkinson has and put together this great piece on the subject:
Wozniacki breaks back. The veteran won't go away so easily and she rouses to take a game off of Brady's serve. 1-2 down in the second.
Mannarino is losing his cool demeanour. That's another shot that thwacks into the net and he admonishes himself. A point later he fails to hold his serve and that means Tiafoe takes the second set 6-2. We've got a match on here at the Louis Armstrong Stadium.
Tiafoe a game away from the set. He's got the crowd behind and momentum as well. 5-2 up thanks to a lovely drop shot from the backhand into the open court. Beautiful. He's purring now.
Brady breaks Wozniacki. The wheels are coming off for the two-time winner of this tournament.
Tiafoe breaks! And the crowd rises with him. He's 4-2 up in the second. Big service game coming up.
Jelena Ostapenko beats Bernarda Pera 4-6, 6-3, 6-3
The Latvian's reward for coming back from a set down and advance to the next round is a date with the top ranked Swiatek. She'll need to be a lot better than she was today. Swiatek is beatable if you have a strong first serve and Ostapenko will have to improve on that. She only landed 53% of her first serves and won points on 76% of them.