Key events
61 mins. Rees-Zammit's first action at fullback is to field a kick then boom it back so hard it runs dead. This will give Argentina a scrum back where his kicked it, midway in the Wales half.
59 mins. Liam Williams is limping off to be replaced by Rio Dyer, which will move Rees Zammit to fullback.
Wales have a scrum on their own 10 metre line to negotiate.
TRY! Wales 17 – 12 Argentina (Tomos Williams)
56 mins. A lineout for Wales on the Pumas 22 is won uncontested by Wainwright to set up their first attack platform of the half. The ball goes through phases but it's quite lateral and disjointed before Williams throws a dummy and flies through a gap near the ruck to race in under the posts.
Biggar converts.
The poor Argentina defence shows itself once more. Poor organisation and no guards at the ruck making that very easy.
53 mins. A solid scrum from Wales has Wainwright flinging the ball right to Biggar, but his fired pass to Tompkins bounces forward off the centre's hands. Argentina will have a scrum midway in the Wales half to put pressure on a clearly rattled opposition.
51 mins. Wales's game has fallen to pieces and they've retreated to a kicking game which is both poorly executed and off very slow possession. Los Pumas look more fired up now.
49 mins. Tomos Williams has replaced Gareth Davies for Wales.
PENALTY! Wales 10 – 12 Argentina (Emiliano Boffelli)
48 mins. A strong carry from Dewi Lake in midfield is stopped and Isa clamps on to win a penalty. It's just inside the Pumas half but that won't stop Boffelli having a go with is left-foot hammer and he absolutely mullers it through the posts from 60 metres.
Argentina are in front!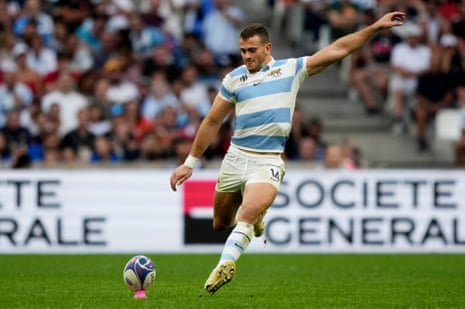 45 mins. The first possession of the half for Wales has Biggar launching a kick for his team to chase, but it's too deep and Mallia can easily mark it in his 22.
PENALTY! Wales 10 – 9 Argentina (Emiliano Boffelli)
43 mins. A busy start from Argentina has them into the Wales half before Santi Carreras angles a kick to Rees-Zammit's corner and the ball is off the winger's knee and into touch.
From the lineout Los Pumas are up to the line under the posts on a penalty advantage but the Welsh defence is repelling all attempts to breach the line.
Boffelli has an easy one from in front of the posts as the recovery continues.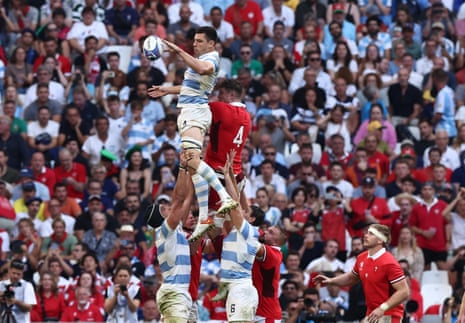 We're back into action.
In a surprise to no-one given the lineout travails, Wales have replaced Ryan Elias with Dewi Lake at hooker.
Ian Williams, a man who knows his onions, has emailed about the failing jersey numbers for Wales.
"1997 Lions tour of South Africa, the same thing happened. Not enough heat and pressure when applying them. Adidas asked the company I was working for to assist so we stayed up until close to midnight on the eve of the Western Province game doing five or six sets of 20+ shirts. We werer then back in at 6am the next morning to do a couple more shirts which were at the factory, having some stitching done!"
That is outstanding stuff, Ian
Michael Cheika will be delighted at only being four down because for 35 minutes of that half they were second best by a long way. However, Wales's poor lineout squandered some good field position and Josh Adams decided to play Top Trumps of stupidity late on.
Gatland will be telling his side to stay calm, tighten up the set piece and let the result take care of itself.
I imagine Cheika will be screaming something constructive, such is his way.
HALF TIME! Wales 10 – 6 Argentina
PEEP! That's the end of the half.
PENALTY! Wales 10 – 6 Argentina (Emiliano Boffelli)
4o+4 mins. On the advantage, Josh Adams chucks a shoulder into Cubelli's chest off the ball. Lavanini takes exception to this and sprints over to chuck Aaron Wainwright on the floor that leads to some pushing and shoving.
Ref Dickson decides Adams started it with that unnecessary off the ball action. Penalty Argentina that Boffelli bangs over.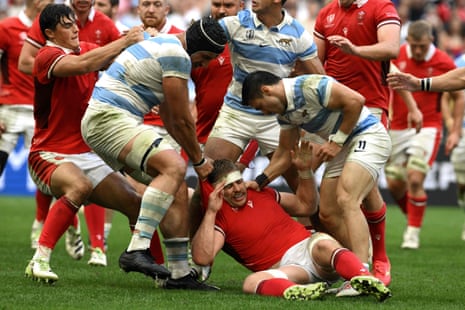 40 mins. Santi Carreras has rapid sprint through the Wales line is very close to rounding Liam Williams but the fullback snags him with a fingertip. This give the red defence time to realign but Los Pumas keep coming and Wales are offside again.
PENALTY! Wales 10 – 3 Argentina (Emiliano Boffelli)
38 mins. Argentina have done nothing for the best part of half an hour, but a Gareth Thomas scrum penalty gives them a lineout deep in the Wales 22. Montoya has no problem finding his jumper and the phases are working the ball from left to right before the defence are a little keen and drift offside.
Boffelli decides it's time to put his side on the scoreboard before half time.
34 mins. One thing that is going poorly for Wales is the lineout and they've just lost their third, this time on the Pumas 22 to squander a good position.
31 mins. A switch play from the scrum takes Wales up the blind side with Rees Zammit off his wing. He's scragged and the ball is fumbled by Rowlands on the next phase.
Lots of handling errors, which makes me think it must be greasy in the sweaty autumn early evening
"I'm afraid James Stafford is wrong about referee replacements; it's now 5 times. The ref was replaced by a Welsh player in the Wales Fiji pool match" says Jon Sailing.
HONK!
MISSED PENALTY! Wales 10 – 0 Argentina (Dan Biggar)
28 mins. Jac Morgan clamps on the ball after Reffell drop Cinti in midfield to win a penalty. A glorious back row one-two.
It's a long way out and Biggar snatches at it to pull it left.
24 mins. Story so far. Wales are dominating pretty much every part of the match apart from the ability to keep their numbers stuck to their shirts.
The latest has George North busting a two man tackle before failing to find Adams who would've had a clear run in. However it was on an advantage after Lavanini hammered Reffell off the ball.
It's very early in the game for Lavanini to start Lavanini-ing.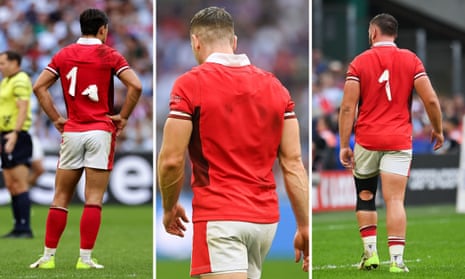 PENALTY! Wales 10 – 0 Argentian (Dan Biggar)
20 mins. More decent phases through hands for Wales just inside the Pumas half works the defence so hard that Gallo drifts offside. Biggar wastes no time in extending the lead.
"What's going on with the shirt numbers for Wales?" asks Jim Stock, "Half of them have fallen off already. Intentional confusion for the (new) referee?"
I dunno Jim, but you are right that at least four of them are falling off and along with the ref sub, it's another thing we can add to the things in this game we've not seen much of before
16 mins. Liam Williams brings the ball out with a good carry from the kick off, which starts some phases of possession for Wales just in their own half. Argentina are not putting a huge amount of pressure on the Welsh attack and as a result they are making decent metres and getting through some gaps.
The frailty Los Pumas showed to runners vs Japan appears to remain.
Jaco Peyper has popped his calf and can't carry on, meaning Karl Dickson is moving from the line to ref the rest of the match.
TRY! Wales 7 – 0 Argentina (Dan Biggar)
14 mins. From a scrum there's a decent pattern from Wales that is stopped by the Pumas defence. The next phase has North cutting a line inside at pace, finding an offload to Gareth Davies who draws Boffelli and pops to Biggar to score under the posts.
He gets up and converts his own try.
What was that I said about neither team getting much going!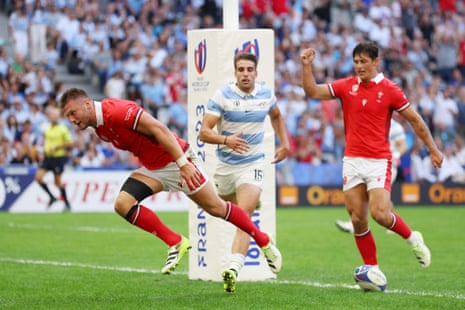 13 mins. Mallia drifts sideway and throws a languid pass to Boffelli that drops late in flight for he winger to fumble forward.
Neither team getting much going so far, as they look to feel their way into the match.
10 mins. The kicking game from Wales is not working well as the Argentina are covering well and countering. The latest of these counters is gathered by Jac Morgan who puts in a beauty of a step to move into space before his pop pass to Davies is spilled by the scrum-half with open pasture in front of him around halfway.
8 mins. Another Wales lineout on the left is worked very quickly via an intricate pattern to Rees-Zammit who has another chip of the top to run after. The result is the same, as Boffelli covers and marks the ball.
Clear plan from Gatland to work this option though, all it needs is the right bounce or Boffelli to forget what his job is.
MISSED PENALTY! Wales 0 – 0 Argentina (Emiliano Boffelli)
5 mins. Argentina move into the Wales half via a Mallia carry and are moving the ball quickly either from offloads or nippy passing. They are asking questions of the red defence as they enter the 22 and some slow movement after the tackle gives the first penalty to Los Pumas.
Boffelli calls for the tee but he pulls it across the face of the posts.
2 mins. Big chase from Josh Adams rattles Boffelli after he takes the kick-off before Santi Carreras clears to touch. From the lineout Wales are busy to move the ball left to right for Rees-Zammit to have a first go at a chip and chase, but it's covered by Boffelli once more.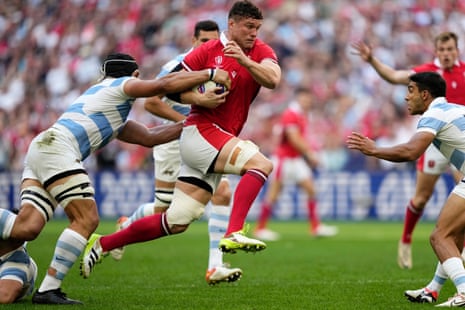 The ball is airborne from the boot of Dan Biggar and the quarter final is underway.
The teams emerge from the tunnel, each person in turn filing past the Webb Ellis Trophy as they take in the noise of the crowd and some strange pulsing music. They are steely-eyed as the anthems beckon.
Officials for this match, for those interested
Referee: Jaco Peyper (South Africa)
Assistant Referees: Karl Dickson (England), Andrea Piardi (Italy)
TMO: Marius Jonker (South Africa)
Pumas legend, Agustin Pichot, is being interviewed by Topsy Ojo and he very much sounds that while he obviously wants Argentina to win he doesn't really expect it.
Pre-match reading to soothe the nerves
Rob Kitson gives his views on the match
and the historic links between Wales and Argentina are explored in Patagonia.
How is it feeling out there? Let me know on the email or on that website run by the car bloke.
Wales must cope without the presence of Taulupe Faletau, one of their few established world class talents. His absence moves Aaron Wainwright to No.8, captain Jac Morgan to blindside and brings Leicester's Tommy Reffell into the 7 shirt. On the bench, Christ Tshiunza is back-row cover and the loss of Gareth Anscombe means Sam Costelow is the backup 10.
Argentina have a back row loss of their own, with Pablo Matera unavailable due to injury. Facundo Isa starts. Cheika has sprung a surprise at scrum-half as veteran Tomas Cubelli is recalled to the starting line-up, with regular starter Gonzalo Bertranou booted out of the matchday squad altogether.
WALES
Liam Williams; Louis Rees-Zammit, George North, Nick Tompkins, Josh Adams; Dan Biggar, Gareth Davies; Gareth Thomas, Ryan Elias, Tomas Francis; Will Rowlands, Adam Beard; Jac Morgan (captain), Tommy Reffell, Aaron Wainwright
Replacements: Dewi Lake, Corey Domachowski, Dillon Lewis, Dafydd Jenkins, Christ Tshiunza, Tomos Williams, Sam Costelow, Rio Dyer
ARGENTINA
Juan Cruz Mallía; Emiliano Boffelli, Lucio Cinti, Santiago Chocobares, Mateo Carreras; Santiago Carreras, Tomas Cubelli; Thomas Gallo, Julián Montoya (captain), Francisco Gómez Kodela; Guido Petti Pagadizabal, Tomas Lavanini; Juan Martin González, Marcos Kremer, Facundo Isa
Replacements: Agustín Creevy, Joel Sclavi, Eduardo Bello, Matias Alemanno, Rodrigo Bruni, Lautaro Bazán Vélez, Nicolás Sánchez, Matías Moroni
And just like that, the business end of the Rugby World Cup is here, literally kicking off with this match in Marseille.
2022 is another country for Wales. Life under the Wayne Pivac regime was a strange hotchpotch, never more emphasised than the first ever away win in South Africa being closely followed by a loss at home to Georgia. Each match had the suspicion of watching a drunk man with a kebab inevitably pitching onto the concrete just fifty metres shy of his house. The loss to the Lelos in Cardiff was enough to send one Kiwi on his way, while in the distance another returned; slowly ambling into focus like Omar Sharif in Lawrence of Arabia, but in a beige dad-suit and crew cut.
Warren Gatland was back, and there was a hint in the World Cup warm-up matches that the time the squad spent in his physically torturous summer camp was translating into a plan. A plan to be rid of the disquiet of Pivac's time, instil some confidence and construct a gameplan fit for the task of getting out of Pool C: WarrenBall 5.0.
The plan has worked and then some. Cymru have tackled, kicked and competently set-pieced their way to one the highest point totals in the pools, finishing top and now facing Argentina in a Quarter Final.
Los Pumas are the anti-Wales in this World Cup. Michael Cheika's side were a logical shout to top Pool D; confident coming in after an historic twelve months or so featuring victories over New Zealand, England and Australia while narrowly missing out on a Springbok scalp. Then the boot of George Ford and a tenacious England defensive effort rendered the whole team witless in a hideously lumbering performance in round one. Slowly, they have built from the rubble, getting better each week and culminating in an entertaining victory over Japan to seal their appearance in this fixture. At core, however, they still appear fragile in defence, something that cannot be said about Wales.
The previous three tournaments have seen one of these sides lose a semi final, in a few hours we'll know who gets another chance to go one better.