Key events
Half-time entertainment:
HALF-TIME: Aston Villa 1-0 West Ham
West Ham started alright, but after 15 minutes or so Villa took over and they've controlled most of what's happened since.
45+2 min West Ham need to change something, and I wonder if Moyes might sacrifice Soucek, who's offering little in free play, to get Kudus involved.
45 min We'll have two added minutes.
44 min "Being a Scot, I'd favour John McGinn of my countrymen and perhaps also Andy Robertson if you were feeling like a lively one," offers Tony Barr, which reminds me Darren Fletcher is another Iwith whom I'd willingly exchange tales.
42 min But this is nice! Villa can't get the ball clear and west Ham win a throw down the right, sent to Ward-Prowse who, on the edge, scoops a delectable pass over the defence and Paqueta is there, vaulting into an overhead! But with the ball on his weaker right foot, he can't introduce laces to leather and a chance that looked difficult but, for a player of Paqueta's ability ought to have been taken, vanishes.
41 min We wait a while as the wall lines up, draught excluder in situ; I've not a clue how players resist temptation to just luz it a prone opponent. But Ward-Prowse manages, curling into the top of the wall, and West Ham have created almost nothing this half.
39 min West Ham have been quiet, and wehen they win a free-kick down the left, Ward-Prowse picks out Alvarez on the edge and he shoots first time, Konsa diving into a slide and blocking ball with hands. He's outside the box, just.
39 min Tangentially, why do people wear three-piece syoots to attend football matches? I may be missing something.
38 min Villa, of course, have a set-piece coach – the splendidly-named Austin MacPhee.
36 min …no he won't! He and Digne run past the ball, Kamara feeds it in, Watkins lays back … and Luiz drives wide.
35 min What I love about watching developing teams is that moment they realise yeah, we're alright at this. Villa have that now, and they win a free-kick 25 yards out, fractionally left of centre; Diaby will take…
34 min "Tim Ream strikes me as an interesting, thoughtful person," offers Richard Hirst, "as long as we don't have to drink American beer!"
I'll get pelters for saying this – justifiably so and for various reasons – but Bruno Fernandes is probably the first player of whom I'd thought yeah, if I knew you, we'd be mates. For avoidance of doubt: I don't know him and we are not mates.
32 min Villa step it up, Watkins roaming between the lines, exchanging passes with Diaby and ducking outside his man down the right of the box, shooting low and hard; Areola tips away down at the foot of his near post.
GOAL! Aston Villa 1-0 West Ham United (Douglas Luiz 30)
Six league games on the spin! As soon as Diaby drops off, West Ham are struggling, Watkins feeding Zaniolo by the corner flag and moving on, accepting a return-pass near the left corner of the box. He might have a dig himself, but instead curls the outside of his right boot around the near side of the ball, forcing a no-look pass into the stride of Luiz, on the edge, and he drills low, hard and inside the near post for yet another home goal! Areola might've saved that, but an aggravating deflection made his job a fair bit harder.
29 min Villa have looked most dangerous with Diaby on the ball and he drops off again, feeding Watkins and moving boxwards…
28 min We've not seen much of Zaniolo yet but here he is now, veering away from Ward-Prowse and streaking clear of Coufal, but his cross is cleared.
26 min I'd go for a pint with Michail Antonio, he'll be delighted to learn. Which other footballers would be decent company over a sherbet or two?
24 min I know Moyes like a reactive game, but with Alvarez, Ward-Prowse, Paqueta, Soucek and Bowen in his midfield, you can't help but wonder if there's a more effective way. The first three in particular have the brains and feet to move the ball better than most but currently they're feeding off scraps.
22 min West Ham clear the corner only for Cash and Konsa to tidy up their counter, then Villa start passing again. It's taken a while, but it feels like the pattern of this game is now set, the home side scheming and the visitors enjoying the challenge of stopping them.
20 min Kamara swaggers forward and scoops over the top, forcing Aguerd to stick the ball behind; he's pretty handy in a rearguerd and he's a corner to defending now, Diaby dinking a cross-kick to the line where Konsa wins a corner.
18 min Yeah, Villa are coming now, McGinn finding Diaby – coming onto a game – down the right; his cross is blocked behind, then the corner goes short and Bowen blocks the attempted cross.
16 min Villa are in the match now! Kamara snaps a lovely reverse-pass into the west Ham box for Digne, whose cut-back is intercepted, just, then Diaby drives into Watkins, whose first touch is luscious – it enables him to spin his man and, in front of goal, he must score! But instead, he hits the top rather than middle of the ball, dragging a shank wide of the far post. What an oversight!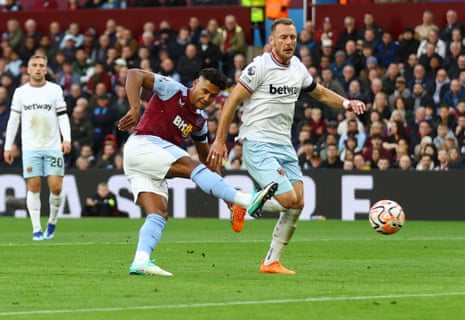 15 min In other kit news, West Ham are in baby blue shorts; I'm not sure they're much use at hiding the dirt, which is so of Villa's white ones too, but there's something more egregious about the coloured ones.
14 min West Ham are the better team here, moving the ball from right to centre and Bowen shifting it one more to create the angle for a shot … which he doesn't catch properly, the ball dribbling through to Martinez.
12 min McGinn's corner is a goodun too, picking out Konsa at the back post … but the defender reacts like he didn't really expect the ball to come to him, sidefooting wide when he might've headed goalwards or back across.
12 min Douglas Luiz has scored in his last five home games and have a look at his! He loads up on a curler from 20, connects beautifully, and Areola has to fly across his goal to shove wide!
10 min Villa leave so much space in behind, and one straight ball sets Antonio in behind Torres, as we said would happen. He checks and can't make anything of it, but West Ham are the better team now, Bowen forcing a fine turn on the edge and nipping into the box then, just as he looks poised to shoot, feet can't locate sphere and the chance evaporates.
9 min Paqueta over the top to Antonio, who runs into a defender, then up the other end Cash tries to skirt around Emerson, who does enough to see him away.
7 min Luiz's effort is poor and West Ham clear easily enough., then Ward-Prowse prompts around the edge of the Villa box, gets nowhere, and McGinn has to avert a counter. So far, it's a mess.
6 min Watkins worries Coufal and wins a throw down the left, then Paqueta piles through Kamara – he looks juiced-up here – and Villa can put a free-kick into the box.
4 min McGinn bursts through midfield but is quickly crowded out; Antonio runs at Cash and gets nowhere.
3 min Villa knock it about, West Ham sat off until the reach halfway.
1 min West Ham almost go in front on 45 seconds! Antonio pulls right, beats his man and finds Paqueta, inside the box; delicious footwork, studs rolling over ball, allows him to set Bowen, whose shot is really well saved by Martinez … and then up goes the flag.
1 min The winners today move into the top five; if that's Villa, they'll be just two points off the lead.
1 min The players kneel – all Black lives matter – and away we go.
A moment to remember Bobby Charlton and to recognise the deaths in Israel and Gaza.
I wonder how far Watkins can go in the game. I keep reading rumours that Ivan Toney will go to Arsenal in January, but if I'm Mikel Arteta I'm looking at the Villa man who, I think, gives you much more.
Here come our teams!
I mentioned lush kits earlier; here are a couple: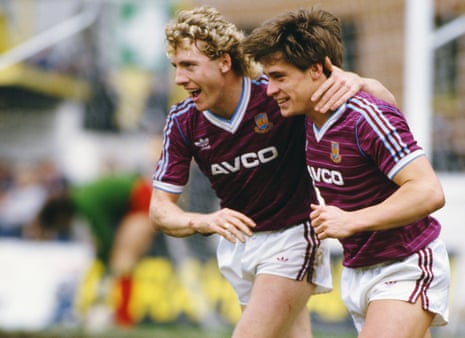 Some players aren't really players, rather symbols, concepts and icons. Bobby Charlton was the personification of all that's good about football, his name evoked by strangers around the globe to find common cause in the beautiful game. A man of honesty, integrity and dignity, he bestowed upon the game a change of pace to die for, the body-swerve of a dancer and the most gracefully violent shot we've ever seen. Godspeed, old mate.
"Love the image of the Villa squad being 'laden with quality'," writes Richard Hirst. "It must be those water-absorbing shirts they wear!"
I mean it though – I always felt like Steven Gerrard would have done a better job with a smaller squad. Instead, though, he found himself cycling between players and formation in the hope something clicked, rather than making a decision and standing by it. I remember Alex Ferguson saying that once he'd made a decision he immediately moved on, "because why should I go to my bed with a question?"
Wise words.
Also for you this afternoon: excitment in Dharamsala.
Villa, meanwhile, will look to play a narrow three in midfield, with Zaniolo targeting Digne or any space he leaves. Luiz, Kamara and McGinn v Alvarez, Ward-Prowse, Paquetá and Soucek should be a terrific midfield battle, and though I fancy Villa's front two find a way to win this, there's every chance the bigger difference is not between them and the West Ham back four but between the Villa back four and West Ham's front three.
So where is this game? My guess is West Ham look to keep things tight, to release Bowen and Antonio on the counter, and try getting Ward-Prowse into crossing positions. What they have now that's new, though, is a player – Paquetá – who can hold the ball and probe "in and around" the box. I daresay they also fancy putting Antonio up against Torres, whether back to goal or attacking the space in behind, and punishing any sorties forward made by Cash and Digne.
"Mourinho sees red for gestures," what a splendid combination of words.
I enjoyed this:
West Ham, meanwhile, are unchanged, meaning still no place for Kudus – given the gift of patience, rather than expected to perform immediately.
Back to the teams, Emery makes one change: Nicolo Zaniolo, in the news this week for assisting an investigation into alleged illegal betting activity, replaces Diego Carlos. He'll play on the right of midfield, with Ezri Konsa moving to centre-back and Matty Cash from right-win to right-back.
John McGinn's also had a haircut and he's buzzing when he turns up to greet Smith – who then describes a leader with massively improved technical ability, noting that he managed the step-up from Champo to Prem easily.
Emery, who's had a trim during the break, is very happy with Villa's best start to a league season in 25 years. But he wants his players to stay focused. Asked by Dean Smith if he's paid particular attention to his team's home record – 11 wins in a row – he says he needed the payers to get the fans behind them, and on Watkins, he describes a dedicated player desperate to improve. He doesn't think top five and probably Champions League qualification is a realistic ambition, or at least that's what he tells us.
Aston Villa (a modern throwback 4-4-2): Martinez; Cash, Konsa, Torres, Digne; Zaniolo, Kamara, Luiz, McGinn; Diaby, Watkins. Substitutes: Olsen, Carlos, Tielemans, Traore, Chambers, Lenglet, Bailey, Dendoncker, Kellyman.
West Ham United (a flexible 4-2-3-1): Areola; Coufal, Zouma, Aguerd, Emerson; Alvarez, Ward-Prowse; Bowen, Soucek, Paquetá; Antonio. Substitutes: Fabianski, Fornals, Kudus, Mavropanos, Ings, Ogbonna, Benrahma, Kehrer, Mubama
Referee: David Coote (Nottinghamshire)
There are certain games that, though they're unlikely to affect much at either end of the table, are quintessentially Premier League: famous, historic sides meeting for a good, honest, old-fashioned, traditional, old skool, English-style, tear-up – and this is one. Sort of.
Let's start with the kits – not currently all that, but part of a long line of claret-and-blue beauties that are among the greatest ever committed to polyester – and follow with the ground. Villa Park remains one of the world's best with the Holte is up there alongside its greatest end, and though there are better times to play a football match than 4.30 on a Sunday afternoon, we can be certain that B6 will be absolutely jumping.
That's because Unai Emery has got Villa going. Even before he arrived, the squad was laden with quality, but his ability to organise and energise is what's made sense of it all, finessing a coherent, combative outfit that plays with the lights on. And in the classic English tradition, they're set up in a 4-4-2 too, the Ollie Watkins/Moussa Diaby strike partnership a very modern take on the classic big man/little man model. But it's Emery's influence that underpins everything, his Spanish sensibility underpinned by universal footballing principles of hard work and fast running to create a formidable outfit.
Similar, though, is so of West Ham, who harnessed the buzz of their Conference-League win by – eventually – adding variety and class to their squad. As such they now have midfielders and attackers able to aggravate anyone, with spares ready to replace them if necessary – and it surely won't be long before Mohammed Kudus, whose late equaliser saved them against Newcastle, is handed a start. In the meantime, though, and inspired by David Moyes – ! – Jarrod Bowen, Lucas Paquetá, James Ward-Prowse, Edson Alvarez and Michail Antonio are more than making do.
All of which means we're set up for a terrific go-around – stick with me to see what shakes out.
Kick-off: 4.30pm BST