Key events
43rd over: India 243-5 (Kohli 77, Jadeja 29) It's been a noble effort from New Zealand, particularly after losing the toss, but India are strolling to victory now. Kohli drives Santner for a single to bring up a low-risk, run-a-ball fifty partnership.
Santner ends a typically crafty spell with figures of 10-0-37-1.
42nd over: India 239-5 (Kohli 75, Jadeja 27) Rachin Ravindra returns, to bowl to Ravindra Jadeja. He charges the second ball and launches it over midwicket for six. Chapman ran round the boundary and then slipped over. That was crucial because he had Henry in support and might have been able to pull off a relay catch.
41st over: India 230-5 (Kohli 74, Jadeja 19) Kohli scorches Santner towards extra cover, where Phillips make another magnificent diving stop. New Zealand are leaving it all out there.
Five from Santner's over, all from low-risk shots. This has been a very smart partnership, all substance and to hell with style until the finish line is in sight.
40th over: India 225-5 (Kohli 71, Jadeja 17) Rohit's flying start allowed Kohli to play with minimal risk, yet he's still scoring at close to a run a ball.
Matt Henry, who has three overs left, returns to the attack. New Zealand have bowled well and fielded brilliantly. There's just one small problem: Kohli barely looks like playing a false stroke, never mind getting out.
A good over from Henry is milked for three singles, which brings the requirement down to 49 from 60 balls.
39th over: India 222-5 (Kohli 70, Jadeja 15) Kohli is on course for his 24th century in a successful ODI runchase. That's more than the whole of Bangladesh. South Africa have only scored 43 in their entire history. It's an astounding record.
38th over: India 217-5 (Kohli 68, Jadeja 12) Jadeja drives Ferguson into the ground and back over his head for a couple; then Kohli drags a perfectly placed pull round the corner for four. India need 61 from 72 balls. While Kohli is there, all is calm.
"Another correction needed," says John Starbuck. "A wicketkeeker (33rd over) sounds like something a drunken Scot would invent, and rather seamy at that."
37th over: India 208-5 (Kohli 63, Jadeja 9) Blimey, this is a gamble from New Zealand. With the left-handed Jadeja at the crease, the occasional offspinner Glenn Phillips comes into the attack. His first ball is too short and yanked through midwicket for four by Kohli. This Kohli innings has been an absolute masterclass in risk management.
The rest of the over is okay for New Zealand, with three singles from the last five balls. But they need Kohli very soon.
"This may be circumstantial, but I can't help but feel that the light show occured at the worst possible time for India," writes Kishalay Banerjee. "There was a good partnership going and the break in concentration may well have contributed to the wickets that have just fallen."
The light show is the new drinks break.
36th over: India 201-5 (Kohli 57, Jadeja 8) "Great use of DRS to get rid of Rahul," says Neil Jones. "From my years of playing in the local leagues, and watching on TV, this only reinforces my view that thousands of batsmen have been given not out by 'getting the left dog down the track'."
Yep, I completely agree. Watch any YouTube highlights of Tests in the 1990s and you will see some unfathomable not-outs. DRS has given us all new glasses.
Jadeja is not out! In fact, it wasn't that close – it was missing leg stump on the angle, so New Zealand lose a review.
Jadeja played around a delivery that was angled in from round the wicket. This is seriously close…
35.5 overs: India 201-5 (Kohli 57, Jadeja 8) Ferguson replaces Boult, who has two overs remaining. New Zealand still need to find four overs from their fifth bowler, though they will probably gamble on having at least one tailender at the crease when that happens.
Jadeja, who almost rescued India in that 2019 semi-final, pulls and flicks Ferguson for successive boundaries. But now there's a New Zealand review for LBW! This is very close; my hunch is it's umpire's call and therefore not out.
35th over: India 192-5 (Kohli 56, Jadeja 0) Very good again from Santner, who bowls five dot balls in a row to Jadeja. The required rate is still no problem for India – they need 82 from 90 balls – but it's getting hairier than they would have liked.
34th over: India 191-5 (Kohli 55, Jadeja 0) India have a long tail in the absence of Shardul Thakur, so one more wicket would make New Zealand favourites. That piece of fielding from Santner that led to the run-out was so good – it would have been a brilliant stop on its own, but he had the awareness and flexibility to throw the ball back towards Boult as he was hitting the floor.
WICKET! India 191-5 (Yadav run out 2)
Now we have a game. Suryakumar Yadav has been run out, and India are five down for the first time in the tournament. He forced Boult into the covers, where Santner made a brilliant diving stop and threw the ball over his shoulder while on the ground. Yadav was already three-quarters of the way down the pitch, but Kohli had changed his mind and they ended up together at the non-striker's end. Boult collected the ball and rolled it to Latham, who did the rest.
33rd over: India 186-4 (Kohli 50, Yadav 2) Santner is now the joint top wicketkeeker in the tournament with 11, alongside Jasprit Bumrah and Dilshan Madushanka.
Suryakumar Yadav, in for the injured Hardik Pandya, is the new batter. He drives his first ball for a single to get off the mark, then Kohli works a single to reach an expert half-century from 60 balls. He is playing quite beautifully.
WICKET! India 182-4 (Rahul LBW b Santner 27)
KL Rahul has an average! Finally, after scoring 177 runs, he has been dismissed for the first time in the tournament. The ball straightened nicely and technology suggested it would have hit the top of middle stump. Mitchell Santner is quietly having an superb World Cup.
This is close. Rahul came down the track to a flighted delivery that dipped and straightened to hit the pad first and then the bat. Ball-tracking is coming up…
New Zealand review for LBW against Rahul! It was Santner's first ball back in the attack, and he's convinced it was pad first.
32nd over: India 182-3 (Kohli 48, Rahul 27) Boult returns. No point saving his four overs if New Zealand don't take a wicket or two in the next half an hour. Rahul times a push through extra cover for a couple, then calls for a change of bat. Talking of which…
A good over from Boult ends with Kohli edging past Latham for four. I think he opened the face, though he certainly didn't want it to go that fine. Time for drinks and a light show. Tonight, I am Fred Trueman.
31st over: India 174-3 (Kohli 43, Rahul 24) India have punished the ball ruthlessly tonight. After five good deliveries, Ravindra drifts onto leg stump and is swept firmly round the corner for four by Rahul. India need 100 from 114 balls. It should be a cakewalk.
30th over: India 168-3 (Kohli 42, Rahul 19) Kohli charges Henry and hammers a drive between extra cover and mid-off for four. He looks in total control of this chase, and of this tournament: his average is now in excess of 150. The only man above him is KL Rahul, who doesn't have an average because nobody can get him out.
29th over: India 160-3 (Kohli 36, Rahul 17) Ravindra tempts Kohli with a bit of flight, and instantly regrets it when Kohli opens the face to slice the ball handsomely over extra cover for six.
Rahul is beaten by a jaffa that turns sharply past the edge. Latham whips the bails off but Rahul's back foot stays grounded.
28th over: India 151-3 (Kohli 28, Rahul 16) Tom Latham continues to use his quicks in short bursts. Matt Henry, who had no luck with the new ball, replaces Lockie Ferguson.
Kohli keeps out a straight ball that keeps low, then whirls a hook for one of four singles in the over. A wicket now would make this very interesting.
27th over: India 147-3 (Kohli 26, Rahul 14) Kohli is taking few risks, particularly against the spinners, and that allows Ravindra to bowl five successive dot balls. The required rate is fine, around 5.3 per over, so it's sensible game management from Kohli.
26th over: India 146-3 (Kohli 26, Rahul 13) A vicious lifter from Ferguson hits Rahul on the glove, though he is able to drop the ball safely at his feet. Rahul takes a risky single next ball – but Phillips, of all people, doesn't pick up cleanly on the run.
Ferguson has gone for a few, 45 from six overs, but he looks the biggest wicket-taking threat. And wickets are the only way New Zealand can win this.
25th over: India 140-3 (Kohli 24, Rahul 10) Rahul sweeps Ravindra firmly round the corner for four. Like Rohit and Kohli, he looks in peak form at the perfect time.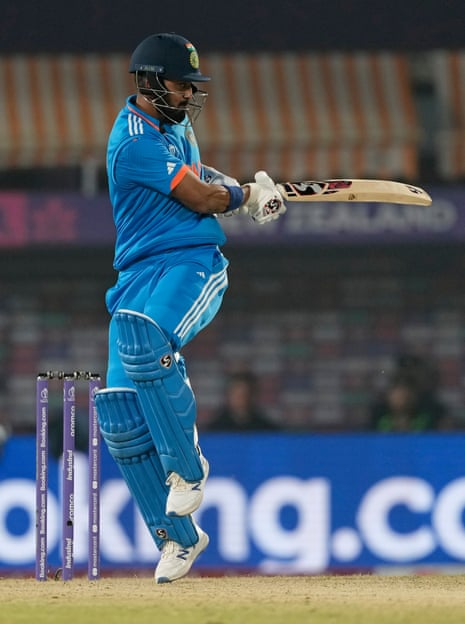 24th over: India 135-3 (Kohli 24, Rahul 5) Ferguson replaces Boult, whose last four overs are being saved for what New Zealand hope will be a tight finish. KL Rahul, who still hasn't been dismissed in this tournament, gets off the mark with a sensational back-foot square drive for four.
23rd over: India 129-3 (Kohli 23, Rahul 0) A stroke of fortune for Kohli, who bottom-edges Ravindra just past the stumps. The pressure is building, with only one run from that over as well. India have scored 11 in the last five overs.
22nd over: India 128-3 (Kohli 22, Rahul 0) Excellent stuff from Boult, whose figures in this second spell are 2-0-3-1. Another quick wicket would put New Zealand on top.
WICKET! India 128-3 (Iyer c Conway b Boult 33)
The wicket New Zealand desperately needed. Shreyas Iyer swats a short ball from Boult towards deep square leg, where Devon Conway runs in and swoops forward to take a terrific low catch.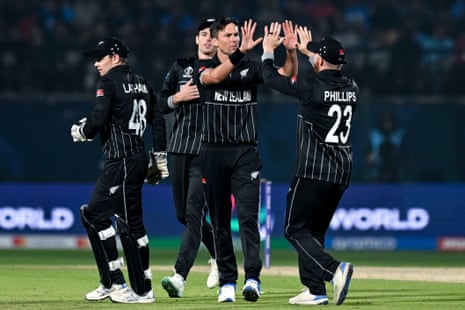 21st over: India 127-2 (Kohli 21, Iyer 33) The left-arm spinner Rachin Ravindra replaces Santner. After three dot balls, Iyer punishes a bit of width with a back cut for four. A single brings up the fifty partnership at more than a run a ball. India are cruising, again. They need 147 from 29 overs.
20th over: India 121-2 (Kohli 20, Iyer 28) Trent Boult replaces Lockie Ferguson, who took two wickets but went for 33 from four overs. It's a good over, just two from it.
19th over: India 119-2 (Kohli 19, Iyer 27) Santner has bowled well and has nice figures (6-0-23-0), but it's the second nought that really matters.
"When I used to frequent the County Ground in Taunton in the late 70s, the venue now known as Cyderabad, fog would often cause the crowd to lose sight of the players," says Kim Thonger. "But for some reason but this phenomenon only affected those spectators watching from the cider tent."
Honk!
18th over: India 117-2 (Kohli 18, Iyer 26) Kohli pings Ferguson past extra cover for four, another brilliant stroke, and then tucks another boundary at the hip. Like Australia at the 2007 World Cup, India look miles better than everyone else. Australia won all 12 games in that competition and didn't even come close to losing. Something similar may happen this year – six weeks to confirm the bleedin' obvious.
17th over: India 106-2 (Kohli 9, Iyer 26) India know Santner is dangerous and are happy to sit on him while the required rate is so low. Four low-risk singles from the over.
16th over: India 102-2 (Kohli 9, Iyer 23) Shreyas Iyer forces Ferguson to deep cover for two more.
The players are back on and all is well with the world.
There's nothing new under the sun, and fog has stopped play before. In 1998, it wiped out an entire Test match.