Key events
Tanya Aldred's county report
In a manner most ill-suited to the fearless way in which they have played their cricket throughout 2023, Durham were promoted to Division One with a whimper – and without even picking up a bat. The moment came just before lunch at Hove, as Leicestershire were dismissed for 108 by Sussex, collecting not a single batting point in the process, which left them unable to catch Durham – who now need just five points from their last two games to go up as champions.
Durham strode into the season determined to play attacking cricket, and stuck to their word: winning six games and gathering maximum batting points seven times. "We're not going to Division One just to survive," said head coach Ryan Campbell. "We're going to try to win the thing (title)."
It was apt that on the day of Durham's promotion for the first time since 2016, the ECB handed out sanctions to Middlesex for financial mismanagement.
By ECB decree, Durham were relegated to Division Two in 2016 because of financial irregularities, despite finishing fourth, and were docked a further 48 points the following year.
This time, the errant club is Middlesex, reprimanded for poor governance and financial mismanagement. The club has agreed to a financial plan, to be overseen quarterly by the ECB, which requires them to bring in a year-on year-profit and limits spending. The ECB will also reduce payments to the club by £150,000 – £100,000 suspended until October 2025 – and impose points penalties equivalent to maximum points for one win in each competition, also suspended till October 2025.
On the pitch, Middlesex had a slightly brighter day, after Sam Robson's 86 inched them to a first innings 194 at Old Trafford. Lancashire started their innings brightly until Josh De Caires took the ball. At his first Championship outing at his dad's home ground, he duped Keaton Jennings lbw first ball, before bowling Phil Salt in his next over. When Jayant Yadav bowled Josh Bohannon with a ripper, Lancashire had lost three for 16 before the light closed in.
The lights of the Old Trafford pavilion are shining in the dusk, time for me to go. Back tomorrow, thanks for all your messages, good night!
DIVISION ONE
Canterbury: Kent 446 v Nottinghamshire 219-8
Old Trafford: Lancashire 132-3 v Middlesex 194
Edgbaston: Warwickshire 142-4 v Northamptonshire 250
DIVISION TWO
Sophia Gardens: Glamorgan 150-6 v Yorkshire 500
Bristol: Gloucestershire 377 v Derbyshire 261-6
Hove: Sussex 262 and 234-5 v Leicestershire 108
Further to the statement released today by the England and Wales Cricket Board (ECB), Middlesex Cricket issues the following statement to offer further clarity on the sanctions imposed upon Middlesex County Cricket Club and the Middlesex Cricket Board by the ECB as a result of historic financial mismanagement of the Club under its former administration.
When Andrew Cornish, and the Club's Chief Financial Officer, Illa Sharma, took post in the middle of 2021, the Club were in the process of investigating some serious administrative irregularities with the Club's pension scheme, which when rectified, resulted in a significant impact on the Club's financial position. This, in turn, led to an intense internal scrutiny of all other areas of the Club's financial management under its previous administration, and led to the ECB launching an investigation into the Club's wider financial governance.
At the Club's mid-season members' forum in July, Andrew Cornish, informed all present of this situation and advised that the Club were working closely with the ECB, who were investigating certain historic elements of the Club's finances.
The Club has made every effort to keep its members and fans abreast of these ongoing issues, giving regular updates whenever possible, and today's release is the outcome of a long but essential process.
The Club's Executive team, together with the Board of Directors, have been putting in place the appropriate processes and procedures to ensure robust and transparent financial governance is now in place. As a result, we can give our assurances that the Club is now being run to the highest possible standards.
Naturally, we are extremely disappointed with the outcome of the ECB's investigation and the sanctions which are imposed upon us moving forwards, however today's announcement from the ECB draws a line under the matter, and we accept their findings that historically, under previous administration, the Club has been poorly financially managed over a number of years.
Middlesex Cricket will be making no further comment on this matter at this stage.
Middlesex to be penalised by ECB for financial mismanagment
The ECB is to impose a number of conditions on Middlesex CCC and Middlesex Cricket Board after breaches of the County Partnership Agreement and Financial Regulations.
Middx and Middx Board have accepted that the club has been financially mismanaged over a number of years – and all parties have agreed that a written business plan, and a governance plan separating the core business of club and board, will be prepared for approval and quarterly monitoring by ECB up till Oct 2025.
The ECB will also reduce payments to the club by £150,000 of which £100,000 is suspended until Oct 2025; and impose points deductions "equivalent to the maximum points for one win" in each competition – also suspended till Oct 2025
There will be play at OT – 11 and a bit overs, more than enough for a Lancs-up.
With OT still looking grey, but the rain holding off, time for me to locate more coffee and start writing up. Kent in control at Canterbury, Glamorgan 72-3 in the face of 500, Derby 188-3 playing catch up with Gloucestershire, and Sussex 183-4 and building a plum pudding lead. Will keep you updated from the gloom, but do chat on BTL.
At Hove, Sussex have lost four to the combined might of Ahmed-Wright-Scriven, but the lead is already 324, Division One dreams drifting away from Leicestershire.
And now Lyndon James! Leans defensively, and loses his off stump. A beauty!
…and, thanks very much, Nijjar collects a third. Moores – a duck! Quite tasty, too.
Absolutely pissing down now at OT. Full covers on and being hammered down with a mallet. In the other Division One game, Rhodes and Hain rebuilding after Yates and Brathwaite were removed by Procter and White – purveyors of the finest ceramic bathware. Warwicks : 86-2, trail Northants by 166.
At Canterbury, a Notts wobble to keep things exciting. First Clarke, caught off Nijjar for 62, then Mullaney, a dolly to DBD for 86. Now 173-4, 273 behind Kent.
And just when it was getting interesting. Lancs 125-3.
Yadav switches to the James Anderson end. He asks politely for lbw, then asks why not, eyes almost popping out of his head. Vilas is lucky to survive one that spits out of the dust.
And big bad Dane starts the final session with a flamboyant drive off a De Caires loosener for four. 40 overs left today – though I can't see any way they'll get those in.
DIVISION ONE
Canterbury: Kent 446 v Nottinghamshire 160-3
Old Trafford: Lancashire 114-3 v Middlesex 194
Edgbaston: Warwickshire 63-2 v Northamptonshire 250
DIVISION TWO
Sophia Gardens: Glamorgan 19-2 v Yorkshire 434-5
Bristol: Gloucestershire 377 v Derbyshire 128-0
Hove: Sussex 262 and 123-2 v Leicestershire 108
Reader, they survived. Tea scores to follow
Skies closing in at OT, Lancs have five mins to survive till tea…
Much applause as Vilas nudges Yadav behind for four. Yadav, whose jogging run-up doesn't match what happens at the end of the run-up, stares, long legs apart in a frustrated triangle.
Lancs open their mid-afternoon snack box to find a deluge of banana skins. Spin the culprit, as Bohannon is bowled by Yadav and then Salt misses a straight one from De Caires. Three for 16 gone in less than 20 mins.
And back to Div Two: it seems Yorkshire's innings ended when Ben Cliff, on his Yorkshire debut, was called for a very very sharp single by Dom Bess:
At Bristol, Harry Came and Luis Reece have picked up 96 on what I'm guessing is a pretty good batting pitch. Glos earlier collapsing to Anuj Dal (6-69) -from promise 326-4 to pah! 377 all out.
While at Hove, Sussex (100-1) have built up a lead of 252 already over browbeaten Leicestershire (108 all out).
The Daemon De Caires strikes with his first ball , a twitch of the shoulders, a flick of the ball. Lancs 80-1, Jennings lbw to one that drifts.
Down in the Party Division, where the bunting is already going up round The Riverside, Yorkshire are approaching 500. Shan Masood caught Northeast b Harris/HPG 192. Yorks 482-7 – in fact that's it, all out for a fine fat 500. Harris 3-131, Kiran Carlson 3-147.
Mullaney (53) and Clarke (29) going great guns at Canterbury after Notts' snotty start: now 95-2, 351 behind points-seeking Kent.
Seven wickets for Hannon-Dalby!
Belatedly, congratulation to OHD, who – without fuss – picks up Northants' heart and takes enormous bites. Northants lose 5-33 and miss the chance to take advantage of Middlesex's miserable batting. In reply, between the showers, Warwickshire are 16-0.
Luke Wells drives Ro-Jo straight down the ground. Bamber rocks side to side as he approaches, haircut a shorn meadow on the sides, rhubarb on the top. Lancs untroubled: 39-0. Time for spin?
Let's whizz round the grounds.
Kent, now in touching distance of Middlesex, have Notts on the ropes. Both wickets to Michael Hogan, Slater and Haseeb (630 runs at 33.15) back in the clubhouse.
Back out at OT. Jennings and Wells v Bamber and Higgins. v the weather.
Can't resist this 100 per cent cuteness overload from New Zealand. Thanks for the nudge HPG.
DIVISION ONE
Canterbury: Kent 446 v Nottinghamshire 15-1
Old Trafford: Lancashire v Middlesex 194
Edgbaston: Warwickshire 0-0 v Northamptonshire 250
DIVISION TWO
Sophia Gardens: Glamorgan v Yorkshire 434-5
Bristol: Gloucestershire 377 v Derbyshire 20-0
Hove: Sussex 262 and 7-0 v Leicestershire 108
Stevie Eskinazi is concussion substitute for Max Holden
News from Middlesex: Max Holden, struck in the head during today's pre-match warm-up, has mild concussion, and will play no further part in the game against Lancashire. Stevie Eskinazi is his concussion substitute.
What a season for Durham. Seasoned by Stokes, baked in the north east, they stuck to their Bazball intentions from the start. This was Matthew Potts in March on the draw.
"It's worse than a loss. You'd rather lose every game this year and know you're doing it with the right intent to try and win the game,"
Kudos to captain Scott Borthwick and coach Ryan Campbell in particular.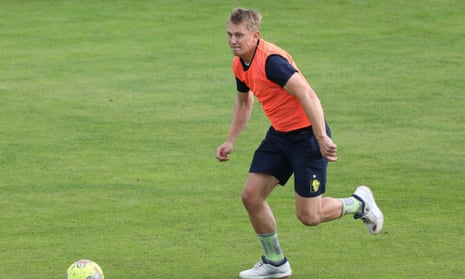 And with a Leicestershire whimper, they've done it! Without breaking sweat. Durham are promoted to Division One of the Championship for first time since 2016 when they were hit by the hurricane of forced relegation.
Luke Wells ends Lancashire's frustration, Robson steps back, the ball creeps through the gap, and trickles into the stump – 86 fine runs out of a final 194. Quite the recovery from 19-5. Three for Wood, three for Bailey. I'm not convinced they're going to come out straight away – clouds gathering with intent.
Averting eyes from Leicestershire – who will be handing promotion to Durham shortly unless they can collect a batting point – rain at Edgbaston (Northants 233-7) and Bristol (Glos 376-9). Things moving along at Sophia Gardens where Hill fell lbw to Harris for 71, but Masood pushes on, 147 magnificent runs. Yorks 392-4.
Leicestershire's morning: 73-3, 75-4, 76-5, 78-6, 93-7, 93-8. Patel hanging on, 43 from 113.
Can Bamber help Robson to his century? A near-run out survived – Robson needs 23. Middx 181-9.
Gloom continues to descend on Grace Road, via Hove. Rishi Patel still on patrol, 40 not out off 107, but he's fast running out of partners. 90-6. Three wickets to Karvelas, two to Undakat. Hopes. Slip. Away.
TRJ pulls, and neither the square leg umpire or the fielder on the rope can pick it up in the semi-gloom. Middx tripping along nicely – 170 for 8.
In the two other Division One games: Kent have snapped up a fourth batting point – six overs left to pick up 40 more runs for a cup that spilleth over. Finch (47) and Leaning (64) both snapped up by Paterson. Evison and Nijjar tasked with the run gathering.
At Edgbaston, four now for the tireless Hannon-Dalby. Northants plod on: 221-6.
In the crucial Division Two promotion game, Leicestershire are stuttering their way through Monday morning. Three wickets lost in three overs, Colin Ackermann, Umar Amin and Rehan Ahmed. Bang! Gone. Leics 76-5, 186 behind.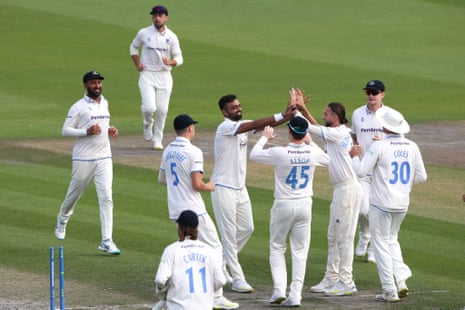 Toby Roland Jones has an early swipe and miss, pulls the next for four. Breakfasting with intention. Middx a heady 140-8, remembering that Lancashire aren't immune to a batting collapse.
Taha Hashim was watching Liam Livingstone power England to victory, yesterday:
Eight games, seven out of the blocks. The early rain at Sophia Gardens has stopped but the covers are still on. At OT, Tom Bailey has eased through a first over.
DIVISION ONE
Canterbury: Kent 387-43 v Nottinghamshire
Old Trafford: Lancashire v Middlesex 132-8
Edgbaston: Warwickshire v Northamptonshire 200-5
DIVISION TWO
Sophia Gardens: Glamorgan v Yorkshire 330-3
Bristol: Gloucestershire 333-6 v Derbyshire
Hove: Sussex 262- v Leicestershire 68-2
Middlesex's last-gasp campaign to cling on to their Division One place had an apocalyptic start at Old Trafford. With the air as humid as an old dog's breath, Toby Roland-Jones won the toss, looked to the fretful skies and chose to bat.
As the stats floated about – this being the worst year for Middlesex's top five since 1894, and the worst year for any top five in the Championship since 1966 – so the heads started to roll. With four Lancashire players at slip, Mark Stoneman prodded at Tom Bailey, gone for a duck. Joe Cracknell drove at Will Williams and lost his bails. Jack Davies gloved a pull after a 33-ball four. Max Holden and John Simpson nicked behind. At 19 for five, it seemed the most catastrophic decision to bat first in Manchester since Kent decided to twist and take on Jimmy Anderson in July 2021.
But here came Sam Robson and Ryan Higgins – the only man to average over 35 for Middlesex this season – rebuilding hopes, brick by brick. Higgins hit the first boundary of the innings in the 20th over and Robson crafted his way to a 150-ball fifty. Robson was still there at stumps, despite rain, bad light and Tom Bailey.
At Canterbury, fellow relegation candidates Kent were flying thanks to a run-a-ball whizz-bang from Zak Crawley. Crawley, dropped on two before cracking four consecutive fours off one Brett Hutton over, slammed 158 from 153 balls.
Matt Salisbury grabbed five for 73 at Hove before Rishi Patel completed a thousand runs to keep Leicestershire in the promotion hunt; Shan Masood made an unbeaten 113 to put Yorkshire on top at Sophia Gardens; Gloucestershire's Ollie Price made his third first-class hundred. And Olly Hannon-Dalby's three wickets kept the lid on a determined Northamptonshire.
Good morning from Old Trafford! The players warm up, the sun is out, the roller rolls, to and fro, To and fro. Welcome to day two, where Middlesex have a hole to dig out of and Lancs still have a forlorn hope of finishing second.