Key events
Read Ali Martin's match report
That's all for today, and for England's World Cup. No need for any essays, postmortems or books, because their greatest player has summed up the campaign in three words. But at least it had a happyish ending.
Jos Buttler reflects on the tournament
It's nice to put in a good performance and finish that way. Ultimately it's been a disappointing tournament. It's sinking in more right now, actually, and it feels a bit emotional.

We started really well today and the guys in the middle set it up brilliantly. We know that's what we're capable of but we haven't shown it enough. We should have been able to cope without Ben (when he was injured for the first three games). Lots of us haven't performed to the level we wanted to.

We said before the game that, if this is going to be the end of an era, let's try to make some really good memories out there and walk off the field with some big smiles. Wherever we go from here, today was a good day.

(On David Willey) He's been fantastic, ever since he came into the squad after the 2015 World Cup. It's a hallmark of his game that he always finds his way – he's got great skills but he's a fierce competitor and a great team man. He'll be really missed in that dressing-room.

(On the future) We don't need a drastic change of style like in 2015. We want to build something new, but that doesn't mean you need to have a huge clearout and start again. We need to push on and use this as motivation to get better and become a really top team again.
Babar Azam's verdict
Our performance in this tournament has been very disappointing. We tried our best but a couple of loose games cost us. There were too many mistakes in the bowling, fielding and batting. You need to take wickets in the middle overs and our spinners didn't do that enough.

We'll take some positives from the tournament and discuss the future in the next few days. I'd like to stay on as captain.
The player of the match is David Willey
It's been a really disappointing tournament for us, but personally it's been nice to perform and enjoy my last few games. To go out on 100 wickets is special to me.

We've got a phenomenal group of players, with masses of talent, and there's no doubt we've underperformed here. (Did the contract situation give you extra motivation?) Yeah. Keysy (Rob Key) said to me, 'Hopefully you can prove me wrong.' Maybe I've done that over the last few games (lifts his player of the match award)!

Look, some people may have frowned upon the timing (of Willey announcing his retirement) but there aren't many opportunities to walk away on your terms. I wanted to enjoy my last three games without looking over my shoulder and thinking, 'One bad game and I'm out of the side.'

I was never the best player growing up or when I was in academies. I've been resilient enough to keep chipping away and find a way to be part of this incredible group of white-ball cricketers. I'm immensely proud of that. Every game has been special.

I've had a great support network around, especially my wife, so a massive thank you to her.

The World Cup win in Australia – I had my family there and my kid running round in confetti. I didn't play in the competition itself but that moment was special, especially as I'd fallen out of love with cricket (after 2019) and then forced my way back in the team.
So England end their miserable World Cup with a couple of comfortable victories, thereby ensuring the new team will play at the Champions Trophy in 2027. David Willey, playing his last game for England, shakes hands with his teammates and then the opposition. The fast bowlers, Haris Rauf and Shaheen Afridi, were particularly affectionate towards him.
Willey looks shattered, no surprise after bowling two five-over spells in that heat. It wasn't a fairytale ending but it was an uplifting one – he took three wickets to end his ODI career with exactly 100, and the last wicket also took his bowling average below 30.
WICKET! Pakistan 240 all out (Rauf c Stokes b Woakes 35) Haris Rauf launches Chris Woakes high in the air to mid-on, where Ben Stokes makes an awkward catch look routine.
43rd over: Pakistan 244-9 (Wasim 16, Rauf 35) Rauf edges a couple of boundaries off Willey, one to fine leg and the other to third man. He's having a great time, swinging at everything, and has reached 35 off 20 balls.
Wasim, who looks like he can play, drives inside out over extra cover for another boundary. That brings up the fifty partnership in just 31 balls. They might as well go out in style.
David Willey finishes his spell – and his England career – with figures of 10-0-56-3. The last of those wickets was the 100th of his ODI career.
42nd over: Pakistan 231-9 (Wasim 12, Rauf 26) Pakistan are going out with a bang. Rauf pulls Atkinson flat and hard over midwicket for six, then launches the next ball into outer space. Atkinson calls for the return catch but can't lay a hand on it. It looked like the ballw as swirling all over the place.
Atkinson does well thereafter, conceding just a leg bye and a single from the last four balls. Pakistan's last pair have added 40 in 4.2 overs, the second highest partnership of the innings.
41st over: Pakistan 222-9 (Wasim 12, Rauf 18) Wasim joins in the fun with a nonchalant flick-pull over midwicket for four, then survives a dodgy England review for LBW. It pitched outside leg and I suspect Buttler only went upstairs because Willey was bowling. They'd like him to take the last wicket.
I say! Mohammad Wasim has Willey's last ball for a marvellous straight six. A top-order batter would have been proud of that shot.
40th over: Pakistan 209-9 (Wasim 1, Rauf 17) Haris Rauf's high-octane World Cup was never likely to end quietly. He blasts successive deliveries from Atkinson for four and six, the second a sweet ping over square leg, and then swipes another mighty six over long-on.
39th over: Pakistan 193-9 (Wasim 1, Rauf 1) A lovely inswinger from Willey somehow misses both the off stump and Haris Rauf's inside edge. Rauf slugs the next ball just short of Stokes at mid-on. Two from the over.
38th over: Pakistan 191-9 (Wasim 0, Rauf 0) "Stuart Broad was quoted in a recent article in the Guardian as saying he doesn't know what the spirit of cricket is," says Chris Fowler. "I think Shadab congratulating Rashid after being dismissed by him would be a bloody good place to start in his search. You can't imagine Harry Maguire shaking Ansu Fati's hand after being twisted inside-out by him for the winning goal."
WICKET! Pakistan 191-9 (Afridi LBW b Atkinson 25)
Gus Atkinson has his second wicket. Shaheen Afridi played down the wrong line of a rapid, wicket-to-wicket delivery that would have hit off and middle halfway up. He reviewed the decision, just in case, but it was plumb.
37th over: Pakistan 186-8 (Afridi 21, Wasim 0)
WICKET! Pakistan 186-8 (Salman c Stokes b Willey 51)
Salman drags a slower ball from Willey to mid-on, where Stokes takes a good catch. That's his 100th ODI wicket, and his teammates are visibly chuffed for him. Willey will always have bittersweet World Cup memories, but he should take so much pride in how well he has played in this tournament. It's testament to his skill and especially his character.
36th over: Pakistan 177-7 (Salman 51, Afridi 12) Salman dances down to a flighted delivery from Rashid that takes a leading edge and drops short of Woakes in the covers. The penultimate ball of a beautiful spell almost cleans up Afridi, who gets his bat down at the last minute.
Rashid stays on 199 ODI wickets after a charming spell that merited better figures than 10-0-55-2. That was lots of fun.
35th over: Pakistan 174-7 (Salman 50, Afridi 10) David Willey, on 99 ODI wickets, replaces Moeen Ali, who gave it a rip in a spell of 10-0-60-2. Afridi flicks an attempted yorker for a single, then Salman steals two to deep midwicket to reach a defiant half-century from 42 balls. Well played.
34th over: Pakistan 171-7 (Salman 48, Afridi 9) Rashid's googlies are turning a long way. Afridi isn't picking them either, so he gets down the other end as soon as possible. Three runs from another classy, mischievous Rashid.
33rd over: Pakistan 168-7 (Salman 47, Afridi 7) Salman pumps Moeen down the ground for six, then edges past short third man for four. It's a good thing he did because he was halfway down the pitch when he made contact.
"If Mohammad Wasim had toppled Rashid at the death," says Tim Featherstone-Smith, "would that have been the most runs ever scored in an over that included a hat-trick?"
It went for 16, so it must be close. I wondered about Steve Finn against Australia at the 2015 World Cup, but that over only cost eight.
32nd over: Pakistan 156-7 (Salman 36, Afridi 6) Shaheen Shah Afridi slog-sweeps his second ball for six, because apparently that's normal behaviour these days.
WICKET! Pakistan 150-7 (Shadab b Rashid 4)
Rashid is putting on a clinic. Shadab, trying to drive, is bowled neck and crop by a gorgeous googly, and even makes a point of congratulating Rashid on his way off. That's Rashid's 199th ODI wicket, 196 of which have come since Eoin Morgan recalled him in 2015.
31st over: Pakistan 149-6 (Salman 35, Shadab 4) Shadab Khan gets off the mark with a delicate late cut for four.
"If I was doing the England rebuild I would start with only two names on the sheet," says Peter Rowntree. "Harry Brook and Dave Willey. I am sure that Big Dave made the decision to retire from international cricket before this tournament. He simply wanted to play a World Cup and perform well in it. He can put a tick in both boxes.
"I am also sure that his retirement has more to do with wanting to spend more time with his family and to do everything possible to win either a T20 or 50-over ball competition for Northamptonshire before he hangs up his boots, say in two seasons.
"England however need Dave Willey, to help bowlers in the rebuild and then to become the white-ball bowling coach. They would be mad not to have this man playing a central part in our white-ball future."
What makes you think he'd be a better coach than, say, Chris Woakes? (That's a genuine question, not a confrontational one.) Personally I think it's the perfect time for him to retirefrom international cricket and set up a franchise pension. At times he's probably been selfless to a fault.
WICKET! Pakistan 145-6 (Iftikhar c Malan b Moeen 3)
Iftikhar charges Moeen and blasts the ball miles in the air towards mid-off, where Malan backpedals urgently to take a fine two-handed catch.
30th over: Pakistan 145-5 (Salman 35, Iftikhar 2) Salman started nervously, especially against Rashid, but he's playing pretty well now. A firm sweep brings him four more, then he chips Rashid classily over wide mid-on for another boundary. He has 35 from 32 balls.
"As Jos kept the spirit of S Broad alive with an absurd review," writes Adam Roberts, "we got Atherton at his driest: 'There have been some eccentric decisions by Jos Buttler in this tournament .. (beat) .. and there's another'."
Now there's a man who paid attention when he worked with Richie Benaud.
29th over: Pakistan 135-5 (Salman 26, Iftikhar 2) Salman sweeps Moeen's first ball firmly for four, and Pakistan take a single off each of the last five deliveries. Even that doesn't keep them up with the required rate, which is now 9.66.
It's slightly odd to think that England, who had a shocker for the ages, will finish only two points behind Pakistan, who were serious semi-final contenders until two days ago.
28th over: Pakistan 126-5 (Salman 19, Iftikhar 0) Iftikhar Ahmed is the new batter.
WICKET! Pakistan 126-5 (Shakeel b Rashid 28)
Saud Shakeel is bowled round his legs by Adil Rashid. He missed a sweep at a big-spinning googly that turned from well outside leg stump to hit middle. Rashid is having fun out there, playing with all his toys – I've rarely seen him turn a googly that much.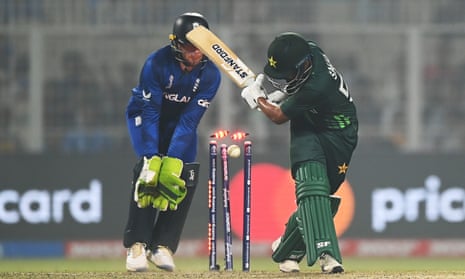 26th over: Pakistan 122-4 (Shakeel 28, Salman 16) Four more down the ground from Salman, this time back over Moeen's head. It wasn't perfectly struck but he split the two fielders running round.
"Think I've got something in my eye, Rob," says Simon McMahon. "Thanks, Eoin, Jos, Ben, Adil, Jofra, and everyone else. It was quite the ride. And who wants to win all the time anyway? Winning is overrated. I'm Scottish, so I know what I'm talking about here. As a great philosopher once wrote, naughty naughty, very naughty if you want to see the rainbow you've got to put up with the rain."
And people say she's just a big p- oh never mind. (It's not completely over by the way – most of this team will play in the T20 World Cup next year.)
26th over: Pakistan 115-4 (Shakeel 26, Salman 11) Rashid is bowling some very slow deliveries, below 45mph. After resisting a couple of tempters, Salman belts the ball back over Rashid's head of four.
25th over: Pakistan 108-4 (Shakeel 24, Salman 6)
24.5 overs: Pakistan 107-4 (Shakeel 23, Salman 6) Salman survives a run-out chance after being sent back by Shakeel. He would have been out had Malan picked up cleanly at mid-off; he didn't and Salman was just safe – despite not grounding his bat – when Buttler eventually broke the stumps.
Salman's weird innings continues with a straight drive that hits the non-striker Shakeel on the hand. There's a break in play while he receives treatment.
"Afternoon Rob," says Mark Beadle, "have to say, among Jesus & Mary Chain songs, it's usually Sidewalkin sliding into my head. How do you feel about April Skies as the soundtrack to this England series?"
Why not? It's the last day of term, we can do anything. Get the Subbuteo out.
24th over: Pakistan 104-4 (Shakeel 22, Salman 4) Rashid is toying with the new batter Salman Ali Agha, who edges short of slip and then plays and misses outside off stump. Salman tries to hit his way out of trouble and mishits a pull that drops just in front of Atkinson, ruinning back from midwicket. An outstanding over from Rashid, with at least four false strokes and possibly six out of six.
23rd over: Pakistan 100-4 (Shakeel 22, Salman 1) Moeen has bowled well and is getting plenty of purchase. Moeen is a strange bowler – he can look so innocuous, but at his best (think the India Test series of 2018) he is a serious handful.
"Watching the cricket on and off as I ease myself into the Saturday of a long weekend, I can't help noticing how many laughs and smiles are on the faces of the England players," writes Adam Roberts. "They're just really happy to be going home, aren't they?"
Yup. I'm glad they ended with a couple of convincing wins (probably), even though it means little in the grand scheme.
WICKET! Pakistan 100-4 (Rizwan b Moeen 36)
A dismissal for the ages. Rizwan charges Moeen, bowling round the wicket now, and misses an almighty mow across the line. The ball turns through the gate to bowl Rizwan, who then falls over in pain due to cramp. Eventually he gets to his feet and hobbles from the field. Comedy gold.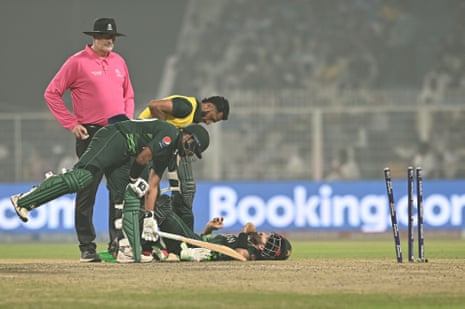 22nd over: Pakistan 100-3 (Rizwan 36, Shakeel 22) One of the worst reviews of the tournament from England. Rashid, back in the attack, bowled a delivery to Shakeel that turned down the leg side and was called wide. England thought there might have been an edge and sent it upstairs, but replays showed a chasm between bat and ball. I suppose Buttler's view was blocked so he was going solely on noise.
21st over: Pakistan 94-3 (Rizwan 32, Shakeel 21)
20th over: Pakistan 89-3 (Rizwan 28, Shakeel 20) Shakeel drives Atkinson handsomely over mid-off for four more. Three singles make it a decent over for Pakistan, though it's still not enough to keep up with the required rate of 8.34.
19th over: Pakistan 82-3 (Rizwan 26, Shakeel 15) Shakeel gets four with a neat reverse sweep off Moeen.
"NZ vs SA in the final would be a neutral's dream," says Anul Kanhere. "Also extending their rugby rivalry to a different sport."
Grant Elliott will have a helluva lot injury requests if that happens.
18th over: Pakistan 75-3 (Rizwan 24, Shakeel 10) Pakistan are going nowhere. Another over of wicket-to-wicket hustle from Atkinson yields just a single, which means they need 263 from 32 overs.
"The way openers reacted to Dipak Patel opening the bowling in 1992 reminded me of those experiments with rats," writes Gary Naylor. "The rodents would continually repeat the same action and be baffled why the reward was no longer forthcoming. Until it eventually dawned on them to try something else and… hey presto! Now I'm not saying drilled, coached sportspeople come below rats in powers of imagination or problem-solving, but…"
It's so easy to forget how groundbreaking it was. In 720 previous ODIs a spinner had opened the bowling on only five occasions. Australia, who were hosts, holders and the best team in the world, never truly recovered from his opening spell in the first game of the tournament.
17th over: Pakistan 74-3 (Rizwan 23, Shakeel 10) Shakeel sweeps Moeen for successive boundaries. The first was top-edged over short fine leg, the second lapped delicately past the keeper.
This is probably Moeen's last ODI so he'd love a wicket or two. His overall World Cup record is disappointing: 24 with the bat, 52 with the ball. And yet his T20 World Cup record is fine, so there goes that narrative.
16th over: Pakistan 64-3 (Rizwan 22, Shakeel 1) Atkinson zips a sharp delivery past Shakeel's attempted cut. He has good rhythm in this spell and has conceded only eight from three overs. And because of that, the required rate is now above eight an over.
"Surely Willey should be more ambitious and try to get two more wickets," says Kim Thonger, "then he could brand himself Willey 101. Nobody will forget that."
15th over: Pakistan 61-3 (Rizwan 21, Shakeel 0) The new batter is the left-handed Saud Shakeel, so it's a good time for Moeen Ali to come into the attack. He starts well: plenty of turn, a bit of bounce and five consecutive dot balls to Shakeel.
14th over: Pakistan 61-3 (Rizwan 20, Shakeel 0) The required rate has crept above 7.5.
WICKET! Pakistan 61-3 (Babar c Rashid b Atkinson 38)
A lovely moment in the burgeoning international career of Gus Atkinson, who has picked up the great Babar Azam.
He dug in a short ball, with the usual tight line, and Babar slugged a pull straight to Rashid at midwicket. Babar's highly frustrating tournament – 320 runs at 40, good enough for most players but not him – comes to a tame end.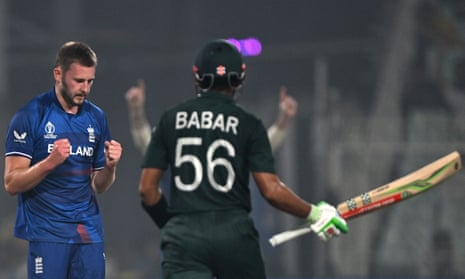 13th over: Pakistan 57-2 (Babar 38, Rizwan 17) When this World Cup is over, I won't miss OBOing the more boring middle overs. There are only so many ways you can say 'five low-risk singles from the over', and I've just used up the main one.
"Anyone else thinking 99 wickets would be the perfect way for Willey to finish?" says Shaun Clapperton. "So close, but still the nearly man."
I wasn't, but I am now – that's a great observation.
12th over: Pakistan 52-2 (Babar 35, Rizwan 15) Gus Atkinson replaces Woakes, whose erratic new-ball spell of 5-0-27-0 belonged to the first half of the tournament. He hits an awkward length straight away, and his wicket-to-wicket line means there's not much width to work with either. Two singles from the over.
11th over: Pakistan 50-2 (Babar 34, Rizwan 14) Here he is, the unsung giant of England's glory years. Adil Rashid has taken 194 ODI wickets since the 2015 World Cup, more than anyone in the world. But the 'how many' is less than important than the 'who', and especially the 'when': proper batters in the middle overs, when England were traditionally toothless.
Rashid's third ball deceives Rizwan, who responds by smearing a slog-sweep for four. Pakistan have recovered well from their false start.